October 14, 2004
National Notebook

By INCH Staff
CEY LA VIE
Notre Dame goaltender Morgan Cey ducked out of the Joyce Center quickly last Thursday, eluding reporters who had just watched him make 38 saves in a season-opening, 2-2 draw with WCHA favorite Minnesota Duluth.
Normally, this would have frustrated the fourth estate, but Cey had a couple solid excuses working in his favor. It was nearly 11 p.m. and Fighting Irish players, unlike the visiting Bulldogs, had to attend classes the next day. Besides, his performance on the ice spoke volumes.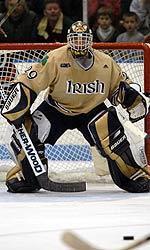 Notre Dame's Morgan Cey missed most of the 2003-04 season with a knee injury.
A native of Wilkie, Saskatchewan, Cey started 70 of 79 games in his first two years at Notre Dame. Coming into this season, however, he was virtually an afterthought – a knee injury limited him to just 14 appearances last year and opened the door for David Brown, who went on to post a 14-7-3 record, a 2.32 goals against average and a .925 save percentage in his stead.
"This is the strongest and healthiest Morgan has been in his four years here," Fighting Irish coach Dave Poulin said. "The strength and lateral movement, particularly the leg strength and the hip strength…he's better than he's ever been."
While the physical recovery from the knee problem took time, Cey's mental recovery took even longer.
"He came in as a freshman and did really, really well," senior forward Brad Wanchulak said. "He never really had to work that hard. Dave came in and challenged him a little bit. Then with the injury, it was more of a mental battle for him."
Cey battled UMD relentlessly in the third period of last week's game. The Bulldogs got a goal from forward Tim Stapleton with less than eight minutes remaining to force overtime, but there likely wouldn't have been an extra session without Cey, who stopped 19 shots in the final period.
The strong showing was critical for the Irish, who need their veteran netminders to shoulder the load early on this season as they break in three freshmen on defense against a brutal schedule – Notre Dame faces another NCAA Tournament qualifier, Miami, for two games this weekend. Funny, then, that the rookies playing in front of him probably have more experience at their positions than Cey does at his.
"He didn't start playing goalie until he was 14," Poulin said. He's only nine years into his career. From a technical standpoint, he's still at the neophyte stage of goaltending."
Though he may not have mastered the many nuances required of goaltenders, Cey's vision and rebound control have improved, he's very good at squaring his body to shooters and at 6-foot-3, he appears to fill the entire net. And while it's unlikely that he'll return to his former role as the workhorse in goal, a healthy, productive Cey is crucial if Notre Dame is to return to the NCAA Tournament for a second straight season.
"He's pretty much the key to our team," Wanchulak said. "He determines how far we go."

– Mike Eidelbes
DU'S CRACKED REAR VIEW
A trip to Boston, site of last April's NCAA title-winning effort, must bring back good memories for the Denver Pioneers, right? Not if their coach can help it.
The Pioneers return to Beantown this weekend for games with Boston College and Northeastern. Other than staying at the same hotel that housed them six months ago, DU coach George Gwozdecky is hoping to put the Amazing April completely behind them and concentrate on improving their current 0-1-0 record.
"What last year's team accomplished is something we're very proud of, but it was a different time, a different team, and different chemistry," said Gwozdecky after his team's season-opening 5-2 loss to Minnesota in the U.S. Hockey Hall of Fame Game. "This team needs to establish a new identity and its own identity."
So there will be no seeking out the same restaurants that fed the Pioneers title run, or visiting the same off-day sites they visited in April. With the Bruins not playing, there won't even be any reason to visit the arena where they won the title.
"Granted, we're playing at BC's arena and Northeastern's arena, not the Fleet Center, but I'm glad we're not trying to repeat any of the things we did last year," Gwozdecky said. "We need to establish new leaders and new chemistry, and we need to do it ASAP."

– Jess Myers
NOTABLE NORTHEASTERN
Northeastern's winless streak to start the season last year was better measured in months (two and a half) than games (11). That made the Huskies' season-opening win over No. 1 Michigan that much sweeter.
GAME WE'D PAY TO
WATCH ON SATELLITE
New Hampshire at Michigan (Friday)

Two programs accustomed to playing into April met in the first round of the NCAA Tournament last year in Manchester, N.H. A day after Michigan's impressive win over the Wildcats they were out of the tournament.
They both want happier endings this year – preferably in Columbus, site of the Frozen Four. They meet Friday in Yost Ice Arena for a fantastic early-season test between two teams that like to play offensive hockey and have the talent to do it well.
GAME WE'D PAY TO
WATCH IN PERSON
Massachusetts vs. Minnesota (Friday)
Pay to watch this one and chances are you're buying a long plane ride, as these teams meet in the first round of the Nye Frontier Classic in Anchorage, Alaska. But it could be worth it.

The only two hat tricks of the young season came courtesy of Massachusetts' Matt Anderson and Minnesota's Ryan Potulny. Both are sophomores who missed significant time last year to injury (in Anderson's case, the whole year), and both will be counted on to lift a team that suffered significant – if not devastating – losses to graduation and pro hockey.

This is a compelling matchup even without the similarities between Potulny and Anderson, but their efforts on the first weekend of the season ensure that they'll share the spotlight under the Northern Lights. The winner of this one plays the winner of Alaska Anchorage and Canisius and will be heavy favorites to take the tournament title.
What bodes well for the Huskies and head coach Bruce Crowder is not just that they won, but how they won. Senior goaltender Keni Gibson, who was shaky for long stretches last year, made 31 saves in the 4-2 win. He will need to continue his strong play this weekend as Northeastern hosts defending national champion Denver.
"Keni was very solid," Crowder said. "He made the first save, and our defense did a good job, not forcing him to make three or four more saves. As much as Keni needs to have a big year, our whole defense needs a big year, and they played well."
Crowder turned to sophomore Adam Geragosian in net for Saturday's 6-2 loss to Miami – following up on a plan to play everyone he brought on the trip to Dayton, Ohio – but there's no doubt that Gibson is the team's No. 1 goaltender.
Gibson will be back in goal against Denver and for the foreseeable future, especially since the Huskies don't play on back-to-back nights until Nov. 19-20. By the time that series with New Hampshire arrives, they will have played Michigan, Miami, Denver, Colgate, North Dakota and Maine, among others. It's a star-studded lineup that could be more than a little daunting for a team that has finished last in Hockey East for two years in a row.
"It's for the kids," Crowder said of his challenging schedule. "They're going to get great experience playing against those teams, and we're going to be better in that first [Hockey East] game against Maine. And [it's] especially for the students here, who don't get a chance to see teams like Denver and North Dakota – they should be great games."

– Nate Ewell

FRIES AT THE BOTTOM OF THE BAG

• He's best remembered as coach of the 1980 U.S. Olympic hockey team and winner of three NCAA championships behind the Minnesota bench, but St. Cloud State will honor the late Herb Brooks this weekend by dedicating the street that abuts the Huskies' home rink in his name.
Brooks was the Huskies' head coach in 1986-87, recording a 25-10-1 mark and piloting SCSU to third place in the NCAA Division III Tournament. He also was a major force behind the Huskies' move to the Division I level the following season. Herb Brooks Way will be formally christened at a ceremony between periods of the Huskies' game against Northern Michigan Friday.
FUTURE'S WATCH
Colorado drafted New Hampshire's Sean Collins in the ninth round back in 2002, before Martin St. Louis made it trendy, instead of terrifying, to stand 5-foot-9, 170 pounds.
Collins packs tremendous offensive gifts into that undersized frame, and has averaged nearly a point per game in four years in Durham. Last weekend, playing without longtime teammate Steve Saviano for the first time in three years, Collins showed once again that he's more than a skilled sidekick. Collins had five points as the Wildcats captured the Ice Breaker Tournament title, including two goals in a 25-second span in the third period of Sunday's championship game.
• New Hampshire is home to some pretty good football these days, with the Wildcats ascending to No. 7 in the Division I-AA ranks. Their hockey team, with an off day between games at Michigan and Michigan State, will get a chance to see college football on an even bigger stage Saturday at Spartan Stadium for the MSU-Minnesota football game. Perhaps linemates Sean Collins and Justin Aikins can pick up a few things from Gopher tailbacks Marion Barber and Laurence Maroney before they head over to Munn Ice Arena for practice after the game.

• St. Lawrence also visits Michigan State, where athletic director and former hockey coach Ron Mason is a Saint alumnus. Despite that connection, the two teams haven't played in East Lansing since well before Mason played at St. Lawrence – Dec. 5, 1952 was their last meeting at Michigan State.

• Colgate defenseman Mike Campaner had a pretty impressive weekend when you consider his team-high five points (all assists) in the Raiders' two-game sweep at Ferris State. It gets better, though, upon closer examination: Campaner finished +7 on the weekend, on the ice for all seven of Colgate's even-strength or short-handed goals, and no goals against.
• Miami's sixth goal against Northeastern was an empty netter, as the Huskies pulled the goalie even though they already trailed by three. "We thought we might as well try something," Crowder said. "We set it up so that the goaltender could change on the fly when they got the puck, but they got one before he could get back in. Oh well."
• In a move that could have serious ramifications for College Hockey America, the NCAA's Division I Championships and Competition Cabinet last month reaffirmed its requirement that conferences must have a minimum of six members in order for its champion to earn automatic qualification into an NCAA tournament. If the conference drops below six members, it loses the auto-bid.
CHA currently has six members – Air Force, Alabama-Huntsville, Bemidji State, Niagara, Robert Morris and Wayne State. However, Niagara unsuccessfully applied to join the ECACHL during the summer, and rumors abound that the Purple Eagles, Robert Morris and Air Force could all be considered as future members of Atlantic Hockey.
• American International, fresh off a 5-25-4 showing and a last-place finish in Atlantic Hockey last season, can ill afford to lose experienced players. But that's what happened, as senior goalie Chad Davis left the team. Davis, who was expected to share time with fellow senior Frank Novello, graduated earlier this year and decided not to pursue his final year of eligibility. Novello becomes the undisputed No. 1 now, with sophomore Matt Tourville getting back-up time.
• Notre Dame's Poulin has proved to be one of the college game's most quotable coaches. Following his team's tie against Minnesota Duluth last week, he showed he was in mid-season form when asked about the abundance of penalties that resulted in a combined 23 power play opportunities.
"It's frustrating in the sense that you can't get as many people into the game as you'd like," Poulin explained. "At this level, very often your penalty killers are also the same guys that are on your power play. It's really funny…at some points you wouldn't mind declining some of those penalties."
He went on to laud his team's penalty-killing unit: "[Penalty killing] is a lot like cleaning. It's hard work and you don't necessarily get a lot of glory for it. But if your house looks really clean when it's done, everyone is happy."

Send this to a friend
About Us | Advertiser Info | Site Map | Privacy Policy
© 2002-04 Inside College Hockey, Inc., All Rights Reserved