October 20, 2004
Up In The Clouds
By Jess Myers
Remember the old scenes of steamer trunks covered with stickers featuring the names of vacation destinations on them? For a fun way to add some humor early in the season, St. Cloud State might want to cover their hockey bags with those stickers over the next few months. Being a Husky is a great way to see the world.
The team has already been to a tournament in New Hampshire and will head to Colorado for a pair of games with Denver this weekend. Before the clock strikes midnight on New Years' Eve, the Huskies will have covered more states than a last-minute presidential campaign entourage, playing games in New Jersey, Connecticut, North Dakota and Florida.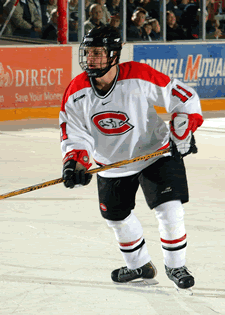 Dave Ianazzo and his St. Cloud State teammates play 12 of their first 20 games on the road.
While some coaches like road trips early in the season, thinking that being together in confined spaces (such as airplanes and hotels) helps the team bond, Huskies coach Craig Dahl takes his team to a getaway camp in September and feels they've already done all of the bonding they need to do. With 10 freshmen (and just four seniors) on his roster, Dahl is more concerned about getting experience for his greenest players in October and November.

"Our schedule has us taking plane trips three of our first four weekends, which means it's essentially seven days away from home," said Huskies coach Craig Dahl. "It's tough because you can only take 22 guys on the road, and you can't get guys experience while they're sitting at home."

Some of those rookies might have to wait until early 2005 to get that much-coveted playing time. The schedule-makers have apparently determined that there's no place like central Minnesota to spend January and have the Huskies playing six of their eight games that month in the National Hockey Center.
SEEN AND HEARD IN THE WCHA
No Wake For The Seawolves – After his team's upset of Minnesota to win the Nye Frontier Classic last weekend, Alaska Anchorage coach John Hill may have wanted to quote Mark Twain, when the famous writer said, "Reports of my death have been greatly exaggerated."

Widely picked to finish last in the league (including by INCH), the Seawolves freshmen showed some spark and gave fans at Sullivan Arena some hope for the future. In Friday's 3-3 tie with Canisius (the Seawolves won the shootout to advance to the tournament's title game), rookie Merit Waldrop had two goals and an assist. One night later, rookie Shea Hamilton scored twice and freshman goalie Nathan Lawson had 36 saves in the 3-2 win against the Gophers. For their efforts, Lawson was named the WCHA's defensive player of the week, and Hamilton was named the league's rookie of the week.
Hill, who is one of the more even-keeled coaches in the league, is keeping things in perspective as he readies his team to face archrival Alaska-Fairbanks this weekend.

"It's early in the year, but I'm happy with the way it went," he said. "We think that when we're healthy, we're not going to be as bad as people expect. But one weekend doesn't make a season."

Still, the Seawolves have clearly come a long way since 2002-03, when one win made a season.

Lake Superior Lovefest – Under their new scheduling system, the WCHA has declared Minnesota Duluth and Michigan Tech arch-rivals, meaning that they always play each other four times per year (two in each team's building). While the meetings with Minnesota will always be the "big game" for Duluthians and the annual home-and-home with CCHA foe Northern Michigan gets the blood of Tech fans pumping like no other series, there are some similarities that make MTU and UMD good rivals.

They're both on Lake Superior, they both have canine mascots, they play each other in additional sports, they've been facing off on the hockey rink for more than 50 years and they each had Mike Sertich at the helm for a time. The Huskies still hold a commanding lead in the all-time series and have beaten UMD six times since Scott Sandelin took over the UMD program five years ago, but last weekend's series in Houghton showed some signs that this rivalry might be becoming more lopsided, and somewhat more bitter.

By all accounts, the end result was what should be expected when a Frozen Four team meets a team trying to get out of the WCHA cellar. The Bulldogs won 5-4 and 6-3, getting four goals from Evan Schwabe and holding Tech's best player, Chris Conner, to just a pair of assists. The sweep gave UMD five consecutive wins versus Tech, and eight win in their last 10 meetings.

In Houghton, an entertaining student fan group known as Mitch's Misfits (named in honor of longtime MacInnes Student Ice Arena announcer Mitch Lake) has emerged and is working hard to have fun and make the home of the Huskies a more intimidating place to play. Last weekend they were countered by a good-sized contingent from the UMD Penalty Box, which may have crossed a line late in the Saturday night game.

With the Bulldogs pulling away late in the contest, the audio broadcast and UMD's first-ever Internet video broadcast both caught sound of the Bulldog fans serenading the Huskies with a chant of "Who's your Daddy?"
Great Weekend Getaway

Minnesota at North Dakota
(Fri.-Sat.)
After this weekend, there will be six NCAA champion banners hanging from the rafters in Denver. But they've already got seven in Grand Forks and the Sioux Nation is perpetually convinced that number eight is just around the corner. Sioux fans are a passionate bunch, and that's doubly true when the folks from the other side of the Red River of the North come to visit. North Dakota won its last two games with Minnesota in Grand Forks, but the Gophers still have a winning record (3-2-0) in the new Engelstad Arena. The visitors will likely need a big weekend from a high-scoring Grand Forks native (sophomore Ryan Potulny) if they hope to stay with the Sioux speedsters.

While You're There: Ever wonder what WCHA rivalries look like on Astroturf? You can find out at 1 p.m. on Saturday when MSU, Mankato's football team visits Grand Forks for a date with the Fighting Sioux. Currently ranked sixth in the nation in Division II, the Sioux have football facilities nearly as nice as their palatial hockey rink. Opened in 2001, the Alerus Center seats 13,500 and provides indoor comfort from the chilly prairie winds. Tickets can be found at 877-91-SIOUX.

Stick Salute

To the folks who designed the new MSU, Mankato logo. Sure, the kids loved that cartoonish "Stomper" thing that they had before, but to the folks old enough to vote, it seemed a little too, well, cartoonish. The Mavs' new logo, unveiled recently, seems a little more serious, and hey, who doesn't get hungry for a good-sized steak when they see that new bovine?

Bench Minor

To the folks who authorized the new MSU, Mankato logo. Aren't we overdue for a little "identity stability"? Greater Mankato's favorite college hockey school is now on its third name (Mankato State College, Mankato State University and now Minnesota State University, Mankato), its second nickname (they were the Indians until 1977) and its fourth official logo in the past decade. Change can be a good thing in many cases, but let's take a little breather before they're unveiling "Southern Minnesota State" as the school's next moniker.
PUCKS TO PICK UP AFTER PRACTICE

• What may be college hockey's most lopsided rivalry will be renewed this weekend. Colorado College and Air Force have played 60 games since 1969 and the Tigers have won 52 of them, including the last 21 in a row. Think that the Falcons will have an advantage, playing at home and all? Think again. The Tigers are 26-4-1 versus Air Force in games played on the scenic grounds of the Academy. No word as to whether the Falcons will raise a banner to commemorate Nov. 9, 1985, which was the date of their last win over CC, a 6-5 overtime triumph at since-demolished Broadmoor World Arena.

• While there are no live NHL games to be seen on Fox Sports these days, they're cranking up the pro and college hockey Wayback Machine to give viewers a hockey fix while they wait for a settlement to the labor unrest. Starting Nov. 4, FSN North will show fans in the Upper Midwest seven classic college hockey games featuring Minnesota, Colorado College, Minnesota Duluth, Wisconsin, North Dakota, St. Cloud State and Boston College, as well as 10 notable Minnesota Wild and Minnesota North Stars games. Gopher fans will want to tune in on Dec. 2 to re-live their team's upset of CC in the first round of the 2000 WCHA playoffs, in what was Don Lucia's first postseason return to Colorado Springs.
• After he put up gaudy numbers in the USHL, it's expected that Denver freshman goalie Peter Mannino will have a productive and memorable career with the Pioneers. But his first appearance between the pipes for DU is probably one that Mannino and his defenders will try to forget. Last Friday in Chestnut Hill, Mannino got his first collegiate start versus Boston College and took the loss after allowing five goals on 26 Eagle shots. Three of BC's six goals in the game came on breakaways, and probably produced some unpleasant déjà vu for DU fans. In the middle of the 2003-04 season, the Pioneers were plagued by defensive struggles that left then-goalie Adam Berkhoel to face many breakaways. Of course, the team did make a nice little rally later in the campaign.

• What do Tennessee Titans owner Bud Adams, New York Yankees owner George Steinbrenner and former Wisconsin defenseman Barry Richter have in common? As of last Saturday, all three are members of the Athletic Hall of Fame at Culver Military Academy in Indiana. Richter, a first-team All-American for the Badgers in 1993, played at Culver before winning the 1990 NCAA title at Wisconsin. He is the second former Badger defenseman honored by the prep school – five-time NHL All-Star Gary Suter (an '82 grad of Culver) was previously inducted.