October 5, 2005
2005-06 Atlantic Hockey Preview
By Mike Eidelbes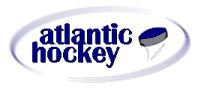 THE SKINNY
It'll be somewhat odd, I suppose, to have an Atlantic Hockey Association without Quinnipiac. The school and its director of athletics, Jack McDonald, managed to position itself as a mover and shaker among the so-called little guys in the college hockey ranks. Who can forget the Sturm und Drang surrounding the addition of an automatic NCAA Tournament bid for the then MAAC, a melodrama that prominently featured the Q?
The Bobcats are gone, off to the tweed sport coat-with-corduroy elbow patches world of the ECACHL. And while Quinnipiac was a strong member of Atlantic Hockey and unquestionably an asset to the league, one must remember the school has made exactly one NCAA Tournament appearance. Conventional wisdom assumes the cream of the league has departed, but a look at the league's current flock indicates otherwise.
Holy Cross, Mercyhurst and Sacred Heart are extremely talented teams. Canisius, which gained a new bench boss in former Mercyhurst aide Dave Smith during the summer, somehow recorded a 14-7-3 league mark last season despite finding itself in more trouble than Sydney Bristow in an average episode of "Alias". Of course, Bentley, winners of all of eight games last season, bounced the Golden Griffins from the league playoffs. Connecticut returns six of its top seven scorers from last season and a very good goaltender in sophomore Scott Tomes.
Plenty of storylines in the circuit this season, all of which begs the question, Q who?
BREAKTHROUGH TEAM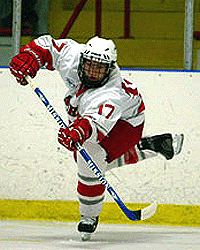 Alexandre Parent and Sacred Heart owned Atlantic Hockey's best conference record with three weeks left in the regular season, but ended the year with seven straight losses.
Sacred Heart seemed to be on the verge of a big finish last season. The Pioneers owned a league-best 13-5-1 mark after beating Army on Feb. 18 (more on the significance of that date later) but a seven-game losing skid to end the year short circuited any thoughts of a conference title.
All but four of the primary components from last year's squad are back this time around, including a pair of talented young Francophones in junior Pierre-Luc O'Brien and sophomore Alexandre Parent. If the returnees learned anything from the season-ending swoon – namely, how to avoid it – and New Jersey draft pick Jason Smith can step in for the graduated Kevin LaPointe in goal, Sacred Heart should challenge for the top spot in the conference.

PRIMED FOR A FALL
Given all the drama surrounding the team a year ago, it's a miracle Canisius found time to actually challenge for the league's regular season crown. And while the arrival of new coach Dave Smith likely brings to an end the off-ice turmoil, the Golden Griffins may be hard pressed to duplicate last year's on-ice achievements. With the top seven point-getters from a year ago returning, scoring shouldn't be an issue. Replacing departed all-conference goaltender Bryan Worosz, however, will prove to be a bit more difficult. The burden, at least to start, falls on the shoulders of junior Max Buetow, a 6-foot-6 behemoth who has been a disappointment in his first two seasons in Buffalo.
PRESSURE TO PERFORM
On Feb. 18, 2005, Mercyhurst, owners of a 10-15-4 overall record, looked less like a team en route to postseason and more like a squad destined for a spring break trip south of the Mason-Dixon line. Then coach Rich Gotkin replaced veteran goaltender Andy Franck with backup netminder Mike Ella – he of the 1-3-1 career record. The seldom-used sophomore turns into Patrick Roy circa 1986, the Lakers reel off eight straight wins and capture the league title with a thrilling overtime win over Quinnipiac before falling to Boston College in the first round of the NCAA Tournament.
Franck's gone, leaving Ella as the team's only experienced goalie. And while the Lakers are traditionally one of the most talented teams in Atlantic Hockey – one is hard pressed to find a better trio of forwards in the circuit than David Borrelli, Scott Champagne and Ben Cottreau – the departed Rich Hansen, T.J. Kemp and David Wrigley will be tough to replace. That could put the onus on Ella to be stingier than he was last year.
TOUGHEST ACT TO FOLLOW
Although the opening paragraphs of this preview set the stage for the post-Quinnipiac era in Atlantic Hockey and lightly chided them for their dearth of league playoff championships, the Bobcats and Mercyhurst did establish themselves as the class of Atlantic Hockey on a year-in, year-out basis. With Quinnipiac making the leap, it's crucial that one or more teams in the conference become the type of program that, along with the Lakers, can annually contend for the league title. As deep as Atlantic Hockey may be this season, the conference will take a hit in the long run if it morphs into seven (or eight or nine) teams chasing Mercyhurst.
BEST PLAYER
Holy Cross forward Pierre Napert-Frenette needs seven points to reach the century mark for his career.
At 5-foot-8, 165 pounds, Holy Cross forward Pierre Napert-Frenette isn't one of the college game's top physical specimens. But he is the most complete player in Atlantic Hockey, a dangerous scorer (93 career points, 38 of which came last season) with a lethal wrist shot and a fine defensive centerman who excels at winning draws. Coach Paul Pearl insists that he'll be pleased if the senior from Bathurst, New Brunswick – one of the Crusaders' co-captains and a double major in economics and math – sets a good example for the rest of the team on and off the ice. If past results server as an indicator of future performance, Pearl will be a happy man this season.
BEST NEWCOMER
Bentley coach Ryan Soderquist must look at his team's goaltending situation and figure he's discovered the hockey equivalent of living in the Wisteria Lane house between Teri Hatcher and Eva Longoria. Needing a replacement for the graduated Simon St. Pierre, the Falcons will likely have a three-way battle between senior Geordan Murphy, Maine transfer Ray Jean and freshman Jason Kearney, last season's North American Hockey League MVP. After joining the Soo Indians in November via a trade, the Gibsonia, Pa., native posted a 24-8-3 record to go along with a 1.82 goals against average, a .922 save percentage and six shutouts.
UNSUNG PLAYER
There were so many storylines at Mercyhurst last season – David Wrigley's swan song, the Kurt Warner-esque ascension of goalie Mike Ella, fabulous freshman Ben Cottreau, T.J. Kemp's second-half explosion – that it was easy to overlook the phenomenal effort of David Borrelli. The 5-9, 180-pound forward ranked among the league's top 10 in points, goals, assists, power-play goals and shorthanded goals. In fact, the Sault Ste. Marie, Ontario, product was one of eight players to share the NCAA lead in SHGs. Now that Wrigley, Kemp and Rich Hansen are gone, a duplicate of last season will earn Borrelli his due.
THREE BURNING QUESTIONS
1. Can Holy Cross goalie Tony Quesada find his mojo? Quesada was stellar as a sophomore, posting a 17-6-2 record, a 2.23 goals against average and .925 save percentage, and the Crusaders qualified for the NCAA Tournament. Last season, he was 9-9-4 with a 2.70 GAA and a meager .905 save percentage; Holy Cross was bounced in the conference semifinals. With the firepower and experience coach Paul Pearl has amassed in Worcester, Quesada holds the key to the team's postseason aspirations.
2. Will American International escape the Atlantic Hockey basement this season? Not likely, and that's based solely on the graduation of overworked, underappreciated goaltender Frank Novello. Novello played all but 10:08 for the Yellowjackets last season and somehow managed a .913 save percentage despite facing nearly 1300 shots, or about 450 more than his side attempted. The triumvirate in line to replace Novello – junior Matt Tourville and newcomers Tom Fenton and Coby Robinson – has 27:29 of NCAA experience. Does new AIC assistant coach Joe Exter have any eligibility remaining?
3. How will UConn replace scoring whiz Tim Olsen? Olsen, who ended his senior campaign with an even 100 career points, wasn't always so prolific. He scored just 23 points in his first two seasons in Storrs. The six Huskies who trailed Olsen in scoring last season are back this time around; four are juniors and one is a sophomore. An adequate increase in point totals from a year ago for that group coupled with Scott Tomes in goal and coach Bruce Marshall's charges could emerge as a darkhorse.
MARK IT DOWN
Five things you can take to the bank in Atlantic Hockey this season

1. Don't expect a regular season champion to be crowned prior to the last weekend in February. Two crucial series loom at the end of the league slate. Holy Cross makes the journey to Erie, Pa., Feb. 17-18 to face Mercyhurst. The following weekend, the Crusaders play a home-and-home set with Sacred Heart.
2. It carries nowhere near the importance of a conference championship scramble, but the Atlantic Hockey scoring race promises to be an entertaining affair. Eight of the league's top 12 scorers from last season – a group that was separated by a mere four points – are back for more.
3. One league member will record a significant non-conference upset this season. Connecticut posted the circuit's best non-league win last year with an overtime triumph at Massachusetts. Our prediction: Mercyhurst sweeps Ferris State in Erie Thanksgiving weekend.
4. Army has one more year to enjoy its status as owners of the league's coolest sweaters. The Black Knights' road jerseys are terrific, but RIT's home whites might be just a tad better. Yes, we really do contemplate such things here at INCH.
5. If this winter in the eastern part of the country is anything like last year's, Atlantic Hockey teams will welcome the addition of Air Force to the conference in 2006-07. January's average high temperature in Colorado Springs is a mild 41 degrees. Combine that with the warmth of the Rocky Mountain sun, which shines roughly 250 days a year and the breathtaking scenery, and we'll bet that a flight two-thirds of the way across the continent will be much more popular than a mid-winter bus ride to Fairfield, Conn.
Predicted Finish

No.

School
Of Note

1.

Holy Cross
There's a good chance the Crusaders could be skating in front of the hometown fans in late March at the NCAA Northeast Regional at the Centrum Centre.

2.

Mercyhurst
Forget about leaving Laker games early to beat the traffic. Of the team's 38 games last season, 21 of them were decided by one goal or ended in draws.

3.

Sacred Heart
Might there be two teams with the "Pioneer" nickname in this year's NCAA Tournament field? Junior goalie Jason Smith, a New Jersey draft pick a couple of years ago, holds the key.

4.

Canisius
Former Mercyhurst assistant Dave Smith takes the Lakers' blueprint for success and tries to transfer it to a Golden Griffins program that sorely needs direction.

5.

Connecticut
The grass is apparently greener on the other side of the fence in Storrs. The Huskies' roster boasts players from 11 states and one province. Connecticut isn't one of 'em.

6.

Bentley
The Falcons were 0-1-5 in six overtime games last season. Orange slices for everybody!

7.

Army
In his open letter on former captain Derek Hines' death while fighting in Afghanistan, coach Brian Riley wrote, "When you have the chance to watch Army, Air Force, or Navy play...take a moment and reflect on how special these young men truly are."

8.

American International
Might as well find out how you measure up right away. The Yellowjackets' first four series are home-and-home sets with Quinnipiac, Holy Cross and Sacred Heart and a pair with Mercyhurst in Springfield.