November 23, 2005
Crusaders Doctor of Offense
By Ken McMillan
Atlantic Hockey Notebook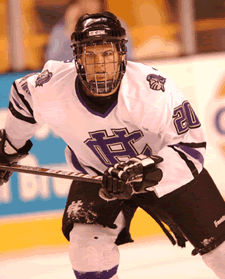 Tyler McGregor has 30 goals during the last two seasons for Holy Cross.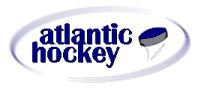 As an aspiring orthopedic surgeon Tyler McGregor of Holy Cross is going to be working with state-of-the-art equipment.
When it comes to his other operating room, the hockey rink, McGregor has decided to go old school.
"It sounds dumb, but I switched back to a wood stick at the start of last year,'' McGregor said. "I'm probably the only guy playing with one in the country, but I swear it gives a better feel for the puck.''
There's no doubting the results. McGregor scored a league-high 21 goals as a junior and has tallied nine times this season. Averaging one goal per game, the Holy Cross senior is tied for tops in the nation, along with Colgate's Tyler Burton (11 in 11 games) and Chris Collins of Boston College (nine in nine games).
"I'm glad to get off to a quick start,'' McGregor, 22, said. "The last couple years I've had some rough stretches early in the season so it's nice to get the first couple goals sooner rather than later.''
The goals came fast and furious on the weekend of Nov. 11-12. McGregor scored three goals in the first period of Holy Cross' shocking 10-3 win over Mercyhurst, the most productive period of his career. He added two more the next night, making him the obvious choice for Atlantic Hockey Player of the Week honors.
"Whenever we play Mercyhurst it's always a good game so it's easy to get excited,'' McGregor said. "I got a couple nice bounces and found myself in the right place at the right time. My linemates, Pierre Napert-Frenette and Blair Bartlett, have had some great chemistry and it all just came together.''
McGregor scored both goals in the Crusaders' 2-1 road win over American International on Nov. 19, staking him to the Atlantic Hockey lead.
"I just go into a season expecting to play well, which doesn't always mean scoring goals,'' McGregor said. "Our team is based on defensive discipline, so getting goals always seems like a bonus. I'm happy with my play so far, but the season is still very young.''
Holy Cross coach Paul Pearl said McGregor is one of those recruits whom you feel good about and then plays up to his potential.
"He's a good, solid two-way hockey player and very opportunistic around the net,'' Pearl said. "Since the day he got here he's had that goal-scoring knack. He doesn't have the hardest shot in the league – he just scores goals. He is one of those guys who is always around it.''
Maintaining poise is McGregor's key to offensive success.
"I find the more I worry about scoring or getting points, the tighter I play and less productive I am,'' he said. "When I get the puck in the offensive zone I just try to relax my head and read the goalie or defense as best as possible.''
Pearl said McGregor compares favorably to Holy Cross alums that decided to turn pro, but his attention is still on medical school.
"Playing after college was something I'd really thought of until recently,'' McGregor said. "My goal is still to attend medical school sometime after graduation, but as my playing days are winding down I'm starting to realize how much I would miss it if its gone. If any offers were to come my way I'd definitely listen.''
McGregor said he would like to close his collegiate career going out on top.
"Our goals are the same every year: win the season and playoff titles," McGregor said. "We'd like to make some noise out of our conference as well. We've closed that gap more and more every year, we don't think it should be a surprise when we defeat a team from another conference anymore."
Great Weekend Getaway

Rensselaer Holiday Tournament, Troy, N.Y. (Fri.-Sat.)
In Friday's opening round, Hockey East leader Providence (6-4-1) takes on CCHA's Nebraska-Omaha (5-6) at 4 p.m., followed by Atlantic Hockey runner-up Holy Cross (6-2-1) against the host school, RPI (6-4-3) of the ECACHL at 7 p.m.

While You're There: The Capital Holiday Lights in the Park takes place in Albany's Washington Park. Come see thousands of festive lights and costumed characters on Friday and Saturday between 6-10 p.m. Car admission: $10. The Schuyler Mansion (32 Catherine Street, Albany) wraps up its "Of Private and of Public Sorrow" exhibit from 11 a.m.-5 p.m. Visit the 1848 Shaker Meeting House and its Christmas Shop (10 a.m.-4 p.m.), located near Albany airport. Take in the Rodin sculpture exhibit at the Albany Institute of History & Art (125 Washington Avenue) from 10 am. to 5 p.m.


Stick Salute

American International freshman goalie Tom Fenton stopped 67 of 70 shots fired at him during a weekend set with Holy Cross, managing a 1-1 tie and 2-1 setback. Fenton raised his save percentage by 51 points to .878. He is 0-3-1 this season with a 4.28 goals against average.


Bench Minor

It's hard to point a finger at Holy Cross with its exceptional special teams, but an 0-for-15 effort on the power play against AIC was a bit hard to swallow for the Crusaders, who did escape with a one-goal win and a tie.

SEEN AND HEARD IN ATLANTIC HOCKEY
Giving thanks – The Thanksgiving holiday is a time to praise the noteworthy contributions that some Atlantic Hockey teams have made to their local communities.
• Sacred Heart hosted a Make A Wish Foundation event in July, bringing in a 12-year-old Arizona boy so he could have a snowball fight with his best friend from Connecticut. Following the exchange of snowballs, the Pioneers joined local hockey players for a game and pizza party. In September the team refurbished a local garden located near a school. The Pioneers also wrote notes to American troops who are serving our country in the Middle East on a huge holiday card.
• At Holy Cross, there are eight players who have learned sign language as part of their language requirements. On Saturday mornings, the Crusaders work with deaf players. Holy Cross players often volunteer to read and mentor local students. "We try to be involved in the community here because the community is awfully good to us,'' said coach Paul Pearl.
• Mercyhurst players have worked with a local adolescent center, a Shriner's Hospital for children, the annual college food drive and with a local skating club.
"There is absolutely no question that a little bit of humble pie is good for everybody,'' Pearl said.
"Every community service opportunity that our guys have been involved with, you leave that experience feeling good about yourself so there are some self-esteem benefits,'' said Sacred Heart coach Shaun Hannah.
FRIES AT THE BOTTOM OF THE BAG
• National leaders: Mercyhurst's Jamie Hunt (4-15—19) and Scott Champagne (7-12—19) are tied for second in the nation with 1.73 points per game averages. Hunt is second in assists per game (1.36), trailing only Bowling Green's Alex Foster (16 in 11 games, 1.45). Connecticut's Chris Myhro is seventh in the nation for points per game for freshmen (6-4—10, 1.11) and Bear Trapp of Sacred Heart is tied for ninth (4-5-9, 1.00). Holy Cross goalie Tony Quesada ranks eighth in goals-against average (1.82) and New Jersey Devils draftee Jason Smith of Sacred Heart is 15th (2.27). Quesada also ranks seventh in save percentage (.937).
• It's been a long time: On Saturday in West Springfield, Mass., American International and Rochester Institute of Technology meet for the first time since 1991-92 when the clubs skated to a 4-4 tie. Next season, both teams will be in Atlantic Hockey. RIT leads the series, 3-0-1. The Tigers, however, are winless in their last six.
• Streaks: AIC snapped a six-game season-opening losing streak with a 1-1 tie against Holy Cross. The Crusaders prevailed 2-1 the next night, dropping AIC to 0-7-1.
A variety of sources were utilized in the compilation of this report.