December 1, 2005
Smith Worth the Wait for SHU
By Ken McMillan
Atlantic Hockey Notebook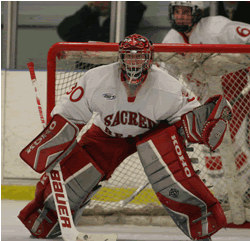 Jason Smith has assumed the starting role at Sacred Heart after two seasons as a backup.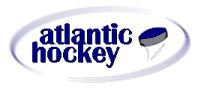 Jason Smith is finally living the hockey life that he could only imagine for the past two years.
Smith has ascended to the job of starting goaltender for Sacred Heart and is making the most of it. The junior from St. Lambert, Que., is off to a 6-3-1 start and ranks best among Atlantic Hockey netminders with a 2.24 goals-against average, which ranks 12th in the nation. His .919 save percentage is good for second in the league behind Holy Cross' Tony Quesada and ranks 14th nationally.
"I was thirsty to play, and now I'm getting playing time,'' says a grateful Smith.
"He's been real solid in the net,'' said Sacred Heart coach Shaun Hannah. "Positionally he's playing great and making the big save. He's not leaving a lot of rebounds and is playing a solid game for us.''
Hannah signed Smith out of the Quebec junior leagues with a plan to bring him along slowly while he rode veteran Kevin LaPointe for two more seasons. Smith appeared in five games as a freshman and just eight as a sophomore (LaPointe appeared in 58 contests). Smith handled the situation well, but it
wasn't always easy.
"I was hoping for a bit more playing time,'' Smith admits. "I thought I would see a little more action.''
Hannah held regular discussions with Smith. "He just said that it was a process … that's all it was,'' Smith said. "I understood. I am a patient guy and understand things. I knew what my role was. I just kept a good spirit about it and worked real hard.
"I didn't waste my time here. I learned a lot in those two years. I learned mostly mental stuff about the game. Technically the thing I've improved the most is reading the shots, reading the releases from the players, knowing where the puck is going to end up before it even leaves the stick.''
Smith's burgeoning maturity was not lost on Hannah.
"He came in with great skill,'' Hannah said, "but he has learned how to play at this level.''
The Pioneers are benefiting from Smith's play. His 18-save effort against Army on Nov. 29 staked Sacred Heart to a 4-2 victory and a move into first place in Atlantic Hockey.
"We're having a great season thus far,'' Smith said. "Things are falling all together. … We knew we had a lot of talent, even on paper. I think we're where we're supposed to be. This is where we wanted to be.''
Handling the pressure of a pennant chase is nothing new for Smith. He has been scrutinized closely by the hockey media since being chosen in the sixth round of the 2003 NHL Draft by the New Jersey Devils. While Smith is proud to be chosen by a great organization ("I won't lie; it's fun to be drafted,'' he said), he hardly gives the Devils much thought as he concentrates on his business studies and his hockey. He is reminded of his pro selection only when he reads the letters "NJD" next to his name in statistic packages or is asked about it by the media.
"Honestly I am taking it one step at a time,'' Smith said. "I am not thinking about this whole NHL situation. This is my first year starting … I have this year and the (next) year. We'll take it from there, wherever it leads me.''
If anything, Smith is more bothered by people who question why he decided to play at Sacred Heart and in Atlantic Hockey rather than play at a bigger school in one of the four older Division I college leagues.
"Being a goalie it doesn't matter where you play … Guy Hebert came out of (Division III),'' Smith said. "I'm in Division I, it's good caliber and we're playing good teams.
"I spoke to other schools but I committed here. I don't think I made a bad choice ... When I came here, coach made it very one-on-one with me. It was very personal, the visit. The people were great. I kind of like the campus, and when I met the guys, they were awesome. In college, that's what you want, to have a good time and to go to school. Everything is going perfectly right now.''
Great Weekend Getaway

Holy Cross at Canisius (Fri.-Sat.)
Holy Cross has dominated the series in the past four seasons, winning seven and tying four of the last 11 meetings. It helps when you can win on the road, and the Crusaders have done just that in Buffalo, posting five wins and three ties in the last 12 games at Buffalo State Arena. The Crusaders own a 15-7-7 all-time series lead.

While You're There: Buffalo is rich in holiday theater productions. There is a holiday lights festival at The Fairgrounds in Hamburg, south of Buffalo. The Amherst Museum is hosting an art exhibit of 19th Century Western New York paintings. If you would like to forget about the snow and cold, think tropical as model trains from the banana republics of Central America are on display at the Buffalo and Erie County Botanical Gardens (10 a.m.-5 p.m.). And don't leave town without grabbing a couple dozen Buffalo wings.


Stick Salute

Holy Cross played the role of The Grinch at RPI's Holiday Tournament, beating the Engineers 3-2 in the opening round behind Dale Reinhardt's game-winner and 33 saves by Tony Quesada. It was the Crusaders' first win in five meetings with RPI.

Bench Minor

AIC was blanked for the second time this season, falling 5-0 to RIT in the B.O.T.A (battle of the abbreviations). Sure, American International is a young club, but the Yellow Jackets are going to have to start finding some scoring. AIC has scored one-or-fewer goals in six of nine contests and just three goals in the last four outings.
FRIES AT THE BOTTOM OF THE BAG
• Bounce-backs: Canisius owns a 1-5 mark on Fridays but improves to 3-1-1 on Saturdays.
• Overtime is Griff time: Canisius is 2-0-1 in overtime contests this season. Andrew Dawe scored at 4:18 of the extra session last Saturday, giving the Griffins a 4-3 win and weekend split with visiting Connecticut.
• November surge: Canisius junior Joey Coccimiglio posted 11 points during November, the best month by a Golden Griffin since Chris Duggan had 11 points in February 2002.
• November swoons: Mercyhurst has lost three games in a row, non-league contests against Yale (6-3) and Ferris State (6-3 and 5-4). It is the first time the Lakers have dropped three in a row since the same point last season when Mercyhurst lost to Massachusetts and Colgate (twice). Coach Rick Gotkin's squad, which hosts Bentley in a two-game set this weekend, has not dropped four in a row since losing five in a row from Nov. 16 to Dec. 7, 2002. Bentley fourth-year coach Ryan Soderquist owns a 2-7-1 mark against Mercyhurst. Lakers coach Rick Gotkin enjoys a 12-4-2 advantage in 18
seasons against Bentley.
• Still the toast: Mercyhurst forward Scott Champagne has extended his point-scoring streak to 32 games. His goal against Yale came in the 30th game and broke the school-record tie with former All-America player Scott Burfoot (1990-91 season).
• Where did you park the bus?: Bentley's weekend series in Erie, Pa., marks the first time the Falcons have hit the road since Nov. 4 when they forged a 1-1 tie with Sacred Heart. The home cooking was quite nice as Bentley posted a 3-1-2 monthly record, the team's best November record in seven years. Bentley could use a little road success following an 0-3-1 start away from Waltham, Mass.
• Keeping it close: American International owns a slim 30-29-7 lead over Connecticut in a series which resumes this weekend, Friday in Storrs, Conn., and Saturday in West Springfield, Mass. The clubs went 1-1-1 last season.
• Uncomfortable out of league play: American International had just three non-league games on its schedule. AIC dropped a pair to Quinnipiac and last Saturday's game with Rochester Institute of Technology. The Yellow Jackets lost all six non-league regular-season affairs last season and went 1-7 the season before, securing a 5-3 win over visiting Wayne State on Dec. 12, 2003. A loss the next night marked the start of a 10-game non-conference losing streak.
• Taking a break: Holy Cross has 26 days off following its weekend visit to Canisius, resuming on Dec. 29 at Ohio State. The rest of the league still has one more week of play before the annual holiday break.
• See you next season: Rochester Institute of Technology is getting a good head start on its move into Atlantic Hockey next season. The Tigers own a 3-2 record against its future league foes this season, beating Air Force (it joins Atlantic Hockey next season as well), Canisius and American International while losing to Canisius and Sacred Heart. The "six points" in the standings would put RIT in sixth place, ahead of Army, Connecticut and AIC. RIT still has three more games with Air Force and a road game with Mercyhurst.
A variety of sources were utilized in the compilation of this report.