December 8, 2005
Golden Griffin-gate Redux
By Ken McMillan
Atlantic Hockey Notebook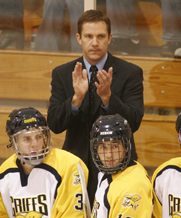 Dave Smith is in his first season behind the bench at Canisius.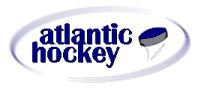 The Canisius College hockey program finds itself mired in yet another troubling situation with last week's dismissal of four players due to an unspecified violation of athletic department policy.
Sophomore forward Mike Ruberto, sophomore defensemen Matt Ruberto and Craig Nooyen and freshman goalie Ryan Hatch were dismissed from the team just prior to last weekend's series with Holy Cross.
"The Department of Athletics has a clear set of expectations for all of our student-athletes," said athletic director Bill Maher in a statement. "Unfortunately, coach Dave Smith and I have determined that the seriousness of this situation necessitates the student-athletes' dismissal from our hockey program."
The four players figured prominently in Smith's plans.
"I guess the impact will be determined at the end of the year when we look back," Smith told Inside College Hockey. "It's hard to predict right now. An opportunity arises now for somebody to fill their shoes."
The Golden Griffins were informed of the dismissals just prior to the Holy Cross series.
"We spoke with the team and they understand where the decision came from," Smith said. "The reaction that I see on the ice and in the locker room...they are still very focused in practice. They are still determined to improve every day. I don't want to say, no, they weren't shocked. They handled it like responsible young men."
For the Holy Cross series, Spencer Churchill played alongside Mike Ruberto's recent linemates, Chris Angelo and David Ovcjak. Bret Norris was paired with Brandon Irish-Baker, who replaced Matt Ruberto. Irish-Baker was formerly Nooyen's blue line partner.
"(The changes) won't be something that happens overnight," Smith said. "We have other guys on the roster that we like and believe in. We're going to give them a chance."
Holy Cross won by scores of 4-2 and 5-1, posting two power play goals on each evening.
"It was a tough weekend," Smith said. "Holy Cross played well. We got down early on Friday night, and still this is a team of competitors. We battled hard. We outshot them on the night. I thought we played hard and the difference in the game was special teams. When you play a Holy Cross, or any team really, and you lose the special teams game, 2-0, it's hard to win.
"Saturday night Holy Cross beat us...they controlled the play. They were playing at a level this weekend that we're not at on the weekend. They were better than us."
Mike Ruberto was tied for second on the team in scoring with 12 points on six goals and six assists in 12 games. He had played in 47 career contests and posted 15 goals and 19 assists. Matt Ruberto had tallied an assist in 10 games this season. He played in 39 career contests and posted two goals and 10 assists.
Nooyen amassed two assists and 10 penalty minutes in nine games this season. He had a goal and seven assists in 41 career games.
Hatch made five appearances in net, posting a 3-1 record and 2.73 goals against average. He stopped 90.4 percent of the shots fired at him.
Trouble has seemed to follow the Canisius program in recent years. Five years ago the school suspended coach Brian Cavanaugh for five days while a review took place over a practice incident involving player Matt Coulter. Cavanaugh hit Coulter in the helmet with a stick; Cavanaugh said it was a light tap to get the player's attention while Coulter claimed it was a vicious hit. The school later cleared Cavanaugh of any wrongdoing.
Cavanaugh, a 24-year bench veteran, was fired one year ago this week, the school citing "irreconcilable differences." Allegedly, the team threatened to sit out a game against Mercyhurst unless Cavanaugh was fired. Clancy Seymour and Stephen Fabilli took over the team on an interim basis.
The following week Canisius made a trip to North Dakota. A handful of players were involved in a drinking incident, which led to a brawl. There was damage to a hotel room and one player was injured in the fracas. A school investigation discovered the alcohol was purchased on a college credit card, and four players were suspended for a weekend series late in January. Following the investigation, athletic director Tim Dillon, who supported Cavanaugh, quit his job.
Smith worked as an assistant under Mercyhurst coach Rick Gotkin until this spring. Gotkin said Smith has not told him of the incident, and the former boss supports all that Smith is doing.
"I think it's terrible news," Gotkin said of the dismissals. "Dave is a professional. He obviously is upset about what happened.
"I think Dave Smith is doing all the right things there. I think he knew it wasn't going to be easy and turned around overnight. He needs time to instill his philosophies and his recruits and what not. I hope everything works out positively for him there."
SEEN AND HEARD IN ATLANTIC HOCKEY
Looking up at West Point: There was a time, not long ago, when a friend of Army coach Brian Riley came up to him and said, "You don't look too good." Having lost all seven games to open the hockey season, it's no wonder.
Since then, Army (4-9-2) has surged forward with four wins and two ties in its last eight contests that includes a rare league road win at Connecticut and a triumph over recent league-leader Sacred Heart. Riley is thrilled with the recent stretch, but he said his team was never as bad as the record indicated.
"We hadn't been playing bad," Riley said. "It was tough to convince people of that – even the players – but you are looking at the schedule and wondering if we are ever going to win a game."
The breakout came on the weekend of Nov. 11-12 with a home sweep of academy rival Air Force. "There is no better way to break out of a slump," said Riley, who is well-versed in the historical significance of the series with Air Force. "It was nice to see the guys rewarded for their effort. They knew they had the potential to be a good team but until they experienced a positive weekend like they did against Air Force they had to believe in themselves."
Defense has carried the Black Knights of late. In eight games since the start of November, Army has posted one shutout, allowed one goal on three occasions and twice surrendered two goals. Army has moved up to 24th in the nation at 2.80 goals allowed per game.
"It's team defense," Riley said, "and that starts with Brad Roberts in goal...he gives you a chance to win every game. Our guys understand that we're never going to be a high-powered offensive team, so if that's the case you better be good defensively.
"A team can learn to play defense if they bring a work ethic, if they are willing to do the little things like block shots and win the one-on-one battles along the boards. Our guys have always done that. Hopefully the offense will continue to get better and the defense will continue to get better as well. That will put us in a good situation now that we have gotten through that first half."
A well-earned rest: This weekend's limited schedule essentially wraps up the first half of college sports' longest season. College hockey starts in early October (two weeks ahead of basketball) and concludes April 8 (a week after basketball ends).
"I don't think people realize how long the college hockey season is," said Mercyhurst coach Rick Gotkin, who knows about lengthy seasons with the Lakers' recent participation in the NCAA Tournament. "You go on the ice October 1, you don't have Thanksgiving off and if you are lucky you have a Sunday to catch your breath."
As long as the folks in college hockey insist on playing the majority of their games on weekends, the 34-game regular-season schedule mandates the long campaign.
"I think the college hockey season is too long...that is my personal feeling," Gotkin said, surely echoing the sentiments of many. "It is a grind."
Sitting atop Atlantic Hockey headed into the final fall weekend, Gotkin is happy to get the ice-monkey off his back. The Lakers had dropped three games in a row (Yale and two against Ferris State) before coming away with a 7-4 and 10-5 sweep of visiting Bentley last weekend.
"It feels good to win again," Gotkin said. "It was nice to go out and play fairly well against a good team like Bentley, a hard-working team. You could sense in the locker room the mood was different after winning a game."
Give Gotkin a little credit. Mercyhurst's power play struggled against Ferris State so the veteran coach tinkered with the lineups. Gotkin paired Chris Trafford with Ben Cottreau and Dave Borrelli on one man-up unit, and put Kyle Gourgon with Scott Champagne and Matt Warrern on another. The result was 10 power play goals on 22 man-up situations against the Falcons.
"It has given us two different looks," Gotkin said.
Good to see you again: Mercyhurst coach Rick Gotkin and Canisius coach Dave Smith meet for the first time this weekend as head coaches. Smith was an assistant at Mercyhurst until this past spring.
"Dave Smith is a great coach and will have them fired up to play,'' Gotkin says of the weekend series split between Erie and Buffalo. "I know my guys will be fired up for Smitty....He knows what we do. We're not changing anything.''
Gotkin is glad Smith finally got a Division I head coaching job, but he does not feel this series is Rick Gotkin vs. Dave Smith.
"I'm not trying to be coy or anything,'' Gotkin said, "but I've been here 18 years with big wins and big losses. This just feels like another game...another important game.''
"Dave and I are good friends and always will be,'' added Gotkin, who speaks with Smith by telephone every couple of weeks. "We talk about the families. He likes to know about how the recruits are doing here.''
This isn't the first time Gotkin has faced a former member of his staff. Craig Barnett moved on to Findlay and the schools faced one another 10 times from 1996-97 through 2001-02. Gotkin won the first four meetings (including a 7-1 rout on Dec. 13, 1996, in their first encounter), but Barnett's Findlay team won four of the last six outings, including the final two in fall of 2001.
Great Weekend Getaway

Canisius vs. Mercyhurst
(Fri. in Erie, Sat. in Buffalo)
Mercyhurst coach Rick Gotin meets up with former assistant Dave Smith, now the head guy at Canisius. Canisius' recent player dismissals may not be the distraction that everyone thinks – a year ago these same two schools met up just as former Canisius coach Brian Cavanaugh was fired, and the Golden Griffins served up a 4-3 win in Erie and a 2-2 tie in Buffalo.

While You're There: Visit the Theodore Roosevelt National Historical Site in Buffalo for a Victorian Christmas celebration. The Buffalo & Erie County Historical Society is hosting the musem exhibit "Road to Freedom: Buffalo and the Advancement of Human Rights."


Stick Salute

Let's hear it for the rookies. American International freshman goalie Tom Fenton earned his first collegiate victory with a 29-save effort at Connecticut, a 5-2 triumph. He nearly completed the sweep the next night but bowed 2-1 to the Huskies. For the weekend, Fenton stopped 60 of 64 shots.

Bench Minor

Four player dismissals from Canisius may ultimately be the right thing for the Golden Griffin program, but the stench of player unruliness hangs over the program following last season's off-ice troubles. Coach Dave Smith will guide this program to better days, but it's time the players grow up and do the right thing. Playing Division I hockey is a privilege, not a right to misbehave and disregard rules that guide all students on campus.
FRIES AT THE BOTTOM OF THE BAG
• Sophomore jinx?: Robb Ross was a freshman when he led Army in scoring last season (nine goals, eight assists). So far Robb has yet to produce a goal in 14 contests.
• Commonwealth, common game: American International and Bentley do battle this weekend. Bentley won last season's series, 2-0-1, to take a 13-9-2 career lead. Bentley was cooled off by Mercyhurst last weekend but AIC is coming off a road win against Connecticut.
• Pass the Nutmeg: Connecticut and Sacred Heart also wage an in-state battle this weekend. Connecticut won last season's series, 2-1, to take a 13-10-3 career advantage all-time.
• On top in Storrs: Junior goalie Scott Tomes recently set the Connecticut career saves record. He has 1,661 stops, moving ahead of Jason Carey (2000-04) and his old mark of 1,616.
• Put a notch on the stick: Last week Sacred Heart handed Rensselaer of the ECAC Hockey League a 4-3 overtime defeat in Troy. It snapped a 15-game losing streak in non-conference games and 20-game winless streak dating back to a Feb. 22, 2003, win at Miami (Ohio).
• Leading the nation: Mercyhurst leads the nation with 70 goals and a 4.67 goals for average. Sacred Heart ranks ninth with a 3.69 goals for average. The 10 power play goals Mercyhurst scored against Bentley last weekend vaulted the Lakers to third nationally in power play efficiency (24.8 percent, 27-for-109).
"I'm not surprised by that,'' said Mercyhurst coach Rick Gotkin. "We have some gifted players.''
• Getting offensive: Mercyhurst juniors Jamie Hunt and Scott Champagne rank first and third in the nation in points per game. Hunt has four goals and a nation-leading 21 assists for 25 points (tops among all defensemen) and a
1.92 per game average. Champagne has 10 goals and 16 assists for 26 points and a 1.73 average. Teammate Dave Borrelli (9-11-20) is tied for fourth at 1.67 per game, future league member Simon Lambert of Rochester Institute of Technology (8-13-21) is seventh at 1.62 and Pierre-Luc O'Brien (8-12-20) of Sacred Heart is eighth at 1.54. Tyler McGregor of Holy Cross still leads the nation with 0.92 goals per game (11 in 12 games) and future league member Eric Ehn of Air Force is tied for seventh at 0.75 (nine in 12 games). Sacred Heart freshman Bear Trapp is tied for first with four game-winning goals.
• On the defensive: Jason Smith of Sacred Heart ranks 14th in goals-against average (2.28), one spot ahead of Tony Quesada of Holy Cross (2.32). Brad Roberts of Army is in 40th (2.80). Quesada has the edge in save percentage (.924, 10th) over Smith (.923, 12th).
• Sin bin notables: Bentley ranks second nationally in penalty minutes per game (28.3), trailing only Wayne State (31.7). American International ranks eighth (25.1) and Mercyhurst is 12th (24.1). On the positive side, Holy Cross is fourth-best with 14.8 minutes per game and Canisius is 12th-best at 17.3. Also helping Holy Cross is its penalty kill, ranked second nationally at 90.8 percent (69-for-76).
A variety of sources were utilized in the compilation of this report.