January 12, 2006
Army Honors a Fallen Hero
By Ken McMillan
Atlantic Hockey Notebook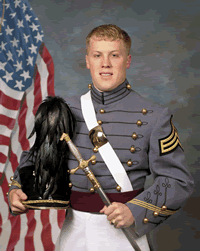 1st Lt. Derek Hines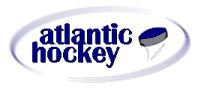 In life and death, Derek Hines continues to inspire cadets at the U.S. Military Academy.
Tragedy is nothing new to the Army hockey team, having lost three former players to a heart condition and two accidents in the recent few years, but Hines' death hits a little closer to home for a student body trained to lead soldiers into battle.
Hines, a 2003 graduate and four-year hockey veteran, was killed by small arms fire while on a mission in Afghanistan on September 1. He was buried a week later in his home town of Newburyport, Mass., following a tearful procession through lined streets and an emotional service.
The Army hockey program will honor its former team captain in what is sure to be an emotional ceremony at West Point's Tate Rink on Saturday prior to its Atlantic Hockey game with Holy Cross. The initials "DH" have adorned the rink surface since the start of the season and are worn on decals affixed to every Army player's helmet.
"It makes the season that much more important, to play harder," senior goalie Brad Roberts said of the dedication to a fallen teammate, "because you know he's up there and he's expecting you to play as hard as he played. To do anything less is a shame."
In the wake of every tragedy are the friends and family left behind.
"It was just like my heart dropped into my stomach," senior Chris Migliaro said upon hearing the sad news. "It was tough."
"Seth Beamer calls me on the phone," Roberts said. "He is like crying, and I'm like, 'What's wrong?' He said Hinesy just died in Afghanistan. I didn't know how to react. I just got in my car and just sat there. It didn't even really hit me until I saw him at the wake and then you just break down."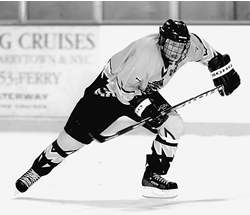 Derek Hines was Army's captain as a senior.
The service academies try to prepare every student for the dangers of war, but nothing drives the point home more than having a classmate get injured or die in combat.
"It really makes you grow up fast and makes you appreciate life in the Academy a lot more," Roberts said, "because you don't realize that right after you leave here you are going straight to war and that you are going to be fighting the nation's wars. It really brings you right back down to earth."
Beamer was devastated by the news because he was especially close to Hines, who took the first-year student under his wing and guided him through tough times.
"My mom always jokes and calls him my guardian angel," Beamer said in September, "because he was always there looking out for me, but that is the way he was with anyone. He just wanted to have an impact and make people better people."
It's certainly been a troubling time for Beamer, who lost his inspirational leader four months ago and lost his mother to cancer just last week.
"He was like a big brother to Seth, and I was always with Seth," Migliaro said. "Derek was always watching out for us and telling us, 'You guys probably don't want to do this. You don't want to do that.' He was like that big brother who kept you out of trouble. ... He was a great guy. He cared about the team and the players on it."
Hines taught Beamer about leadership, being a good teammate and the importance of being a soldier.
"Without him I never would have seen the light of what the cause, what everything I was there for," Beamer said. "He was always there for you if you ever needed anything. He always had a smile on his face, he never had a negative attitude. He always brought a positive attitude to any situation. He always made you smile coming out of the locker room. He was always laughing and having a good time.
"More so than other guys, he realized what his real duty was later on. Some guys aren't too eager to get out and serve when a war is going on but Hinesy was a little different. He wanted to go and do his part, do everything he could and try to make some kind of a change."
A photo of Hines hangs in the Army locker room in tribute to the fallen captain.
"Hinesy has been our motivation all season," Migliaro said. "It's tough every time you try to think back about Hinesy and what you did with him. It's sad that it took him passing away to motivate us. ... We look at that picture hanging up in the locker room and it just makes you want to go out there and give everything you've got, skate 100 mph on the ice, hit everything and win every game for him."
"He inspired me a lot whenever we came up to the rink," Roberts said. "He was on the ice before anyone else, taking shots, working extra hard. He wasn't the most skilled but he was always the hardest working guy on the team. Basically you loved him for who he was.
"Every time you think about all the guys who are seniors (back then) – Joe Dudek, Nic Serre – they are in Iraq now. When you're a freshman and you see them working hard like they did, you understand this is who I have to try and become to be a leader like them."
SEEN AND HEARD IN ATLANTIC HOCKEY
Yellow Jackets are buzzing: Gary Wright was already encouraged by what he was seeing from his American International team of late before its sweep of Canisius last weekend.
"We're pretty sure we're a lot more competitive game in and game out than last year or in previous years,'' said Wright, one of the deans of Division I hockey coaching.
The Yellow Jackets are getting more shots on net and creating more scoring chances by doing the dirty work: getting the puck on net, bodies in front of the cage and driving the net for rebounds.
"We are doing a better job of all of that,'' Wright said, "but we can't survive on manufactured goals. Those can help you a lot but we need some of our guys, including our upperclassmen, to score goal-scorer's goals for us.''
Wright is thrilled with the team's burgeoning confidence but he also knows AIC doesn't exactly have a history of winning so his job has been more psychologist than coach in recent years.
"It's easy as a coach,'' Wright said, "to kind of make up excuses for everything and say you're doing this and you're doing that but we're still not winning more. There is always a sensitivity there. Winning brings a lot of good things: it brings confidence and (raises) the psyche, the whole nine yards. ... It's definitely a challenge. With us not being a history of being one of the year in and year out contender, our psyche is probably naturally a little more fragile.''
In the cut-throat world of Division I athletics, Wright is certainly more old-school than many of his counterparts.
"We are trying to keep our spirits up, go to practice every day, work hard and also make things as fun as we can,'' Wright said, "but also challenge the guys that part of the fun of playing a college sport is the challenge of bettering yourself and it's a great benefit for yourself when you have great accomplishments. The nice thing is you share those accomplishments with your team.''
Amen to that.
The lone highlight: Army's stunning 5-0 victory over Mercyhurst last week was carried live by CSTV as part of its Friday Night Hockey package. The network did a great job of telling stories, highlighting key players on both teams and giving Atlantic Hockey a little exposure. However, it's the only Atlantic Hockey game to be shown on national television this season.
"For us, much like Army, it's another chance to spread the gospel of Atlantic Hockey,'' Mercyhurst coach Rick Gotkin said before the game.
How about a few more telecasts?
"I think that will come as the league progresses,'' said Sacred Heart coach Shaun Hannah. "It would be nice. It would give our league a little more exposure and get us into some homes that we wouldn't otherwise be in. It's a process, growing the league and expanding and doing those sorts of things. That would be something that is good and will come down the road.''
Hockey East, the ECAC Hockey League, the WCHA and the CCHA -- college hockey's four most-established conferences -- receive the bulk of telecasts on CSTV and ESPNU.
"The four conferences have the majority of games and probably deserve the majority of games just from the fact they have been around a lot longer and the rivalries are pretty much deeper,'' Gotkin said, "but I would like to see more Atlantic Hockey teams featured on CSTV. Maybe down the road that will happen.''
On a smaller scale, regional sports networks in New England and the Midwest do an excellent job of presenting college hockey, and it's time the New York market climbs aboard.
MSG Network now extends all through New York state and the Metropolitan region and would be ideal for picking up occasional games from Army, Sacred Heart and Canisius. MSG's tie-in with Fox Sports Net would also allow for national airings. New York's YES Network is also a viable option since the Yankees cablecaster telecast a couple Army games during the NHL strike.
It would also be nice for NESN to tap into a market which features three schools from the Massachusetts commonwealth and two from Connecticut.
Just food for thought ...
Great Weekend Getaway

Holy Cross at Army (Fri.-Sat.)
Two stingy defenses will go at it in this series. Holy Cross netminder Tony Quesada will set the school record for career wins (46) with his next triumph. Teammate Ben Conway has the hot hand of late, leading the league with a .931 save percentage – he has started the last three games. Army goalie Brad Roberts is coming off two impressive wins over Mercyhurst, allowing just two goals in 121-plus minutes. Holy Cross swept Army in Worcester, 1-0 and 5-3, in late October. Army did take three of four points from the Crusaders at West Point in Nov. 2004 but the recent series has been dominated by Holy Cross (7-1-1 in the last nine meetings). Army maintains the all-time lead, 23-14-3, since 1966.

While You're There: On Saturday take part in a Currier and Ives Workshop at the Harness Racing Museum in nearby Goshen. If you decide to stick around West Point for the weekend, the Hotel Thayer will host a Super Bowl Murder Mystery Theater on Sunday. The Mid-Hudson Library System in Poughkeepsie is hosting an exhibit on Alexander Hamilton. Second Saturday Beacon features a free celebration of the arts and historic sites from noon-9 p.m.

Stick Salute

Army goalie Brad Roberts pulled off his most impressive weekend performance in three years, stopping 70 of 72 shots on the way to posting 5-0 and 3-2 overtime victories over league-leading Mercyhurst, sporting the nation's top-scoring offense. As a freshman, Roberts posted a weekend sweep at Air Force. Roberts has helped Army hold opponents to two goals-or-fewer in five of its last six games.

Bench Minor

What's happened to the Connecticut offense? The Huskies have scored just one goal in each of the last three games and two in the game before that – all losses. UConn outshot Bentley (twice) and Brown but came up on the short end. Looks like a bit of extra shooting practice is in order.
FRIES AT THE BOTTOM OF THE BAG
• It's almost unbelievable to say but the weekend matchup featuring the league's hottest teams is Bentley versus American International College. Both teams are coming off weekend sweeps: Bentley downed Connecticut and AIC toppled Canisius. Bentley's 2-1 win at AIC on Dec. 10 extended its unbeaten string versus the Yellow Jackets to 5-0-1. AIC's last win in the series came Nov. 25, 2003.
• Bentley's eight overall wins matches its entire total from last season and surpasses all but one of the school's seasonal win totals since 1999-2000 (a 15-19 season in 2002-03 was the exception). Bentley hasn't won three in a row since Dec. 11, 2002-Jan. 4, 2003.
• The back-to-back wins for AIC are a first since topping Army and Bentley on Nov. 23 and 25, 2003. It is the first weekend sweep since taking two at Fairfield on Nov. 9-10, 2001. AIC hasn't won three in a row since Jan. 20-Feb. 2, 2001. AIC has killed off 45 of the last 47 man-down situations (95.7 percent) in the last eight league games.
• Canisius has lost eight in a row overall and its last five road games. Four of the losses were one-goal decisions and two were two-goal setbacks. Canisius had an eight-game winless streak in Jan.-Feb. 2004 (0-6-2). Canisius lost six in a row in Oct. 2002. Canisius had won its last six games at AIC since a 7-4 loss on Nov. 17, 2000. It is the second time this season the Griffins have been swept in a weekend road series – Sacred Heart performed the trick on Oct. 28-29.
• Mercyhurst looks to rebound from its two losses at Army as it faces Connecticut. The Lakers swept the Huskies in Erie, 5-2 and 5-3, in late October to take an 18-5-1 series lead, including an 8-4 mark in Storrs. Mercyhurst was swept on a weekend for the second time this season. Ferris State won twice in Erie on Nov. 25-26. The last road sweep and last league sweep was Feb. 4-5, 2005, at Quinnipiac. Mercyhurst had won its last six against Army.
• Connecticut is in the midst of a four-game losing streak. It is the third time this season that the Huskies have lost at least three in a row, and is the team's longest losing streak since dropping seven in a row from Oct. 31-Nov. 20, 2004. The Huskies' offense has gone dry of late, producing five goals in the last four games.
• Holy Cross is 1-for-its last 18 on the power play.
• The nation's best: The Mercyhurst trio of Jamie Hunt, Scott Champagne and Dave Borrelli rank second, fifth and sixth nationally in points per game. Pierre Luc-O'Brien of Sacred Heart checks in at eighth. Simon Lambert of future Atlantic Hockey member RIT ranks 12th. Tyler McGregor of Holy Cross is fourth in goals per game and Borrelli is 10th. Hunt continues to lead the nation in assists per game and points per game for defensemen. Bear Trapp of Sacred Heart ranks second in points per game for rookies. Holy Cross netminder Ben Conway has moved up to fourth in goals against average, two spots ahead of Jason Smith of Sacred Heart. Conway and Smith rank fifth and sixth,
respectively, in save percentage. Mercyhurst lost twice to Army but still leads the nation in scoring offense. Holy Cross checks in at 12th in scoring defense. Mercyhurst is second and Sacred Heart is eighth in power play. Holy Cross is fourth in penalty killing.
A variety of sources were utilized in the compilation of this report.