January 19, 2006
Bentley's Maine Man
By Ken McMillan
Atlantic Hockey Notebook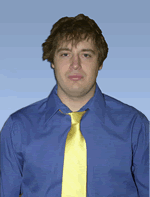 Ray Jean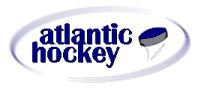 Ray Jean always dreamt about playing for his home state Maine Black Bears, but when he fell to the bottom of a three-goalie depth chart in Orono it was more important just to play.
Jean made the tough choice to leave Maine following his sophomore season, and now he is happy and thriving for the Bentley Falcons.
"It feels good,'' said Jean, 23. "It's something I haven't felt in about three years. It feels good to be back behind the team again."
Jean had played 13 games for Bentley, posting a 6-6-1 record and 3.08 goals-against average. The recent holiday break allowed Jean to return to basics and work on the technical aspects of his game. The result has been five strong starts in January with a 3-2 record, 2.00 GAA and .942 save percentage.
"I think I am playing pretty well right now,'' Jean said. "There are things I could do better. I feel better about my game than when I started the year."
Jean's first game in nearly a year-and-a-half was against Air Force in the Q-Cup tournament hosted by Quinnipiac.
"I think it's the first time in my hockey career that I've ever been nervous," he said. "The guys did a great job of keeping the shots to the outside. It was a pretty easy game to step back into."
There wasn't much smooth sailing after the opener. Robert Morris tallied four power play goals against Jean in a 5-2 win over Bentley on Oct. 22. Jean followed that with an 8-1 clunker against Union on Oct. 28.
"The Union one was pretty tough," Jean said. "I was frustrated for a couple weeks. I sat down and talked with coach (Ryan Soderquist). He told me how he could see I was frustrated and how it was rubbing off on the team."
That was an eye-opening revelation for Jean.
"He told me how the team looks at me and what they expect from me," Jean said.
Attention is always focused on the goaltender, but perhaps more so when you are a transfer from a highly successful program, Jean said.
"I think there is more pressure," Jean said. "I think some of the guys look at me differently because I came from (Maine), especially when I first came in. Now I don't think they notice any more ... they know I am part of the team."
Being part of the Black Bears program is all Jean wanted growing up outside of Augusta. Recruited out of prep school, Jean was brought in at the same time as Frank Doyle and Jim Howard. Before long, Doyle and Howard assumed most of the ice time. Jean made three relief appearances and played just 27 minutes.
"I don't think I played badly," Jean said, "but they played so well it was hard for me to get in. Schools are that way when you have a lot of depth."
It didn't get any better for Jean's sophomore season as he was limited to 13 minutes in two relief outings.
Doyle used up his eligibilty but Howard had earned the nod as the Bears' starting goalie in 2004-05. "It didn't make too much sense to stay around," Jean said.
Jean considered several schools for transfer purposes and settled on Bentley.
"Bentley was the best place for me," Jean said. "They offered me the opportunity to come in and play right away. They looked to me like a team that was on the verge of doing something in this league, whcih is a good opportunity for me."
Transfer rules forced Jean to the sidelines for all of last season. He made good use of the time by working on the technical aspects of his game, utilizing the tutelage of senior Simon St. Pierre.
"I got leaps and bounds better," Jean said. "I think (the technical work) helps me to be more consistent because if you are always reacting to the puck you are going to struggle. Now I can find I am not on my game and still play a solid game by getting in the way. I cover angles better, make plays better and have learned when to stay down, when to scramble and when not to."
One other thing Jean has learned of late is to rid himself of most of his pregame rituals and superstitions. He still gets dressed with his left side first ("because it feels comfortable," he says) but gone are the strict schedules on when to nap, when to eat and listening to the same music before every game.
"It's a lot easier to play now," Jean says with a laugh. "I am not worried about anything before the game. It takes a lot of stress away."
It is Jean's goal to lead the Falcons to a home playoff game and perhaps a berth in the Atlantic Hockey championship game. "I expect a lot from myself," Jean said.
SEEN AND HEARD IN ATLANTIC HOCKEY
A helping hand: A series of circumstances has Army coach Brian Riley believing in guardian angels.
His Black Knights fell behind 2-0 to Holy Cross last Saturday before rallying for a 3-2 triumph on the night the team honored former team captain Derek Hines, who was killed in combat in September.
On the first shift of the game, the puck sailed into the stands and grazed Hines' mother.
"It was almost like Hinesy was there saying, 'Okay, mom, quit
yakking and watch the game,'" Riley said.
Lyle Gal's first collegiate goal proved to be the game-winner. He wears uniform No. 23, the same number Hines wore on his high school team. And, by the way, Gal uses the same locker stall that Hines used.
"I don't know if people believe in it, but I think that Hinesy certainly had something to do with the outcome of that game,'' Riley said.
Riley thanked Holy Cross for their cooperation with the pre-game ceremony and the Crusaders' willingness to stay on the ice for the playing of West Point's alma mater. Holy Cross has also honored the fallen Hines by wearing a "DH" sticker on the players' helmets all season. "That's a classy move by a classy program,'' praised Riley.
A much better ride home: The schedule makers had Mercyhurst making long trips eastward on consecutive weekends. On the first trip, Army swept the Lakers for the first time, winning 5-0 and 3-2 in overtime.
"No one likes to lose," said Mercyhurst coach Rick Gotkin. "I can tell you around here it's not fun. We're a program that is used to winning. We love winning. We're not used to losing. When you lose a game, or back-to-back like we did, it doesn't sit well. You could tell on the bus ride home and you could tell in practice all last week that the guys were very, very disturbed by that."
Gotkin praised the inspired play by Army and identified a host of little things the Lakers had to work on, including an entire practice spent on the penalty kill.
Last weekend Mercyhurst received its bounceback, sweeping Connecticut 6-3 and 4-3.
"There were a lot of little things that we just did better at UConn," said Gotkin, who noted the bus ride home from Storrs went much better.
The game at Army was the first for Mercyhurst in 27 days, while Army played in the UConn tournament between Christmas and New Year's. Before the series, Gotkin was convinced the layoff was much needed and would not be detrimental, but now his thinking has changed a bit. Gotkin said he plans on evaluating how he schedules around and during the holiday break.
Great Weekend Getaway

Sacred Heart (Fri.) and Holy Cross (Sat.) at Dartmouth
The Big Green from the ECAC Hockey League will be hosting two of Atlantic Hockey's best, each of whom have winning records (3-2) in non-conference play. After this weekend, Atlantic Hockey has just two non-conference and two exhibitions remaining on its schedule. Dartmouth is 2-2-1 since Christmas. Seniors Mike Ouellette (20 points) and Eric Przepiorka (19 points) lead the Big Green scoring.

While You're There: Tired of breaking down a power play? You can attend Friday afternoon seminars on the highest energy particles in nature and the development of bioinformatics. For a more down-to-earth setting on Saturday morning, watch some sports heroes take part in the Upper Valley Special Olympics Winter Games at the Dartmouth Skiway. Bring a piece of cake for Wolfgang Mozart's 250th birthday celebration and concert on Sunday at the Rollins Chapel.

Stick Salute

Army won one for its fallen captain, rallying from two goals down to post a 3-2 victory over Holy Cross on an emotional night dedicated to the memory of Derek Hines. It was the first time Army rallied from behind to win a game this season.


Bench Minor

Canisius went 0-for-10 on the power play and managed just 41 shots in a pair of home losses to Sacred Heart. The Griffs' power play is just 1-for-its last 24. Thank goodness for a red-hot penalty kill – in the last six games the Griffs have killed off their last 30 man-down situations. Canisius is going to have to send a lot more shots on net to cool the hot hand of Army's Brad Roberts this weekend.

FRIES AT THE BOTTOM OF THE BAG
• This season Atlantic Hockey is 12-23-1 against schools from the other five Division I hockey conferences. The 12 wins represents the best mark by MAAC Hockey/Atlantic Hockey since the league's inception in 1998-99.
• Top Crusader: The new career wins leader at Holy Cross is senior Tony Quesada. His 4-3 victory over Army last Friday was the 46th of his career, breaking a tie with Paul Pijanowski (1984-87).
• (Wishing it wasn't) Unforgettable: The 10-game losing streak by Canisius ties the longest mark in school history first set by the Golden Griffins in 1988-89. The Griffs were winless in 10 (0-8-2) in 1998-99. Other forgettable streaks by Atlantic Hockey teams: Connecticut dropped 12 in a row in 1988-89 … Holy Cross dropped 11 in a row in 1989-90 … Sacred Heart lost 11 in a row in 1998-99 … American International lost 10 in a row in 2001-02 … Bentley lost nine consecutive games in 2000-01, and was winless over 17 (0-15-2) in 2001-02 … Army lost seven in a row to open the 2004-05 season … Mercyhurst lost six in a row in 1990-91.
• Lucky seven: The seven goals scored by Bentley in its 7-3 win over American International on Friday represents the Falcons' highest goal total in almost four years, and marked the team's first three-game win streak in three seasons. One night later, AIC snapped a seven-game winless streak against Bentley.
• Shutout king: Army's Brad Roberts blanked American International, 2-0, on Tuesday. It was his third of the season and seventh of his career. It was also Army's second road win of the season. Army plays its next five games at home (two with Canisius, two with Bentley, the opener of a home-and-home with Sacred Heart), where the Black Knights are 6-2-1.
• A bad start: Canisius has surrendered the game's first goal in the last five games (all losses), in 10 of the past 12 games and 14 of the last 17.
• Welcome to the club: Bentley senior Paul Markarian is the third Falcon to register 70 points at the Division I level.
• Endangered species: The Yellow Jackets of AIC are 1-18-1 against Mercyhurst. The Lakers host AIC for a two-game set this weekend.
A variety of sources were utilized in the compilation of this report.