January 26, 2006
Mercyhurst's "Old Man" and his G's
By Ken McMillan
Atlantic Hockey Notebook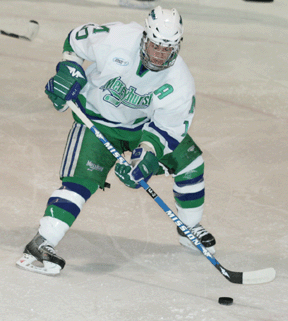 Mercyhurst's Dave Borrelli leads Atlantic Hockey with 17 goals.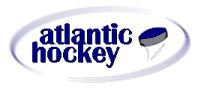 Dave Borrelli, the "old man" of Atlantic Hockey, is not going quietly into his rocking chair.
The senior at Mercyhurst College is leading the league in goals (17) and is tied for third in overall points – it's no wonder considering coach Rick Gotkin uses Borrelli on his top line, the power play and the penalty kill.
"It's my last year so I pretty much have to prove everything that I've got this year,'' said Borrelli, ever mindful to thank linemates Ben Cottreau and Chris Trafford for all that they have done.
"I feel our line is doing really well for the team right now,'' Borrelli added. "When you play with two guys like that it just makes it easier. We all are a bunch of grinders. We're not scared to go in front of the net or the corners. We're not scared to make mistakes.''
Borrelli is proud of his individual accomplishments and wouldn't mind winning the Atlantic Hockey scoring title, but his goal is to lead Mercyhurst to the NCAA tournament for the second year in a row and third time in four seasons.
"It feels good (to lead in goal-scoring),'' Borrelli said. "We talk about it in the dressing room. There are bunch of chirps going around. They say, 'You got 17 goals; can you hit 20?' I take it as it comes. I am going to have those games when I am down, too.''
Younger players on the team look up to Borrelli, and he has given advice on breakaway scoring on more than a few occasions.
Gotkin said Borrelli was one of his first recruits who "had clear-cut Division I ability.'' He was a proven scorer since his midget days in Ontario, and ended up playing Canadian Juniors until he was 20. He went to school for two years in Canada before accepting a scholarship from Mercyhurst. Borrelli said Canisius and Colgate also showed some interest.
Elder Statesmen

Dave Borrelli, who turned 25 on Jan. 4, is Atlantic Hockey's oldest player. The greybeards in the other leagues:

League

Player, Team
Birthdate
CCHA
Jason Krischuk, UNO
Aug. 16, 1980
CHA
Randy Harris, Niagara
Sept. 11, 1980
ECACHL
Mike Grobe, Yale
Feb. 7, 1980
Hockey East
Derek Damon, Maine
Nov. 12, 1980
WCHA
J. Montgomery, SCSU
Aug. 7, 1980
Borrelli just celebrated his 25th birthday three weeks ago. That makes him the oldest player in Atlantic Hockey and the 11th-oldest in NCAA Division I.
Gotkin is thrilled with Borrelli's work ethic in games and practices. Since his youth hockey days, Borrelli has always taken extra time following practice to work on his shots.
"Dave is a highly skilled, very intense competitor,'' Gotkin said. "He is hungry around the net, he's good with the puck and he has a real good shot.''
Though just 5-foot-9 and 190 pounds, Gotkin said Borrelli can play professionally, possibly following in the footsteps of Mercyhurst graduates David Wrigley and T.J. Kemp. A likely destination would be the ECHL or United Hockey League, although Borrelli wouldn't mind examining the possibilities in Europe since both of his parents come from Italy.
"I've been skating for 25 years now,'' Borrelli said. "Hopefully it doesn't end now. Hopefully somebody gives me a chance. I know I'm small but I can prove a lot and hopefully teams look at that.''
Should his hockey days reach an end, Borrelli hopes to put his business management degree to good use. He has a good head-start, having worked in his father's businesses since he was 13. His dad owns a clothing store, a toy store, a gift shop and a sports bar.
SEEN AND HEARD IN ATLANTIC HOCKEY
Double Zeroes: When Army goalie Brad Roberts gave up a third-period goal to Chris Angelo of Canisius last Saturday, it snapped his personal scoreless streak of 202 minutes, 19 seconds. Roberts had blanked American International, 2-0, on Jan. 17 and followed with a 3-0 victory over Canisius on Friday.
How uncommon are consecutive shutouts in college hockey? It has happened just eight times this season. Vermont and Boston College have each done it twice. Niagara, Ohio State, Providence and Colorado College have also performed the feat. Boston College is the only school to post three consecutive shutouts, the Eagles' current streak up to 217 minutes, 49 seconds.
It is only the second time in three seasons of Atlantic Hockey play that consecutive shutouts have been posted – Quinnipiac blanked Army, 2-0 and 3-0, on Jan. 23-24, 2004. The feat occurred five times in five seasons of Metro Atlantic Athletic Conference Hockey League play (1998-99 through 2002-03), twice by Mercyhurst and once apiece by Army, Quinnipiac, Sacred Heart and Iona.
Oh what a relief it is: First-year Canisius coach Dave Smith called his team's 2-0 win at Army last Saturday the biggest one of his brief career – that's because his first collegiate win was not weighed down by a school-record 11-game losing streak.
"This helps with some confidence,'' Smith said. "We haven't been a team that has played awful for the last 11, 12 games ... we just haven't found a way to win.''
The Golden Griffins pulled through on the 45-save effort of freshman Dan Giffin. It was Giffin's first win since beating Robert Morris in Smith's debut.
"It feels amazing,'' Giffin said. "I think we all forgot what it felt like to win. When everyone came and mobbed me at the end of the game we all just had a little celebration.''
Army made Giffin work hard with shots taken from all angles, including 25 on six power play chances.
"I had to focus on controlling my rebounds and try to be big in the nets,''
Giffin said. "I was standing my ground ... I didn't drop down early. They have a lot of good shooters so I wanted to show as little net as possible, let everything hit me, suck it in and don't let any rebounds in.''
Chris Angelo produced his first game-winning goal, converting a pass from Jaymie Harrington from behind the net to the slot area – fifteen seconds earlier, Angelo shanked the very same pass from Harrington.
"It's just getting the monkey off our back,'' he said. "It's been a long road, a lot of good games where we fell just short. It feels good to get that win and maybe we can start a roll here.''
And why not? The last Canisius victory prior to Saturday came against the very same Connecticut team the Griffins face twice this weekend.
Army in strange company: Army has won five of its last seven games, moving up to fourth in the standings, a spot the Black Knights had never occupied in the MAAC Hockey League or Atlantic Hockey. Granted, Bentley trails by just one point and has three games at hand, but Army is going to enjoy its moment in the upper-half of the league.
"Being in this position is something we haven't been in,'' coach Brian Riley said, "We told the kids ... that in order to hopefully move up in the standings there comes higher expectations, an accountability factor, that everyone is going to have to pay the price in order for us to keep winning.''
The race for the middle of the pack is up for grabs as Army hosts Bentley on Friday and Saturday.
Great Weekend Getaway

Canisius at Connecticut (Fri.-Sat.)
Now that Canisius halted its 11-game losing streak, that puts Connecticut on the clock with eight consecutive setbacks. The last win Canisius posted before beating Army last week was at the hands of Huskies (or is that paws?). The Golden Griffins look for consecutive league wins for the first time since the final weekend of the 2004-05 season. Connecticut must get stingier on defense, having allowed at least four goals in its last six games.

While You're There: UConn is hosting an art exhibit entitled, "From Royalty to Revolution," featuring a selection of French, English, Italian and German sculpture, paintings, drawings and prints from 1665-1789. There is also a photo exhibit detailing the history and effects of child labor.

Stick Salute

The Holy Cross power play netted four goals on 10 man-up chances in wins over Connecticut (twice) and Dartmouth. The Crusaders are up to 22 percent efficiency on the power play.


Bench Minor

The first period proved unkind for American International in consecutive losses at Mercyhurst. The Yellow Jackets gave up two goals on Friday night and five on Saturday night. Opponents are scoring on every nine shots taken on AIC in the opening stanza.

FRIES AT THE BOTTOM OF THE BAG
• Griffin notes: Canisius has killed off 42 of its last 43 man-down situations. ... The career-high 45 saves by Giffin is the most for a Griffin goalie since Sean Weaver stopped 46 Mercyhurst shots on Feb. 4, 2000. … Canisius managed just 10 shots on goal in Friday's loss at Army, its worst showing since firing 10 shots at North Dakota on Dec. 12, 2002. … Michael Cohen's empty net goal against Army on Saturday was the team's first in 38 games, dating back one year.
• It's a pearl: Holy Cross coach Paul Pearl is the school's all-time winningest coach with 168. The previous record was held by Peter Van Buskirk (1979-88 and 1996-97).
• Crusading through the ECAC: Holy Cross posted a 3-0 mark against the ECAC Hockey League this season, beating RPI twice and Dartmouth last Saturday. The win over the Big Green gave Atlantic Hockey its 13th non-conference win of the season, a new record.
• Hot hands: Holy Cross goalie Tony Quesada stopped 104 of 111 shots fired at him in the last week, beating Connecticut twice and posting a road win at Dartmouth. Mercyhurst goalie Tyler Small made 55 saves on 58 shots in a weekend sweep of American International. Sacred Heart forward Pierre-Luc O'Brien has a point in nine consecutive games.
• Emerging from the cellar: Over the last seven games Bentley's penalty kill unit has allowed just two goals in the last 30 opportunities, moving the Falcons from 59th to 57th in the NCAA rankings at 77 percent.
A variety of sources were utilized in the compilation of this report.