February 2, 2006
Mercyhurst's Hunt (La)Crosses Over
By Ken McMillan
Atlantic Hockey Notebook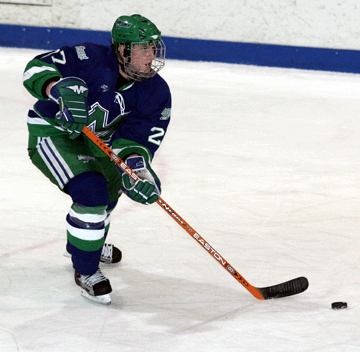 Mercyhurst's Jamie Hunt enters the weekend ranked second nationally among defensemen in scoring with 10-28–38 in 23 games.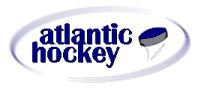 There was a time when Jamie Hunt thought about pursuing his lacrosse career but fortunately he stuck with hockey instead.
Box lacrosse's loss has proved to be Mercyhurst's gain.
Hunt has become one of the top offensive-minded defenseman in college hockey. He leads all Division I blue-liners in points per game (1.65) and is second among all players, recently bumped from the top spot by Chris Collins of Boston College (1.67). Hunt is also the nation's top set-up man with 1.22 assists per game.
"I always knew I had the talent to put up some points,'' Hunt said, "and be considered one of the better offensive defensemen in, maybe, my conference but it's nice to get some (national) recognition.''
With 10 goals and 28 assists, Hunt is one of five defensemen in the nation who currently leads his team in scoring.
"I have a lot more confidence this year moving the puck and the players around me are doing a great job of burying the pucks around the net,'' Hunt said. "I've been trying to make the right plays and the right reads on the power play. Things have been working out.''
It certainly helps to play alongside Conrad Martin, a stay-at-home defenseman who was voted the top blue liner in Atlantic Hockey last season, and on a team with incredible offensive weapons in Scott Champagne, Dave Borrelli and Ben Cottreau.
"Jamie has been putting up incredible numbers,'' said Mercyhurst coach Rick Gotkin. "He has played well for us all year, both offensively and defensively. He skates so well, he handles the puck so well and he sees the ice so well, which has been a huge part of Jamie's success.''
Gotkin said Hunt has the skills of a forward, which shouldn't be surprising because that's where he played as a youth hockey player in Calgary, Alberta. With size, skill and the ability to make breakout passes out of the defensive end, several junior coaches moved him back to the blue line and that's where he stayed.
"I wasn't too mad about (the switch),'' said Hunt, who idolized Calgary's Jarome Iginla while growing up. "On defense you get so much ice time back there, and on the power play. There are plenty of chances to create offense from the back end, too.''
Hunt said he learned a lot from former Mercyhurst teammate T.J. Kemp, who is now playing minor league hockey. "Without him at the start of this year,'' Hunt said, "I felt I had to step it up and put up some points.''
Hunt said he was afraid to jump into the offensive play last year but growing confidence and a new aggressive style has made all the difference.
"We don't restrict our guys too much,'' Gotkin said. "We pretty much tell them if you are in the play you can stay in the play and be in the play but there are times when Jamie leads the rush and Jamie leads the forecheck. He has the green light, as long as he doesn't try to do too much and he's been great with that.''
Hunt's teammates have learned to keep an eye on him and cover for him on the ice.
"They have been good,'' Hunt said. "They know I like to get into the play and make plays down low. If I wasn't putting up the points I think they would be a little more mad because I wasn't on the back end and they were covering for me but it's gone good this year.''
"He's great,'' praised Borrelli. "When he gets it on his stick, half the time he is making an unbelievable pass or it's in the back of the net.''
Jumping into the play is not a conscious decision for Hunt, more a reactionary move.
"When we break the puck out,'' Hunt said, "if I see an opening or if I can beat one of their forwards up the ice I know I can create a chance. That's what I've been doing so far, beating their forwards up the ice and guys have been making really nice plays and I've been able to capitalize on it.''
Case in point on Tuesday. Trailing 7-6 late in the third period to the U.S. Under-18 team, Hunt realized one of the USA forwards had turned his back so he pinched in toward the net and converted a pass for the tying goal. Hunt also produced the game-winner in overtime – unfortunately for him, his three points from the exhibition win won't count toward his collegiate totals.
A former high school quarterback and junior lacrosse standout in Alberta, Hunt gave up those sports once he received his lone scholarship offer from Mercyhurst. Hunt loves the small-college atmosphere and has excelled in the classroom, hoping to put his pending finance degree to good use back in oil-rich Calgary. He wouldn't mind playing a little pro hockey first, though.
"I don't think there is any question he will play pro,'' Gotkin said. "He is getting some looks now from some NHL teams.''
Right now the focus is on holding the top spot in Atlantic Hockey, winning the league tournament and playing in the NCAA tourney for the second year in a row.
Said Hunt: "If the points still come, fine, but if they don't ... as long as I am doing my job and helping my team win, the most important thing is winning the championship and garnering more respect for our team and our conference and getting back to the NCAA tournament and hopefully upsetting the top seed.'
SEEN AND HEARD IN ATLANTIC HOCKEY
Red Light and Blue: Mercyhurst needed a late third-period goal and an overtime goal, both by Jamie Hunt, to overcome the USA Under-18 team, 8-7, in a wild exhibition on Tuesday in Erie. Tyler Small made 35 stops in net for Mercyhurst. Matt Warren also scored twice, with Ben Cottreau and Dave Borrelli each notching two assists for the Lakers.
"There are some great players on that team,'' Hunt said. "They are going to be excellent players and some of them are going to go on to the NHL.''
Hunt was very impressed with the American teenagers.
"It just shows that USA Hockey and their developmental programs are getting better and better,'' he said. "You could tell they are younger but they definitely had the talent.
"It was a tough game to play because they move the puck as well if not better than any Atlantic Hockey team. We can learn things from them, just the way they move the puck on the power play and how intense they were.''
Team USA is 24-14-2 overall and 5-13-2 against NCAA teams this season. In 2004-05, the Under-18 team posted an 11-11-5 record against collegians (7-8-3 versus Division I, 4-3-2 versus Division III).
Team USA beat Canisius, 5-2, on Oct. 15. The American kids also split with future Atlantic Hockey member RIT two weeks ago, winning 9-6 and losing 8-5. Team USA closes its NCAA schedule with two games at RIT on Feb. 24-25.
Fourteen former National Team Development Program players were on NHL rosters at the start of the season. They are Keith Ballard (Phoenix), David Tanabe (started the year in Phoenix before being dealt to Boston), Rick DiPietro (New York Islanders), Adam Hall and Ryan Suter (Nashville), James Howard and Brett Lebda (Detroit, although Howard has since been sent down), Andrew Hutchinson (Carolina, placed on injured reserve today), Ryan Kesler (Vancouver), Mike Komisarek (Montreal); Jordan Leopold (Calgary), John-Michael Liles (Colorado), Freddy Meyer (Philadelphia, has bounced between the Flyers and their AHL affiliate) and, Brad Winchester (Edmonton, now in the AHL.)
Great Weekend Getaway

Holy Cross vs. Bentley (Fri. in Waltham, Mass; Sat. in Worcester)
Connecticut at Yale (Sun.)
A Commonwealth showdown pits two teams itching to stay in the top half of Atlantic Hockey. Holy Cross needs just one victory to move ahead of Mercyhurst (which has just one non-league game Sunday against RIT) and a sweep would give the Crusaders a three-point lead on the idle Lakers. Bentley trails Army by just one point and could leap-frog the Black Knights, who have a challenging two-game set with Sacred Heart. Make the weekend complete with a non-league affair along I-95 as Connecticut tries to snap its losing ways against Yale from the ECAC Hockey League.


Stick Salute

If Sacred Heart had any hope of catching Mercyhurst for the regular season title, a sweep was in order. Call FedEx because the Pioneers' package was delivered with a resounding effort.


Bench Minor

A quality matchup doesn't necessarily lend itself to quality hockey. Mercyhurst and Sacred Heart evenly split 56 penalties over their two-game series. There were nine incidents of coincidental penalties on Friday and two more on Saturday. Rugged play is encouraged; sloppy or vengeful action is not.

FRIES AT THE BOTTOM OF THE BAG
• Blow hards: Officials gave their whistles a workout during the weekend clash between Mercyhurst and Sacred Heart. Referee James Doyle whistled Mercyhurst for 18 penalties and Sacred Heart for 16 in their series opener. Cooler heads prevailed on the second night with referee Ed Boyle making 10 calls against the Lakers and 12 against the Pioneers.

The constant parade to the sin bin left fans with just 25 minutes, 35 seconds of five-on-five hockey on Friday and 27:36 of full-strength action on Saturday. In all there were 147 penalty minutes, with 51 minor penalties, one major and four misconducts.
• I remember being that busy: Sacred Heart goalie Jason Smith made 54 saves in Saturday's win over Mercyhurst, tying his own school record originally set Oct. 11, 2003, at Providence in Smith's collegiate debut.
• Roberts rising: Army senior goalie Brad Roberts is 106 saves shy of setting the all-time career mark at West Point.
• We love the bus: Holy Cross owns an 11-4 road record this season (including 1-1 in neutral arenas). The Crusaders were 11-10-1 in 2004-05, 12-9-2 in 2003-04, 8-11-1 in 2002-03, 8-6-4 in 2001-02 and 1-17-1 in 2000-01. Holy Cross can extend its overall win streak to six games (matching its longest streak since 2003-04) with a win at Bentley on Friday.
• No scratching: Bentley senior Josh Chase has played in 93 consecutive games since his rookie season, and junior Kyle Larman has not missed a start in 89 career games.
• From cold to hot: Canisius freshman Dan Giffin followed up seven consecutive losses with back-to-back shutouts of Army and Connecticut. He posted 26 saves in his shutout victory on Friday. The next night Giffin needed to make a career-high 50 stops in order to secure a 5-2 victory. His shutout streak reached 147 minutes, 34 seconds, the best by any Canisius goalie since the program turned Division I in 1998-99.• Double O's: The consecutive shutouts for Canisius marked the first double blanking since Oct. 16 and Oct. 22, 1999.
• Primed for 100: Mercyhurst has two players ready to reach 100 points in their careers. Scott Reynolds needs one point and Scott Champagne needs three. Both players were shut out in two weekend losses to Sacred Heart.
• See you soon: Mercyhurst and Rochester Institute of Technology renew their series with a non-league game in Erie on Sunday. The teams have not met since 1998-99, with RIT leading the series 16-9-3. RIT joins Atlantic Hockey next season.
A variety of sources were utilized in the compilation of this report.