February 11, 2006
The Pierre Principle
By Ken McMillan
Atlantic Hockey Notebook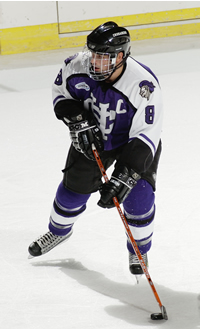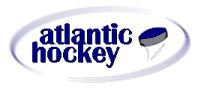 Editor's note: Technical difficulties prevented us from bringing you this week's Atlantic Hockey notebook at its normal time. We apologize for the inconvenience.
Pierre Napert-Frenette lives with three other Holy Cross hockey players, all of whom will likely test the ranks of professional hockey. Napert-Frenette has the skills to do so but he also has the smarts to know he is holding a better hand in the business world.
Retirement has been in the cards since last summer when Napert-Frenette accepted a job as a financial analyst, pending his graduation, for JP Morgan Chase in New York. He harbors no regrets about his decision, and looks forward to the remaining dozen or so games in his hockey career.
"It was hard to say 'no' to hockey but it's a great opportunity,'' Napert-Frenette said. "Sometimes you're like, 'Ahhhh, I want to play,' but I made up my mind that this is probably the end, like 99 percent sure.''
Napert-Frenette is going out in grand style. He is co-captain of a Holy Cross team that has taken over the lead in Atlantic Hockey. Considered one
of the best two-way players in the league, Napert-Frenette is second on the team in scoring with 11 goals, 17 assists and 28 points. For his career, the senior from New Brunswick, Canada, has 49 goals, 72 assists and 121 points.
Said Holy Cross coach Paul Pearl: "Offensively he is very gifted, has a canon for a shot, he sets people up and does a good job. He is a smart hockey player and really knows the game. He is able to see the ice well. He is one of the best we've ever had.''
Pearl said Napert-Frenette is the center he uses in most pressure situations because of his maturity, his talent on the penalty kill and ability to win faceoffs in the defensive zone.
Napert-Frenette has thrived in clutch situations. Playing juniors for the Victoria Salsa in the British Columbia Hockey League, Napert-Frenette scored the last three game-winning goals in the championship series against Merritt that went seven games.
"Those two months of hockey I played were the most fun I ever had in my life,'' said Napert-Frenette.
He also enjoyed Holy Cross' championship run in the first Atlantic Hockey tournament in 2004, and wants to lead his club back to the NCAA tournament to serve as the perfect ending for his career.
"Every game you think about it, that it's going to be the end,'' Napert-Frenette said. "You have been playing 20 some odd years and it's going to come to an end soon. You try to make the best out of it.''
SEEN AND HEARD IN ATLANTIC HOCKEY
Going for the sweep: Army is looking for its fourth consecutive victory over Royal Military College of Canada when the teams meet in their annual exhibition on Saturday in Kingston, Ontario. Army senior goalie Brad Roberts has won all three of his matchups with the Paladins and can become the first cadet netminder to ever post four wins. Adding his 5-2 record against Air Force, Roberts owns an 8-2 mark against the service academies with a 1.60 goals against average and .947 save percentage.
Crusader Nation growing: Holy Cross' ascension into first place in Atlantic Hockey has caused a bit of a stir in Worcester, but tickets are still available for Crusader home games at the Hart Center.
"We have done well crowd-wise,'' said coach Paul Pearl. "We have done better
because there are no more IceCats here. I think there are some transplanted AHL fans who have come to our rink.''
Napert-Frenette notices the upturn in fan support but insists roundball takes precedence on campus.
"Actually Holy Cross is not really a big hockey campus; it's always been basketball,'' Napert-Frenette said. "That's the one thing we never like as hockey players. We tried to get people into it but this campus is (Boston) Red Sox and Holy Cross basketball.''
Having lived five years outside of Montreal, Napert-Frenette became a Montreal Expos fan but he lost interest in baseball following the strike-shortened 1994 season (which doomed a playoff-bound Expos team) and the constant talk of Les Expos leaving town.
"Actually my girlfriend is a Red Sox fan,'' said Napert-Frenette, "and she said if I wasn't a fan now it wasn't going to be good, so I sort of started liking the Red Sox after winning the World Series.''
Good move, Pierre.
Hail to the new leader: Holy Cross jumped into first place ahead of Sacred Heart and Mercyhurst with four weeks to play. Holding the top spot, though, has no special meaning for the Crusaders.
"It's nice to be in first place,'' said Napert-Frenette, "but there are still eight games left in the season. ... It probably won't be decided until the last night of the season. We know we can't stop and coast in. We have to keep on working every weekend and hopefully we will be on top at the end.''
"We have been around (the lead) all year,'' said coach Paul Pearl. "We are not a team that has a standings board in the locker room. I don't think first place means a heck of a lot on February 8th. I think it will mean a ton on March 5th.''
No looking ahead: Holy Cross has a huge two-game series at Mercyhurst next
weekend but there is still work to be done this weekend as Canisius visits
Worcester for a pair of games.
"We had two battles against them early so they are smart enough to know this is a really good team coming in,'' Holy Cross coach Paul Pearl said. "They (Canisius) have won three in a row and starting to get their stuff going a little better.''
Great Weekend Getaway

Mercyhurst at Bentley (Fri.-Sat.)
Bentley is trying to bounce back from last weekend's sweep at the hands of
new league leader Holy Cross. The Falcons picked up one point on idle Army with Tuesday's tie against AIC, and still trails the Black Knights by two.
The Falcons are in need of at least one victory in order to stay in the hunt for the fourth and final home playoff spot. Mercyhurst swept Bentley in Erie in December.

Stick Salute

Kudos to Holy Cross for finally grabbing the top spot in Atlantic Hockey. The Crusaders swept Bentley 2-1 and 4-1 to jump over Mercyhurst and Sacred Heart, the two teams Holy Cross will be facing the next two weekends. The Crusaders have won seven in a row, the second-longest win streak in the nation.

Bench Minor

You hate to kick a team when it's down but Connecticut has dropped 11 games in a row. The Huskies have surrendered four goals or more in their last nine games. At least the Huskies gave Yale from the ECAC Hockey League a battle in a 4-3 decision.
FRIES AT THE BOTTOM OF THE BAG
• Sad tidings: There is a bit of sadness associated with Saturday's 75th meeting between Army and Canada's Royal Military College. Longtime RMC coach Danny MacLeod suffered a heart attack on January 25 and has not recovered to the point where he can attend the historic game.
• First to 100: Mercyhurst teammates Scott Champagne and Scott Reynolds each have 99 career points heading into their weekend series at Bentley.
• No, you take it: Connecticut and American International College, who meet this weekend, played twice in December. The teams traded road wins.
• Hot hand: Tyler McGregor of Holy Cross has a point in seven consecutive games, with four goals and 12 assists during the stretch.
• Just not enough: Bentley owns a 4-2 record when it scores four goals – both of those losses came to Mercyhurst, 7-4 and 10-5, in early December.
• Relaxing: Sacred Heart has the weekend off for the first time since Dec. 29-30. The Pioneers are 8-3 since the start of the new year.
A variety of sources were utilized in the compilation of this report.