February 16, 2006
Holy Cross' Crusade Continues
By Ken McMillan
Atlantic Hockey Notebook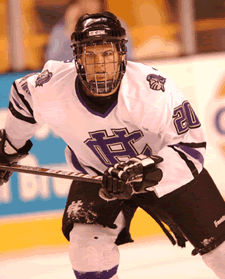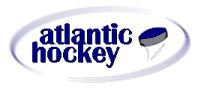 Now that Holy Cross sits atop Atlantic Hockey, the Crusaders are going to learn that holding on to first place is not so easy.
First up, the Crusaders must face Mercyhurst in a matchup of No. 1 versus No. 2. Next week, Holy Cross and third-place Sacred Heart will play a home-and-home series.
"I think as the season progresses there is certainly a sense excitement for any team no matter what place you are in as the playoffs are looming because that is what you are playing for,'' said Holy Cross coach Paul Pearl.
Being on top is nice, Pearl says, but he added the team's focus should be only on the game ahead of it.
Said Pearl: "I think though a big mistake can be, and I probably made it some when I first started coaching, is to constantly remind the guys of the standings and big games. You have to worry about yourself and what we are doing each night in order to get where you want to be.''
When Mercyhurst visited Worcester in November, the teams split the series.
Holy Cross won the opener, 10-3, and dropped the nightcap, 4-3.
"I think the games will be similar to when we played them here in November,'' Pearl said. "The games will be fast and will be up and down. Both teams I think are kind of similar in their talent and skill levels.
"When we go up there on the road and play those guys it has always been great games and a great challenge for our program. And with it being three weeks shy of the playoffs it is perfect to be in a tough environment against a tough team. I think it just makes you a better team.''
Pearl was upset about his team not completing the sweep of Canisius last weekend, but the loss should serve as a reminder about how important each and every game is to the standings.
"I think (Canisius) played very well and I like their team,'' Pearl said, "but the three goals we gave up I think we just handed to them and you can't do that at the Division I college hockey level. And as we get closer to the playoffs we have to do it even less because every point is so important.''
Holy Cross finished four points ahead of Mercyhurst two years ago but finished fourth last season, two points behind Mercyhurst and Canisius. Five years ago the Crusaders missed the playoffs.
SEEN AND HEARD IN ATLANTIC HOCKEY
A hometown honor: Holy Cross senior goalie Tony Quesada was the lone Atlantic Hockey player nominated for the 54th Walter Brown Award, which goes to the top American-born player in New England. The other 14 candidates came from Hockey East and ECAC Hockey League schools.
"I think it is great,'' said Holy Cross coach Paul Pearl, "because we are trying to get our name associated with some of the top programs. We feel like we play a level of hockey with those other schools in Hockey East and the ECAC so to have Tony in there with kids from those two leagues is great.''
Quesada is the school's career leader in wins (54) and save percentage
(.914) and is tied for first in goals against average (2.51). He is second in games played in goal (94), saves (2,376) and minutes played (5,364 minutes, 26 seconds). This season he is second in the league in goals against average (2.23) and save percentage (.926) and tops in win percentage (.816, 15-3-1).
"Tony is a very viable candidate,'' Pearl said. "If you look at his numbers and compare what he has done with everyone else, he is a very good candidate for that award.''
Taking it off … for charity: All Sacred Heart players will shave their heads in a charity event on March 9 in Bridgeport, Conn. It will be the culmination of a three-week fund-raising effort with the team's goal of $10,000 for cancer research. The shaven heads is a sign of solidarity with children who lose their hair after receiving chemotherapy. The Pioneers are rallying around three-year-old Brent McCreesh, who has been battling stage four neuroblastoma since Sept. 2004. A "Team Brent" link for the Pioneers can be found at www.stbaldricks.org.
Great Weekend Getaway

Holy Cross at Mercyhurst (Fri.-Sat.)
It's No. 1 vs. No. 2...what else can you say? With a half-dozen games to play, Holy Cross owns a one-point lead over Mercyhurst. Will the top two offenses share a shootout or play it close to the vest? Fans in Worcester got a little of both in November: Holy Cross won the opener, 10-3, and Mercyhurst took the nightcap, 4-3. Mercyhurst has won four in a row, but the last time the Lakers squared off in a crucial series they dropped two to Sacred Heart. Holy Cross won eight in a row before falling to Canisius last Saturday. Holy Cross has set a new mark with 11 road wins. Mercyhurst leads the series, 14-6-1.

Stick Salute

The Connecticut Huskies can finally breathe after dropping 12 consecutive games. The streak-ender came in dominant fashion, Chris Uber's four assists setting up a 6-0 whitewashing of American International College.

Bench Minor

You can't fault Bentley for trying but the Falcons managed just four goals on 88 shots on net in two weekend losses to Mercyhurst. The Falcons are winless in their last nine (0-6-3) since Jan. 13.
FRIES AT THE BOTTOM OF THE BAG
• It ain't perfect, but …: Army was less than a minute from winning its fourth consecutive meeting with its Canadian counterpart, the Royal Military Academy when the Paladins notched the tying goal in Saturday's exhibition in Kingston, Ontario. The teams went scoreless in overtime, leaving Army's Class of 2006 – and senior goalie Brad Roberts – with a 3-0-1 record. Army owns a 39-29-7 lead in the longest-standing international sports series.
• Shutout bookends: Connecticut's shutout victory over AIC was its first win of 2006. The last time the Huskies visited the win column was in its own tournament, a 3-0 blanking of Army, which just happens to be this weekend's opponent.
• Forty-fying: There are 15 Division I players in the nation to eclipse 40 points, and Mercyhurst has three of them: Jamie Hunt (41), Dave Borrelli (40) and Scott Champagne (40). Borrelli ranks third in points per game (1.60) and tops in goals per game (0.88). Hunt leads in assists per game (1.19).
• Stingy in net: Goalie Jason Smith of Sacred Heart has a chance to establish two MAAC/Atlantic hockey single-season records. His 2.14 goals against average (which ranks 11th nationally) would better the mark of 2.21 set by Holy Cross goalie Scott Simpson in 1998-98. Smith's .932 save percentage (ranked fifth nationally) is tied for best with Jamie Holden of Quinnipiac set in 2003-04.
• Blue-line dreaming: Jamie Hunt of Mercyhurst needs five points to break the league defenseman scoring mark of 45 set last season by Reid Cashman of Quinnipiac. Hunt's 22 points on the power play ranks second to record-holder Cashman (26), also set last year.
• Hunt in the hunt: Hunt is only the eighth league player to eclipse 30 assists; his 31 helpers trails the league mark of 36 set by Jed Holtzman of Quinnipiac in 1998-99. Hunt needs 15 points to tie the league mark of 56 set by Mansoff in 1999-2000.
• Borrelli tracking three marks: Dave Borrelli of Mercyhurst is only the seventh player in league history to score 22 goals. He needs seven more to tie Shawn Mansoff's mark of 29 scored for Quinnipiac in 1999-2000. With one more short-handed point, Borrelli would tie Mansoff's league mark of six.
Borrelli needs two power play goals (his 11 is tied for tops in the nation) to tie the league mark of 13 set last season by Pierre-Luc O'Brien of Sacred Heart.
• Earning points where you can: Army has managed to earn at least one league point in every weekend series with the exception of its first: Holy Cross swept the Black Knights in Worcester on Oct. 28-29.
• Almost the top Knight: Army senior Brad Roberts has made 2,824 stops in his stellar career. He could take over the Academy lead with 35 stops this weekend against Connecticut, surpassing record-holder Tom Garver (1973-77) and his mark of 2,858.
• Gonna hear it when he gets home: Army sophomore Bryce Hollweg has dual citizenship in the United States and Canada. He grew up just outside of Los Angeles, but the family moved to the Vancouver area after older brother, New York Ranger Ryan Hollweg, decided to play junior hockey in British Columbia. In back-to-back years, Bryce Hollweg has scored a goal against Canada's Royal Military College.
• Playing like it's 1999: Pierre-Luc O'Brien of Sacred Heart has produced 99 points in 99 career games.
• Centurions: The Mercyhurst tandem of Scott Champagne and Scott Reynolds each surpassed 100 career points last weekend. Champagne has 104 points and Reynolds has 101.
• Hot hand: Tyler McGregor of Holy Cross has registered a point in nine consecutive games, and has a total of 20 points during that span.
A variety of sources were utilized in the compilation of this report.