February 23, 2006
Win, Place or Show...Who Knows?
By Ken McMillan
Atlantic Hockey Notebook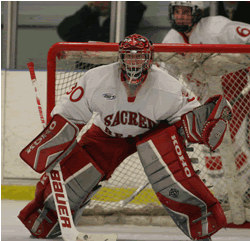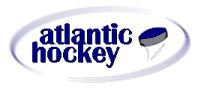 The Atlantic Hockey season is shaping up into a three-team race for the title.
Holy Cross (36 points), Mercyhurst (33) and Sacred Heart (32) are separated by four points, and each has clinched home berths for the March 11 quarterfinals. The final berth is going to come down to a race between Bentley and Army.
Mercyhurst has the best potential for a four-game sweep into the playoffs. The Lakers host Army this weekend, mindful of the two losses they suffered at West Point in January. Mercyhurst then closes with Canisius, which is struggling to stay out of last place.
Holy Cross will surely be playoff tested by the end of this weekend. Last week the Crusaders took three of four points from Mercyhurst, and now Paul Pearl's team must take on Sacred Heart in a home-and-home. Sacred Heart's only chance for a regular-season title hinges on a sweep, but that is unlikely against a surging Holy Cross team.
In the battle for fourth place, Bentley and Army each have to face a top-tier team and a lower-tier team. Army plays at Mercyhurst this weekend and closes with a home-and-home with last place American International College. Bentley has a home-and-home with Connecticut and a home-and-home with Holy Cross. Bentley has the tougher road since Connecticut has a resurgent offense and has gone 2-0-1 in its last three. AIC is 0-2-1 in its last three, scoring just three goals, and has not beaten Army this season.
How important is home-ice in the playoffs? The host school has won three of the four quarterfinal matchups in four tournaments not played at a neutral site (2000, 2002, 2003, 2005) and swept all four quarters in 1999 and 2001.
The tight finish for league supremacy is not unusual. Last season Quinnipiac edged runner-ups Canisius and Mercyhurst by three points, and only seven points separated first through fifth. Holy Cross managed a four-point advantage over Mercyhurst in 2003-04. Mercyhurst nipped Quinnipiac for the top spot in the final season of the MAAC Hockey League in 2002-03, but both teams had a comfortable margin over the rest of the circuit. The last runaway was Mercyhurst's dominating 10-point advantage over Quinnipiac in
2001-02. Mercyhurst edged runner-ups Quinnipiac and Iona by three points in 2000-01. Quinnipiac pulled away to a nine-point lead over Mercyhurst in 1999-2000 and a five-point edge over Holy Cross in 1998-99.
How important is momentum? Playoff champ Mercyhurst won five of its last six before sweeping through the 2003 tournament and won seven of its last eight before sweeping the 2005 tourney. Holy Cross defied momentum in 2004, posting a 3-2-2 mark in the final month of the season before winning three playoff games; of course, the top contenders all stumbled into that playoff season.
Great Weekend Getaway

Sacred Heart vs. Holy Cross,
(Fri. in Worcester, Sat. in Milford)
It's the last chance for Sacred Heart to make an assault on the No. 1 seed, and a sweep would pull the Pioneers into a tie with the front-running Crusaders (of course Mercyhurst could still pull ahead of both by a point with a home sweep of Army). Holy Cross, of course, has claimed 19 of a possible 22 points since Jan. 19 and took three of four points from Mercyhurst last weekend. Fans, don't leave your seats because goals may be at a premium with a goaltending showdown between Jason Smith of Sacred Heart and Tony Quesada of Holy Cross.

While You're There: An exhibit of never-before-seen art pieces will be on display on the Holy Cross campus. Also, a Dave Matthews cover band, Ants Marching, will perform at 11 p.m. in the Hogan Ballroom – it is billed for Holy Cross students only, but maybe you can sweet talk your way in for the show. If you hurry out of the game on Saturday, the band Reaganomics will be performing at Sacred Heart's Outpost.

Stick Salute

Bentley goalie Ray Jean came up huge with home playoff ice at stake. Jean blanked Canisius 1-0 on Friday and followed with a 4-3 victory on Saturday, vaulting the Falcons one point ahead of Army for fourth place. Jean stopped 59 of 62 shots he faced.

Bench Minor

Army has gained a reputation for being a tough home team in the latter half of each season, but the Black Knights managed just one point with a loss and tie to Connecticut. Army scored just one even-strength goal and surrendered eight goals to what had been a struggling Husky offense. Now Army must battle from behind in its bid to secure the fourth and final home playoff spot.
FRIES AT THE BOTTOM OF THE BAG
• Crusaders on the hill: With at least five games remaining, Holy Cross is just one win shy of its single-season mark of 22 set by the 1998-99 and 2003-04 teams.
• Tide has turned: Army's hope to host a quarterfinal playoff took a major hit with the Black Knights giving away three of four home points to Connecticut and Bentley sweeping Canisius, giving the Falcons a one-point edge. Army plays three of its last four on the road, including this weekend's set at Mercyhurst, where the Lakers are surely loaded for bear following their two losses at West Point in January.
• Three years in waiting: Bentley junior Ray Jean posted his first collegiate shutout, a 1-0 win at Canisius. He spent two previous seasons playing backup at Maine. The shutout loss at home was the first for Canisius since being blanked by Niagara on Feb. 15, 1997, a streak of 132 games.
• Truly special: Mercyhurst scored five goals last weekend against Holy Cross. Two were on the power play, two came short-handed and just one occurred during five-on-five skating. … Army was woeful a year ago on the power play, but the Black Knights have improved a bit this season. Last weekend Army posted three power play goals in each game versus Connecticut, raising its perentage to 12.1 percent.
• Hot hands: Holy Cross senior Tyler McGregor has a point in 11 consecutive games, posting seven goals and 17 assists during the streak. … Holy Cross is 10-0-1 in the last 11 games that goalie Tony Quesada has played … Bentley's 11 victories marks only the second time the Falcons have posted double-digit wins since moving to Division I … Connecticut's Cole Koidahl scored two goals in three consecutive games. He has 10 points in his last four games.
• Record setters: Pierre Napert-Frenette is poised to break the Holy Cross record for most games played. His next appearance will tie the mark of 138 set by Tim Coskren (2000-04). … Holy Cross goalie Tony Quesada is tied with Paul Pijanowski (1984-87) for most games played in goal with 96 … Pierre-Luc O'Brien of Sacred Heart has tied the school record for most points in a season (41) … Sacred Heart netminder Jason Smith has set the single-season record for wins (15) … With 14 points in the standings, American International has established its new high in three seasons of Atlantic Hockey play … Army goalie Brad Roberts is the new saves king at West Point, with 2,859 stops thus far. His 114 appearances in goal is also a school record … Bentley's Paul Markarian and Josh Thompson are one game shy of the school mark of 125 career games played … Canisius is 2-10-1 at its home site, the Buffalo State Arena. The 10 losses are the most in school history.
• Leave me in, coach: Bentley senior defenseman Josh Chase has played in 100 consecutive games. Only 21 players at Bentley have played 100 games, and not all consecutively. … Army goalie Brad Roberts has made 40 consecutive starts.
• And the weakened shall be strong again: Connecticut has followed a 12-game losing skid with two wins and a tie. Bentley followed an 0-6-3 skid with two victories at Canisius.
• Can't beat us … in overtime: American International College has not lost its last nine overtime contests, posting two wins and seven draws. … When Bentley swept Canisius last weekend, it marked the first time the Falcons have taken a season series (3-1-0) from the Golden Griffins.
A variety of sources were utilized in the compilation of this report.