March 2, 2006
Bentley Making Big Strides
By Ken McMillan
Atlantic Hockey Notebook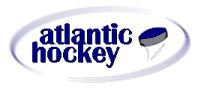 Ryan Soderquist does not view the significance of finishing in fourth place in Atlantic Hockey as being able to host a quarterfinal playoff game, rather a sign that his Bentley College program has arrived.
One point is all that stands between Bentley and a home playoff with Army. The only way the Falcons (13-14-5) are hitting the road on March 11 would be losing both weekend games to Holy Cross and Army beating American International twice, a scenario that is not too far-fetched but unlikely nonetheless.
"I think it's extremely important to solidifying our program as a serious contender,'' Soderquist said. "To lock up that fourth seed and get a home game for the first time since turning Division I would be great for our program.''
Soderquist said excitement about his program has been building within the New England hockey community, and a home playoff brings validation.
"You get that hype going around campus,'' he said. "People start saying, 'Hey, we're in the final four versus being in the bottom four.''
The future looks bright for a Bentley team whose three leading scorers are all freshmen. Anthony Canzoneri (8 goals, 19 assists) is a playmaker who works hard every night, Soderquist said. Jeff Gumear (7 assists) has 15 goals, many coming off rebounds and from paying the physical price in front of the net. Dain Prewitt (8 G, 12 A) has been playing a solid right wing all season. Tom Dickhudt has two goals and 14 assists, and is tied for sixth on the team in scoring.
"We knew that ... the incoming class was a class that ranked right up there with the other recruiting classes throughout the league,'' Soderquist said. "We have come a far way in terms of recruiting.''
The Falcons have rebounded nicely from a recent 0-6-3 skid, sweeping weekend sets with Canisius and Connecticut and outscoring the competition 15-7.
"We weren't winning games because we weren't staying focused for 60 minutes and we weren't playing basic hockey for 60 minutes,'' Soderquist said. "That's where our senior class picked it up and keeping the focus on demanding that guys play 60 minutes and that guys play team hockey for 60 minutes.''
It also helps to get strong play from junior netminder Ray Jean, the transfer from Maine.
"Even during that 0-6-3 stretch he had been playing well and making all the saves he needed to make,'' Soderquist said, "but he didn't get over the edge and make saves that he wasn't supposed to make in order to win us some games. He didn't lose us any games early in the year or in that stretch but he didn't go out and win us any games either. He has done that the last two weekends in a row ... he has played four great games.''
One slip by Army and fourth place is in the bag for Bentley, but that's not the way Soderquist wants it.
"We want to earn our home playoff spot,'' he said. "We want to win it and prove to people that we should be there.''
Bentley finished seventh the past two seasons, fifth in 2002-03 and 11th the previous two years.
SEEN AND HEARD IN ATLANTIC HOCKEY
Mercy High and Sacred Low: Holy Cross gave life to the pennant hopes of its challengers with its two losses to Sacred Heart (4-3 in overtime and 5-2). Heading into the final weekend, Holy Cross and Sacred Heart are tied atop the standings with 36 points and Mercyhurst is a point back.
"We weren't ready to play both games,'' admits Holy Cross captain Pierre Napert-Frenette. "The first game, the first 15 minutes, we weren't even there at all. You have to give credit to Sacred Heart – they came out flying.''
Napert-Frenette said there might have been "a hangover" after taking three of four points on the road at Mercyhurst the weekend previous. Following the second loss to the Pioneers, the Holy Cross players held a team meeting and cleared the air.
"Everything was addressed and I think everyone will be ready to go this weekend, that's for sure,'' Napert-Frenette said. "We have to learn our lessons.''
He added: "It's a bump in the road, but we're still in great position.''
Holy Cross plays Bentley in a home-and-home series. The Crusaders would like to clinch the top spot in the standings, and Bentley needs just one point to secure the fourth spot and host Army next weekend in the quarterfinals.
Finishing first, second or third may not make too much of a difference, given the improvement of the clubs in the bottom half.
"Our league is so balanced,'' Napert-Frenette said, "and in one-game (playoff) showdowns like this it's tough.''
Great Weekend Getaway

Holy Cross at Bentley (Fri.)
Bentley at Holy Cross (Sat.)
The regular-season title and a home-ice playoff berth are likely at stake in what promises to be a spirited affair. Holy Cross won both meetings earlier in the season, 2-1 and 4-1.

While You're There: Boston isn't far from either school. Beantown by day, hockey by night … what could be better? Grab the Globe and duck the snowflakes at Faneuil Hall.

Stick Salute

Sacred Heart, wow. The Pioneers had just one way to stay in the race for the regular-season title, and they pulled it off with a sweep of Holy Cross. Sacred Heart goalie Jason Smith stopped 54 of 59 shots, winning his duel with Holy Cross keeper Tony Quesada, who stopped 60 of 69 shots.


Bench Minor

On the verge of wrapping up the regular-season title, Holy Cross came out flat in back-to-back losses to Sacred Heart. Tie-breakers, anyone?
FRIES AT THE BOTTOM OF THE BAG
• Success in Western PA: Army made a bit of history on Saturday with its 3-2 victory over Mercyhurst. It was the Black Knights' first victory in 10 career games at the Ice Center in Erie. It also gave Army its first season series triumph (3-1) over the Lakers.
• Going cold: AIC has just one win in its last 12 (1-8-3). The Yellow Jackets have just five goals in the last five games.
• Falcons are soaring: Bentley recently went 0-6-3 and dropped into fifth place. Since then, the Falcons have rolled off weekend sweeps of Canisius and Connecticut to regain the precious fourth position. The four consecutive wins is a new Division I mark for the program. The magic number for Bentley's home-ice clinching is one point.
• Making the sinners pay: What has gotten into Army's power play of late? The Black-and-Gold has converted 10 of its last 35 man-up opportunities and has a power play goal in its last four games (five, if you count a tally in its exhibition with Royal Military College).
• Making it respectable: Canisius has followed its 11-game losing streak with a 5-3-1 run since Jan. 21. Defense has been at the core of the recovery with freshman Dan Giffin pitching three shutouts. The Golden Griffins have moved from last place to sixth.
• Something about late February …: Holy Cross dropped consecutive games for the first time all season. The last time the Crusaders lost two in a row was exactly a year ago as Mercyhurst did the trick.
• Not again: American International set a school record with its fifth tie of the season. AIC is 2-0-8 in its last 10 overtime games.
• Someone to lord over: American International won its first season series in three years, topping Canisius 2-1-1.
• In the lineup: Bentley's Paul Markarian and Josh Thompson broke the school record with their 126th career appearances last weekend… Pierre Napert-Frenette of Holy Cross has the new school mark of 139 career games.
• Bring out the broom: Atlantic Hockey teams produced five four-game series sweeps this season, and three more are pending this weekend. Mercyhurst has swept Connecticut, American International and Bentley. Also, Sacred Heart has blanked Canisius and Bentley swept Connecticut.
This weekend, sweeps can be finished off by Holy Cross (over Bentley), Mercyhurst (over Canisius) and Connecticut (over Sacred Heart).
• League single-season record watch: Dave Borrelli of Mercyhurst is third all-time in goals (25), four behind record-holder Shawn Mansoff of Quinnipiac … Jamie Hunt of Mercyhurst ranks third in assists (32) … Tyler McGregor of Holy Cross, Pierre-Luc O'Brien of Sacred Heart and McGregor are tied for eighth in points (46), 10 behind Mansoff … The Mercyhurst trio of Ben Cottreau (25), Borrelli (24) and Hunt (22) rank 2-3-4 in power play points behind Reid Cashman of Quinnipiac (26) … Borelli (12) and McGregor (11) rank 2-3 in power play goals behind O'Brien (13) … Borrelli and Cottreau have tied the short-handed points mark of six set by Mansoff … Borrelli needs one short-handed goal to tie Mansoff's mark of five … Bear Trapp of Sacred Heart needs one game-winning goal to tie Quinnipiac's Chris Cerrella with seven … Hunt needs three points to tie Cashman for most points by a defenseman (45) … Sacred Heart goaltender Jason Smith owns the top goals-against mark (2.12) and is tied for best save percentage (.932) with Jamie Holden of Quinnipiac.
A variety of sources were utilized in the compilation of this report.