March 10, 2006
Atlantic Hockey Three-For-All?
By Ken McMillan
Atlantic Hockey
REGULAR-SEASON RECAP
TOURNAMENT PREVIEW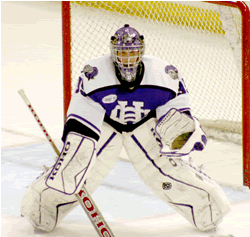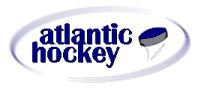 A three-team race to the finish line of the Atlantic Hockey season brought out great character and uncovered some flaws with the contenders.
Holy Cross won the marathon with the closest finish of any college hockey season. The Crusaders finished a point ahead of Mercyhurst, which finished a point ahead of Sacred Heart. Each team had a piece of the lead at least once in the past six weeks, but Holy Cross never let go once it moved into the top spot on Feb. 3.
One has to wonder how Holy Cross could come out flat in a crucial two-game set with Sacred Heart just two weeks ago. The Crusaders recovered and will play at home all tournament long, but has the seed of doubt been planted?
Sacred Heart heads into the tournament with the most momentum, having gone 8-2-1 in its last 11. One of those yips, however, came in the season finale at Connecticut, denying the Pioneers their first regular-season crown (Sacred Heart would have prevailed in the tie-breaker with Holy Cross).
Mercyhurst is the league's most-proven program with six consecutive Final Four appearances but it is a team that lost twice to Sacred Heart in January, split with Holy Cross in February and dropped three games to Army. The Lakers are proven scorers but are going to need some good goaltending if they want to repeat and claim their fourth tourney championship.
THE FAVORITE
Home ice is nice, so that gives Holy Cross the edge in the post-season. The Crusaders are 9-4-1 at the Hart Center, and the hometown crowd should be whipped into a frenzy for AHA Final Four weekend. Tony Quesada has been a money goaltender in the post-season.
AHA Quarterfinal Matchups
No. 8 American International at No. 1 Holy Cross
AIC: 6-20-5 (6-17-5 AHA)
HC: 23-9-2 (19-7-2 AHA)
Season series: HC leads, 3-0-1
Yellow Jacket Facts: AIC held a lead in three of the four games with Holy Cross, and 87% of season series was played in a tie or one-goal differential. AIC, which has never won a quarter-final playoff match,.posted its most victories (league and overall) in three seasons.
Crusader Facts: Holy Cross won its second regular-season title. The Crusaders won the Atlantic Hockey pennant and tourney in 2004, and the MAAC tourney in 1999.
How AIC Wins: If they pull ahead, the Yellow Jackets have to finally prove they can hold a lead against the Crusaders. Cutting down Holy Cross' odd-man rushes would be a good first step.
How HC Wins: The Crusaders have to pay close attention to AIC's speed in the neutral zone, and stay out of the penalty box.

No. 7 Canisius at No. 2 Mercyhurst
Canisius: 10-22-2 (8-18-2 AHA)
Mercyhurst: 21-12-1 (19-8-1 AHA)
Season series: Mercyhurst leads, 4-0
Golden Griffin Fact: The Griffs' drop from second place last season to seventh ties for biggest drop in eight years of MAAC/AHA competition.
Laker Fact: Were it not for an empty net goal on Saturday, all four games between Canisius and Mercyhurst this season would have been one-goal victories the Lakers.
How Canisius wins: Mercyhurst is prone to taking penalties and Canisius has to make the Lakers pay. Griffin thinking dictates the best way to counter a powerful offense is being aggressive on offense, too.
How Mercyhurst wins: Speed kills, and that's what the Lakers need to emphasize. Mercyhurst beat Canisius last week with 14 skaters; it can certainly do it with 18.
No. 6 Connecticut at No. 3 Sacred Heart
UConn: 10-22-2 (9-18-1 AHA)
Sacred Heart: 21-11-2 (18-8-2 AHA)
Season series: Connecticut leads, 3-1
Husky Fact: Connecticut, the only lower seed with a winning series record against its quarterfinal foe, hasn't won a playoff game since 2002.
Pioneer Fact: Sacred Heart closed the regular season with a 5-1-1 streak, a near reversal of last season's 0-5 slide into a quarterfinal loss.
How UConn Wins: The Huskies can't let Sacred Heart jump out to a big lead and gain momentum. Staying out of the penalty box is essential.
How SHU Wins: The Pioneers need to step up on the power play, win more battles for loose pucks and get traffic in front of Husky netminder Brad Smith.
No. 5 Army at No. 4 Bentley
Arny: 12-17-6 (10-12-6 AHA)
Bentley: 13-16-5 (11-12-5 AHA)
Season series: Bentley leads, 1-0-3
Black Knight Fact: Army's fifth-place finish ties its highest mark in league play. It also finished fifth in 2002-03. Army, like Bentley, improved three spots in the AHA standings from last year.
Falcon Fact: Bentley, the only team to ever finish last in the MAAC/AHAand later crack the top four, is one of only three teams to reach the semifinals at least twice in the past three seasons.
How Army wins: Brad Roberts has to come up big in order to get his second playoff win. Army has to send pucks to the net and screen Bentley goalie Ray Jean. The Black Knights' improved power play could certainly come into play.
How Bentley wins: The Falcons need to take advantage of its smaller ice surface at home by playing a grinding game and slowing down Army's rushes, staying out of the penalty box and riding the hot hand of Ray Jean.

THE GATE CRASHER
The last team to knock off Holy Cross at home was Sacred Heart a mere two weeks ago. The Pioneers were one late goal away from clinching the regular-season title, and just about every team would hate to face goalie Jason Smith if he has the hot hand. Two teams which are not offensive powers but have goaltenders who can shut down an opponent any night are No. 5 Army, with Brad Roberts, and No. 4 Bentley, with Ray Jean.
INCH'S ALL-CONFERENCE TEAM
G – Jason Smith, Sacred Heart
This has to be one of the toughest choices in years. Tony Quesada of Holy Cross put up outstanding numbers (2.28 GAA, .925 save pct.) but Smith has done just a little better (2.22 GAA, .929). Not only that, but in the past six weeks Smith twice stifled Mercyhurst's high-powered offense with one-goal efforts and outdueled Quesada twice.
D – Jamie Hunt, Mercyhurst
The talented blueliner would be the first draft choice of almost every Atlantic Hockey coach because of his ability to run the power play, his success when jumping into the offense and his one-on-one defensive skills.
D – Tim Songin, Canisius
Songin does not have the offensive numbers (13 points) that Hunt has but his defensive skills are unmatched in the league and his presence in the lineup for 134 games has provided a steadying influence for a Griffins program which has had its share of ups and downs over the years.
F – Tyler McGregor, Holy Cross
McGregor has been a proven scoring threat throughout his career and will finish among the league's all-time scoring leaders. He has seen a big jump in point production to 47 during his final campaign and his 22 goals are a career best.
F – Pierre-Luc O'Brien, Sacred Heart
The junior has moved into the conference scoring lead with 50 points. He ranks third in assists with 33.
F – Dave Borrelli, Mercyhurst
Borrelli is the league's top goal scorer with 26 and ranks second in overall points with 48. His production has been consistent throughout the season.
COACH OF THE YEAR
Paul Pearl, Holy Cross. Sure, his team is loaded but consider the facts. Holy Cross is third in scoring offense and second in scoring defense. The Crusaders are the least penalized team in the league and the most efficient in penalty killing. Holy Cross grabbed the league lead on Feb. 3 and, managed to keep hold of it – something Mercyhurst and Sacred Heart can't claim. Most importantly, his team produced four critical non-league victories, beating Rensselaer twice and Dartmouth and Massachusetts once apiece.
PLAYER OF THE YEAR
Jamie Hunt, Mercyhurst. As mentioned above, Hunt owns an all-around game. Hunt's scoring (10-33–43) has dropped off ever so slightly as of late, but he still is ranked in the top 10 nationally in points and ranks second among NCAA defenseman in that category.
FRESHMAN OF THE YEAR
Bear Trapp, Sacred Heart. The rookie with the catchy name burst onto the scene with a run of game-winning goals in the first semester and six for the season. Seven of his 16 goals came on the power play and he is running away with the freshman scoring race, leading his next closest competitor, Bentley's Anthony Canzoneri, by 15 points.
BREAKTHROUGH PLAYER
Ray Jean, Bentley. The junior had to sit out a year after transferring from Maine and needed some time to shake off the rust. Over the past three weekends of Bentley's run to secure the fourth home playoff spot, Jean has given up less than two goals per game, winning four of six contests – one of the losses was a 1-0 decision in a goaltender's duel with Holy Cross' Tony Quesada. So far this season, Jean is allowing 2.87 goals per game and has a .918 save percentage.