March 16, 2006
Sophomore Jinx? Not for Cottreau
By Ken McMillan
Atlantic Hockey
CHAMPIONSHIP WEEKEND PREVIEW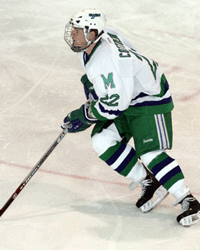 Mercyhurst sophomore Ben Cottreau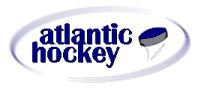 Mercyhurst's Ben Cottreau knew there would be pressure on him to live up to his Atlantic Hockey rookie of the year honors, but apparently he thrives on it.
Cottreau ranks among the league leaders in scoring with 50 points, which is tied for first with linemate Dave Borrelli. He heads into the league's Final Four weekend riding an 11-game point-scoring streak.
The Atlantic Hockey scoring records may have to be revised by time Cottreau is through. He has 84 points late in his sophomore season. When next season rolls around he will rank fourth on the active leaders list behind Scott Champagne of Mercyhurst (112), Pierre-Luc O'Brien of Sacred Heart (112) and James Sixsmith of Holy Cross (98), all current juniors. The three current sophomores chasing him are Alexandre Parent of Sacred Heart (63), Dale Reinhardt of Holy Cross (55) and Joel Kitchen of Canisius (41).
"I think he did nothing this year to change anyone's mind,'' said Mercyhurst coach Rick Gotkin. "He clearly continues to put up numbers. He's a goal scorer. He loves to put the puck in the net. He has played well for us. I think he can still play better. His best hockey might still be in front of him.''
Inside College Hockey: How did you feel about your sophomore season?
BC: I got off to a bit of a slow start this year but through line combinations and stuff we found the right match. I feel happy coming into playoffs now.
INCH: Was there any genuine concern about the "sophomore jinx?"
BC: I heard a lot of people talking about it but you never like to think of yourself as being a part of that. In the beginning of the season when I got off to my slow start, some people were mentioning it but I tried to turn it around as quick as possible.
INCH: You won the rookie of the year last season. Does that carry a burden for the following season?
BC: The only burden that it carries is there is a lot of pressure. A lot of hockey players enjoy pressure and play their best hockey under pressure so I looked at it that way and turned it into a positive and just tried to play as well as I can.
INCH: Was it the pressure of having to live up to expectations from teammates or fans?
BC: I am sure every rookie of the year has pressure to perform well and continue where they left off on the last season. There wasn't any direct pressure but you can feel some pressure and the pressure that you put on yourself as well.
INCH: How did you fight out of the early season slump?
BC: I think staying positive. My linemates really helped me out. Dave Borrelli and Scott Champagne kept me positive and joked about certain games if I wasn't doing so well. But just keeping a positive attitude and working hard did the trick.
INCH: Do you benefit from playing with those two guys or do they benefit from playing with you?
BC: I think it's a combination of everything. I like to say our line has it all, pretty much. We all work very hard, we will go into the corn
AHA Semifinal Capsules
No. 1 Holy Cross
Record: 24-9-2 (19-7-2 AHA)
Crusader note: The Crusaders earned the No. 20 ranking in the nation. Holy Cross hosted the league finals in 1999 and won (it also hosted in 2001 but did not qualify). Of the three goalies named to the league all-star teams, Tony Quesada is the only one still competing.

How Holy Cross wins: The Crusaders have a way of holding teams at bay before pulling away in the final period. Holy Cross is going to have to be mindful of skaters crashing its net and limiting second-chance opportunities.

No. 2 Mercyhurst
Record: 21-12-1 (19-8-1 AHA)
Laker note: Should Mercyhurst reach the finals, it's worthwhile to remember that the Lakers won the 2005 league playoff championship in Quinnipiac's building.
How Mercyhurst wins: Mercyhurst needs to utilize the deepest lineup of quality goal scorers in the league. The Lakers need to move their feet and fight through the checks. The Lakers must be mindful of Bentley's quick freshman line, and stay out of the penalty box.

No. 4 Bentley
Record: 13-16-5 (11-12-5 AHA)
Falcon note: Bentley joins Holy Cross and Mercyhurst as the only three-time semifinalists over the past four years. The double-overtime win over Army last weekend was the longest in league history.
How Bentley wins: In the speed rankings, Bentley is the slowest of the four semifinalists so the Falcons must find a way to slow opponents down in the neutral zone and lay on some hits. The Falcons need to ride the hot hand of Ray Jean in net.
No. 6 Connecticut
Record: 11-22-2 (9-18-1 AHA)
Husky note: Conn has played well at the Hart Center (one win in November; three wins and a tie in past six seasons), perhaps negating a bit of the home-ice factor for Holy Cross.
How Connecticut wins: The Huskies need to play with the energy they did in their last two upset wins over Sacred Heart. With speed on the offensive end and size on the defensive side, UConn can be troublesome. The Huskies will play with a nothing-to-lose mentality.
ers and get the puck out. We complement each other very, very well. We get along really well on and off the ice, which makes it easy to play on the ice as well.
INCH: You and Dave Borrelli are locked into a death struggle for the team scoring lead. What's that like?
BC: We haven't even mentioned it to each other. We have the stats pages up in the dressing rooms. The big picture is win as a team and whatever happens as individuals is just a bonus.
INCH: There's a late breakaway with you and Dave Borrelli on an open net? Do you pass him the puck?
BC: Of course, in a second. I knew he would give it to me.
INCH: How improved are you as a player since your freshman season?
BC: Coming into the college game I had to work on getting faster. Throughout freshman year I worked on that, and even my sophomore year. It's a case of controlling the play and dictating it at your own pace, how it's going to go. And then you can turn on the speed when you need to. It's just those quick, first couple of steps that I really wanted to work on.
INCH: One thing we have learned is you are not afraid to shoot the puck.
BC: (laughs) You can't score if you don't shoot. I will look to pass first and look for the open man but if a shot is there I will take it.
INCH: What's your offensive theory?
BC: It breaks down to our line as a whole. We're not afraid to do things and we're not afraid to make mistakes. I know I have the support of my linemates if I fire a puck maybe when I shouldn't have -- they will correct me but at the same time they will support me. There is no fear of shooting the puck on our line. Good things happen when you put the puck on the net, especially when you have linemates driving for the net. It's never a bad play to shoot the puck.
INCH: Are you a big-game player?
BC: Every hockey player likes to think of themselves as a big-game player. Coach puts myself and my line into situations where we can be known as big-game players. It's just taking care of those situations.
INCH: Is the playoffs your favorite time of the year?
BC: That is definitely mine. You can see who comes out to play. It's always fun winning so trying to get to that point is a challenge and something everyone looks forward to.
INCH: It's the morning of a playoff game. How do you feel?
BC: You're a little nervous because you know what's on the line. You want to stay focused and make sure you can do everything you can to prepare for that night's game. I am pretty laid back on game days, I don't like to focus way too much on the game. I like to stay relaxed. Once you get to the rink that's when it sinks in.
INCH: Do you get used to traveling?
BC: This year it was easy to get used to traveling because our first road trip was up to Michigan Tech and it was a 16-hour bus ride. You don't even realize it. They are all like seven, eight or nine hours. I don't think anyone on our team has a problem with it. It was an adjustment because when I played in Toronto my furthest drive was 30 minutes.
INCH: What is the secret to a good bus trip?
BC: Good movies and lots of sleep.
INCH: You have 84 career points now. The potential is you can smash a lot of scoring records. Have you given it any thought?
BC: Not at all. I don't look ahead that far. I take each year at a time. By the end of my four years I will see what I have done.
INCH: What would it mean to you to have the all-time scoring mark?
BC: It would be pretty nice. It's not something you can look at now and try to achieve. It's too far ahead.
INCH: Do you have pro aspirations?
BC: Yeah, I don't know exactly where and what I want to do after I finish school. Everyone is playing for the team first but once you get to the point where you have to move on that's when you start looking.
INCH: Tell us something interesting about you, off the ice?
BC: I am a marriage and family studies major. I would like to pursue a career in possibly grade school teaching or counseling when I finish school.
INCH: What have you learned about marriage?
BC: It's not as easy at it seems. We'll see when I get to that point.
INCH: Do you think all men should take a course like that?
BC: It would be helpful (laughs) and could save a lot of marriages.