October 2, 2005
2005-06 CCHA Preview
By James Jahnke

THE SKINNY
We hold these two truths to be self-evident: 1. Goaltending is the single most important element of a college hockey team, and 2. the upper echelon of the CCHA has been "down" for the last couple of years.
And because of the former, the latter might remain true this season. There are goaltending questions abound in the conference, most notably at Michigan but also at Northern Michigan, Miami, Nebraska-Omaha, Bowling Green, Notre Dame and Ferris State. Doubts even arise at Western Michigan – not about who (Daniel Bellissimo) but about how good.
Some of the situations look more secure than others. For example, folks in Marquette are confident that sophomore Bill Zaniboni will be a capable replacement for Tuomas Tarkki after posting a 2.79 goals-against average and .916 save percentage last season. The Fighting Irish can turn to junior David Brown, who was superb as a freshman before struggling behind Morgan Cey last season. And Miami might be able to cull a serviceable tandem out of sophomore Charlie Effinger and freshman Jeff Zatkoff.
But what about Bowling Green, which lost Jordan Sigalet, the unquestioned backbone of its team? What about UNO, which lost Chris Holt to the pros after the NHL lockout was resolved, leaving virtually no time to find a suitable replacement? What about Michigan, which, instead of having an All-American between the pipes (Al Montoya), enters the season with a 17-year-old freshman named Billy Sauer?
It could make for some crazy nights around the Midwest (and up near the Arctic rim) this winter.
All that said, there are a few teams who can look back at their crease with confidence, especially Ohio State, the coaches' and media's pick to win the league this year. David Caruso is the first-team preseason all-conference goalie after going 25-9-4 with a 2.14 goals-against average and .917 save percentage last season. Dominic Vicari (Michigan State), Wylie Rogers (Alaska Fairbanks) and Jeff Jakaitis (Lake Superior State) also have proved themselves worthy of CCHA competition.
Will they be the difference in standings that figure to be as tight as ever, particularly in the middle? The survey says ... Maybe.
BREAKTHROUGH TEAM
Any number of teams look capable of jumping two or three spots up the standings from their finish last season (Michigan State, Northern Michigan, Notre Dame, Alaska Fairbanks), but Miami might have the best potential of all. Coach Enrico Blasi returns almost all of his offense from a team that placed seventh in 2004-05, plus fantastic defenseman Andy Greene to anchor the blue line. Senior Chris Michael, juniors Matt Christie and Marty Guerin and sophomore Nathan Davis give Miami as good of a stable of forwards as anyone in the league. As already discussed, goaltending is an issue, as is defensive depth, but if the RedHawks can come close to solving those problems, an NCAA tournament berth is within reach.
PRIMED FOR A FALL
Talent can overcome a lot of problems, so Michigan won't dip too low in the standings. But the Wolverines must patch more holes than normal heading into this season. Gone are 10 seniors – not necessarily the squad's top-end players, but guys who filled vital roles as far as chemistry and leadership for Red Berenson. U-M's star power then went out the window this summer when goalie Al Montoya and forward Jeff Tambellini signed pro contracts. The result will be a young team full of talent (led by sophomore forward Chad Kolarik, freshman forward Andrew Cogliano and freshman defenseman Jack Johnson) but lacking in experience. Senior captains Andrew Ebbett and Brandon Kaleniecki and junior defenseman Matt Hunwick are good role models, but the fate of Michigan's season likely will rest with freshman goalie Billy Sauer's ability to stop pucks and junior forward T.J. Hensick's attitude toward doing the little things necessary to win.
PRESSURE TO PERFORM
Being buddies with the boss will keep your job safe for awhile, but that doesn't mean there is no heat on Michigan State coach Rick Comley as he enters his fourth season in East Lansing. Spartans fans are growing increasingly restless with middle-of-the-pack finishes after being spoiled by Ron Mason's success for so many years. Comley is a relatively pedestrian 66-48-8 with MSU, and has only qualified for one NCAA Tournament in three seasons. His teams have been plagued by bad starts before hitting a stride (of various degrees) after New Year's. Now that Comley has his own players (the seniors were recruited by Mason but never played for him), there aren't many justifiable excuses for a poor showing this season. MSU plays North Dakota, Cornell, Michigan and Northern Michigan in a tough opening month, and if the team's record continues to sag near the .500 mark, expect unrest to grow quickly.
TOUGHEST ACT TO FOLLOW
Sick of hearing about CCHA goaltending uncertainty yet? Too bad. When Al Montoya, Jordan Sigalet and Chris Holt left campus after last season, they left behind the three biggest sets of skates to fill in all the league. And the guys taking over from them are greener than Ron Mason's blood. The Wolverines love Billy Sauer, even though he won't be old enough to buy a lotto ticket until January and he gave up six goals on 23 shots in the Blue-White scrimmage on Saturday. BGSU likely will turn to freshman Jimmy Spratt, a seventh-round Calgary draft pick and two-time USHL All-Star, or Findlay transfer Jon Horrell this season. Both, obviously, are unproven. UNO appears to have a three-horse race between sophomore Eric Aarnio and freshmen Jerad Kaufmann and Greg Barrett. Aarnio played just six games last year and had a 5.97 goals-against average.
BEST PLAYER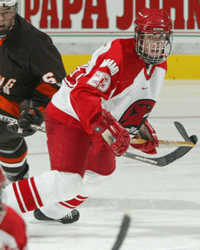 Andy Greene is ready to emerge as a star on the national level.
Maybe we don't look closely enough, but we've never seen Miami senior defenseman Andy Greene screw up. Honestly. He's as solid as they come in terms of college blueliners, picking up points (his 34 led league defensemen last season), making good decisions with the puck and always – always – being in the right place in his own zone. Greene, entering his second season as captain, is an excellent skater, was voted an assistant captain by his teammates as a sophomore and plays about 30 minutes a game for the RedHawks. He's not as flashy as some defensemen, which might be why he doesn't always get credit from those outside of the CCHA, but he's every bit as good as Matt Carle and anybody else in college right now.
BEST NEWCOMER
Fresh off being the No. 3 pick in this year's NHL draft, Jack Johnson arrives at Michigan as perhaps the most anticipated freshman this side of a boy named Kessel. The 6-foot-1, 210-pound defenseman has a solid body that belies his 18 years of age, and was thought to be ready to jump right into the Carolina Hurricanes' system if he so chose. But he decided to honor his verbal commitment to Michigan, which he made as a 14-year-old, and will add some needed muscle to the Wolverines' defensive zone. Johnson, a product of both Shattuck St. Mary's and the U.S. National Team Development program, has said he tries to play like Scott Stevens defensively and Scott Niedermayer offensively. That'll work, Jack.
UNSUNG PLAYER
Maybe Kelly Czuy doesn't get talked about a lot because people are afraid to try to pronounce his name (it sounds like "Chewy," as in the great suggestion from Santa's Little Helper), but the Alaska Fairbanks forward is a critical part of the Nanooks' equation. He's the only senior on the roster now that classmate Jordan Hendry is a fourth-year junior after taking a medical redshirt last season, and Czuy is one of the Nanooks' most consistent offensive threats. Beyond that, though, coach Tavis McMillan expects Czuy to set the tone for the type of hockey UAF aspires to play – being aggressive, playing the body, etc. He probably won't be brought up in many all-CCHA discussions, but if there were a way to measure a player's importance to his team, Czuy would get more credit.
THREE BURNING QUESTIONS
1. How much of a difference will new coaches Jim Roque (Lake Superior State) and Jeff Jackson (Notre Dame) make? Both coaches should do wonders for their teams' mental makeups. The Lakers might have been a little worn down from three years of Frank Anzalone's abrasive style, and the few would dispute that the Irish "quit" at some subconscious level under Dave Poulin last season. So each team's outlook should greatly improve this season. Whether Roque and Jackson can devise ways for their teams to score goals is another question altogether.
2. Will Western Michigan have to score five or six goals a game to win?
Sadly, that might be the case on many nights. The Broncos weren't very good defensively last season, giving up 3.62 goals per game (11th in the CCHA), and it doesn't look like things will improve more than marginally this season. The defensive corps is still pretty young, leaving goalie Daniel Bellissimo in another precarious situation as a sophomore. The good news is the offense looks potent, but it might have to be otherworldly good to compete for much this season.
3. How much will Nebraska-Omaha be affected the late departure of goalie Chris Holt? Probably more than anyone estimates at this point. With Holt, the Mavericks would have been serious contenders for a first-round playoff bye. Without him, the coaches and media still picked UNO to finish fifth this season, but if none of their young goalies step up, the Mavs likely will place in the lower half of the league.
MARK IT DOWN
Five things you can take to the bank in the CCHA this season

1. The league will get three teams into the NCAA Tournament. Yeah, we know that doesn't allow for an all-CCHA Frozen Four (those one-league summits are all the rage these days), but after only sending two teams to last year's dance, it's an improvement. We expect Ohio State, Michigan and Michigan State.
2. Michigan State will be one of two teams to play in college hockey's two rowdiest barns, Yost Arena and Lynah Rink, this year. Quinnipiac is the other. The thinking here is that the Spartans have a better chance than the Bobcats to do some damage in those games.
3. Ohio State's players won't be able to feel their toes during the Frozen Tundra Hockey Classic against Wisconsin in February at Lambeau Field. It will be a throwback to the days when Buckeye players couldn't feel their toes at the old OSU Ice Arena.
4. Jim Culhane will find his seat hotter than any other coach's. Some Western Michigan fans already have turned on him, and with the Broncos' most realistic goal being home ice for the first round of the new playoff format, university officials could, too.
5. It's the final go-round for Goggin Ice Arena before Miami's new building opens next fall, and opposing coaches and fans will pay their respects to the venerable rink during their final visits. We hear Miami has some nice things planned for Goggin's final regular-season game, against Bowling Green on Feb. 25.
Predicted Finish

No.

School
Of Note

1.

Ohio State
The pieces undoubtedly are in place, but do the Buckeyes have the mental fortitude to advance the program to its next level? Winning an NCAA Tournament game would be nice.

2.

Michigan
If ever the Wolverines are vulnerable, this is the year. Is Sauer the next great four-year goalie in Ann Arbor?

3.

Michigan State
Finding a trustworthy defensive pairing to give Corey Potter and Ethan Graham and occasional break is a must. Team cohesion might improve as Mason recruits continue to filter out.

4.

Northern Michigan
If they stay together, Nathan Oystrick and Geoff Waugh will be the best blue-line combination in the league. Bill Zaniboni is a capable replacement for Tuomas Tarkki.

5.

Miami
Assuming everything is OK in the goaltending department, this team is good enough to earn a first-round bye in the league tournament. Offensively, the RedHawks are as dynamic as anyone in the league.

6.

Nebraska-Omaha
The top line will score, but will lines 2-4 pitch in enough? Goaltending is a King Kong of a question mark.

7.

Bowling Green
Sophomore forward Jonathan Matsumoto didn't make the preseason all-CCHA team, but it wouldn't surprise us if he's part of the one in March. Will goaltending hold up?

8.

Alaska Fairbanks
There are plenty of good vibes in the Land of the Midnight Sun, but having only one senior on the roster could prove costly when adversity strikes. Being part of league's toughest scheduling cluster doesn't help, either.

9.

Notre Dame
The Irish's confidence was decimated halfway through last season, but swagger is a necessary ingredient this year. Somehow, they must maintain their resolve through games against Denver, Colorado College and Michigan (twice) in the first three weekends.

10.

Lake Superior State
Jeff Jakaitis can keep them in most contests, but, as has been the case for several years now, the lack of a serious offensive attack will be a hindrance. Jim Roque should improve team morale.

11.

Western Michigan
The defense must give Daniel Bellissimo a fighting chance to achieve two tasks: Getting his goals-against average under 3.00 and his save percentage over .900. Brent Walton leads a dangerous offense.

12.

Ferris State
There's reason for optimism because of a splendid freshman class featuring Dan Riedel, the leading scorer in the USHL last season, and promising defenseman Chris Zarb. The return of defenseman Jeremy Scherlinck from a season-long injury also will help.