December 7, 2005
New Math
By James Jahnke
CCHA Notebook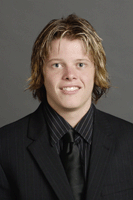 Bowling Green freshman goaltender Jimmy Spratt.

Bowling Green freshman goalie Jimmy Spratt used to be a stat rat, checking out all of his numbers and those of others. But there are two good reasons why he's lost interest in digits this year: 5.39 and .821, his goals-against average and save percentage.
Neither he nor coach Scott Paluch think those statistics accurately reflect his performance, but it's clear that the leap to college hockey was tough for Spratt, a Flames draft pick. He was BGSU's starting goalie in a 9-6 loss to Boston College, a 7-2 loss to Ohio State, a 9-4 loss to Notre Dame, a 6-3 loss to Northern Michigan and a 5-3 loss to Miami. Many times, he was betrayed by suspect team defense, particularly in transition. The latter half of the Notre Dame game looked like an hour-long breakaway contest for the Irish.
But, especially for his first two starts (against BC and OSU), Spratt takes the blame.
"I was psyching myself out," he says. "Going into the Boston College game, I was thinking to myself, 'This is my chance. This is my opportunity.' And then for Ohio State, I took the same approach. But looking at the goals that went in, they weren't because of my physical skills. It was my mental approach."
Clunkers like those opened the door for senior transfer Jon Horrell to cement himself in Paluch's goalie rotation. But Horrell's numbers (1-6-1, 3.71, .879) aren't much better than Spratt's, and that lack of success between the pipes is one reason why the Falcons have only nine points after 13 league games. Behind superstar Jordan Sigalet last season, BG finished fifth in the CCHA.
So things haven't been great in northern Ohio, but Paluch said last weekend's split against Michigan State – a 3-0 loss by Horrell and a 4-2 win by Spratt – were more indicative of how the goalies have really been playing.
"A lot of times, statistics give a true picture of a goalie, but that's clearly not the case with Jimmy," Paluch said. "He was a victim of a lot of defensive mistakes early, and he handled it extremely well. He works so hard at it in practice. But, of course, looking strictly at the numbers, they have to come down and go up depending on which one we're talking about."
Spratt, the recovering stat-aholic, knows that as well as anyone. And he thinks he's on his way.
"I feel more comfortable," he said. "I don't think college hockey is so much better than juniors. I've just been playing with more confidence, which allows me to react on time. When you're too antsy, you're reacting too fast. Now, I'm not all over the place."
SEEN AND HEARD IN THE CCHA
Take your best shot: Perhaps the only constant about Ohio State this season is that it has outshot its opponents, usually by a wide margin. Not once have the Buckeyes been outshot for a whole game. Overall, they've put 549 pucks on net, compared with 327 by their opponents. But only 8 percent of their shots have gone in, compared with a 10.7 shooting percentage against them, which is one reason why the CCHA preseason favorites are languishing at 7-6-2.
"I feel like we are getting some Grade-A scoring chances," said senior Rod Pelley, who leads the Buckeyes with 74 shots on goal. "We just have to bear down and be men in front of the net and take care of our opportunities. We have to get back to the basics of it, get traffic in front and get some greasy goals."
Pelley said the Buckeyes have been working on their marksmanship in practice, especially after last weekend, when they outshot visiting Alabama-Huntsville 106-47 – including a Value City Arena-record 55 on Friday – but scored only five goals in a loss and a tie. Despite a talented lineup, no OSU player has more than five tallies this season.
"It's not technical as much as it is desire," Pelley said. "The feeling I get is that we're treating every shot like it's just a shot from the blue line. We have to have the passion to get the puck through the goalie, through the net and through the end boards."
Faith at the top: As Northern Michigan looks up the standings at 83 percent of the CCHA field, some Wildcat fans have questioned the team's leadership. But coach Walt Kyle has no problem with the examples set by captains Nathan Oystrick, Geoff Waugh, Pat Bateman and Andrew Contois.
"I think our team is in good hands," Kyle said. "I think our fans are the best in college hockey and they have a right to be involved and to ask questions, but I don't place much value on other people's expectations for the team. You shouldn't question somebody's character unless you have an intimate knowledge of them."
Kyle said he knew coming into the season that his team would have some first-half troubles because of its schedule. This weekend's series at Ferris State wraps up a stretch during which the Wildcats play nine of 11 games on the road. And the only two home games were against Michigan. NMU has lost six of their last eight, but Kyle isn't worried.
"I'm looking at things realistically," Kyle said. "I could tell in July that this would be a tough time. But the schedule turns our way in January, so we just have to keep our lips above water until we can make up some ground in the conference."

Great Weekend Getaway

Northern Michigan at Ferris State (Fri.-Sat.)
Both teams come limping into this series, which only adds to its importance. Northern Michigan was a chic pick for the conference title during the summer, but the Wildcats have lost six of their last eight games and slipped into 11th place. Their roster is full of offensive talent, but that hasn't translated onto the ice. Ferris State was the surprise team of the league until getting swept at Nebraska-Omaha last week. Still, the Bulldogs are tied for fifth heading into their last action before Christmas.

While you're there: Bring a teddy bear or two to chuck onto the ice between periods Saturday. Don't worry, you won't get kicked out (at least not for that). FSU is organizing a Teddy Bear Toys for Tots program, and the stuffed animals will be given to underprivileged kids.

Stick Salute

Miami sophomore goalie Charlie Effinger ran his personal unbeaten streak to 10 games (9-0-1 dating to last year) with Friday's win over Michigan. Effinger wasn't necessarily overlooked coming into this season, but most people felt freshman Jeff Zatkoff was in line to become the RedHawks' No. 1 man. Effinger's strong play, however, has kept him in the mix and made him part of the best goalie tandem in the country at this point.

Bench Minor

Michigan coach Red Berenson was quoted in the Ann Arbor News referring to Saturday's five-minute major against his Jack Johnson as an "embarrassment" of a call. On its own, that doesn't get me too riled up. But too many folks -- coaches and, especially, fans -- are awfully quick to blame officiating for their teams' losses. Officiating evens out during the course of a season. Just play the game. (No offense to Red.)
FRIES AT THE BOTTOM OF THE BAG
• Two weeks ago, Michigan State coach Rick Comley referred to his skidding team's "fragile" confidence. Asked whether the players' mind-set could slip from fragile to defeatist, Comley acknowledged the possibility. "Oh, yeah, for sure," he said. "There's always a danger because it starts in the stands and it spreads to the locker room."
• Incredibly, Michigan State forward Bryan Lerg's penalty-shot goal Friday against Bowling Green was the first successful penalty shot by a Spartan since Bobby Reynolds in 1989. Lerg netted a hat trick in the game and continues to lead MSU in scoring with 21 points (six goals, 15 assists).
• Western Michigan's Brent Walton also turned in a hat trick last weekend, scoring three straight goals during Friday's win over Notre Dame.
• Injuries are hitting the CCHA hard right now. Michigan State is playing without senior defenseman Jared Nightingale (mononucleosis) and junior captain Drew Miller (shoulder), both of whom missed time last weekend. Miller made this week's trip to Fairbanks, but is considered questionable. Ferris State has lost freshman star Dan Riedel to mono, and Western Michigan defenseman Chris Frank hurt his shoulder and is doubtful for the NMU series in two weeks.
Two bits of good news, however, are that Ohio State forward Dan Knapp made his season debut last weekend after offseason shoulder surgery and NMU's Oystrick is fine after missing two games with a bruised hand.
• After a great start to the season, the CCHA endured yet another blah week of nonconference action. Ohio State could only muster a tie and a loss against UAH while Notre Dame saved face with a dramatic win at Minnesota State, Mankato Tuesday. It was the Irish's first road victory in more than a calendar year. This week, the CCHA's three Ohio schools welcome ECACHL competition as Bowling Green and Miami take turns hosting Clarkson (guided by former Falcon George Roll) and St. Lawrence, while Ohio State faces visiting Union for a pair. Also, Notre Dame finishes its drawn-out home-and-home with Mankato on Saturday in South Bend, and Lake Superior State plays a set at old NAIA rival Bemidji State. Friday's Beavers-Lakers game counts in the Commissioners' Cup standings.
• Stat of the week: There are more points separating first-place Miami from second-place Ohio State in the league standings (eight) than there are between OSU and 12th-place Notre Dame (six).
• Notes from the box scores: Miami scored two short-handed goals on the same Michigan power play – including the game winner – during Friday's victory ... Notre Dame senior Tim Wallace's goal nine seconds into Friday's game at Western Michigan was the fastest game-opening marker in Fighting Irish history. He broke the record of 12 seconds, set by Sterling Black in 1990.
• Healthy scratches: Slumping Miami forward Taylor Hustead was in street clothes during both games last weekend ... Lake Superior State senior forward Mike Adamek has yet to play this season. "He's a coach's decision," coach Jim Roque said. "As for when he plays, it's up to Mike, not me. I'm looking for the guys who want it the most."
• In case you missed it, five CCHA players made the U.S. junior team: Michigan's Jack Johnson, Mark Mitera and Kevin Porter, Miami's Nate Davis and Ohio State's Tom Fritsche. The squad will be coached by Northern Michigan's Kyle. Michigan's Andrew Cogliano still has a shot to make the Canadian team.
• Miami's 11-2-1 record is the best 14-game start to a season in program history.
• Nebraska-Omaha forwards Scott Parse and Bill Thomas are scorching hot heading into this weekend's showdown at Michigan. Parse has a point in all 15 UNO games this year and co-leads the nation with 27 points. Thomas has a 10-game point streak and 22 points overall.
• Jimmy Neutron, Jack Hanna and animals from the Columbus Zoo will be on hand for Ohio State's game against Union on Saturday..
A variety of sources were utilized in the compilation of this report.