January 5, 2006
Backing Off Hitting from Behind?
By James Jahnke
CCHA Notebook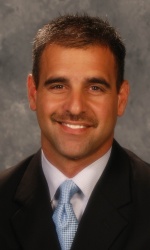 Tom Anastos

Fans, coaches and players irked by the high number of checking-from-behind penalties called during the first three months of the season can take comfort in knowing that this year's initiative might be reined in going forward.
The ice hockey rules committee is gathering statistics, opinions and video examples from around the country to make sure the rule is being interpreted consistently across all leagues, CCHA commissioner Tom Anastos said. The two major points the committee wants to communicate to on-ice officials are to properly differentiate between contact from behind (not a penalty) and checking from behind, and between what warrants a game misconduct (no suspension) and a game disqualification (one-game suspension).
"It's probably inaccurate to make the assumption that there will be some sort of relief of the calls," Anastos said. "But to say that I'm comfortable with the way we are, I'm not. I'd be lying if I said we're great where we are. But we're working hard at it, and we're committed to get better."
Anastos said the edict to strictly enforce the checking-from-behind rule came down from the NCAA. In the past, many checking-from-behind infractions were called boarding or charging by referees and were penalized with two-minute minors. Now, checking from behind into the boards carries a five-minute major and either a game misconduct or disqualification. Checking from behind in open ice is still a two-minute minor.
But consternation swelled as key players were kicked out of games for nonviolent infractions and five-minute power plays changed the momentum of games. Prevailing perception held that the CCHA was the most stringent conference in doling out the penalties.
"We've heard the same things, and I think our numbers are slightly higher," Anastos said. "But our goal isn't to win some contest. Our goal is to be consistent with all leagues. It's a very difficult directive, and the directive hasn't changed. We're just trying to be as accurate and conforming as we can."
Given that the rules committee, with help from conference commissioners and officials supervisors, is educating referees to differentiate between contact from behind and checking from behind, it's fair to assume that fewer borderline calls will be made during the second half of the season.
But everybody involved admits that it's still a work in progress.
"It's difficult to ask our referees to, half the season, call it one way and then, all of a sudden, you're going to change," Michigan State coach and rules committee member Rick Comley said while ruing a checking-from-behind penalty to Spartan defenseman Corey Potter at the Great Lakes Invitational. "So I understand why (the referee) called it.
But it wasn't a penalty."
Soon, the men in stripes might agree with him.
SEEN AND HEARD IN THE CCHA
McLeod-y skies: Alaska Fairbanks coach Tavis MacMillan isn't as broken up about losing his leading scorer as you'd think he would be.
MacMillan believes that the Nanooks will survive the departure of sophomore forward Ryan McLeod, who left school to sign with Victoria of the ECHL during the team's holiday break. McLeod had 14 points (two goals, 12 assists) in 14 games with the Nanooks, but he wasn't as big on being a "student" as he was an "athlete."
Published reports indicated that McLeod would have been academically ineligible next semester, and MacMillan confirmed that grades were the impetus of the player's decision to leave. McLeod was left home by MacMillan when the Nanooks visited Omaha on Nov. 18-19.
"Ryan is a good kid that made some mistakes," MacMillan said. "We just came to an agreement that it was time to move on, that this was not the best situation for him right now. It's not a bad thing. He'll be part of the Nanook family forever."
Sophomore forward Donald Johnson, who had played two games without a point for UAF this season, also left the program during the holidays because of a lack of playing time. All of this comes as the Nanooks prepare for a daunting two-week visit to the Great Lakes State to play Michigan and Michigan State on back-to-back weekends, starting Friday in Ann Arbor.
"I'm not concerned with wins and losses right now," MacMillan said. "At the end of the year, we'll add up the W's and the L's and see where we are. Right now, I want to see performance and effort. The creates an opportunity for people to step up."
Great Weekend Getaway

Northern Michigan at Miami (Fri.-Sat.)
The first-place RedHawks carry a nation-best 10-game unbeaten streak (7-0-3) into this series against a team most predicted would finish ahead of them in the standings. But Northern hasn't lived up to expectations yet; its fourth-place position is more a result of parity and having played a league-high 14 conference games than anything else. Wildcats coach Walt Kyle will be making a beeline to Oxford after coaching the U.S. team at the World Junior Championship in British Columbia for the last three weeks, so he might be mentally fatigued. Still, this is one of the toughest series Miami has remaining on its schedule.

While you're there: See if you can talk your way into a rec broomball game on the auxiliary ice sheet at the Goggin. But watch out for the frat teams. They can play.

Stick Salute

Lake Superior State senior Mike Adamek finally worked his way into the lineup last month after an extended stay in new coach Jim Roque's doghouse for academic reasons, and Adamek has been worth the wait. He has scored in three of his four games, which puts him in a tie for seventh on LSSU's goal-scoring list already. It's a welcome midseason addition for the offensively challenged Lakers.


Bench Minor

During Michigan's loss to Colorado College in the Great Lakes Invitational, on-ice officials gave the wrong player a game misconduct then set a bad precedent by changing their call during the first intermission. U-M walk-on Chris Fragner checked a Tiger from behind at 16:02 at the first period, but referee Kevin Hall hung the major and misconduct on linemate Tyler Swystun. Fragner "served" the penalty for Swystun for the rest of the period. Then during intermission, Michigan was told the penalty had been switched. Fragner was out, and Swystun, who had just gotten out of the shower, was back in. Seems to us that if the refs knew they needed video review to determine the culprit, it should have been done at the time of the penalty. If they didn't know that they weren't sure, that's even worse.

FRIES AT THE BOTTOM OF THE BAG
• Anastos checked in at No. 81 on The Hockey News' list of the 100 people of power and influence in its Dec. 27 issue. Anastos, the only college figure on the list, was credited with bringing NCAA hockey "out of the dark ages" through expanded TV coverage and the ascent of the Frozen Four. He also was termed a "forward-thinking executive" and a "commissioner-in-waiting for a pro league."
• UAF won the Governor's Cup series over rival Alaska Anchorage for the fifth straight year, taking three out of four games from the Seawolves. "I'm starting to think (the cup) is part of my office furniture," MacMillan said.
• Ferris State arguably had the best holiday performance in the league, tying Boston College and beating Denver at the Denver Cup. And the Bulldogs did it with backup goalie Derek MacIntyre, who subbed for freshman Mitch O'Keefe (high ankle sprain). FSU is off this weekend, and coach Bob Daniels said O'Keefe might be ready for the trip to Northern Michigan on Jan. 13-14.
• In nonconference action last week, Miami and Bowling Green won tournament championships to join UAF and Ferris State as the CCHA's big
winners. The RedHawks beat Rensselaer and tied Ohio State to take the Ohio Hockey Classic, while BGSU downed Massachusetts and Connecticut to win UConn's tournament. Michigan and Michigan State both beat Michigan Tech but lost to Colorado College in the Great Lakes Invitational. Ohio State shut out Holy Cross to set up the title game against Miami, which came down to a shootout. Northern Michigan beat Wayne State before falling to Wisconsin at the Badger Showdown, while Western Michigan lost to the Warriors and Badgers. On Tuesday, Bowling Green continued its hot streak with a convincing shutout of Colgate while Nebraska-Omaha fell to Minnesota State, Mankato, its partner-in-Maverick.
The only nonleague games involving a CCHA team this weekend are Wayne State's two-game set at MSU.
• Michigan State has moved Chris Snavely from defense to forward, perhaps permanently. The junior struggled at times as a rearguard, so the staff moved him up front for last month's series at Fairbanks and was pleasantly surprised by his performance. Snavely spent time as a forward in juniors and even was recruited by New Hampshire as a center.
• The holiday break gave several key players time to recover from injuries, most notably Ohio State goalie Dave Caruso (missed two games with knee surgery), Northern Michigan forward Andy Contois (two games with a knee strain) and Michigan State forward Tim Kennedy (16 games with a broken finger). All returned for their holiday tournaments.
• Bronco notes: Western Michigan played the first scoreless tie in school history (1,220 games) on Dec. 17 at Northern Michigan. But the 0-0 stalemate was old hat to the Wildcats, who registered their school's first scoreless draw last December against Harvard. ... The 13,302 fans who watched the WMU vs. Wisconsin game Dec. 30 in Madison comprised the largest crowd to see the Broncos play since the 1991 CCHA semifinals at Joe Louis Arena.
• Nebraska-Omaha forward Bill Thomas continues to be the best player whom fans outside of the country's beef sector don't know. He netted a hat trick among five points in last week's win over Alabama-Huntsville, and now has 17 goals and 14 assists in 20 games this season.
• Heading into this weekend's set at UNO, Notre Dame already has more wins (six) and league wins (four) than it did all of last season.
• Michigan coach Red Berenson received a reprimand from the league office for being quoted as calling a call in a Dec. 3 loss to Miami "embarrassing" in the Ann Arbor News.
• Two interesting links you might have missed during the break: The results of the CCHA's first annual captains poll and Miami forward Nate Davis' diary from the World Junior Championship, where he played for Team USA.
A variety of sources were utilized in the compilation of this report.