January 19, 2006
Now a Two-Way Wolverine
By James Jahnke
CCHA Notebook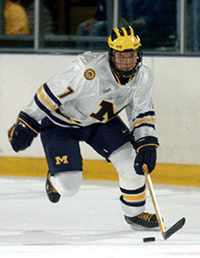 T.J. Hensick has elevated his defensive game as a junior.

T.J. Hensick knows that what he can do with the puck on his stick is his meal ticket into the NHL. But he finally figured out that if he wants to stick around long enough to finish dinner, he needed to get better defensively.
This season, Michigan's star junior center has worked at becoming a complete player by concentrating on what he does when the opponent has possession. Early in his Wolverine career, Hensick bordered on being a defensive liability, looking to break out offensively before taking care of his primary responsibilities. He sometimes was tagged with the dreaded term "floater."
But that hasn't been the case this year, even though Hensick still is a work in progress. As one of the few upperclassmen on a young squad, he knew he would be counted on to do more than score. He had to do things few thought likely when he arrived on campus, such as killing penalties.
"I wasn't where I should be defensively when I came here," Hensick said Wednesday. "Growing up, it was always offense, offense, offense. But
everybody in the NHL can score. What separates players is how they play without the puck."
Blessed with superior speed, Hensick is a naturally dangerous forechecker. In Tuesday's 2-0 loss to Michigan State, he generated one of the Wolverines' few good scoring chances by chasing an MSU defenseman around the net, taking the puck right off his stick and attempting a wraparound all in the same motion. He's always been able to make plays like that.
It's Hensick's own-zone play that has taken a step forward.
"The coaches came to me over the summer and showed me some tapes of what I was doing wrong," he said. "I would do a good job pinning a guy against the wall, but then I would turn my back on him, and he would get to the net and score. It was me not being aware.
"I consider myself dangerous with the puck, but I should be just as dangerous without it."
His improvement isn't beared out in statistics – he's just a plus-3 this season after finishing last season plus-19 – but that's partly because he's playing against the opponent's top line more often. The change is more noticeable in hustle plays and increased defensive enthusiasm.
"Obviously, scoring goals is fun, but playing defense can be that way, too," Hensick said. "I remember we were killing a 5-on-3 against Boston College earlier this year, I blocked a shot off my head, and the gratitude I got at the bench was just like scoring a goal. You have to look at it as being just as good in a different kind of situation."
Overall, looking at the work he's put in, Hensick paid himself a simple but telling compliment:
"I consider myself a two-way forward now."
SEEN AND HEARD IN THE CCHA
Slump? Ha!: Mighty Miami is just 2-2-2 in its last six games, but that's not a concern to RedHawks assistant captain Matt Davis. A seven-point lead in the CCHA standings probably helps calm nerves heading into this weekend's home set against Western Michigan.
"It's nothing to worry about," Davis said. "I think that after being away for so long and not being on the ice together during the holidays, some guys came back and it just took some time to start jelling again."
The RedHawks' biggest problem for the last month and a half has been putting the puck in the net. They've scored three or fewer goals in eight of their last nine games. By and large, the team's superb defense and goaltending has kept them afloat, as Miami has equaled its overall win total from last year (15) and surpassed its CCHA mark with 12 wins.
"Defense is always our No. 1 concern," said Davis, a senior who switched from defenseman to forward last year. "When we're good defensively, the offense will come. Those go hand-in-hand, as far as I'm concerned. No question, we have the skill to put up goals, but that comes when we're good at the other end of the ice."
Cracker Jack: The rules of college hockey might not be a good fit for Michigan defenseman Jack Johnson, who was the center of controversy again at the end of Tuesday's loss. Just a few months into his freshman season, Johnson has come under fire for a hit on Miami's Nate Davis (Matt's brother) after Davis scored a goal (drawing a game misconduct), a fight at the end of a game against Alaska Fairbanks (for which he only got a minor penalty) and now a game disqualification for excessive roughness after a hit that left Spartan Tyler Howells' face bloodied with 38 seconds to go Tuesday.
And that doesn't include the incident at the World Junior Championship when Johnson elbowed Canadian pest Steve Downie in the head after an empty-net goal by Canada – an act that enraged the Vancouver crowd.
It's debatable whether Johnson, the third pick in last year's NHL draft, deserved a DQ for the Howells hit, but referees aren't going to give him the benefit of the doubt with his history of brutish late-game behavior. That's what concerns U-M coach Red Berenson.
"There has to be a certain amount of self-control," Berenson said regarding Johnson. "When you take a lot of penalties, you're going to get a reputation, so you have to have even more (sportsmanship). But he's a young player and he's learning. He's a great kid and he means well. He'll learn."
Johnson won't cause any trouble against Bowling Green on Friday, because the disqualification penalty carries an automatic one-game suspension. Howells, meanwhile, is expected to be available for this weekend's series at Nebraska-Omaha.
Great Weekend Getaway

Lake Superior State at Ferris State (Fri.-Sat.)
Interestingly, each of the top six teams in the league standings plays a team from the lower half this weekend, robbing us of marquee matchups. But this is close enough. Though in third place, the Lakers have been mediocre (3-4-0) in league games on the road, and Ewigleben is never an easy trip. With little margin for error, points here are critical to LSSU's chances for a first-round bye. Ferris has fallen a bit after a surprisingly solid start, but the Bulldogs have proved they can hang with anyone. Plus, they have games in hand on most of the conference. Fatigue could be a factor this weekend. LSSU has been off since Jan. 7, while Ferris will be playing its fourth and fifth games in nine days.

While you're there: Other than hockey, it looks like a pretty slow weekend in Big Rapids, so you probably could do worse than heading to the Sawmill Saloon, which boasts "the best live music in the area."

Stick Salute

Western Michigan forward Brent Walton and Northern Michigan forward Andrew Contois turned in wonderful individual efforts last weekend. Walton netted four goals in Friday's win over Bowling Green, while Contois amassed four goals and an assist during a sweep of Ferris State, including a hat trick Friday. Also deserving of mention is FSU's Dan Riedel, who collected a hat trick and an assist in Monday's 6-5 victory at BGSU.

Bench Minors

Bowling Green and Western Michigan get docked for providing evidence that a two-goal lead is the most dangerous advantage in hockey, as the cliche says. In their home-and-home series last week, each host team took a two-goal lead (BG 3-1 on Friday, WMU 2-0 on Saturday) only to blow it and lose. Of course, you could look at that and give both teams credit for battling back from a deficit to win on the road. Maybe this is just a backhanded Stick Salute.

A second minor goes to Michigan State for only drawing 5,580 fans to the 6,470-seat Munn Ice Arena for Tuesday's game against Michigan. We remember, oh, several decades when Michigan games were as tough of a ticket as anything on campus, but MSU's hockey attendance has been weak overall the last two years. Maybe it's time to slash the $20 ticket prices or expand the quaint student section.
FRIES AT THE BOTTOM OF THE BAG
• MSU note: Spartans coach Rick Comley moved into sole possession of fifth place on the all-time wins list with Saturday's victory over Alaska Fairbanks. He passed former Clarkson and Boston College coach Len Ceglarski and now has a 676-531-84 record in his 33-year career.
• UAF note: The Nanooks' impressive penalty-killing streak ended Saturday at 48 consecutive kills.
• MSU/UAF note: Alaska Fairbanks will be without sophomore defenseman T.J. Campbell for Friday's game against Ohio State because he picked up a game disqualification for fighting last weekend. Michigan State sophomore forward Chris Mueller got a DQ in the same scrap and sat out Tuesday's game.
• UAF coach Tavis MacMillan, whose team has played Minnesota, Michigan, Lake Superior State and Northern Michigan, had surprisingly high praise for a Michigan State team that's just 7-5-4 in the CCHA. "Of all the teams we've played this year, up to now, the team we played against this weekend was the best team I've seen this year," MacMillan told the Fairbanks Daily News-Miner.
• Injury report: Lots of guys have returned to health after missing some time last weekend, including Miami defenseman Kevin Roeder (cut leg), Miami forward Geoff Smith (shoulder), Western Michigan goalie Daniel Bellissimo (groin), Ohio State defenseman Johann Kroll (leg) and MSU goalie Dominic Vicari (eye). All are expected to be available this weekend. One guy who will be out for a while is OSU defenseman Tyson Strachan (6-8 weeks with a broken wrist). Less certain are Michigan forwards Brandon Kaleniecki (groin) and Jason Bailey (rib), who are
considered questionable for this weekend.
• Some might be surprised to see that Northern Michigan has risen to second place in the CCHA standings, given the feeling among many in Marquette that the team has underachieved this season. Granted, NMU has played a league-high 18 CCHA games, but their candidacy for a first-round playoff bye is legitimate. The Wildcats have only three more road games the rest of the way, and only one overnight trip (Jan. 27-28 at Western
Michigan).
• Notre Dame is a significantly improved team this season, but just imagine how good the Fighting Irish would be if they won some tight games. After Saturday's 3-2 loss to Miami, Notre Dame is 4-6-3 in games decided by two goals or fewer. That's not terrible, but the Irish blew late leads in several of those contests. "We have to learn how to win close games," coach Jeff Jackson said. "But when you haven't experienced success in games that are close (dating to last season), maybe you struggle with closing them out."
• We're hoping this quote from coach John Markell, included in Ohio State's official game release after Saturday's 2-2 tie against Nebraska-Omaha, was taken out of context: "It's nice to come out with a point in a physical series." Really? Considering OSU was at home, UNO entered in second-to-last place, the Buckeyes are supposed to be an experienced, talented force, and they're hanging by their fingernails to NCAA Tournament contention, we thought Ohio State would be gunning for
more than the one point they got.
• Former Notre Dame goalie Forrest Karr (1995-99) has been named the athletic director at UAF.
A variety of sources were utilized in the compilation of this report.