January 25, 2006
A Charmed Life in Oxford
By James Jahnke
CCHA Notebook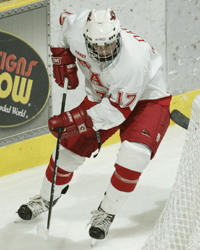 Nate Davis' 12 goals are tied for the Miami team lead.

We couldn't find evidence in the Bible, but God apparently is a Miami fan.
After the RedHawks scored twice in the final 22 seconds of Saturday's home game to beat Western Michigan, 4-3, divine intervention seemed like a reasonable explanation.
"When you've got a broken-stick slap shot that goes eight feet in the air, comes down, hits a leg and goes in the net, you've gotta feel like there's some higher power looking out for you," said sophomore forward Nate Davis, whose leg provided the tying goal. "There's something in the water down here. Our coach is a pretty religious guy, so maybe that has something to do with it."
That coach, Enrico Blasi, isn't sure that holiness is playing a role. But if it is, he'll take it.
"To have a season like we're having, you're going to need a little luck at times," Blasi said.
Heading into a weekend series at formidable Ferris State, the RedHawks lead the CCHA by a robust nine points over Northern Michigan. Michigan, with three games in hand on Miami, is in the "best" striking position: fourth place, 11 points behind. The RedHawks have succeeded this year with stellar defense (they still haven't given up more than three goals this season) and with timely offense, such as Saturday's escape.
WMU took back-to-back penalties in the final minute that, combined with Blasi pulling his goalie, gave Miami a 6-on-3 advantage for Davis' goal. Marty Guerin then scored the game winner during a 5-on-4 advantage with 1.6 seconds left on the clock. (If you haven't seen it, click here.)
It's been that kind of charmed season for the RedHawks, which begs the question of whether they're a team of destiny.
"I think those are things you look back and reflect on after the season is over," Blasi cautioned. "You don't think about that when you're living in the present. Our sole focus is on Ferris State this weekend."
The 10 goals Miami scored in the sweep of the Broncos relieved some of the pressure that had built upon the team's offense. The RedHawks are in the middle of the CCHA pack in scoring at 3.12 goals per game. That lack of explosiveness might catch up to them in the postseason, but Davis thinks they'll be OK.
"I saw a lot of (the top college players) at the World Junior tournament," Davis said, "and I think we can compete with them. I hope so. Can we win the national championship? I don't know. Hopefully, it comes down to a few of those lucky bounces."
SEEN AND HEARD IN THE CCHA
Bronco Brent: For all senior Brent Walton has done during his Western Michigan career – 141 points and counting – he has one simple hope for March: a home playoff series. He hasn't played in one yet, and after the meltdown at Miami, things don't look good this year either. At 5-11-2, Western is in last place in the CCHA, five points out of eighth place and a home playoff series. It's been a "very, very, very" frustrating season for Walton, who is tied for the CCHA goal-scoring lead with 18 but has little help from his teammates.
"At least we know we haven't peaked at the wrong time," he deadpanned.
The good news for the Broncos is that they return home for a series against Northern Michigan this weekend after spending an eternity on the road. WMU has played just once at Lawson Arena since Dec. 2, and it hasn't had back-to-back home games since Nov. 4-5. Even their rivalry with NMU has been road-weighted in recent years, with the last 13 Bronco-Wildcat tilts coming in Marquette.
But now eight of Walton's final 12 regular-season games will be in Kalamazoo, and he hopes there are a few more come playoff time.
"It's been kind of a downer being on the road, because our home fans are so great," Walton said. "You miss playing in front of the Lawson Lunatics. They make you want to go out and score a goal or make a big hit for them, so this will be nice. I'd like to make a run coming down the stretch here. I don't want to end my senior year in last place."
Victor, We Hardly Knew Ye: When sophomore Victor Oreskovich left Notre Dame for the Ontario Hockey League in December, it marked the end of a disappointing tale in Fighting Irish coach Jeff Jackson's eyes. The highly regarded recruit out of Oakville, Ontario, a second-round pick of Colorado, never lived up to the hype in South Bend, netting only three goals and three assists in 46 career games.
Jackson thinks Oreskovich was a victim of the modern trend to recruit ever-younger players to college hockey. Oreskovich had a sub-par season in his only year in the USHL, scoring 37 points in 58 games for Green Bay before arriving on campus at Notre Dame. Jackson, who is in his first year with the Irish and had no role in Oreskovich's recruitment, thinks the player needed to play another year of juniors. But because of the fast track Oreskovich was on (having committed to ND as a 16-year-old), he headed to school.
"I'm just finding this out now," Jackson said earlier this month, "but he was under so much personal pressure to perform because he was a high draft pick and so forth. And yet he came into Notre Dame with very little confidence because he didn't play well his one year in Green Bay. You need to have success at the level you're at before you move up, whether that's from juniors to college or college to pros. And he didn't have it, so he struggled."
For those reasons, Jackson said he understood that a change of scenery would benefit Oreskovich, who has three goals and three assists (seen those numbers before?) in nine games with the Kitchener Rangers. Jackson harbors no hard feelings.
Great Weekend Getaway

Michigan at Michigan State (Fri.); Michigan vs. Michigan State in Detroit (Sat.)
The middle of the CCHA standings is so dense that teams can go from being in position for a playoff bye to staring at a first-round road trip with a
bad weekend or two. Obviously, these rivals would like nothing more than to solidify their own standing while sending their nemeses into a panic with a sweep. MSU is at the end of another grueling stretch of eight games in 16 days, but the Wolverines have more injury issues. Plus, Michigan has lost four straight road games for the first time since 1989-90. Goaltending probably will make the difference.

While you're there: The Peanut Barrel in East Lansing makes the finest Long Island iced tea we've ever tasted, so you might want to spend the night at MSU and drive to Detroit the next day. The "D" won't be as hopping this weekend as it will the next (when a big football game hits town), but that just means the outdoor ice skating rink downtown at Campus Martius will be less crowded. Take a few laps before heading to the Joe.


Stick Salute

Honors were a-flowin' for CCHA members last week. Michigan assistant coach Billy Powers won the American Hockey Coaches Association's Terry Flanagan Award for his 14-year body of work as a college hockey aide, while Michigan State forward Drew Miller and Notre Dame defenseman Chris Trick made the list of seven finalists for the Hockey Humanitarian Award. Kudos all around.


Bench Minors

This is a week old, but nothing else has irked us recently. At the Michigan vs. Michigan State game on Jan. 17, there were more media members than there were seats in the Munn press box. So the MSU sports information department sent reporters from the State News and the Michigan Daily, the schools' student newspapers, among others to the auxiliary press box – a vacant camera stand with no power on the other side of the arena. The way we see it, there are only a few media outlets that cover MSU and U-M hockey on a daily basis, and these papers are two of them. Seems like they deserve better accommodations.

FRIES AT THE BOTTOM OF THE BAG
• Saturday is Hockey Day in Michigan, which, among other things, will include a Northern Michigan at Western Michigan and Michigan vs. Michigan State doubleheader on Fox Sports Detroit. Lake Superior State is offering free student tickets for its Friday game against Bowling Green (yeah, they're a day early), while WMU is holding its annual "Black Out" on Saturday. Saturday also is "Wildcat Night," during which NMU alumni gather across the country to hang out.
• Injury report: Ferris State forward Matt Stefanishion is out several weeks with an injured wrist, while defenseman Chris Zarb has missed the last four games with an "upper-body injury." Zarb is considered questionable for this weekend's Miami series. ... Ohio State defenseman Jason DeSantis came back last weekend after missing 15 games with a pulled abdominal muscle. ... Michigan forwards Brandon Kaleniecki (groin) and Jason Bailey (rib) are questionable for this weekend's MSU series, with Kaleniecki more likely to play than Bailey.
• The goaltending situations at Michigan and Michigan State aren't as clear nowadays as they seemed to be back in September. In Ann Arbor, senior backup Noah Ruden has started three straight games over freshman Billy Sauer, although Sauer had to provide relief during Saturday's loss to Bowling Green. In East Lansing, freshman Jeff Lerg has started eight
straight games over junior Dominic Vicari, some when Vicari was battling an eye injury. Meanwhile, Notre Dame freshman Jordan Pearce saw his first action since Dec. 2, replacing David Brown in Saturday's come-from-behind win at NMU.
• Two No. 3 goalies made their college debuts last Friday: Miami senior John Richmond, who made one save in four minutes against WMU, and Alaska Fairbanks freshman Brandon Cross, who stopped one of two shots in eight minutes against Ohio State.
• Notes from the box scores: Darin Olver produced NMU's second hat trick in as many weeks with Friday's three-goal, one-assist performance against Notre Dame. On the night, Northern scored five goals on 16 shots. Sure, one of them was an empty-netter, but even discounting that, the Wildcats shot 26.7 percent. ... Offensively challenged Ohio State has been shut out three times in its last six games. ... Michigan junior defenseman Tim Cook scored his first goal in 82 career games Friday, and his inexperience showed. "I don't even know what was going on," Cook told the Ann Arbor
News. "I think I blacked out in the celebration."
• Michigan State coach Rick Comley had a busy weekend, turning 59 years old last Friday and becoming a grandfather for the first time Saturday. Comley's daughter, Gillian, and her husband, Brian Murphy, welcomed baby Kathryn Elizabeth into the world at 4:54 a.m.
• Lake Superior State and Ferris State have tied three times this year, marking the first time in Lakers history that they have tied the same
squad thrice in a season.
• Prediction from a Buckeye football fan: Ohio State will beat Notre Dame by an aggregate score of 34-20 this weekend.
A variety of sources were utilized in the compilation of this report.