Feb. 2, 2006
Mr. and Mr. Smith
By James Jahnke
CCHA Notebook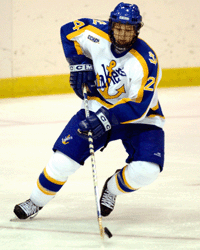 Lake Superior State defenseman Derek A. Smith – not to be confused with Laker forward Derek R. Smith – has two goals and seven assists this season.

There are a gazillion questions a college hockey player might face when spotted by a fan on campus. The guess here is that the Derek Smiths at Lake Superior State hear, "Now, which one are you?" more than most.
Two Derek Smiths, one Laker hockey team. No, they're not related. They didn't even know each other until Derek A. Smith, the defenseman, took his recruiting visit to Sault Ste. Marie and met Derek R. Smith, the forward who was a freshman at the time. They went out to lunch, perhaps thinking, "This is the guy I read about when I Googled myself last year." But probably not.
Anyway, shortly after that lunch, middle initials suddenly became a part of their identities. The Soo became a two-Derek Smith town, and for the past two seasons, they've caused headaches for play-by-play announcers.
"My parents tell me that when they're following the game at home, it's sometimes tough to tell what's going on," Derek A. said.
"They get confused a little bit," Derek R. confirmed about his folks. "I always have to clarify to them whether it was me doing something or the other guy."
Their jerseys simply say "Smith" on the back, with only numbers differentiating them. Both of them hail from Ontario, with Derek A. growing up a couple of hours east of Toronto in Belleville, and Derek R. living an hour north of Toronto in Elmvale. They live across the street from each other at Lake Superior, meaning their phone numbers are just one digit apart. It's enough to make your head spin.
But on the ice, they're as different as can be. Derek A. breaks the mold of the big, bad Laker defenseman, playing an up-tempo, finesse style of game. Derek R. is a banger down low at forward, looking to rough someone up as often as he looks to score. Still, when people are talking, confusion can reign.
"You've got to pipe up your ears a little more," Derek R. explained, "to tell who the coaches are talking about."
Nicknames help. Derek A. can be known as Smitty 2 or Smitty D or Smitty Sophomore. Derek R. responds to Smitty 1 or, most often, Smeagol, after the Lord of the Rings character. Rumor has it that former coach Frank Anzalone purposely misspelled one of their names "Derrick" all of last year to help keep them straight.
The players say sharing a name has made them closer than they might have been otherwise. For instance, they know each other's middle names (Anthony and Robert Allen), which isn't common on the team. But we put their friendship to the ultimate INCH test, asking each whom would be the next Derek Smith to score a goal. Derek A. has two goals and seven assists in 26 games, while Derek R. has four goals and six assists in 26 contests:
SEEN AND HEARD IN THE CCHA
-hi- State (there's no O): It's been one of those years for Ohio State coach John Markell. Not only has his team been unable to score at full strength, he's lost his second and third leading scorers in the past week. Domenic Maiani (5-13– 18) broke his ankle upon accidentally crashing into the boards during Saturday's morning skate and will miss the rest of the season. Mathieu Beaudoin (8-8–16) played that night against Notre Dame, but hadn't realized he cracked his wrist the night before. He's out 4-6 weeks.
All of this is bad news for a team averaging just 2.5 goals per game and has just 11 goals in its last eight contests.
"I've got a tall order here," said Markell, who already was missing top-four defenseman Tyler Strachan. "The shots that went in last year just aren't going in this year – I can't explain it. The effort is always there, that's the scary thing. You'll see other teams where the puck will hit something and go in the net, but that just doesn't happen for us."
Markell wants to see better cycling and more speed through the neutral zone for his team, in addition to continued hot play by goalie David Caruso, who ranks fourth in the nation with a 1.61 goals-against average.
Rookie camp in Oxford: Miami leads second-place Lake Superior State and Michigan by 11 points in the CCHA standings, easily the biggest spread of the six Division I conferences. The next biggest is Boston College's six-point lead over Boston University in Hockey East.
The RedHawks also are ranked No. 1 nationally for the first time in school history (the first time a Miami team in any sport can say that). And RedHawks senior forward Matt Davis has an interesting theory as to why his team has been so dang good this season. He thinks it's because the freshmen moved to campus during the summer, allowing the on-ice meshing to take place long before preseason camp started.
"That was the first experience I've had where every single one of the freshmen was here, living with us and getting to know everybody in the summertime," Davis said. "I think that's a huge part of our success."
Great Weekend Getaway

Ohio State at Michigan (Fri.-Sat.)
These Big Ten rivals have some work to do if they want to come close to realizing preseason expectations - or even get a postseason bye. If the playoffs started today, Ohio State would have to play in the first round while U-M would earn a bye by one point. So while this isn't the battle for the regular-season championship, as some expected, it should be a spirited tussle between two talented teams trying to salvage a season. The Wolverines are coming off of a Tuesday night game, which might cause some tired legs.

While you're there: The historic Michigan Theater is screening Brokeback Mountain through Thursday night. It's the touching story of a boy who gets cross checked from behind by Jack Johnson.

Stick Salute

Thank you to the league and all programs who make home-and-home series, such as this weekend's Michigan State vs. Notre Dame set, possible. When the CCHA puts out its schedule, every series is a two-game homestand for one team. But schools know that there are certain geographically proximate squads that should play in their building every year, regardless of whether they're in the same scheduling cluster. So these programs "swap" home games with each other to make sure that, for example, Western Michigan plays at Michigan and Michigan plays at Western Michigan every year. It's for the good of the fans and college hockey in general, and we appreciate it.

Bench Minors

Longtime Detroit Red Wings color commentator Mickey Redmond called his first college game Saturday, Michigan's 5-5 tie with MSU, for Fox Sports Detroit. While Redmond was a pleasure to listen to overall, he did have one bummer of a moment. After the Spartans notched the tying goal, MSU fans launched into what might be the school's most famous cheer. It obviously was new to Mick, though. "Are they chanting ... go green ... go white?" a seemingly perplexed Redmond asked aloud. Yep, you deciphered it, man.

FRIES AT THE BOTTOM OF THE BAG
• Think Alaska Fairbanks isn't excited about Miami's new ranking heading into this weekend's series in Oxford? Consider that UAF already has beaten No. 1 Minnesota and No. 1 Michigan among its 10 wins this season.
• Everyone with a rooting interest in the CCHA should be Northern Michigan and Connecticut fans this weekend. With Commissioners' Cup play wrapping up, the CCHA is a point behind the ECACHL in the interconference competition. Northern Michigan hosts Wayne State of the CHA on Saturday while Yale of the ECACHL hosts UConn of Atlantic Hockey on Sunday to decide the whole shebang.
NMU vs. WSU is a two-game series, while Bowling Green plays one at home against RIT (coached by former Falcon Wayne Wilson) in the league's other nonconference action this weekend.
• You wouldn't know it by last weekend's one-goal performance, but Notre Dame's offense is much improved. To wit, the Fighting Irish scored only 60 goals all of last season. With another month and change to play this year, they already have 65.
• OSU's Caruso (11) and Notre Dame's David Brown (six) both tied school records for most career shutouts last weekend.
• After two ties last weekend, the Michigan vs. Michigan State rivalry stayed as tight as anybody's business lately. MSU won the series 1-0-3 this year (barring a postseason meeting), but the rivalry is split 2-2-5 in the last two seasons and 6-6-6 dating to March 2002. Six of the past seven games have gone into overtime.
There was controversy both nights last week, however. In Game 1 in East Lansing, MSU defenseman Ethan Graham shot a puck through the net that would have given the Spartans a 2-0 lead. CSTV had a clear shot of the goal, but the only camera available for video review – an overhead shot – was inconclusive, meaning the ruling of "no goal" on the ice stood after roughly 10 minutes of review. The game ended 1-1. But MSU got the break the next night when Chris Mueller appeared to kick the puck into the net to tie the score 2-2 at Joe Louis Arena. The play was not reviewed, so the goal stood, helping the Spartans to a 5-5 tie.
• Injury report: Miami goalie Charlie Effinger should be OK this weekend despite taking a puck to the head while on the bench Saturday. ... Lake Superior State forward Marty Gurnoe (concussion) is probable, forward Dan Eves (shoulder) is doubtful and defenseman Alex Dunn (shoulder) is out for this weekend.
• Miami coach Enrico Blasi became the school's all-time winningest coach with Friday's win over Ferris State, breaking a tie with Steve Cady. After triumphing again Saturday, Blasi now has a 123-111-23 record in his seven years in Oxford.
• Four players must sit out Friday after picking up game disqualifications for fighting during last weekend's UNO-UAF series. The Mavericks' Mick Lawrence and captain Mike Lefley will miss their series opener against Lake Superior State, while the Nanooks' Kelly Czuy and T.J. Campbell won't be able to participate in Game 1 at Miami.
• Western Michigan backup goalie Eric Marvin picked up a strange penalty in Saturday's tie with Northern Michigan. As the teams were skating off the ice at the end of the second period, Marvin, who wasn't playing in the game, bumped NMU starting goalie Bill Zaniboni, drawing a 10-minute misconduct. His sentence was to watch half of the third period from the penalty box instead of the bench.
• Michigan junior David Rohlfs moved back to his natural forward position last weekend after skating 23 games as a defenseman this season. He responded with a goal Saturday against MSU and two assists Tuesday against Western Michigan.
• Nebraska-Omaha won for the first time ever in Alaska last weekend, beating UAF on Friday to improve upon an 0-10-4 mark.
A variety of sources were utilized in the compilation of this report.