Feb. 8, 2006
Kaufmann UNO's Main Man
By James Jahnke
CCHA Notebook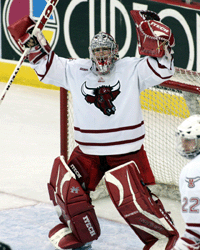 Nebraska-Omaha goaltender Jerad Kaufmann didn't expect to play this season, but he's started 19 straight games for the Mavericks.

Jerad Kaufmann is the last line of defense for a Nebraska-Omaha team that's in good position to make the NCAA tournament.
And he's just a walk-on.
Kaufmann was brought in by UNO's coaching staff this year to be the third goalie. Even he thought he might only get a spot start in an early exhibition game then watch the rest of his freshman season from the stands. That's what third goalies do, right?
Instead, Kaufmann is 12-7-4 with a 2.69 goals-against average and a .906 save percentage. No other UNO goalie has played since December and no one else has started since November.
"We had a big feeling out process as a team in the first half as we were trying to settle on a goalie," UNO coach Mike Kemp said. "But since (Kaufmann) has established himself, he's really played with a lot of confidence, and it's given the team a lot of confidence."
Until late in the summer, Chris Holt was entrenched in the Mavericks' crease. He had played just about every minute of the previous two years and was slated to play just about every minute of the next two. Eric Aarnio, a sophomore, was his backup. Kaufmann was lured out of Fairbanks of the NAHL to be the practice goalie.
Then Holt left for the pros, and the staff filled his scholarship with freshman Greg Barrett. Kemp told the three goalies that the starting job was open and that whoever was best would "carry the bacon." Aarnio and Barrett combined to start the team's first five games, with fluctuating results. Then Aarnio got hurt, Barrett struggled and Kaufmann finally got a shot, at Bowling Green in early November.
The rest is recent history.
"He's been a very pleasant surprise," Kemp said. "No question, he's done more than we expected him to do as a freshman. The expectations and the results don't match up. He's been much better."
Kaufmann said he was all set to play for Division III St. Norbert (Wis.) before UNO offered him its No. 3 spot. That was all he wanted – a chance at a D-I school, even if it meant being a grunt during practices and a spectator during games.
"I thought I should at least give myself a chance at Division I, because it had always been a goal of mine to get to this level," Kaufmann said. "I wanted to see what I can do. The way I looked at it was I could always go back to Division III if I wanted."
But that won't be necessary. Kaufmann has endeared himself to the Mavericks with his athleticism, consistency and composure. UNO is bringing in another goalie – that will be No. 4 – on scholarship next year, but he'll have to work to unseat the incumbent. Kemp indicated that Kaufmann is on track to earn a scholarship after this year. Things are working out.
"I was talking to my junior coach, and we were kind of saying how it's been a dream season for me," Kaufmann said. "I'm playing good and have a lot of confidence right now. I just worked really hard because I knew I'd get my chance."
SEEN AND HEARD IN THE CCHA
Confident Comley: With a month to go before his fourth postseason at Michigan State, coach Rick Comley is feeling more sure about his team than ever in East Lansing. MSU is 8-2-2 in its last 12 heading into a tough finishing kick against Ohio State, Miami and Lake Superior State. Comley repeatedly praises his team's depth and balance as MSU tries to make just its second NCAA tournament appearance of his tenure.
"We don't have a (John-Michael) Liles or even a (Jim) Slater, who were great players, but we have better depth, better balance and better goaltending than past years," Comley said. "That's a philosophy I believe in. So, yes, I am more confident."
Comley acknowledged that part of the success can be attributed to having no holdovers left from the Ron Mason era. But he understands that if he is going to step out of Mason's shadow – a major task – he'll have to win some big games in the postseason.
"Obviously, you didn't come down here not to be successful," Comley said. "So, yes, you do (think about your legacy). But no more than any other coach. It just would be good to get over the hump."
Favoring the new guy: Lake Superior State junior Derek R. Smith didn't name names, but it's easy to figure out at whom he's taking a dig here.
Asked about the Lakers' improved play under first-year head coach Jim Roque this season, Smith said, "Everybody loves Coach Roque. He doesn't belittle us, and he treats us as men. He lets us do what we want on offense. The past coach wanted to play a dump-and-chase game, and it was tough for a lot of guys to come in from juniors and try to play that way.
"So it took a lot of the pressure off with Coach Roque coming in. Everyone's a lot happier."
Great Weekend Getaway

Lake Superior State at Michigan (Fri.-Sat.)
Despite struggling as much as it has in recent memory, the Wolverines are alone in second place with a game in hand on third-place Michigan State (heading into Thursday). Lake Superior's situation is dicier. The surprising Lakers sit in coveted fourth place, but a poor weekend in Ann Arbor would send them spinning out of the bye zone. The bad news for LSSU is that it's just 4-6-3 away from Sault Ste. Marie this season.

While you're there: With the Super Bowl having cleared out of southeastern Michigan, hotel rooms shouldn't be as hard to come by as they were last weekend. The Inn at the Michigan League ain't cheap, but it is conveniently located right on campus. Plus, it's situated on the fourth floor of the historic U-M women students' building, so you can get yourself some culture.

Stick Salute

Alaska Fairbanks picked up another nice win last weekend, splitting with No. 1 Miami in Oxford. Y'all must know by now that it was UAF's third win over a top-ranked team this season – and third in school history. The Nanooks also claimed the Governor's Cup from rival Alaska Anchorage for the fifth straight season, meaning there's been plenty to cheer about in Alaska despite an overall record that's sagged below expectations

Bench Minors

Darn you, Connecticut. We know the real hardware is handed out in the spring, but the Commissioners' Cup would have been nice for the CCHA. Why couldn't Yale have played Mercyhurst or Holy Cross on Sunday? Things could have been different, yo.

FRIES AT THE BOTTOM OF THE BAG
• High-scoring Western Michigan forward Brent Walton has faced the opposition's top checking line and defensive pairing again and again this year. And he's noticed. "When we line up for a faceoff, I always look for the defensemen, which ones are out there," Walton said. "I try to be aware of what they're good at, and I try to see if it's a guy I can beat one-on-one or if I have to do something else. I know I'm going to be going against the other team's top two D-men, and I enjoy it. I take it as a sign of respect."
• The CCHA swept its nonconference action last week, but it wasn't enough to earn the Commissioners' Cup. Northern Michigan took two from Wayne State while Bowling Green edged RIT on Saturday. Yet when Yale beat Connecticut on Sunday, it secured the ECACHL's second straight Cup title, by a point over the CCHA. Looking back, Bowling Green's early season home loss to Merrimack was a killer.
Out of conference this weekend, Ohio State plays its Lambeau Field game against Wisconsin on Saturday, while Western Michigan hosts Bemidji State on Friday and Saturday.
• Michigan State goalie Jeff Lerg earned an honor with an incredibly long name, the College Sports Television/Hockey Commissioners' Association National Division I Rookie of the Month award for January. Basically, Lerg's 6-2-2 record, 1.67 goals-against average and .941 save percentage made him the best freshman in the country last month.
But it couldn't keep his best friend, Notre Dame freshman Erik Condra, from scoring on him during MSU's 2-1 win Saturday. "He just gets it and throws it to the net, I know his game," Lerg told the State News afterward. "I'll be hearing about that one for the whole summer."
• Injury report: Nebraska-Omaha forward Tomas Klempa is out for at least one more weekend with a broken wrist. However, the UNO staff has been getting good news from its medical people, and there's a chance Klempa could return for the Michigan series Feb. 17-18. ... Northern Michigan expects forward Darin Olver to return to the lineup against UNO this weekend after hurting his leg late last month.
• The Michigan hockey team placed third in the school's Mock Rock competition between 20 athletic squads on Feb. 1. Represented by the 11-member freshman class, the hockey team wowed the judges with a rendition of "cheer practice" from Bring It On. Brandon Naurato served as the cheer instructor. Tyler Swystun led the team in dancing to Dem Franchise Boyz's "White Tee." But the star of the show might have been Jack Johnson channeling the spirit of Petey the trombone player from American Pie 2. Only the men's track team and the marching band claimed bragging rights over the hockey boys.
• RedHawk notes: Miami announced that it will host the season-opening Ice Breaker tournament in the brand-new Goggin Ice Center next year. Also in the field are Denver (coached by former RedHawk bench boss George Gwozdecky), Boston University and Colgate. ... Miami became the last team in the nation to allow more than three goals in a game this season, giving up four in Friday's loss to Alaska Fairbanks.
• Northern Michigan senior Dirk Southern scored all three Wildcat goals in Friday's 3-1 win over Wayne State.
• Alaska Fairbanks may be in the bottom tier of the standings, but don't count out the Nanooks just yet. Their remaining three series are against fellow bottom feeders Bowling Green (this weekend), Western Michigan and Notre Dame. Four of those six games are at home, too. If the Nanooks want to make a late charge, they'd be wise to start strong in each contest. UAF is 11-5-2 when scoring first and 0-8-2 when not this season.
• Ohio State freshman Nick Biondo scored on his first career shot Friday at Michigan. The games in Ann Arbor were just the third and fourth of his career.
A variety of sources were utilized in the compilation of this report.