Feb. 15, 2006
Ferris State's Scherlinck Back For More
By James Jahnke
CCHA Notebook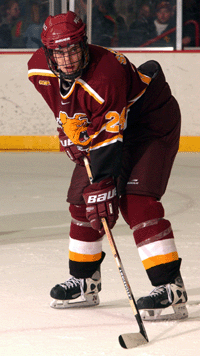 Ferris State defenseman Jeremy Scherlinck is feeling close to 100 percent after missing all of last
season with a back injury.

Ferris State defenseman Jeremy Scherlinck doesn't know why the disc in his back started oozing its jellylike substance a couple of years ago. All he knows is that it robbed him of his 2004-05 season.
Scherlinck's back bothered him throughout his sophomore year in 2003-04, but he played through it. Perhaps because of the pain, his five-point output paled in comparison to his 18 as a freshman. And his back only started to get worse.
It would "go out" during sprints or while scrimmaging during the summer. Each time that happened, the sharp pain forced him to lie down for a full day or so.
Hoping to play his junior season, he got some injections at the hospital in August 2004. But they didn't work. So his doctor gave him two options: 1.) Play as much as he's able, get hurt every once in awhile and miss a couple of weeks, then repeat the cycle, or 2.) have surgery, miss the season and come back as a fourth-year junior in 2005-06.
Scherlinck went under the knife – on Christmas Eve, no less.
"It could have been earlier, but I would have missed two weeks of classes," Scherlinck said. "And it wasn't so bad at Christmas – I got waited on pretty good at home."
Basically, one of Scherlinck's spinal discs was leaking its "jelly" onto his spinal cord, putting unnatural pressure on it. The surgery simply shaved away the excess goop. It had him laid up for about a week, and prevented him from doing any physical activity other than walking for a couple of months. He got back on the ice about three months after the procedure, but couldn't take slap shots or have any body contact until long after that. And, certainly, pulling on his Bulldogs sweater was out of the question until this season.
"Last year was a pretty tough year," Scherlinck said. "I was still hanging out with the guys, but I couldn't do anything to contribute to the team."
Scherlinck's health problems didn't end there. During the second shift of his first regular-season game in a year and a half, Scherlinck played a puck in his own zone against New Hampshire on Oct. 14, then took a check. It separated his shoulder.
"I don't think he was timid, but there wasn't the usual sense of urgency when he was going after that puck," Ferris coach Bob Daniels said. "I don't think he was up to game speed, and he was vulnerable because of that."
So Scherlinck missed the next 10 games and came back in late November. Only now is he back to being one of Daniels' top three defensemen and a vital member of both of the Bulldogs' special teams. He has two goals and two assists in 22 games heading into a series at Ohio State this weekend. And, most important, he's feeling close to 100 percent.
"He makes the simple plays that are effective, and that's why coaches and his teammates appreciate him," Daniels said. "He doesn't make flashy plays, so the average fan might not have noticed how much we missed him last year. His confidence is up, and so is his ability to log a lot of minutes. It looks like he's right back to where he was before the injury."
SEEN AND HEARD IN THE CCHA
Expansion? Maybe: With College Hockey America in limbo, CCHA commissioner Tom Anastos didn't rule out expanding his 12-team league in the next couple of years. But he hopes it doesn't come to that.
"We would love to see that league continue to operate," Anastos said. "But if the CHA is dissolved, we would have to figure out our position on moving forward."
Anastos said he hasn't received any applications for admittance, although Wayne State and Niagara have been rumored to be moving along those lines. He has been in contact with CHA commissioner Bob Peters and with "some" CHA institutions, but mostly in a fact-finding capacity. Anastos said such conversations were occurring before the CHA's latest enrollment quandary, which came about when Air Force announced in the spring that it was going to Atlantic Hockey, leaving the CHA with only five teams.
The CCHA already is the biggest league in Divison I, but Anastos indicated that the conference would at least consider making moves outside of its best interests (such as adding teams it usually wouldn't) if the CHA folded and the measures would benefit college hockey as a whole. Any expansion proposal ultimately would be voted upon by the CCHA's athletic directors.
"We feel comfortable with where we are," Anastos said. "(Expansion) is not something we're talking about an awful lot, but if you look at our history, we do what's best for our membership and for college hockey overall. So we're not closing the door on anything. We should know more after our April meetings."
Fan heaven: On paper at least, this weekend's slate of games is the best the CCHA has given us this season. All 12 teams are in league action, and coincidentally, each series pits neighboring teams in the standings.
The three highlights are second-place Michigan at red-hot, fourth-place Nebraska-Omaha, regular-season champ Miami at third-place Michigan State and the home-and-home Upper Peninsula rivalry between Lake Superior State and Northern Michigan, two teams on the bubble for a bye (and even for home ice) in the playoffs.
But don't overlook Ferris State at Ohio State, as those teams tread water in the home-ice realm and try to ascend into the bye zone. That set should be interesting, especially with OSU still, miraculously, gripping an NCAA bid. At the bottom of the standings, we find Western Michigan at Alaska Fairbanks and Notre Dame at Bowling Green. If the Nanooks and Irish have good weekends, they easily could sneak into home ice.
Great Weekend Getaway

Michigan at Nebraska-Omaha
(Fri.-Sat.)
This series will be played in the old Bullpen (Omaha Civic Auditorium) because the Qwest Center is booked with the Nebraska state high school wrestling tournament, so the atmosphere in the old barn should be electric. UNO is unbeaten in its last seven games (5-0-2) and features perhaps the most dangerous duo in college hockey, Scott Parse and Bill Thomas. Michigan still has a dogfight on its hands to secure second place after a mediocre run through the condensed part of its schedule.

While you're there: Omaha will be nuts this weekend, what with the hated Wolverines in town for hockey and all of the out-of-towners milling about for the wrestling tournament. Pick any bar in the Old Market, and you won't be disappointed.


Stick Salute

Way to go, Miami, clinching its first CCHA title since 1993. You know, we picked Miami as our Breakthrough Team in the preseason (pat, pat), but you could have made some money off of us by betting that the RedHawks would clinch the championship on Valentine's Day. Not sure anyone (Rico included) saw that one coming. But they've done Oxford proud this year.

Bench Minors

If not for a late goal Saturday, Western Michigan could have been 0-5 against College Hockey America teams this season. As it is, 1-4 ain't much to brag about. What might be most troubling is that four different CHA teams beat Western: Robert Morris, Wayne State, Niagara and Bemidji State. At least this lack of success probably will keep WMU from abandoning the CCHA to become the CHA's sixth team, right?

FRIES AT THE BOTTOM OF THE BAG
• Nebraska-Omaha has started a Web site, www.parseforhobey.com, to advocate Scott Parse's candidacy for the Hobey Baker Award. Coach Mike Kemp believes that the junior with 54 points in 32 games deserves legitimate consideration. "It would be a travesty if he didn't get some recognition by the Hobey people," Kemp said. "He's amongst the best I've ever seen in college hockey."
• It was a rather weak CCHA showing in nonconference play last week, especially to finish it off for the season (until NCAAs, of course).
Western Michigan had to rally with a late regulation goal before winning in overtime Saturday to earn a home split against Bemidji State, while Ohio State lost the Frozen Tundra Classic to Wisconsin at Lambeau Field. From this point forward, it's all league play.
• Injury report: Alaska Fairbanks forward Ryan Muspratt (4-1–5) is done for the season after tearing an ACL and MCL on Friday. Also out of the equation is Nanook sophomore forward Adam Powell, who has been suspended for the duration of the year for a violation of team rules. ...
Nebraska-Omaha forward Tomas Klempa is doubtful for this weekend as he continues to recover from a busted wrist. ... Ferris State forward Matt Stefanishion has been ruled out for the rest of the season with his broken and dislocated wrist.
• Alaska Fairbanks goalie Wylie Rogers got a quick hook Friday after allowing two goals to Bowling Green in the first two minutes of the game. The move worked, as substitute Chad Johnson made 38 saves in the Nanooks' 4-3 comeback win.
• With the mercury reaching a "balmy" 27 degrees, UAF practiced outside Monday in Alaska. Assistant coach Wade Klippenstein explained the location switch to hockey spokeswoman Jamie Schanback as such: "It's a nostalgia-type thing. It was a game that was created outside, so in part, it's a getting down to the history and roots of the game. The other part is many of the guys have never played on an outside rink before, so since the weather has warmed up to where we can practice outside, we thought it would be a lot of fun for the guys."
• According to league research, Ohio State is the heaviest team in the CCHA at an average of 196.7 pounds per player, and Michigan State is the lightest at 184. According to INCH research, Bowling Green is the orangest team in the conference.
• Michigan senior Noah Ruden appears to be the Wolverines' No. 1 goalie of the moment, starting the last four games. Not bad for a guy who was the backup on this year's INCH Dream Team after spending almost all of his first three seasons watching Al Montoya from the bench.
• Jason Blain has transferred from Northeastern to Lake Superior State and should be eligible for the spring 2007 semester. The sophomore had no goals and three assists in 47 career games for the Huskies.
• Buckeye notes: Goalie David Caruso picked up three slashing penalties in 24 seconds during the second period of Tuesday's frustrating 6-3 loss to Miami. "He lost it for the first time I've seen," OSU coach John Markell told the Columbus Dispatch. Markell added, "Sports build character, but they also reveal character. We revealed the wrong kind of character tonight." ... The Buckeyes borrowed cold-weather undergear (think Nike's version of Under Armour) from the OSU football team for last week's Frozen Tundra Classic at Lambeau Field.
A variety of sources were utilized in the compilation of this report.