Feb. 23, 2006
No Mystery – Alaska Fairbanks Wants Home Ice
By James Jahnke
CCHA Notebook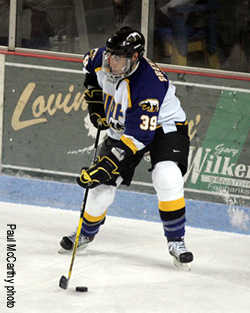 Kyle Greentree and Alaska Fairbanks are locked in a three-way tie for eighth place in the CCHA heading into the regular season's last weekend.

Alaska Fairbanks forward Kyle Greentree boarded the team's red-eye flight late Tuesday night with enough gear in his luggage to last four weeks. But he's hoping the jaunt will last less than one.
The Nanooks are right on the bubble for home ice in the CCHA playoffs heading into the final weekend of regular-season play. They are tied for eighth place with Ferris State and Notre Dame, this week's opponent in South Bend, and as long as they stay eighth or better, they'll host a series next weekend.
But if they have to open on the road, they're going to stay in the Lower 48 until they're eliminated from the playoffs, rather than flying back and forth from Alaska. Thus all of the heavy suitcases.
"We don't want to think that way," Greentree said. "We want to get two wins and come back here. But we have to be prepared."
One could argue that home ice means more to UAF than any other team because of its location. The Nanooks have traveled so much during their careers that they don't think twice about hopping on a plane, but they certainly notice their advantage when teams fly to their neck of the woods. From the jet lag to the frigid climate to the rare-in-the-CCHA Olympic-size ice, UAF has a psychological edge at home.
To be able to use it, the Nanooks must succeed at Notre Dame. UAF is on a nice streak, going 4-1-2 in its last seven games, but it's still far from an offensive juggernaut. The team scores 2.44 goals per contest, which ranks 11th in the CCHA. Talented forward Ryan McLeod left during the holiday break because of academic troubles, placing a heavy burden on playmakers such as Greentree.
"We struggled a little bit right after McLeod left, I was playing center some, and the points just weren't coming," said Greentree, who has a team-leading 25 points (seven goals, 18 assists). "But I've been playing with Kelly Czuy and Adam Naglich recently, and we've had set lines for three weeks in a row now. It's a big time of year to feel comfortable with who you're playing with."
So Greentree has no worries heading down to Notre Dame – and maybe beyond.
"Our team's rolling right now," he said, "so it should be fun. It's playoff-time hockey."
SEEN AND HEARD IN THE CCHA
One with the people: Northern Michigan has been thrashing to stay afloat all year but with one weekend to go, lo and behold, the fifth-place Wildcats still have a chance for a first-round bye heading into a home series against Ohio State. A more realistic and attainable goal is home ice for the opening round, but even that looked questionable until last weekend's sweep of Lake Superior State.
The wins earned NMU the season series against the Lakers, and thus, the Cappo Cup. The Cup presentation Saturday exemplified the unique relationship between the Wildcats and their fans, as NMU captain Nathan Oystrick skated the trophy to the student-section side of the ice, had someone open the door for him and then took it up into the crowd for a celebration.
Upon returning to the ice for a team picture with the Cup, Oystrick invited a large group of students to come along with him, making for a crowded, energetic photo of players and fans alike.
"One of the great things about Northern Michigan University and Marquette is that we're kind of the embodiment of the community," Wildcat head coach Walt Kyle said. "We have a phenomenal fan base, and we are proud of that and need to recognize that.
"That is the U.P., and that is who we are."
Great Weekend Getaway

Alaska Fairbanks at Notre Dame (Fri.-Sat.)

The Nanooks and Fighting Irish are part of a three-way tie for eighth place with Ferris State, and we don't have to tell you the benefits of finishing seventh or eighth as opposed to ninth or 10th in the new CCHA playoff structure. If a team can "win" this series, it's almost assured of home-ice in the first round, and the loser almost certainly will hit the road. Notre Dame is the scariest team in the bottom third of the standings, but UAF ain't no slouch either. Both squads struggle to score at times, so expect a pair of tight-checking doozies.

While you're there: Stick around after Saturday's game to honor Notre Dame's six-player senior class. These cats have seen the top (the school's first NCAA tournament appearance in 2004) and the bottom (last year's wretched five-win performance). Show them some love.

Stick Salute

Michigan deserves props for regularly drawing its opponents' largest crowds of the season on the road. A sampling: The Wolverines have provided Northern Michigan, Nebraska-Omaha, Bowling Green and Michigan State their largest crowds of the season, in addition to sellouts at Alaska Fairbanks, Notre Dame and Miami. Expect something similar at Ferris State on Friday.

Bench Minor

Already short-handed in terms of personnel, Ohio State has been digging holes for itself by allowing early goals for the past three weeks. Against Michigan State on Feb. 9, the Buckeyes gave up tallies at 2:07 and 2:22 of the first. At Lambeau Field, Wisconsin scored 23 seconds into the game. In Miami's CCHA clincher, the RedHawks scored at :16 and 2:40 (sandwiched around an OSU goal). Against Ferris State on Friday, OSU was down 1-0 at 2:10 and 2-0 at 5:59. Things got a bit better in the rematch on Saturday, but the Buckeyes still allowed the first two goals of the game (midway through the first and midway through the second) before rallying to win. Not a good habit.

FRIES AT THE BOTTOM OF THE BAG
• Injury report: Michigan State forward Jim McKenzie is expected to be available against Lake Superior State after missing all but two minutes of last weekend's series with a shoulder injury. ... Ohio State forward Dan Knapp played Saturday – his Senior Night – despite an aggravated shoulder injury that kept him out Friday. He is expected to be OK for the NMU series. ... Notre Dame goalie David Brown returned Saturday after seeing his consecutive games streak snapped at 23 because of the flu Friday. ... Nebraska-Omaha forward Tomas Klempa (broken wrist) is 50-50 for this weekend at Western Michigan.
• Four CCHA teams are among the top five in the nation in terms of number of power plays this season. Ferris State (244) leads the way, followed by third-place Michigan State (232), fourth-place Ohio State (229) and fifth-place Bowling Green (228). Only St. Lawrence (238) breaks up the sweep. Also in the top 10 is Michigan at No. 9 with 223.
• If Ohio State hosts a first-round playoff series next weekend, it will be at the old OSU Ice Rink because the state high school wrestling tournament is booked at the Schottenstein Center. The Ice Rink is the former home of the Buckeyes (and current home of the women's team), with a capacity of 1,200. Get there early.
• The Spartan crowd: Spotted Friday at Munn Ice Arena were former Spartans and current NHLers Ryan Miller and Jim Slater. Why Miller was in East Lansing instead of Turin is one of life's great mysteries. ... Meanwhile, reports out of Michigan State indicate that the usually solemn Munn fans have had a bit more vigor lately, mostly because of the recent expansion of the hockey band to 100-plus members.
• Nebraska-Omaha's nine-game unbeaten streak (6-0-3) isn't just the longest in the nation at the moment, it's tied for the longest in school history. The Mavericks went 8-0-1 during a stretch of January and February 2002.
• Notes from the box scores: If you didn't hear, there was high drama in Omaha last weekend. On Friday, the Mavericks took a 3-0 lead early in the third period, only to see Michigan tie it with 2:45 to play. But six seconds after the tying goal, UNO's Alex Nikiforuk tallied the game winner. On Saturday, UNO's Phil Angell scored the tying goal of a 4-4 draw with 2:02 remaining - and the Bullpen was rockin' again. ... Notre Dame sophomore Mark Van Guilder netted a hat trick Friday. ... Before Saturday's 3-1 win over Miami, nine straight MSU games had been decided by one goal or tied. During that stretch, the Spartans went 5-2-2. The last time an MSU game has finished with a spread of more than two goals was Jan. 13, a 4-0 win over Alaska Fairbanks.
• National points leader Scott Parse, a Kalamazoo, Mich., native, is headed home this weekend as his UNO Mavericks play a pair at Western Michigan. Think the Lawson Lunatics will catch themselves wondering what might have been?
• UAF's lone senior, Kelly Czuy, celebrated his Senior Night with a goal and two assists in Saturday's win over Western Michigan.
• Lake Superior State will honor its 12-member senior class - the largest in school history - during Senior Night festivities Thursday.
• Third-place Michigan is in danger of finishing outside of the top two in the CCHA for the first time since 1990, when it finished fourth. The Wolverines are two points behind second-place Michigan State heading into the final weekend.
• Notre Dame rookie Erik Condra's 33 points are the most by a Fighting Irish freshman since Jamie Ling had 40 in 1992-93.
• Former Michigan State coach Ron Mason will be featured on Fox Sports Detroit's "Spotlight" show at 10 p.m. Sunday and 7 p.m. and 10 p.m. Monday.
A variety of sources were utilized in the compilation of this report.