March 1, 2006
Foul Moods All Around
By James Jahnke
CCHA Notebook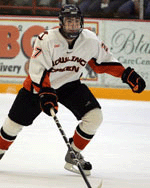 Despite the offensive efforts of Alex Foster and others, Bowling Green finished in last place in the league.

Unhappiness is the theme heading into the first round of the reformatted, three-week CCHA tournament. Lake Superior State is on a monthlong slide that cost it a bye. Ohio State might have had the worst season in the nation, relative to expectations. Western Michigan and Alaska Fairbanks both had more downs than ups. Ferris State and Notre Dame are probably feeling OK, although it's tough to get too amped about seventh- and eighth-place finishes.
But the most bummed-out teams this week might be No. 5 seed Nebraska-Omaha and No. 12 Bowling Green, who play in a best-of-three series at the Qwest Center this weekend. All the Mavericks needed was two points out of their trip to lowly WMU last weekend to secure a first-round bye. Even a non-sweep by Northern Michigan against Ohio State would have clinched it. Instead, the Mavericks blew a 5-2 lead and settled for a tie Friday – a draw UNO coach Mike Kemp called "crushing" – then lost Saturday, while NMU took both from the Buckeyes.
So the Mavericks must play this weekend while the Wildcats get a break.
Bowling Green, meanwhile, is in shock about finishing in last place. With offensive stars such as Alex Foster and Jonathan Matsumoto, and a fairly veteran lineup, there's no way the Falcons should be the worst team in the league. But that's where they find themselves.
So the question is who will dry their tears first and take care of business this weekend.
"We're disappointed, no question," Kemp said. "We feel like we let an opportunity slip through our fingers. But the team, really, is positive. They think they can stay sharper by playing this weekend as opposed to being off. Hopefully, that will pay off for us.
"The Pittsburgh Steelers weren't in very good shape a month before the playoffs, but they got it done. We have to play the card we've been dealt and get 'er done."
CCHA First Round Matchups
No. 12 Bowling Green at No. 5 Nebraska-Omaha
BGSU: 8-18-2 (13-21-2 overall)
UNO: 12-10-6 (18-12-6 overall)
Season series: Bowling Green leads, 2-0
Falcon fact: BGSU hasn't beaten a league opponent (or an opponent in a league) since Jan. 21 against Michigan. The Falcons are 0-5-1 in their last six, and are on an eight-game winless streak if you don't count their Feb. 4 victory over Division I independent RIT.
Maverick fact: UNO junior Scott Parse is the leading vote getter in the online Vote for Hobey race, with sophomore teammate Bill Thomas in second. Parse has roughly 81,000 voting points to Thomas' 52,000.
How BGSU wins: Getting an early lead and winning Friday night would compound the Mavericks' anguish after last weekend's meltdown. BG can score with anybody in the nation, but needs decent goaltending and, especially, defensive-zone coverage.
How UNO wins: The Falcons are suspect defensively, which often leads to several odd-man rushes per night. If the talented Parse, Thomas and Co. can bury some of them, the Mavs should be fine.

No. 11 Western Michigan at No. 6 Lake Superior State
WMU: 7-16-5 (8-22-6 overall)
LSSU: 11-12-5 (15-12-7 overall)
Season series: Lake Superior leads, 4-0
Bronco fact: WMU is the only team in the CCHA giving up more than four goals per game (4.14). The Broncos also have the second-worst offense at 2.44 goals per game.
Laker fact: This will be Lake Superior's first home playoff series since 2000.
How WMU wins: LSSU doesn't score a whole lot, so if WMU can get the lead, it has a fighting chance. Brent Walton will be the best offensive player on the ice, by far.
How LSSU wins: As we said, LSSU doesn't score a lot, but it did post 10 goals on porous Western back in October and it does lead the season series in goal differential, 23-2. The real question will be whether goalie Jeff Jakaitis can continue to keep the Broncos at bay. Tight defense is a must.

No. 10 Ohio State at No. 7 Ferris State
OSU: 11-14-3 (15-17-5 overall)
FSU: 10-11-7 (15-13-8 overall)
Season series: Ohio State leads, 1-0-1
Buckeye fact: Senior forward Rod Pelley has played 163 games for Ohio State, the second most in school history. Mark Anderson (1981-85) holds the record with 167.
Bulldog fact: FSU leads the CCHA in special-teams goals differential (PPGs and SHGs for minus PPGs and SHGs against) with a +16 mark.
How OSU wins: The Buckeyes are the more talented team, but they've been searching for consistency, leadership, luck, offense, passion, motivation, etc. all season. Finding a couple of those would go a long way this weekend. Time for the seniors and/or stars to step up.
How FSU wins: Ewigleben Arena is a tough barn on visiting teams, especially if the crowd is fired up. Early goals, big hits and the like might crush the mentally fragile Buckeyes.
No. 9 Alaska Fairbanks at No. 8 Notre Dame
UAF: 11-13-4 (15-14-5 overall)
ND: 11-13-4 (13-17-4 overall)
Season series: Tied 1-1
Nanook fact: Leading goal scorer Curtis Fraser's 11 tallies are the fewest of any team leader in the category in the CCHA. So it's no surprise that UAF is last in the league in offense at 2.38 goals per game.
Fighting Irish fact: Junior goalie David Brown is smokin' hot, having allowed only 13 goals in his last nine starts. He's only 4-4-1 during that stretch, but his save percentage is .951.
How UAF wins: UAF needs good goaltending, especially against a grinding team such as Notre Dame. No more softies like the three Chad Johnson gave up Friday. The Nanooks don't have the firepower to overcome a big deficit. A close, low-scoring game is about all they can ask for on the road.
How ND wins: Good goaltending has almost become a staple for the Irish, so their focus can lie elsewhere. Get the lead, then trap the heck out of the far-from-home Nanooks and watch the frustration grow.

One of the interesting subplots of this series is the fact that BG swept UNO in their only meeting of the season. But that was the first week of November, many moons ago. Much has changed, particularly for the Mavericks, who had a rough opening month before becoming one of the league's top teams. Bowling Green had a brilliant run from December into early January – knocking off Michigan State, Ohio State, St. Lawrence and Colgate among others – but now is on a 1-7-1 skid.
"At Bowling Green, you're not ever going to feel satisfied finishing where we did this year," Falcons coach Scott Paluch said, "but we've been playing some pretty good hockey down the stretch. We think we have enough in the arsenal to be a dangerous team. We've been in situations where we can win games down the stretch here, but nobody has made that key play to do it for us. We need a Mr. March to step up and lead.
"I like the team that we're taking to Omaha, and we have an opportunity to have our own playoff identity."
On the injury front, UNO expects to have freshman forward Tomas Klempa back in the lineup after missing eight games with a broken wrist.
SEEN AND HEARD IN THE CCHA
Weekend warriors: As it stands, there won't be as many weekday CCHA games next year as there were this season. Even though the league's 2006-07 schedule had been drafted by the time the postseason tournament structure was elongated by a week (like this season), most teams have opted to reschedule for weekends.
The notable exceptions are Western Michigan and Ferris State, who will play each other on one Tuesday in each half of next season. Elsewhere, Northern Michigan and Notre Dame decided to play between Christmas and New Year's, Bowling Green and Miami found a free weekend during October, and Ohio State and Lake Superior settled on a weekend in January. Michigan and Michigan State have yet to reschedule. Alaska Fairbanks and Nebraska-Omaha weren't on the league schedule for the final 2006-07 weekend because of stipulations allowing outlier UAF to have the weekend immediately before the postseason off.
With short notice of the condensed schedule this season, there were 14 games between CCHA teams on nontraditional nights (eight Tuesdays, six Thursdays), plus four Tuesday non-conference games involving a CCHA team. We didn't count exhibitions or games during Christmas break. The Jan. 16 Ferris State vs. Bowling Green game was counted as a Thursday because that's when it was originally set to be played before ice conditions necessitated a postponement.
Next year's number of weekday contests still could climb, but probably not to the same degree. Teams can move any league game to any time they see fit, so long as it's mutually agreed upon, CCHA director of communications Fred Pletsch wrote to INCH in an e-mail.
Speaking of schedules, next year's "clusters," as per the league's five-year rotation, will be UAF-UNO-BGSU-Notre Dame, OSU-Miami-NMU-LSSU and Michigan-MSU-FSU-WMU. Teams play their clustermates four times each, as opposed to twice each for schools outside the cluster.
FRIES AT THE BOTTOM OF THE BAG
• History for MSU: The Spartans set a school season record with their 12th overtime game Saturday against Lake Superior State. That game ended in a tie, giving Michigan State eight draws this season, which ties another school record. ... The Spartans went undefeated through February (5-0-2) for only the third time in school history, joining the 1985-86 and 1998-99 squads.
• Senior Night was a major downer for Michigan's Noah Ruden (who didn't play), Brandon Kaleniecki and Andrew Ebbett on Saturday. The Wolverines carried a 3-0 lead into the third period against visiting Ferris State, only to see the Bulldogs tie it up and then win in overtime, 4-3. "It's terrible," Michigan coach Red Berenson told the Ann Arbor News. "It's the worst period of the year – at home. This is Senior Night? This is a tribute to honoring our seniors who have really been heart-and-soul players for us? This is what they got?"
• Michigan goalies Ruden and freshman Billy Sauer have been mediocre or worse for the last month or so, leaving the Wolverines without a clear No. 1 heading into the postseason. It seems that nobody in Ann Arbor – coaches and players included – knows who will get the call. It might come down to performances in practice next week.
• For those wondering how the tournament seeds were determined among the three ties in the CCHA standings, here we go: Northern Michigan edged Nebraska-Omaha for the No. 4 seed because of more league wins (14 to 12), the same reason Lake Superior State superseded Ferris State for the No. 6 seed (11 to 10). But because Notre Dame and Alaska Fairbanks had the same number of league wins as each other (11) and split their season series 1-1, the third tiebreaker had to be invoked to decide which of them was No. 8 and which was No. 9: goal differential in the season series. Notre Dame won that measurement, 5-3, and thus will host the Nanooks (again) this weekend.
Overall, it was a wild finish to the regular season. Imagine if Ferris hadn't come back from 3-0 to beat Michigan. Or if Western Michigan hadn't come back from 5-2 to tie UNO. Or if Northern Michigan hadn't erased a 2-0 lead to beat Ohio State on Saturday. Every matchup in the first round could have changed.
• Notre Dame coach Jeff Jackson hopes the ice at the Joyce Center is better for this weekend's rematch against UAF than it was last weekend. "The ice was terrible tonight, worse than it's been all season," Jackson said after Friday's win. He blamed it on too much heat in the multipurpose building stemming from other events during the week.
• This weekend's No. 10 Ohio State vs. No. 7 Ferris State playoff series is a rematch of a first-rounder from last year, when the circumstances were much different. No. 11 seed Ferris State put a scare into the mighty Buckeyes, the No. 2 seed, before blowing a two-goal, third-period lead in Game 3 and losing in overtime in Columbus.
• You must read Ferris State senior Greg Rallo's tremendous tale of trailer parks, mini-sticks and Grey Goose on the CCHA Web site.
A variety of sources were utilized in the compilation of this report.