March 8, 2006
Stop Making Sense
By James Jahnke
CCHA
REGULAR-SEASON RECAP
TOURNAMENT PREVIEW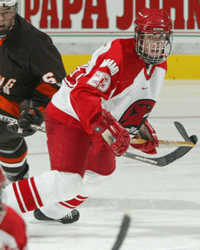 The top seed in the CCHA playoffs, defenseman Andy Greene and Miami host Western Michigan this weekend.

Could it be that the CCHA season didn't go as planned? Could it be that the Buckeyes bombed, finished 10th and were bounced in the first round of the playoffs by Ferris State? Could it be that Michigan is 9-12-4 since Thanksgiving and finished outside of the top two in the league standings for the first time since slap bracelets were the coolest wristwear on the planet?
Could it be that new coaches Jim Roque and Jeff Jackson led Lake Superior State and Notre Dame, respectively, from the cellar to home ice in the playoffs (then, naturally, were the only two higher-seeded teams to lose in the first round)? Could Nebraska-Omaha be poised to make the NCAA Tournament with a walk-on goalie? Could Alaska Fairbanks really have beaten three different No. 1-ranked teams – and finished tied for eighth in the league? Could talented Bowling Green really have been the worst team in the conference?
Could it be that Ferris State and Western Michigan are in the second round of the playoffs? Some nut out there predicted they would occupy the last two spots in the standings. Well, he was kind of right regarding Western, eh?
Could I have picked a more annoying literary device to tie together this season recap? Perhaps. While you ponder that, dig this glance back at the season and look ahead to the rest of the CCHA Tournament:
THE FAVORITE
With 20 conference wins, Miami seems like the best bet to hoist the Mason Cup, even though Michigan State is one of the hottest teams in the country. The RedHawks have superb (yet young) goaltending with the Charlie Effinger/Jeff Zatkoff tandem, which is imperative to a successful playoff run. They also can rely on strong senior leadership from Andy Greene, Matt Davis and Co., and Davis' sophomore brother, Nathan, has turned into a dynamic offensive force. Miami has three losses and three one-goal wins in its last seven games, which could be construed as a slide. But it already had the league wrapped up, so we can excuse 'em. Until the RedHawks lose when it counts, they're the favorites.
CCHA Quarterfinal Matchups
No. 11 Western Michigan at
No. 1 Miami
WMU: 10-22-6 (7-16-5 CCHA)
MU: 23-7-4 (20-6-2 CCHA)
Season Series: Miami leads 2-0
Bronco Fact: The sweep of Lake Superior State was Western's first playoff series victory since 1994. But the Broncos will need two more wins to accomplish something else they haven't done since that year: making it to Joe Louis Arena.
RedHawk Fact: Miami is the only team in the league with a finalist for all six CCHA individual awards.

How WMU Wins: Another surprisingly strong weekend by goalie Daniel Bellissimo and the Bronco defense is a must. WMU proved it could hang at Miami (see Jan. 20-21 series), but now, it has to find a way to finish.
How Miami Wins: Riding the emotion of a farewell to Goggin Ice Arena should keep Miami from being complacent. That and trying to secure a No. 1 NCAA seed, of course. If the RedHawks play their systems, it will be tough to lose.

No. 9 Alaska Fairbanks at
No. 2 Michigan State
UAF: 17-14-5 (11-13-4 CCHA)
MSU: 20-10-8 (14-7-7 CCHA)
Season Series: MSU leads 3-0-1
Nanook Fact: UAF is 7-2-1 in its last 10 games, which is tied with MSU and Nebraska-Omaha (both 6-1-3) for the best mark among teams still alive in the tournament.
Spartan Fact: Rick Comley has nine players with at least nine goals this season, but none of them has more than 13.
How UAF Wins: The same way it did against Notre Dame – keeping it close and low-scoring for as long as possible, then seeing what happens. Getting the first goal (or two) is critical against a confident defensive team that is streaky in terms of scoring.
How MSU Wins: The Spartans should be able to control the puck against UAF, and keeping it buzzing around the Nanook net can only lead to good things. Defensively, MSU should be able to keep UAF to the outside, for the most part, making Jeff Lerg's job relatively easy.

No. 7 Ferris State at No. 3 Michigan
FSU: 17-13-8 (10-11-7CCHA)
U-M: 18-13-5 (13-10-5 CCHA)
Season Series: FSU leads 1-0-1
Bulldog Fact: After the sweep of Ohio State, FSU is 8-0 all-time in home playoff games. This, of course, means nothing this weekend, but we thought you'd like to know anyway.
Wolverine Fact: U-M is the most penalized team in the CCHA (22.5 minutes per game), but also has the league's best power play (19.2 percent).
How FSU Wins: Try to break Michigan's spirit at the first moment possible. If a knockout blow doesn't present itself, play sound defense and hang around as long as possible. The averages indicate that goals will come eventually.
How U-M Wins: Goaltending, goaltending, goaltending. If Michigan gets solid play in the net from Billy Sauer and/or Noah Ruden, its confidence will blossom. If softies continue to go in, the Wolverines' teetering season could topple.
No. 5 Nebraska-Omaha at No. 4 Northern Michigan
UNO: 20-12-6 (12-10-6 CCHA)
NMU: 20-14-2 (14-12-2)
Season Series: UNO leads 2-0
Maverick Fact: Scott Parse became UNO's all-time leading scorer with a goal and an assist in last weekend's sweep of Bowling Green. His 145 points in not quite three full seasons surpass the 144 posted by David Brisson from 1999-2003.
Wildcat Fact: Want balance? There is no more than a two-point separation between the Wildcats' top seven scorers.
How UNO Wins: By replicating its effort from last month's sweep of Northern. That was a major byproduct of their majestic confidence at the time. The good vibes were doused against Western Michigan but perhaps rekindled against Bowling Green last week.
How NMU Wins: We can see this series being high-scoring (at least by the standard of 1-0 and 2-1 playoff games), so having Bill Zaniboni win his goaltending duel against Jerad Kaufmann would give NMU a leg up. Otherwise, just roll four lines and trust that the home crowd and Olympic-size ice eventually will swing in your favor.

THE GATE CRASHER
Just two weeks ago, Nebraska-Omaha was a lock to get a first-round CCHA bye and be in contention for a No. 1 seed in the NCAA Tournament. Then the Bronco poop hit the fan. But these are the same players and coaches who were the toasts of college hockey a fortnight ago. It only makes sense that if they were that good then, they're still that good now. Maybe they're even better upon realizing how quickly things can sour without A+ efforts. It will be tough to go into Northern Michigan this weekend, but the Mavericks swept the homestanding Wildcats one month ago. If UNO gets to Detroit, anything can happen. Especially with that dangerous offense.
INCH'S ALL-CONFERENCE TEAM
G – Jeff Lerg, Michigan State: Cases could be made for a half-dozen goalies, but MSU's ho-hum season turned around when Lerg established himself as the starter. The freshman has the best blend of statistics, workload, consistency and team success in the conference. He ranks third in goals-against average (1.98), save percentage (.926) and winning percentage (.682) in the CCHA.
D – Andy Greene, Miami: The best player on the best team in the league, Greene scored nine goals (including three game winners) and added 18 assists in his senior campaign. Nobody can boast of better defensive-zone coverage, either. He's a plus-17.
D – Nathan Oystrick, Northern Michigan: The smooth-skating senior captain is the heart and soul of the Wildcats, not to mention a dangerous two-way defenseman. Oystrick popped in nine goals to complement his 16 assists.
F – T.J. Hensick, Michigan: The league's slickest playmaker ranks third in assists (33) and tied for fourth in points (47). The junior improved his defense this season, but must do the same with his leadership skills if he returns to Ann Arbor next season.
F – Scott Parse, Nebraska-Omaha: Parse leads the nation in points by seven over Ryan Potulny (61-54), and in assists with 41. The junior's 1.61 points per game also are unparalleled, and he is one of just four 20-goal scorers in the conference.
F – Brent Walton, Western Michigan: The senior finished second in the league with 24 goals - and he didn't have much help in getting there. Only one Bronco besides him cracked the 20-point plateau. Walton also tied for the league lead with five game-winning goals among Western's 10 victories.
COACH OF THE YEAR
Enrico Blasi, Miami. A few teams overachieved this season, but only one ran away with the conference. The RedHawks were picked sixth in the conference by the coaches and seventh by the media (fifth by INCH), but clinched the title with two full weekends left to play. Blasi deserves credit for keeping his players focused on the immediate moment rather than dreaming about the big picture, which can be tough to do with a team not used to overwhelming success. Nobody preaches the one-game-at-a-time mantra like Blasi, and, apparently, nobody teaches it like him, either.
PLAYER OF THE YEAR
Scott Parse, Nebraska-Omaha junior forward. We admit that Miami defenseman Andy Greene just as easily could take this honor, but Parse's superb season is just so numerically evident. He's the only 60-point scorer in the nation. He has made stars out of his two linemates, Bill Thomas and Bryan Marshall. He leads the conference in plus/minus at plus-27. He's the propeller that has made UNO the top-scoring team in the CCHA at 3.71 goals per game. It was troubling that he went quiet recently (one goal in his last six games) as the Mavericks fell out of a first-round bye, but in a way, that shows just how valuable he is to the team.
FRESHMAN OF THE YEAR
Jeff Lerg, Michigan State goalie. With all due respect to Jack Johnson, who should be a terrific professional, Lerg is the best rookie in the CCHA right now. The 5-foot-6 water bug is calm and poised in the net and has made a positive out of his lack of size with uber-quick moves and reflexes. Admittedly, he benefited by becoming MSU's No. 1 goalie at roughly the same time the roster got healthy, but you have to be pretty good to keep Dominic Vicari stapled to the bench down the stretch. Lerg won the job with a 6-0-0 run right after New Year's, then kept it with consistency that hasn't been seen in an East Lansing crease since the days of Ryan Miller.
BREAKTHROUGH PLAYER
Greg Rallo, Ferris State senior forward, by a nose over Miami's Ryan Jones. Rallo was our "Surprise Individual" at midseason, and he maintained his production through the second half. He finished eighth in the league in scoring with 37 points (16 goals, 21 assists) after registering just seven goals in each of the past two seasons and never reaching the 30-point mark. Rallo also performed admirably as team captain this year, leading the young Bulldogs to a tied-for-sixth-place finish when most folks (including us) had them pegged for the bottom And for the cherry on top, he penned the best essay by a student-athlete that we read this season.