October 6, 2005
2005-06 College Hockey America Preview
By Thomas Baldwin

THE SKINNY
It seemingly doesn't matter which College Hockey America head coach one talks to, because they all pretty much say the same thing – this is a balanced league, any team can win on a given night and any team could wind up winning the conference's regular-season title or postseason tournament.
"It's like this every year," Bemidji State coach Tom Serratore said about the competitiveness of the league. "It is going to be a war every game. There is a lot of parity in our league, and there are going to be a lot of splits."
Alabama-Huntsville coach Doug Ross agrees.
"A lot of games will be decided by a pounce of the puck, a bad break, a late penalty," he said.
As in the past, many people will ultimately judge this league by how its clubs do against non-conference competition.
"What the CHA has accomplished [in] non-conference [games] sends a strong message," Niagara coach Dave Burkholder said, "and this year the league will be as tough as it has ever been."
BREAKTHROUGH TEAM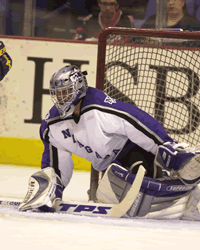 A healthy Jeff VanNyatten is crucial if Niagara is to contend for the CHA championship.
Niagara won the CHA playoff championship in 2004 and the team had high hopes of making a return trip to the NCAA Tournament last season. That didn't happen — the Purple Eagles stumbled to a 15-19-2 (9-9-2 CHA) record, a key player was jettisoned from the squad, the starting goalie missed much of the season due to injury and the team in general lacked focus.
Ask coach Dave Burkholder and his players, and one gets the feeling the Purple Eagles are embarrassed about last year and resolve to get back where they were. It sounds good in theory, but whether Niagara can indeed become an elite CHA club is another matter.
A huge problem could be the losses of Barret Ehgoetz, Ryan Gale and Kris Wiebe, who carried the load offensively. Burkholder is counting on what he says is a talented group of underclassmen led by Justin Cross (10-9--19) and Sean Bentivoglio (9-18--27) to help make up for those losses. The key, however, is goaltender Jeff VanNyatten who missed two months last season with a broken finger and – according to reports – was not the same after he returned from the injury. If VanNyatten is as sharp as he was two years ago when he was the 2004 CHA Tournament MVP, the Purple Eagles should be vastly improved over last season.
PRIMED FOR A FALL
Bemidji State, which celebrates its 50th anniversary of hockey this season, is the only club in CHA history to win consecutive regular season titles. Achieving the three-peat, however, could be a tall order. The Beavers must replace six seniors who combined for 643 games played and 379 career points. Offensively, the biggest losses were Brendan Cook and Andrew Murray, who combined for 36 goals and 78 points last season.

"We're work in progress," said Tom Serratore, who enters his fifth season at Bemidji with 17 freshmen and sophomores on the roster. "We've had two terrific years in a row, but we lost some outstanding hockey players. We have a lot of new and unproven players, but we are a team that nobody can take for granted."
But the Beavers have some good offensive players coming back – Luke Erickson (11-27--38 last season) and Rob Sirianni (13-12--25). Also returning is goaltender Matt Climie, who was outstanding last season with a 12-5-1 record, a 1.80 goals against average and a .916 save percentage.
PRESSURE TO PERFORM
For Air Force, the pressure to perform is coming from within. More specifically, it's coming from coach Frank Serratore, who expects big things from a team that returns 21 players from a club that was 14-19-3 (5-14-1 CHA) last season. Junior goaltender Peter Foster (12-14-3, 2.66 GAA, .900 sv%) is back, as are all but three players from last year's team. Also returning to the fold is forward Theo Zacour, who missed all but 11 games last season with an injury.
"We only have three seniors, but our juniors have a lot of experience," Frank Serratore said. "I think we will be in every game. Hopefully, we will be on the good end of those tight 3-2, 4-3 games."
Though the Falcons enjoy a wealth of experience this season, the lack of seniors could mean the team is still a year away from reaching its championship aspirations. If that's the case, Air Force might fulfill its vast potential in Atlantic Hockey next season.
TOUGHEST ACT TO FOLLOW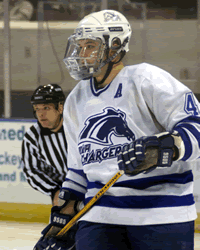 Jeremy Schreiber and Alabama-Huntsville were picked to win the CHA by the league's coaches in their preseason poll.
They're the pick of CHA coaches to win the conference championship this season, but if Alabama-Huntsville is to advance to the NCAA Tournament for the first time, they'll need to find a way to replace departed scoring stars Jared Ross (159 career points) and Craig Bushey (112 points). Could it be that the high-octane Chargers morph into a team that wins with defense? Sure, senior Bruce Mulherin, who led the CHA with 24 goals last year, returns, but the strength of this team might be veteran defensemen Jeremy Schreiber and Jeff Winchester and goalie Scott Munroe, who bounced back from a dismal sophomore season to post a 16-10-4 record, a 2.29 goals against average and a .930 save percentage.
BEST PLAYER
There are models of consistency, and then there's Alabama-Huntsville defenseman Jeremy Schreiber. In three seasons below the Mason-Dixon line, the Medicine Hat, Alberta, native has scored 21, 21 and 23 points, respectively. A dangerous power play presence — of his 17 career goals, 12 have come with the man advantage — what's more amazing is his ability to recognize scoring chances and then convert. Schreiber, a two-time all-CHA selection, has attempted just 144 shots during his career for a shooting percentage of 9.6%. The Chargers' captain gets the nod over Bemidji State sophomore goalie Matt Climie.
BEST NEWCOMER
On a team as young as Robert Morris (there are just two juniors and two seniors on the roster), adding a player with previous Division I playing experience is a plus. And on a team that struggled to score a year ago, it's an added benefit if said player has a little bit of offensive skill. Another added plus is if the player in question knew the league. Well, after leaving Niagara nine games into last season, forward Aaron Clarke will join the Colonials for the second half of this season. Clarke, a Peterborough, Ontario, native, had three goals and three assists for the Purple Eagles last year and was named to the 2004 CHA all-tournament team after scoring a goal and an assist in Niagara's title game win against Bemidji State. If coach Derek Schooley can get more offense from Clarke and others, it'll ease the burden on...
UNSUNG PLAYER
...Robert Morris goaltender Christian Boucher. Don't let the 8-17-4 record fool you — he enjoyed a terrific season in the Colonials' inaugural CHA campaign. Among Division I schools, only Notre Dame ranked below RMU in scoring offense. But Boucher was a fantastic find for Schooley. The Orleans, Ontario, product manufactured a sparkling .916 save percentage and a 2.87 goals against average as a freshman, and during an impressive three-game stretch midway through the season he stopped 81 of 85 shots in a win and a tie against Quinnipiac and a draw with Mercyhurst.
"We have a solid defense and a good goaltender," Schooley said. "Now we just have to figure out how to score some goals."
THREE BURNING QUESTIONS
1. What's the best thing about playing in a six-team league? It's gotta be the great non-conference slates these schools put together thanks to a 20-game league schedule. For example, Alabama-Huntsville plays Maine and Ohio State, Air Force sees the Black Bears along with Front Range rivals Colorado College and Denver, Bemidji State — which will play anyone, anywhere — gets half the WCHA this year, including a date at North Dakota on ESPNU. Niagara takes on Vermont (at home!) and travels to Minnesota, while Wayne State meets Michigan State and Miami at this weekend's Lefty McFadden Tournament in Dayton, Ohio, and plays Northern Michigan later in the year.
2. Will Kennesaw State be good for this league? Well, seeing as how adding the Owls — a move that has been all but officially announced — keeps the league afloat, yeah, it's a good thing. Seriously, it'll be great for the college game to get into a fresh market, especially if Kennesaw's fans are as avid as those at Alabama-Huntsville. Our wish is for one of the Owls unveils the hockey version of the old Atlanta Falcons "Dirty Bird" dance after scoring a goal.
3. The CHA Tournament moves to Detroit this year. Is that a good thing? For starters, it'll mean more CHA fans can actually see the tournament. In case you didn't notice, Kearney, Neb., and Grand Rapids, Minn., aren't exactly airline hubs — they're more like destinations for contestants on "The Amazing Race." The CHA Tourney may get lost among everything else that goes on in Detroit, but at least the city is an easy drive for fans from Niagara and Robert Morris, and flying from Bemidji, Colorado Springs or Huntsville is less of a challenge than getting to central Nebraska.
MARK IT DOWN
Five things you can take to the bank in College Hockey America this season

1. Despite the losses of top scorers Brendan Cook and Andrew Murray, not to mention solid veterans Peter Jonsson, Myles Kuharski and John Haider (who played in a whopping 143 career games), Bemidji State will outlast its CHA rivals and win the league tournament for a third straight year.
2. Even though we tabbed UAH's Jeremy Schreiber as the league's best player, BSU goaltender Matt Climie will build upon his freshman campaign, win conference player of the year honors and play well enough to generate some All-American buzz in what appears to be a down year for goaltenders nationwide.
3. In its CHA swan song, Air Force makes a valiant run at an NCAA Tournament berth by advancing to the league playoff championship, but Tom Serratore's Beavers will be too much for brother Frank's Falcons to handle.
4. If you're looking for a glimpse into the CHA future, check out Wayne State. The Warriors return their five top scorers from a year ago — Stavros Paskaris, Jason Bloomingburg, Jason Baclig, Mark Nebus and Tylor Michel. Each member of the high-octane quintet has no less than two years of eligibility remaining.
5. As you'll see below, projecting an order of finish for the CHA this season is an exercise in futility. It wouldn't come as a surprise if everyone outside of the fledgling Robert Morris program is within striking distance of one of the league's two first-round playoff byes.
Predicted Finish

No.

School
Of Note

1.

Bemidji State
"Bemidji came out and really took it to us for a while," Denver defenseman Andrew Thomas said after the Pioneers escaped a scare in the first round of last year's NCAA Tournament.

2.

Niagara
A healthy Jeff VanNyatten will help alleviate the loss of Barret Eghoetz and Co. Count on coach Dave Burkholder having the Purple Eagles on the same page this season.

3.

Alabama-Huntsville
Jared Ross was a dominating offensive presence. The Chargers have a solid foundation to build on in Schreiber, Winchester, Mulherin and Munroe.

4.

Wayne State
The Warriors might be a year away from seriously challenging for the CHA title. That said, it'll be a lot of fun watching this team grow.

5.

Air Force
The Falcons will be missed when they move to Atlantic Hockey next season. CHA media members will especially miss the candid Frank Serratore, who can fill a reporter's notebook with the best of 'em.

6.

Robert Morris
Eight wins in their inaugural campaign was a good start for the surprisingly competitive Colonials. They'll reach double digits in victories if they get a little more scoring punch in year two.
Mike Eidelbes contributed to this preview.
Ed.'s note: The first version of the CHA preview listed transfer Ryan Cruthers of Robert Morris as the league's top newcomer. Cruthers is not eligible to play for the Colonials until next season. Inside College Hockey regrets the error.