December 8, 2005
Canter Can Too
By Mike Eidelbes
College Hockey America Notebook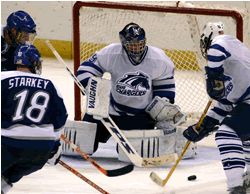 Ed.'s note: Thomas Baldwin will return next week.
Alabama-Huntsville forward Steve Canter may not score the most goals or ones of highlight quality. But when he converts they mean a lot, as evidenced by a truly remarkable turn of events as the visiting Chargers surprised Ohio State last weekend.
In Friday's series opener at Value City Arena, UAH jumped out to a 3-1 lead after two periods, but the hosts rallied to even the score on power-play goals by Rod Pelley and Dominic Maiani less than two minutes apart in the third period.
""When I let in the two goals, I thought `Here we go again.,'" said Charger goaltender Scott Munroe, who set a Value City Arena records by making 52 saves, 21 of them in the third period. "I just wanted to preserve the tie to give our team a chance."
Enter Canter, who recorded the winning goal in the Chargers' two previous wins (vs. Niagara on Nov. 11 and at Robert Morris on Nov. 19). With less than a minute remaining in regulation, defenseman Mike Salekin sprung Canter with a lead pass. The junior wing skated in alone and beat OSU goalie Dave Caruso with 44 seconds left in period, propelling UAH to a 4-3 win.
Though the two teams battled to a 2-2 draw the next night, Canter's late-game heroics were even more dramatic. Though the Buckeyes owned a 36-10 advantage in shots through two periods, Munroe managed to keep the Chargers within striking distance, trailing 2-1 entering the final period.
The Buckeyes maintained the one-goal lead until the waning moments of regulation. With Munroe pulled in favor of an extra attacker, Canter corralled a rebound and slid the puck past Caruso as time expired to salvage the tie.
"Steve is a clutch player for us," Alabama-Huntsville coach Doug Ross said. "It was a good game. Either team could have won. I thought Ohio State had more opportunities to win the game. I'm just proud of the way our guys played this weekend against a good CCHA hockey team.
"After having last week off, we knew we needed to gain confidence and momentum coming up here to play Ohio State. We played aggressively, moved up the ice together and made the big saves."
SEEN AND HEARD IN THE CHA
Dusting Off the Tools: Over the past season-plus, Robert Morris backup goaltender Joe Tuset has been about as busy as the Maytag repairman. With workhorse Christian Boucher starting 17 straight games, 31 of the Colonials' last 33 matches, and all but five contests in school history, one becomes quite effective working the gate on the bench for line changes.
The junior from Eagan, Minn. – he of the 44:08 in career minutes played – finally got the nod from coach Derek Schooley, and made his first start for the Colonials at Lake Superior State last Saturday. Tuset acquitted himself quite well, making 32 saves in a 4-3 overtime loss to the Lakers.
In fact, the transfer from Northern Michigan kept the Colonials in the game in the first period – they were outshot by LSSU, 14-5. Tusek got a chance to earn his first career victory thanks to a goal by Jace Buzek with 1:25 left in regulation that sent the game into OT. The Lakers' Dominic Osman notched the decisive goal with 1:20 left in the extra frame.
FRIES AT THE BOTTOM OF THE BAG
Great Weekend Getaway

Lake Superior State at Bemidji State (Fri.-Sat.)
Sure, this is a rematch of many an NAIA title game, but it's also another stern non-conference test for the Beavers. They've already swept Minnesota Duluth and Minnesota State, Mankato, and split at Ferris State, but the next six games on the slate even tougher – a home-and-home set with mighty North Dakota follows the LSSU series, and BSU gets Clarkson and either Dartmouth or Vermont at the Vermont Holiday Classic Dec. 30-31.

Stick Salute

The game isn't until Dec. 17, but kudos to ESPNU for picking that night's Bemidji State-North Dakota tilt as its college hockey game of the week. It should be an entertaining game with interesting story lines, especially if Layne Sedevie – who originally committed to the Fighting Sioux – gets the start in goal for the Beavers and plays well.

Bench Minor

No disrespect to Robert Morris defenseman Jeff Gilbert, but Alabama-Huntsville goaltender Scott Munroe makes a combined 101 saves in a win and a tie at Ohio State, yet he's overlooked for CHA Defensive Player of the Week honors. Are you kidding? Most goalies won't make 101 saves in four games. Heck, I think Dave McKee made 101 saves in ECACHL play last year.

• A recent slump provides an indication of just how potent Robert Morris' power-play units were early in the season. Despite scoring on only one of its last 17 man-advantage opportunities, the Colonials still rank second in the nation with a power-play success rate of 25.7% (19-of-74). RMU has scored more even-strength goals in its last four games (eight) than it did in its first eight outings (seven).
• With the win and tie in Columbus last weekend, Alabama-Huntsville is 2-0-1 all-time against Ohio State. They're a combined 0-8-0 against the Buckeyes' Big Ten hockey-playing brethren (Michigan, Michigan State, Minnesota and Wisconsin).
• Wayne State got off the schneid last Friday, pinning a 4-3 loss on host Air Force. The win snapped the Warriors' 12-game (0-10-2) winless streak that dated back to a 4-0 win against Alabama-Huntsville on March 5, 2005.
• Niagara's Matt Caruana and Jason Williamson each had nine-game scoring streaks snapped in the Purple Eagles' 8-1 loss at Bemidji State Saturday. That loss, by the way, matches the worst defeat in Niagara history. The Purple Eagles also absorbed an 8-1 loss against Ferris State on Jan. 4, 2003.
• Who's hot: Bemidji State's Luke Erickson, whose four goals in the Beavers' win against Niagara is a school record for the Division I era…BSU goalie Layne Sedevie, meanwhile, has won nine of his last 10 starts…Eric Ehn of Air Force has 5-4—9 and is +4 in the Falcons' last three games…Wayne State's Stavros Paskaris has returned from a six-game hiatus because of an injury to pick up five points in the Warriors' last four appearances.
• In the past, it's likely that Jared Ross' name would have appeared in the item above. Thought the former Alabama-Huntsville standout has moved on to the American Hockey League's Chicago Wolves, he hasn't lost his scoring touch. Despite playing in just 15 of his team's 19 games – the rest of the league's teams have played anywhere from 20 to 28 games – Ross' 2-11—13 scoring line ranks third among Wolves skaters and tied for 25th among AHL rookies.
A variety of sources were utilized in the compilation of this report.