January 26, 2006
Right Back Where We Started From...
By Thomas Baldwin
College Hockey America Notebook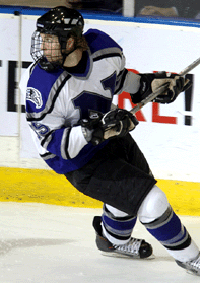 Forward Matt Caruana scored twice in Niagara's 4-3 win against Alabama-Huntsville last weekend.

It was a series indicative of the three-team cluster atop the College Hockey America standings.
Alabama-Huntsville and Niagara tread water last weekend as the two teams split a hotly contested series in western New York. The Chargers won the first round, taking a 4-3 decision at Dwyer Arena Friday. The Purple Eagles regrouped to squeeze out a win by the same score the following afternoon.

The split, combined with Bemidji State's sweep at Air Force, puts the Beavers two points up on Niagara and three ahead of Alabama-Huntsville, setting up what will likely be an exciting sprint to the wire. The Chargers have two games in hand on both BSU and Niagara.
On Friday, Alabama-Huntsville goaltender Scott Munroe outdueled Niagara's Jeff VanNynatten and Brett McConnachie scored the game-winner with six seconds left in regulation as the Chargers rallied from a 3-1 deficit for the win. While Munroe was sensational – the Purple Eagles outshot UAH by a 43-25 margin – Niagara's 2-for-12 performance on the power play allowed the Chargers to linger within striking distance. The visitors eventually capitalized on the Purple Eagles' largesse in the third period, outshooting Niagara, 15-3, and getting two power play goals of their own.
"I was really happy just to be in the game," Alabama-Huntsville coach Doug Ross said following Friday's win. "We got a lot of penalties and had to face a lot of adversity out there. I was glad to least be in the position. We decided to go hard in the third period, send three guys in to forecheck early and not wait."
"It was a classic case of, if you keep a team around long enough," Niagara coach Dave Burkholder said. "They obviously wanted it a lot more than we did. To play like that in the third – we did not play like champions or a desperate team at home. We have a lot of guys who should be very disappointed in their third period."
Saturday's game mirrored Friday's in that the Purple Eagles grabbed a 3-1 lead after two periods, but unlike the previous night they hung on for a 4-3 victory. Matt Caruana scored a pair of goals, and Randy Harris got the game-winner on a third-period power play tally – Niagara converted on three of its six man-advantage opportunities – to earn the split.
"We didn't want to get swept by Alabama, especially with the couple of games in hand on us," Caruana said. "We wanted to come out here after that tough loss and put together 60 hard minutes."
SEEN AND HEARD IN THE CHA
Great weekend getaway (it was getting back that was tough): A rarity in Air Force's game at Bemidji State last Friday – the Falcons employed all three goalkeepers in the 5-2 loss.
Peter Foster started the game but was pulled in the middle of the second period in favor of Ian Harper. With 10 seconds left in regulation, Harper was involved in a skirmish, so Air Force coach Frank Serratore yanked him and inserted Ben Worker to mop up.
"Our goalies won games for us last year," Frank Serratore said. "They haven't won a game for us this year.
"It's a shame. We skate and compete very, very well. If our goaltending can get back to where it was last year, we are going to be a scary team to play coming down the stretch."
In 12 games, Foster is 3-9-0 with a 3.71 goals against average and a .859 save percentage. Harper has also struggled, going 2-5-1 with a 3.77 GAA and a .857 save percentage.
Coach's corner: If Alabama-Huntsville coach Doug Ross decides he wants to retire from the day-to-day grind of Division I hockey, he may have a second calling as a color commentator as evidenced by the way he regaled the media attending last weekend's series at Niagara.
Great Weekend Getaway

Alabama-Huntsville at Wayne State
(Fri.-Sat.)
It's a quiet weekend in the CHA as this is the only league series on the slate. The Warriors trail the Chargers by seven points, but have an opportunity to gain some valuable ground this weekend.

"Doug Ross always seems to have a pretty solid offensive side of it," WSU coach Bill Wilkinson said, "and with (Scott) Munroe in goal…he's been playing extremely well."

While you're there: Can't go a weekend without football? The Super Bowl hits Detroit Feb. 5, but you can head to the Pontiac Silverdome this Sunday for the NFL Global Junior Championship, a flag football event featuring the U.S. team comprised of high schoolers from northwest Ohio against Canada. The Canadians have yet to allow a point in the competition, including a 21-0 win over the U.S. in the round-robin preliminaries. Says here that the red, white and blue will get at least one rouge Sunday.

FRIES AT THE BOTTOM OF THE BAG
• Niagara's Jeff VanNynatten finished with 42 stops in Saturday's win. He now has 2,649 saves, eclipsing Greg Gardner's school record for career saves of 2,639.
"I really don't know what to think of it," VanNynatten said. "I knew going into the season I had a shot at it, but I didn't think I would do it with 10 or 12 games left in the season. I have seen a lot of rubber this season."
VanNynatten has faced a lot of shots and played a ton of minutes. Burkholder, a former college goalie, sensed during the Purple Eagles' series at Air Force that his no. 1 netminder was wearing down. For that reason, VanNynatten will sit out at least one game of this weekend's non-conference series at Quinnipiac.
"For a goaltender, fatigue can be more of a mental thing," said VanNynatten, who insisted he didn't need a break. "I felt better [against Alabama-Huntsville]…two long flights kind of caught up with me a little bit at Air Force. But there are only 10 games left and physically, I am fine. I don't have the bumps and bruises these other guys are playing through."
• Wayne State ended a six-game winless streak with a 6-3 victory over Robert Morris Saturday, the culmination of a weekend during which the Warriors got contributions from unlikely sources.
On Friday, defenseman Taylor Donohoe scored halfway through the third period to give the Warriors a 2-2 tie. It was his fourth career goal in his three years at Wayne State. The Warriors also got solid performances from goalie Will Hooper, who finished with 21 saves Friday and made 16 stops Saturday.
"[Hooper] played very well for us Friday night," Wayne State coach Bill Wilkinson said. "He kept us in the running, and gave us a chance to tie it up. Saturday, he played well early until we got our feet under us."
• Former NHL goalkeeper Brian Hextall, now a scout with the Philadelphia Flyers, was at Dwyer Arena last weekend evaluating Niagara's Jeff VanNynatten and Scott Munroe of Alabama-Huntsville.
• Following Saturday's tough loss, senior forward Bruce Mulherin and his Alabama-Huntsville teammates boarded a bus for the 15-hour ride back home.
"Tonight, we will play some cards, watch some movies, hang out and talk about the weekend," he said. "We…try to make the best of it. It is a good time for us to bond as a team."
Mulherin says the seniors select the movies. Featured on the Niagara trip were "The 40-Year-Old Virgin" and "Wedding Crashers."
A variety of sources were utilized in the compilation of this report.