February 2, 2006
Hard-Charging Chargers
By Thomas Baldwin
College Hockey America Notebook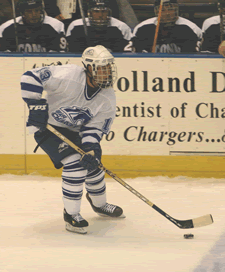 Forward Bruce Mulherin and Alabama-Huntsville enter a crucial weekend series with Bemidji State on a 6-1-1 run.

Another week, yet another team atop the CHA standings.
The team du jour this time around is surging Alabama-Huntsville, which climbed into a tie for first place with idle Bemidji State after taking three of four points at Wayne State this past weekend.
The Chargers and Beavers both have 17 points while Niagara is just slightly behind with 15, All three clubs having eight league games remaining, but UAH is undoubtedly the hottest club in the conference at this point in time with a 6-1-1 mark in its last eight games.
Alabama-Huntsville salvaged a 2-2 tie in Friday's series opener with Wayne State. Trailing the Warriors 2-1 in the third period, the Chargers' Matt Sweazey scored a power play goal with just under six minutes left in regulation.
While the Chargers were happy with the tie, Wayne State was disappointed – the hosts twice squandered third-period leads. Ultimately, Alabama-Huntsville goalie Scott Munroe outdueled Wayne State's Will Hooper, who started both ends of the series.
"It's not that Hooper played poorly, it just that Munroe played better," Wayne State coach Bill Wilkinson said.
In Saturday's game, Bruce Mulherin continued his torrid play with two goals and an assist as the Chargers won easily, 6-2. Jeremy Schreiber and Jeff Winchester each finished with three assists. The power play was a key in this one, as Alabama-Hunstville scored on three of seven man-advantage opportunities.
SEEN AND HEARD IN THE CHA
Slow weekend in the circuit: Niagara was the only other CHA club in action last weekend, getting a split with the newest member of the ECAC Hockey League, Quinnipiac.
On Friday, freshman Les Reaney scored with just five seconds left to give the Purple Eagles a 4-3 victory. Reaney and Sean Bentivoglio skated towards the Quinnipiac end on an odd-man rush. Bentivoglio slid a clever pass to Reaney, who buried it in the top corner for the win.
"The way we won Friday was a good way for us to win...with what happened to us against Huntsville the weekend before," Niagara coach Dave Burkholder said, referring to the two-goal lead his team squandered against the Chargers. "A split on the road is never a bad thing. But whenever you win Friday, you are looking to sweep. Unfortunately, we didn't have enough in the tank to get it done Saturday."

Scott Mollison, making only his second start of the season, finished with 35 saves to earn the win for the Purple Eagles.
Saturday, the Purple Eagles started slowly and never got untracked as Quinnipiac scored an impressive 5-2 victory.
"For whatever reason, we were not ready to play at the start of the game," Burkholder said.
Trailing 2-0 in the second period, Niagara's Vince Rocco and Bentivoglio scored goals 1:09 apart to tie the game. But just 25 seconds later, Quinnipiac's Brian Leitch scored to give the Bobcats a lead they would not relinquish.
What about Bob?: Tuesday was an important evening for Robert Morris, as the Colonials (6-15-2 overall, 2-7-1 College Hockey America) notched a 5-2 win against Princeton – the fledgling program's first-ever victory against an ECACHL team. The win was impressive, considering the Tigers have recently scored victories over nationally ranked Denver, Colgate and Cornell while RMU was 1-11-2 in its last 14 games.
"We competed hard and when we play our game, we are successful," Colonials coach Derek Schooley said. "We got a lot of contributions from guys that haven't produced a lot this year and got the monkey off their backs."
David Boguslawski and Brett Hopfe each had a goal and an assist for RMU while Jace Buzek recorded a pair of assists. The Colonials gave workhorse goaltender Christian Boucher a rare night off and got a tremendous performance from backup Joe Tuset, who finished with 30 saves in just his second career start.
"He's played well in his two starts," Schooley said. "We were giving him trouble today, calling him 'Curt Schilling.' He plays well when he starts but in relief he doesn't play as well. He looked very good and made some great saves when Princeton was on the power play the whole second period.
"I was happy to see Joe perform like that, and it was good to get Christian a night off when we have some big games coming up."
Great Weekend Getaway

Alabama-Huntsville at Bemidji State
(Fri.-Sat.)
It's the first meeting of the season between these two teams and no matter what happens, the pair will remain one-two in the league standings because third-place Niagara is idle.

"At this time of the year you are definitely looking at the standings," said Bemidji State coach Tom Serratore. "This (series) will set the pace the rest of the year, no question. If anyone wants to win a league championship, you are going to have to win games on the road.

The Chargers have always been a tough out at Von Braun Arena. Making the Beavers' task even more difficult is a travel itinerary – flights from Bemidji to Minneapolis to Memphis to Huntsville – that features more ups and downs than Richard Gere's push-up scene from An Officer and a Gentleman. The series will tax both teams' resiliency, as Friday night's opener is followed by a Saturday matinee.
FRIES AT THE BOTTOM OF THE BAG
• Matt Kelly was seemingly the number one goalkeeper at the start of the season for Wayne State, but Will Hooper has been getting some playing time lately.
"Will had won a couple of games and had helped us to get three out of four points against Robert Morris, and I threw him back in there against Huntsville (Friday) and he got another point there," Wilkinson said. "You kind of go with your hot hand. It's not that Kelly played poorly, it just that he hasn't won either, and I was just shaking things up a little bit."
Regarding the rest of the season – and what goalkeeper to utilize – Wilkinson took the philosophical approach.
"You have to go with who has the hot hand," he said. "Neither one has a hot hand. You probably play both and see if one gets on a roll. If one does, you kind of want to ride the horse."
• After playing four of the past five weekends on the road, the Purple Eagles get a well-deserved rest this weekend.
"I really think it has taken its toll," Burkholder said. "I haven't said that all year until I saw how fatigued we looked Saturday. We didn't perform the way we can Saturday. It's a nice to have a weekend where these guys are not going to battle."
• Forward Eric Ehn is very quietly having a tremendous season for Air Force. In CHA games only, he's fourth in scoring (4-11–15) and is tied for first in assists with Niagara's Les Reaney.
This weekend's other CHA series pits Robert Morris against visiting Air Force. The Falcons are currently in fifth place with six points while the Colonials are sixth with five points.
"All CHA games right now are big," Schooley said. "It's so tight at the top and so tight at the bottom that if you string together a couple of wins, you are going to leapfrog a couple of positions."
RMU has only two league victories – one each against the teams sharing the top spot in the CHA standings, Bemidji State and Alabama-Huntsville.
A variety of sources were utilized in the compilation of this report.