February 8, 2006
UAH Seizes the Day
By Thomas Baldwin
College Hockey America Notebook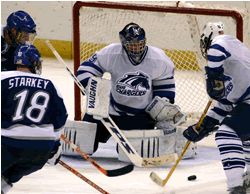 Maybe Alabama-Huntsville didn't get a stranglehold on the College Hockey America race by sweeping visiting Bemidji State last weekend. But the way the Chargers have been playing, it looks like it's a matter of time before they apply their kung-fu grip to the regular season title.
UAH is a sizzling 8-1-1 in its last 10 games, with the lone blemish a 4-3 loss at Niagara last month. The Chargers sit atop the league with 21 points, and enjoy some breathing room between themselves and the second-place Beavers, who have 17 points. After getting out of the gate with four straight wins and victories in nine of its first 12 games, BSU has posted a pedestrian 4-7-3 mark in its last 14 games.
Both teams have six league games left. Third-place Niagara is still in the mix with 15 points, but has two games in hand on the teams it pursues.
"Our guys had a great week of preparation and lot of focus during the week," Alabama-Huntsville coach Doug Ross said. "Our players kept their feet moving during the games and we got some great goaltending from Scott (Munroe). And, we did a better job of staying out of the box."
Indeed, Munroe was fabulous in both ends of the series. The senior from Moose Jaw, Saskatchewan stopped all but one of the 34 shots he faced in the Chargers' 2-1 win on Friday, then came back to turn aside 36 shots – 18 of them in a hectic first period – in UAH's 4-2 win the following day.
"It was a great confidence builder for us to be able to keep this positive winning streak going," Ross said. "We've been playing well."
The losses weren't the end of the world for Bemidji State, but given the directions in which two teams appear to be heading, the Beavers can probably see it on the horizon from their vantage point.
"We played pretty good," BSU coach Tom Serratore said. "We struggled on the power play. That was probably the difference – special teams.
"If you took a look at the coaches' poll at the beginning of the year, we had Huntsville number one," he continued. "Things are playing out the way everybody thought. They've got an experienced defensive corps and experienced goaltending, and it is paving the way for them."
The two teams meet to close out the regular season March 3-4 in Bemidji.
SEEN AND HEARD IN THE CHA
Break up the Colonials: Robert Morris jumped from sixth place to fourth after taking a pair of games from Air Force last weekend, the first series sweep in the Colonials' brief two-year history.
"We did the things we needed to do to win hockey games," said RMU coach Derek Schooley, a former Air Force assistant. "We got outshot both nights, but…we got good goaltending and capitalized on opportunities."
The Colonials, winners of three straight overall and four consecutive games at home, won the series opener Friday, 5-2, despite being outshot 41-21. Goaltender Christian Boucher, who got a rare night off in RMU's mid-week non-conference win over Princeton, returned to the lineup to make 39 saves. Joel Gasper pitched in a pair of goals, while Kurt Wright had a goal and an assist and Jason Towsley added two assists.
Saturday, the Colonials broke open a tie game with two late goals en route to a 3-2 win. Wright evened the score with just over 10 minutes left in regulation; Jace Buzek scored the game-winner with less than five minutes left.
"We've had issues scoring goals lately and it was good to see our guys find the back of the net," Schooley said. "We grinded both wins out in games where at times we were outplayed. But it doesn't matter who wins the territorial battle, it matters who wins on the scoreboard."
It may be a tad premature to tab the Colonials as a dark-horse candidate to win the CHA Tournament, but they are playing as good as anyone in the league outside of Alabama-Huntsville. Who knows? Stranger things have happened.
Great Weekend Getaway

Air Force at Niagara (Fri.-Sat.)
These two clubs split a series in Colorado Springs last month, and they reunite in western New York with different purposes in mind. The Falcons seek to build momentum heading down the stretch, while the Purple Eagles, who still have hopes of winning the conference's regular-season championship, returns to play after a sorely needed weekend off.

"It was a chance for us to reflect on where we are in the season and the opportunity that lies ahead," Niagara coach Dave Burkholder said. "There are eight games to go and first place is still an option. That's all you want this time of year is to do something special."

As mentioned the Purple Eagles do have two games in hand on the clubs they are chasing, and have a chance to put that advantage to use this weekend.

"(Air Force) has been outshooting teams dramatically," Burkholder said. "They are relentless. If we don't take care of business at home, and I don't know if we deserve be a champion anyway."

FRIES AT THE BOTTOM OF THE BAG
• This weekend, both Bemidji State and Alabama-Huntsville play non-league series. The Beavers are at Western Michigan while the Chargers host RIT.
"The schedule is the schedule, and you don't worry about it," said BSU coach Tom Serratore. "We have to try to get back on track. We're struggling scoring goals as of late. It was not a problem for us earlier in the year but it is a problem now. Our goals against is outstanding, but we have to score some goals. If we can get our offense clicking I think we are going to be just fine."
After scoring 10 goals in a weekend sweep of Air Force two weekends ago, the Beavers only scored three against Huntsville.
• Robert Morris tries to extend both its winning streaks this weekend as the Colonials entertain Wayne State.
"We just need to focus on the things we need to be successful," Schooley said. "The minute we start to get ahead of ourselves or feel good about ourselves, it comes back to bite us. We just need to play period by period."
• Alabama-Huntsville isn't the only CHA club with an upcoming date with Division I newcomer RIT. Air Force follows its two-game set at Niagara with a side trip to Rochester, where they'll take on the Tigers Monday.
A variety of sources were utilized in the compilation of this report.