February 16, 2006
CHA Interest, Compounded Weekly
By Thomas Baldwin
College Hockey America Notebook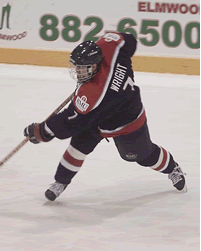 The CHA may not be the nation's best league in terms of talent. But it is fascinating.
Niagara was supposed to sweep Air Force and fully capitalize on games in hand against Bemidji State and Alabama-Huntsville. It did not. Robert Morris, meanwhile, continued its excellent run, taking three of four points from Wayne State.
In three of the four series involving CHA teams this past weekend, the first and second games were completely opposite.
Niagara had a golden opportunity to gain ground on the Beavers and Chargers and looked poised to do so, especially with a week off coming into the Air Force series.
"I'm not overjoyed," Niagara coach Dave Burkholder said of the split against Air Force. "We were at home and [had] a chance to put some pressure on Huntsville for first place. One got away from us on Friday. Quite frankly, they took it away from us."
Friday night, the Purple Eagles surrendered another late killer goal. AFA's Billy Devoney did the damage, scoring with just 2:38 remaining in regulation to give the Falcons a 3-2 victory. Eric Ehn had two assists for the visitors while goalkeeper Peter Foster, who has not been sharp this season, was in this one, finishing with 25 saves.
Early in the Saturday's game, the Purple Eagles really looked like they were in trouble, falling behind 2-0 in the first period on a pair of Brian Reese goals. But Niagara started to roll, taking a 3-2 lead in the second period on goals by Kyle Rogers, Ted Cook and Sean Bentivoglio Niagara then scored three different kinds of goals in the final period – a power play tally (one of three PPGs on the night for the Purple Eagles), shorthanded marker and an empty-netter.
The Purple Eagles have 17 points and are tied for second place with the Beavers. Alabama-Huntsville has 21 points. Each team has six league games remaining.
"We're pretty disappointed, not that Air Force is a bad team," said Niagara's Justin Cross, who had two assists in Saturday's win. "They outplayed us. It was more of a disappointment in the way we played Friday night. It was a lackluster effort by everyone, me included. Going into the last eight games and with first place on the line, that effort was pretty unacceptable for us."
Niagara plays at Wayne State this weekend, another team it should be able to handle – on paper, at least.
"We want to control our own destiny at this point," Cross said. "We want to go in and hopefully take two from them. We'd like to put ourselves in the position to get the bye in the tournament, so we need to take these last six games."
SEEN AND HEARD IN THE CHA
RMU Rolls: Outside of Alabama-Huntsville, there is not a hotter club in the league right now than Robert Morris. The Colonials, 4-0-1 in their last five games, tied Wayne State in a 7-7 barnburner Friday before downing the Warriors 5-4 Saturday.
The Friday game resembled a pond hockey match where the last team with the puck won. RMU jumped out to a 3-0 lead after the first period and had a 6-4 lead after two periods. Logan Bittle gave the Colonials a 7-6 lead at 13:23 of the final period, but Wayne State's Jason Bloomingburg tied the game with just one second left in regulation. Remarkably, all 14 goals scored came from 14 different players.
Saturday, the Warriors stormed to a 2-0 lead before the game was 90 seconds old. But RMU persevered, tying the game prior to the first intermission. With the score even at 4-4 in the third, Aaron Clarke netted the game-winner at 11:33 to keep the Colonials' unbeaten streak intact.
When you're hot, you're hot: Alabama-Huntsville's streak continued as the Chargers downed non-conference foe RIT by identical 4-3 scores last weekend. UAH improved to 10-1-1 in its last 12 games.
In Friday's win, the Chargers led RIT 3-0 after two periods and appeared to be in good shape. But the Tigers roared back, scoring three goals in a span of 4:31 to even things. UAH's Tyler Hilbert then saved the day for the hosts, notching the game-winner 7:09 into the third period. The opposite was true Saturday, as the Chargers had to rally to win. After RIT's Steve Pinizzotto scored on the power play at 7:06 of the final period to tie the game at 3-3, Grant Selinger scored a shorthanded goal just seven seconds later to give UAH the 4-3 win.
Great Weekend Getaway

Robert Morris at Bemidji State
(Fri.-Sat.)
A huge series for both clubs, as the Colonials try to keep their streak going and the Beavers try to catch Alabama-Huntsville for first place, while not giving up any ground to third-place Niagara. The two teams split a close, low-scoring series Jan 6-7 at Robert Morris.
FRIES AT THE BOTTOM OF THE BAG
• Even after its narrow defeats at Alabama-Huntsville, RIT had enough gas in the tank to throw a scare at visiting Air Force in Rochester Monday.
Andrew Ramsay and Reese scored to give the visitors a 2-0 lead, but RIT struck for two goals in the last 4:57 of the third period to tie the game. Reese scored the game-winner 1:51 into overtime, his fourth goal on the three-game swing through western New York.
• Nagara's Burkholder received quite an honor last week as he was named to the NCAA Division I Men's Ice Hockey Committee.
"It's part of my duty to serve and I am happy to," he said of his four-year commitment, which starts in September. "You have to give back to the game. It is a chance for me to get involved administratively and see how things work from the inside."
• Alabama-Huntsville honored its 1996 NCAA Division II national championship team at last weekend's RIT series.
A variety of sources were utilized in the compilation of this report.