February 23, 2006
Air Force Has The Look of Spoiler
By Thomas Baldwin
College Hockey America Notebook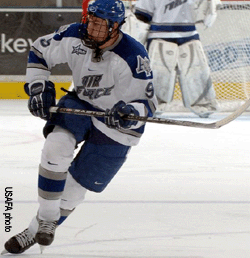 Last week, the spotlight was on Robert Morris and how the Colonials were starting to roll as the CHA Tournament draws closer. Seven days later, RMU's unbeaten streak is history and Air Force is the team no one in the league wants to deal with right now. The Falcons recorded an impressive sweep of first-place Alabama-Huntsville last weekend, and the catalyst for the triumph was a player who has underachieved all season.
Goaltender Peter Foster was magnificent in Friday's 3-1 victory against the visiting Chargers, then turned aside 13 shots in Saturday's 5-0 win. The Air Force power play was the difference in Saturday's game – scoring five power-play goals – with junior forward Brian Reese led racking up five points on a goal and four assists.
The Chargers were sizzling coming into the Air Force series – going 10-1-1 in their last 12 – but were swept by a team playing its best hockey of the season.
"We've been a good team all year," said Air Force coach Frank Serratore. "Our goaltending in the last four wins has been outstanding. We are a very competitive team. I've never had a team that competes at the Division I level like this team."
The uneven play in goal from Foster and Ian Harper had negated AFA's best efforts for the bulk of the season, but Foster was razor sharp last weekend.
"He is on the top of his game right now," Serratore said of Foster, who has a .941 save in his last four starts and will start in the Falcons' series opener against Robert Morris Friday. "He will play as long as he plays well. We will ride that horse as far as he takes us."
SEEN AND HEARD IN THE CHA
Pat Answer for Niagara: Junior defenseman Pat Oliveto was the unlikely hero for Niagara in the Purple Eagles' 4-3 win against Wayne State last Friday, scoring his first career game-winning goal with 1:21 left in regulation.
"[Defenseman Andrew] Lackner made a great play at the blue line and dumped it in to Les Reaney," Oliveto said. "The [Wayne State] guy went with [Ted] Cook, who was covering me. It left a big hole for me, and Reaney found me. I just snuck down the slot and put it in."
The Purple Eagles wasted a two-goal performance from Reaney in Saturday's 3-2 loss, settling for a series split when a sweep was paramount. Wayne State's Adam Krug and Jason Baclig scored power-play goals 1:50 apart late in the third period to propel the Warriors.
"It is disappointing, but it kind of goes to the league," Oliveto said. "Every team in the league is just as good as any other team. Air Force took two from Alabama-Huntsville. If…we do get two [wins] it is great, but we are happy with one."
Streak-less in Bemidji: Robert Morris' five-game unbeaten streak was snapped with a 5-2 loss at Bemidji State Friday. Joe Tuset started in goal for the Colonials, but surrendered four goals on just 14 shots before yielding to Christian Boucher.
The following night, Ryan Miller and Luke Erickson each had two goals as the Beavers again won by a 5-2 score. BSU, which had struggled recently on the power play, got two power-play goals in the game and capitalized on three of nine power play opportunities for the weekend.
Great Weekend Getaway

Bemidji State at Niagara (Fri.-Sat.)
It'll be a playoff-type atmosphere at Dwyer Arena for this series matching the CHA tourney champions from the past two seasons. Last season, the Beavers came to Niagara and dominated the Purple Eagles. Even Niagara coach Dave Burkholder could tell how badly BSU wanted the wins by the way their players acted on the bench. This season, the clubs split a series at Bemidji in early December – Niagara won the opener, 4-3, and BSU rolled in the finale, 8-1.

"It is definitely the biggest weekend of the season and we are trying to get ready for it in practice," Oliveto said. "It is going to be the biggest weekend of everybody's careers, especially the seniors because it is their last weekend at home."

"There is a lot on the line right now," said Bemidji State coach Tom Serratore. "We're fighting for that [first-round] bye. They are going to be very good games and will probably be tight games. That is the history between these two schools."

FRIES AT THE BOTTOM OF THE BAG
• Niagara's Les Reaney was named the CHA Rookie of the Week for his performance at Wayne State, during which he set league records for most assists (23) and points (34) by a rookie. He also leads the entire league in scoring.
"For what he did in arguably the best league in Canada – the British Columbia Hockey League – that usually projects out to the next level," Niagara coach Dave Burkholder said. "We were concerned about his speed and would it be a deterrent to if he could succeed up here, and it hasn't at all. His skating has been fine, and he has been a point guy at every level."
• Air Force scored five power-play goals in the second period of Saturday's win against Alabama-Huntsville.
• Wayne State's win against Niagara Saturday snapped the Warriors' seven-game winless skid.
• BSU's Luke Erickson scored two goals Saturday, ending a dry spell during which he scored only one goal in a 13-game span.
"It was good to see Luke have a little success," Tom Serratore said. "He's been a little snakebit, and hopefully he can parlay that into a pretty good weekend this weekend."
• Prior to Saturday's game, Bemidji State honored its "50 Legends for 50 Years" team in conjunction with the school's 50th season of intercollegiate hockey. Among the honorees were former NHLers Gary Sargent and Joel Otto, a Hobey Baker Award finalist in 1984 and a member of the Calgary Flames team that won the 1989 Stanley Cup.
• Niagara senior defenseman Marc Norrington, who broke his hand against Air Force two weeks ago and missed the team's series against Wayne State last weekend, is out for this weekend's Bemidji State series. Norrington's hand is in a cast, but it'll come off next week and he might be ready to go in the Purple Eagles' regular-season finale at Robert Morris.
"His injury hurts us," Burkholder said. "He's been very good defensively for us."

A variety of sources were utilized in the compilation of this report.