March 1, 2006
Niagara's Dandy Randy
By Thomas Baldwin
College Hockey America Notebook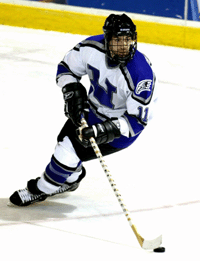 Maybe this league is so even an individual performance determines who wins the regular season title…or the playoff championship, for that matter.
In western New York last weekend, Bemidji State and Niagara played a crucial series that featured a gaggle of the CHA's top talent. But one player – Niagara's Randy Harris – overshadowed everyone else, scoring five goals and adding three assists in the Purple Eagles' sweep.
"That's as good a weekend series as anybody has ever had in a Niagara jersey," coach Dave Burkholder said.
"He looked like a man amongst boys out there this weekend," said Purple Eagles' goaltender Jeff VanNynatten.
Not only were the goals he scored huge, but also the manner in which they were scored added a dash of pizzazz to his phenomenal achievement. One was 360-degree spin-o-rama job. Another came after his original attempt was stopped by the Beavers' goalie. No problem – Harris tracked down the rebound, circled the net and stuffed the puck in on the other side.
"It just happened to be a good weekend and it was something I had personally worked on for weeks and weeks and weeks," said Harris, who missed three seasons due to injuries. "I knew my best hockey wasn't going to come at the beginning or even the middle of the season. All my efforts were going to be for my betterment at the end of the season.
"It was nice to see that translate to the scoreboard."
Friday's match was as entertaining a hockey game as one could ever want to see, as Niagara had to earn a 6-5 victory the hard way. Bemidji State scored three goals in a 45-second span of the first period. The Purple Eagles could have sagged – they had a first-period goal disallowed – but Niagara persevered. Harris scored with just under five minutes left in regulation, forcing overtime. In the extra session, Sean Bentivoglio scored Niagara's biggest goal of the season on an odd-man rush.
"(Ted) Cook gave it to me and (Les) Reaney was coming in a little later," Bentivoglio said. "I passed it to Reaney…he made a nice move on their guy and went wide and I beat my guy back door and Reaney made an awesome pass. It was a nice goal all around."
Friday's game marked another instance of a disturbing reoccurrence for the Beavers.
"We've got to hold the lead better," BSU coach Tom Serratore said. "We've given up too many leads in the third period this year. You have to play lockdown hockey and we have had a bad disease…the second half of the year."
Saturday's game was nothing like the series opener as the Purple Eagles overwhelmed the Beavers, 5-1. Harris got Niagara started with a goal late in the first period and it steamrolled from there.
"He got us going…with a pretty good individual effort," Burkholder said. "That took a little bit of pressure off of us. We were a little jumpy."
Niagara finishes the season at Robert Morris, a team fresh off a surprising sweep at Air Force.
"I think the attitude we are approaching (this weekend) with is a little bit different," Harris said. "It's not us being afraid to lose, but more so we are going to be aggressive to win. That's the attitude we are going to take down to Robert Morris. We want to capture the CHA championship instead of just falling into it."
SEEN AND HEARD IN THE CHA
Huntsville Still the Hunted: Alabama-Huntsville took care of business this past weekend, sweeping Wayne State to remain two points ahead of Niagara in first place in the league standings. As he has all season long, senior Bruce Mulherin scored an important goal for the Chargers, tallying with just 1:11 left in the third period to lift the hosts to a 2-1 victory.
Like the Niagara-Bemidji State series, Saturday's game was a rout as UAH blasted the Warriors, 6-1. Brett McConnachie led the Chargers with three goals while Mulherin had a goal and three assists.
RMU Goes Fourth: In a mildly surprising sweep, Robert Morris traveled to Colorado Springs and swept an Air Force club that had been playing its best hockey of the year. The Falcons entered the weekend set having won three in a row and four of five.
"We went out and played a complete weekend," RMU coach Derek Schooley said. With the sweep, the Colonials clinched the fourth seed in the CHA postseason tournament. They'll face either Air Force or Wayne State, who meet in Detroit this weekend.
In Friday's night game, Sean Berkstresser scored an unassisted goal in overtime to give the Colonials a 3-2 victory in a game in which the Falcons outshot RMU by a 42-17 margin. On Saturday, Chris Margott scored twice and added an assist in a 5-1 RMU victory. RMU goaltender Christian Boucher was solid against Air Force, stopping 75 of 78 shots in his team's two victories.
"We got great goaltending, which we hadn't gotten the previous two weekends," Schooley said. "Boucher was excellent when he needed to be. It was good to see him get back on the horse. I've said all year he is one of the top goalies in the league. He made the big saves when he had to, and that's what good goaltenders do."

Great Weekend Getaway

Alabama-Huntsville at Bemidji State (Fri.-Sat.)
Obviously, there is a lot on the line in this one. BSU is four points back of Alabama-Huntsville. Even if the Beavers sweep, the Chargers still own the tiebreaker, so the best they can do is sweep UAH and hope Niagara loses twice so they can get into second place in the league and earn and a bye into next weekend's CHA Tournament semifinals.

"We still have to fight for second place," said BSU's Serratore. "There is still hope for that. We're at home and then we have to get ready for the tournament. We can't worry about what happened this past weekend."
FRIES AT THE BOTTOM OF THE BAG
• 1,321 fans watched Niagara defeat Bemidji State at Dwyer Arena Saturday, giving Niagara a new single-season attendance record of 17,461.
• Niagara's VanNynatten set two records this past weekend. His 28 saves Friday night gave him 938, a new Niagara record for saves in a season. He also recorded his 50th CHA victory in the game, becoming the all-time leader in conference victories.
"To go out like this, it was just perfect," he said after Saturday's game. "I will get lots of sleep tonight."
• Robert Morris was the only CHA club to sweep Air Force in Colorado Springs this season. Of all the teams in the CHA, Air Force might be the toughest to figure. The Cadets are 5-7-0 against the top three teams (UAH, Niagara and Bemidji) but are only 1-5-0 against Robert Morris and Wayne State.
• Air Force defenseman Brooks Turnquist has played in 139 consecutive games, second most in CHA history. Air Force's Scott Zwiers (2000-2003) holds the record with 147 straight games played. Neither player missed a game in his career.
• Alabama-Huntsville's Jeremy Schreiber, who had five assists against Wayne State last weekend, is now the all-time CHA leader in assists (64 in 123 games played) and points (85) by a defenseman.
• Wayne State is 5-5-2 when scoring first, but only 1-15-4 when it gives up the game's first goal.
A variety of sources were utilized in the compilation of this report.