March 8, 2006
A Wide-Open Book
By Thomas Baldwin
College Hockey America
REGULAR-SEASON RECAP
TOURNAMENT PREVIEW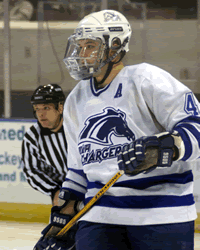 Back in October, all six College Hockey America coaches agreed the league would be wide open. Now it's March, and it's safe to say that all six were exceedingly prophetic.
Last weekend, Alabama-Huntsville trekked to Bemidji State. At dinnertime Friday, the Chargers were in first place in the CHA. By late Saturday evening, they were in third place after losing twice to the Beavers, while Niagara swept Robert Morris on the road and took the conference regular-season title.
The Purple Eagles played their best hockey down the stretch – that's why they are the top seed in this weekend's CHA Tournament. Another factor is that everybody contributed to this club's success. To wit: On February 17, junior defenseman Pat Oliveto scored his first career game-winning goal with less than two minutes left in regulation to lift the Purple Eagles to a win over Wayne State. At RMU last Friday, Armando Scarlato picked the perfect time to score his first career goal, tallying just 40 seconds into overtime to give the Purple Eagles a 3-2 victory. Just two weeks earlier, Scarlato was recovering from a serious leg injury suffered in early January and wasn't sure he'd play again this season. Add in solid performances from players expected to produce – senior goalie Jeff VanNynatten and forwards Sean Bentivoglio, Ted Cook and Randy Harris – and you get the idea at why Niagara ended up on top.
Still, if the CHA coaches' hunches regarding the wide-open regular-season race were spot on, then it's safe to assume that this weekend's CHA Tournament at the Michigan State Fairgrounds in Detroit will be just as thrilling. Say what you will about Detroit, but it's a better site for the league tourney than far-flung outposts such as Kearney, Neb. and Grand Rapids, Minn.
THE FAVORITE
Picking a favorite in this league is a dicey proposition and could make one look foolish in a hurry. But given the way Niagara played down the stretch, the Purple Eagles should be considered the favorite. As prviously illustrated, Niagara is getting timely goals from a number of sources in addition to solid goaltending and leadership from VanNynatten, a senior who was 2004 CHA Tournament MVP when coach Dave Burkholder's squad last advanced to the NCAA Tournament. Niagara boasts impressive firepower, with six of the league's top nine scorers. Three Purple Eagles – Bentivoglio, Les Reaney and Cook – tied for the CHA scoring championship in league play.
The only question mark surrounding Niagara is its defense. The Purple Eagles surrendered tons of shots all season, giving up an average of 37.0 shots per game overall, and 33.9 shots per match in CHA contests. The Purple Eagles were also badly outshot in the third period (foes hold an astounding 438-298 edge). The team's much-maligned defensive corps suffered a huge setback when senior defenseman Marc Norrington broke his hand against Air Force Feb. 11. He's scheduled to have the cast removed this week, but his status for the weekend is questionable.
First-Round Matchups
No. 6 Wayne State vs. No. 3 Alabama-Huntsville
WSU: 6-22-6 (3-12-5)
UAH: 18-12-2 (12-7-1)
Season series: Alabama-Huntsville won, 3-0-1
Alabama-Huntsville desperately wanted to avoid this scenario, but the Chargers fell from first to third in the final weekend of the regular season find themselves having to play their way into the league semifinals. The Chargers have to stay out of the penalty box – 13 of the last 24 goals they've surrendered have come when they are shorthanded. UAH needs to get some players other than Bruce Mulherin and Brett McConnachie to score goals. The duo has combined for nine goals in the Chargers' last seven games, while the rest of the team has added six.
Wayne State is probably outmatched here, but the Warriors have the ability to surprise opponents as evidenced by a non-conference series sweep of Merrimack and and a non-league win against Western Michigan. Forward Adam Krug has heated up for the Warriors, scoring five goals in his last eight games. He had two goals in his first 23 games.
No. 5 Air Force vs. No. 4 Robert Morris
AFA: 11-19-1 (8-12-0)
RMU: 11-19-3 (7-11-2)
Season series: Robert Morris won, 4-0
Not only do the Colonials own a 5-2-1 all-time record against the Falcons, but they've also downed Air Force five straight times. Just two weeks ago, Robert Morris went out to Colorado Springs and swept the Falcons at Clune Arena, the only CHA team to accomplish that feat this season.
Robert Morris goalie Christian Boucher has more consistent than Air Force's Peter Foster all season, but Foster has ratcheted his play up a notch lately. The Falcons are 5-3-0 in their last eight games, and Foster allowed a total of 15 goals during that span.
One key to Robert Morris's success over its last 11 games has been the blossoming of its offense. During that stretch, the Colonials have scored 5+ goals five times.
Air Force's Brian Reese has been on fire lately with nine goals in his last 10 games. The Falcons are have played in the CHA's first-round match pitting the fourth and fifth seed five times – they're 4-1 in those games.
First-Round Byes
No. 1 Niagara
19-14-1 (13-6-1)
How Niagara wins it all: By putting the pedal to the medal. Sure, the Purple Eagles allow a lot of shots, but that just means they're playing the up-tempo style that makes them so dangerous. Besides, they've got a goalie in VanNynatten who thrives on the work and a bevy of talented scorers up front. Niagara is 18-5-1 this season when it scores 3+ goals per game.
No. 2 Bemidji State
18-13-3 (12-7-1)
How BSU wins it all: By doing the exact opposite, more or less. The Beavers have solid scoring depth (nine players have 20 or more points), but they'd rather play it close to the vest, keep the shot total of its opponent in the upper 20's and rely on its experience and solid special teams to take over.
THE GATE CRASHER
Robert Morris. You've come a long way, baby, in a short period of time. The Colonials are the pick thanks in large part to reliable goalkeeping. Sophomore Christian Boucher was solid this season, finishing with a 2.96 goals against average and a .914 save percentage. Boucher didn't receive a lot of help offensively – the Colonials scored a league-low 51 goals in conference games, the fewest of any CHA club. RMU also does a decent job of staying out of the penalty box – minimizing oppoent power plays is key for a team that struggles to score – as the Colonials averaged 17.06 minutes per game in 33 outings. RMU played quite well down the stretch, going 6-4-1 in its last 11 games and giving Niagara all it could handle despite being on the short end of a pair of tough one-goal losses last weekend.
INCH's ALL CONFERENCE TEAM
G – Layne Sedevie, Bemidji State
Sedevie was consistently solid all season for the Beavers with a 2.36 goals against average and .917 save percentage. He put an exclamation point on the end of the regular season with a shutout over Alabama-Huntsville last Saturday.
D – Jeremy Schreiber, Alabama-Huntsville
Schreiber had another great season, finishing tied for third in defenseman scoring with 20 points. He set CHA records for both career points (85) and assists (64) by a defenseman.
D – Andrew Martens, Bemidji State
Martens was the senior leader on a BSU team that led the conference in scoring defense, allowing 2.59 goals per game.
F – Sean Bentivoglio, Niagara
What he lacks in size he more than compensates for with lightning quick speed. Bentivoglio finished tied for third in scoring in league games and led the CHA with five game-winning goals.
F – Les Reaney, Niagara
The burly winger nicknamed "Big Country" had a sensational freshman year, ranking first among CHA rookies in points, assists and scoring. He also ranked second with four game-winning goals.
F – Bruce Mulherin, Alabama-Huntsville
A consistently good player for the Chargers, this guy does everything. He tied for eighth in the CHA in scoring and led the circuit with two shorthanded goals. He may not be done, however – Mulherin has 14 goals in the Chargers' last 15 games.
COACH OF THE YEAR
Derek Schooley, Robert Morris. Schooley made the Colonials respectable in just their second year of existence. RMU, which was 4-14-2 in league play last season, jumped to 7-11-2 this year. Overall, the Colonials improved from 8-21-4 last season to 11-19-3 this year.
PLAYER OF THE YEAR
Les Reaney, Niagara. A very difficult choice with so many worthy candidates in this league. Reaney was a terror all season, and gave the Purple Eagles a dose of toughness and tenacity up front. This terrific power forward led the CHA in scoring with 13 goals and 26 assists.
"He's a physical presence that we had been missing the last couple of years up front," Niagara coach Dave Burkholder said. "Add to that that his offensive prowess, and you have yourself one heck of a hockey player."
FRESHMAN OF THE YEAR
Ted Cook, Niagara. The Hogansburg, N.Y. native set a CHA record for most power play goals by a freshman with 10 and ranks tied for 10th place nationally in that category. Cook also set a CHA rookie mark with 21 power play points. He led the CHA with 19 goals and is second with 38 points. Not only has Cook been productive, but his contributions are also timely. He set up the overtime winner in Niagara's biggest victory of the season (a Feb. 24 victory over Bemidji State) and followed up with the game-winner the next night.
BREAKTHROUGH PLAYER
Randy Harris, Niagara. Back in October, there may not have been a bigger question mark in the CHA than Harris, who missed each of the last three seasons due to medical issues. He answered all the doubts in resounding fashion by tying for third in the league's overall scoring race with 14-22–36 totals. Harris starred in Niagara's most important weekend of the regular season, torching Bemidji State for five goals – a couple of them were highlight-reel worthy – and three assists.