November 24, 2005
Saints Alive
By Joe Gladziszewski
ECAC Hockey League Notebook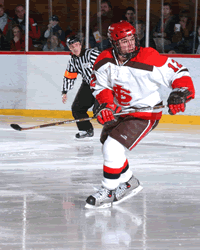 The likes of John Zeiler have provided St. Lawrence with plenty of offense.

When examining the St. Lawrence results so far this year, one can't help but notice some contradictions. A win at Wisconsin is offset by a loss at RIT. Applause for the Saints' first-place standing in the ECAC Hockey League could possibly be countered by mentioning the strength of the other teams that they've played so far.
This weekend's games are a measuring stick for St. Lawrence and also give them an opportunity to show how good they really are. The Saints are 6-1-0 in their last seven games and 5-1-0 in ECACHL play. They host Dartmouth on Friday and Harvard on Saturday
As expected, the Saints' scorers are scoring. The first line of John Zeiler, T.J. Trevelyan and Mike Zbriger is leading the way. Trevelyan leads the team in scoring, but is doing it as a different manner from past seasons. He has 11 assists and just two goals. Trevelyan entered the year with 58 goals and 48 assists in his career. Zeiler is one of the best big-game players in college hockey and scored an overtime winner to beat Quinnipiac last weekend. Six players have 10 or more points through the first 12 games.
Freshman Kevin DeVergilio is tied with Zeiler for the team lead with seven goals.
An unexpected boost has come from sophomore goaltender Justin Pesony. He earned the starting job when grad student Kevin Ackley was injured in the Wisconsin series and has been solid. He has a 2.79 goals-against average in his 10 games, and an 8-2-0 record. Ackley has returned from injury and picked up the win over Princeton on Saturday with 27 saves.
The Saints' success has come despite missing two key blueliners for extended periods this season. Junior Drew Bagnall and freshman Matt Generous have played a combined total of nine games this year. Generous has six points in six games and has seen time on the number-one power play unit.
Great Weekend Getaway

Dartmouth/Harvard at St. Lawrence/Clarkson
We love the travel partner system when it produces weekends like these. The North Country teams are at the top of the ECACHL standings and face their most challenging league games thus far. Dartmouth and Harvard have momentum on their side, and will look to get some road points against teams ahead of them in the pecking order.

While You're There: Make a double-header of things on Friday by checking out the opening game of the Primelink Shootout on Friday afternoon. This annual event for the Division III men is somewhat similar to the College Hockey Showcase. The 4 p.m. game Friday features Middlebury and Norwich, combined owners of the last three Division III National Championships.

Stick Salute

Kudos to college hockey in Rochester, N.Y. Longtime Division III power RIT joined the Division I ranks this season and will be a member of Atlantic Hockey next year. Rochester has also produced a number of outstanding college players. Saturday's game between Niagara and Cornell is another chance to expose the city to the college game, and the city will embrace the NCAA East Regional in 2007.


Bench Minor

If it happens once or twice it's not worth noting, but Harvard has been struggling in the third period of games it has led. The trend started with the Cornell game on Nov. 11, when the Big Red scored the tying and winning goals in the last 5:04 of regulation. In the five games since then, Harvard has been outscored 7-2, and one of the two goals was an empty-netter to seal a win over BC.
FRIES AT THE BOTTOM OF THE BAG
• Weeknight action in the league saw Quinnipiac beat Princeton 3-2 as freshman Chris Walsh scored the game-winner with 1:06 remaining in the game. The Bobcats snapped a four-game losing streak.
• Yale picked up its first win of the season with a 6-3 decision over Mercyhurst. The game was tied 3-3 in the third period but Nate Jackson scored about halfway through and Matt Nelson and David Meckler scored their first goals of the year late in the game to seal the victory.
• Princeton goalie Thomas Sychterz got his first career start against Clarkson on Friday and made 27 saves in an overtime loss to Clarkson. Sychterz is a freshman from Lachine, Quebec and had been reduced to a reserved role behind Eric Leroux and B.J. Sklapsky.
• Mike Ouellette was named INCH Player of the Week after recording seven points in two games last week. He has nine points in the last three games, leading the Big Green to a three-game winning streak.
• RPI's Holiday Hockey Tournament is this weekend and the Engineers welcome Providence, currently first in Hockey East, and Holy Cross, currently second in Atlantic Hockey. Nebraska-Omaha rounds out the field.
• Brown has two wins in six league games, but those wins have come against St. Lawrence and Clarkson, the top two teams in the ECACHL standings.
• The scoreboard operator, goal judges, and statisticians had better eat their Wheaties on Friday before heading to work at Potsdam's Cheel Arena. Harvard and Clarkson are both averaging more than 3.5 goals-per-game in ECACHL play and the offensive talents on each side won't be intimidated by the anticipated goaltending matchup between Clarkson's David Leggio and Harvard's John Daigneau.
• Robin Jaycox, a longtime director of financial aid at Colgate and current vice president of the Silver Puck Club, was presented with the Silver Puck Award at the organization's banquet last week. He is the 49th recipient of the award, which was first presented in 1960.
• Promotions at Colgate this weekend for the games against visiting Western Michigan include free admission for kids in eighth-grade and younger, and 2-for-1 pricing on general admission tickets for adults.
• RPI's Mathias Lange allowed just one goal per game and combined to make 62 saves last weekend against Colgate and Cornell. Both games ended as 1-1 ties.
• Union coach Nate Leaman was especially proud of his team's win at Lynah Rink against Cornell because the student-athletes for the Dutchmen are also immersed in final exams at the conclusion of the first trimester. In future seasons, Union's team won't be playing games during finals week.
• Saturday afternoon's Princeton-Quinnipiac game will be televised live on NESN.
A variety of sources were utilized in the compilation of this report.