December 1, 2005
Saint-Like Approach
By Joe Gladziszewski
ECAC Hockey League Notebook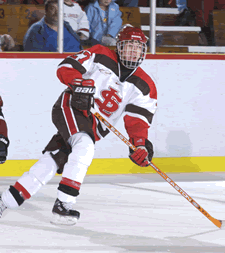 T.J. Trevelyan has done a bit of everything thus far for surprising St. Lawrence.

A close examination of the St. Lawrence Saints reveals what has made this season a very successful one thus far. The players have put team goals in front of individual goals. Depth and balance throughout the lineup have made the team multi-dimensional. Commitment to taking care of the little things and being mentally focused has paid off in wins.
Winning leads to a positive mindset and a positive mindset makes it easier to deal with adversity. Things didn't go St. Lawrence's way for a key stretch of last week's 6-4 win over Dartmouth. The Big Green controlled play for a long portion of the third period and scored two quick goals to tie the score at 4-4. The Saints didn't fold, and responded with the game-winning goal from the fourth line on a pretty passing play finished off by sophomore Charlie Giffin.
This was the type of win that shows a team's character. The top line of T.J. Trevelyan, Mike Zbriger and John Zeiler totaled just two points and one of those was an assist on the empty-net goal. That trio didn't fill up the scoresheet, but did take care of things defensively by blocking shots and leading by example.
Trevelyan and Zeiler were on the ice as a penalty-killing pair with defensemen Mike Madill and Matt Generous at key times. Coach Joe Marsh knows who his team's leaders are and is giving them a chance to show that leadership.
"I think they want to be there, it's an opportunity. I think they want to lead us and we have to give them the opportunity to do that," Marsh said.
It has paid off so far, as St. Lawrence carries a 10-4-0 record into this weekend's non-league games against UMass Lowell and New Hampshire.
Madill, a senior captain and one of the best defensemen in the ECACHL, has noticed his team's dedication to blocking shots.
"Guys are willing to do anything to win games, trying to keep the puck from getting into the net," he said. "It's something that you have to do. Half of our team is icing their feet from taking shots off the laces, off the ankles. They know you have to do that to win and it's helping us a lot right now."
Blocking shots is a physical sacrifice, but the Saints' mental strength is also better this year, according to Marsh.
"I've seen that this year where we've become a team that is willing to go the extra step on the ice. They want to do that and it's spread out. It's not just a handful of players," Marsh said. "We're a much more disciplined team this year. We've preached a lot about how hard you have to work and I think our kids have always worked hard, but we've had to take it to the next step and work hard mentally."
SEEN AND HEARD IN THE ECACHL
Noteworthy goals – Cornell's 5-3 win over Niagara at Blue Cross Arena in Rochester, N.Y., last Saturday might best be remembered by fans and coaches as a game in which Cornell blew a two-goal lead in the third period before eventually rallying for the win. It was also the type of game that produced future glory days stories for two Cornell players.
Freshman Evan Barlow won't hesitate to tell the tale of his first collegiate goal as the years go on. His team trailed 1-0 late in the first period, and he found the puck on his stick with a little bit of time and space in the right-wing circle. With at least three players between Barlow and Niagara goaltender Scott Mollison, Barlow was patient and fired a quick shot through the traffic and over the left shoulder of Mollison into the top, near-side corner of the net. Some people get their first goals on a redirection or tap-in rebound. Barlow's was an authentic snipe.
Don't be surprised if Ryan O'Byrne interrupts barroom story-telling time someday and describes the game-winning goal. The game was tied with less than four minutes remaining and Cornell went on the power play. O'Byrne moved the puck from the left point and his stick broke into two pieces. He hustled to the bench, picked up a new branch from teammate Taylor Davenport, and re-entered the zone in time to blast a shot from the point into the back of the net.
"It was a stick that I had never used before and at first I was upset that they gave that one to me, but I went back and it worked out well for me," O'Byrne said.
O'Byrne, a junior defenseman, now has four goals on the season and ranks second on the team in that category to Matt Moulson. O'Byrne had three goals in his first two years.
Necessity, not luxury – Count Dartmouth coach Bob Gaudet among those who understand the importance of having scoring depth at forward. In a league where most teams can neutralize a top line it is essential to a team's success to have a number of players putting up decent offensive numbers.
On a night when St. Lawrence did an effective defensive job against Dartmouth's premier combo of Nick Johnson, Mike Ouellette and David Jones, the team's second line came through. It accounted for three of the Big Green's four goals and gave the Saints' defense trouble all night long. J.T. Wyman had two goals and an assist, and Eric Przepiorka had a goal and two assists. Tanner Glass also picked up a point on the night.
"They're good players. Prez is a veteran player as is Tanner Glass and J.T. Wyman is a sophomore that's really coming along great. He's big and strong and can really shoot the puck," Gaudet said. "They've chipped in really well for us. Whatever success we'll have this year, they'll be a big part of it."
Even though Dartmouth lost the game, the Przepiorka line made a big contribution and will need to continue to do so in the future.
Great Weekend Getaway

Union at RIT (Fri.); RIT at Union (Sat.)
This series may not get much attention across the nation, but for alums and fans from both schools it carries special importance. This home-and-home series is the resumption of a rivalry from long ago when these teams competed at the Division III level. They met twice in the NCAA quarterfinals and twice in the NCAA semifinals, and have also played the longest game in Division III history. It was a four-overtime game won by Union 5-4 in the semifinals of the NCAA Tournament in 1984.

While You're There: Two good options for drinks and dining before and after the game on Friday can be found very near to the RIT campus. Exit campus and head east on Jefferson Road to find McGregor's with an extensive draft list (served in 20 oz. mugs) and good bar food. Further down the road, find a Buffalo Wild Wings restaurant that is popular with RIT fans.

Stick Salute

Joe Marsh let the accolades flow for senior T.J. Trevelyan (left), and I'll join the love fest. With St. Lawrence protecting a lead in the final minute of last week's win over Dartmouth, it was the offensively-gifted Trevelyan out there to defend. He blocked a shot that directly led to the clinching empty-net goal. The undrafted senior has made a name for himself with huge point totals over his first three years. Scouts will also notice his improved defensive work.

Bench Minor

The public address announcer at Saturday's Cornell-Niagara game in Rochester was an absolute disaster. He got off to a rocky start by referring to Chris Abbott's hometown of Sarnia, Ontario, as "Serena." He proceeded to verbally stumble through the numerous sponsorship announcements during stoppages in play. Lastly, he failed to declare, "one minute remaining" in the second period.
FRIES AT THE BOTTOM OF THE BAG
• ECACHL followers will recall Dave McKee's sensational sophomore campaign. He finished the year with a .947 save percentage and 1.24 goals-against average. The only thing more startling than those numbers is that he hasn't come close to matching those this season. Through 10 games he has only stopped 87 percent of the shots he has faced, and is allowing 2.95 goals-per-game.
It hasn't affected the mindset of the junior netminder from Irving, Texas one bit.
"I feel really good about myself. I'm doing my job," McKee said. "My job as a goalie is to come in and give the team the best chance to win and make some key saves. That's what I'm focusing on. Last year is gone and you really have to put that in the past and focus on this year."
• Clarkson played 10 of its first 14 games on home ice at Cheel Arena and took advantage of that to compile a 7-2-1 home record. The Golden Knights will be forced to continue their success on the road. Clarkson plays just one of its next 11 games at Cheel, a Jan. 7 encounter against RIT. Their next home ECACHL weekend isn't until Feb. 10-11 against Cornell and Colgate.
• Quinnipiac is featured in this week's NHL.com "On Campus" article, which is linked in the INCH Newsstand. After winning their first two ECACHL games, the Bobcats are just 1-5 in their next six league contests.
• St. Lawrence coach Joe Marsh on senior forward T.J. Trevelyan: "He hasn't necessarily thrown up the numbers that everybody thinks but he still leads our team in scoring and he's playing defense like a maniac. He's blocking shots and he's an absolutely unbelieveable player. He's one of the best players we've ever had here at St. Lawrence, since I've come here. He's incredible."
• Harvard's Dan Murphy has a seven-game goal-scoring streak and a total of nine goals on the season. No Harvard player scored 10 goals last season until Tom Cavanagh scored his 10th in the ECACHL semifinals against Colgate on March 18.
• Union's Olivier Bouchard, the second-leading scorer on the team, was a healthy scratch for last Saturday's game against Wayne State. It ended a streak of 86 consecutive games played by Bouchard.
• Three Brown players – Rugo Santini, Brian McNary, and Ryan Garbutt – scored their first goals of the season in Saturday's 4-4 tie against St. Cloud State. The Bears host Yale on Friday and then play crosstown rival Providence on Saturday night in the annual Mayor's Cup game.
• RPI had a one-goal loss and a one-goal win in claiming third place at the Rensselaer Holiday Hockey Tournament. Oren Eizenman has a 13-game point streak.
• If Colgate can earn four points when it hosts Quinnipiac and Princeton this weekend, the Raiders will leapfrog St. Lawrence and Clarkson in the ECACHL standings. The Saints are playing a pair of Hockey East opponents and the Golden Knights have the weekend off.
• Harvard could move into first place with a win over Yale on Sunday, but the Crimson will have played more league games than any other ECACHL team. A reminder that, Sunday's 2:30 p.m. game will be broadcast on CN8 in New England, and simulcast on the station's web site.
• Yale picked up its first win of the season last week and then traveled to Duluth where the Bulldogs in blue were routed 14-2 over two games by the host UMD Bulldogs. Yale returns to ECACHL play with games against Brown and Harvard this weekend before taking most of December off. Yale's next two games are at Minnesota State and Nebraska-Omaha on Dec. 30 and 31.
A variety of sources were utilized in the compilation of this report.