January 5, 2006
Chins Up at Colgate
By Joe Gladziszewski
ECAC Hockey League Notebook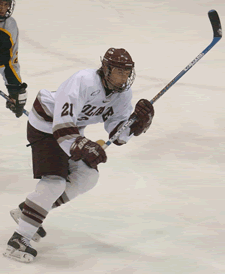 Kyle Wilson and the Raiders are winless in their last three outings.

When the last ECAC Hockey League Notebook was published at Inside College Hockey, the Colgate Raiders were near the top of the ECACHL standings with a 6-1-1 league record and knocking on the door of the top 10 in the national rankings at 10-2-3 overall.
Two one-sided losses since then and a tie in a game that Colgate trailed 3-0 have people wondering what's wrong with the Raiders. Coach Don Vaughan has a simple answer.
"We're not playing well right now, period. We're getting outworked, we're not getting to the net, and we're not moving our feet," he said. "If you stand outside and take shots from the perimeter you're not going to score a lot of goals."
Colgate went to the Providence Holiday Tournament with title aspirations and a chance to earn a big win against a nationally-ranked team. But the host Providence Friars scored seven times and blew out the Raiders in the semifinal game. The consolation game against Brown saw Colgate fall behind 3-0, but three goals in a six-minute span leveled the score and gave the teams a tie.
Things didn't get better after two weeks off and a Tuesday night game at Bowling Green. The Falcons won 4-0. Three Colgate games yielded two losses, a tie, and a 14-4 deficit on the scoreboard.
The Raider coaching staff didn't sit around and wait for changes to be made.
"We had a long meeting on Wednesday, and even though it was an early morning return coming back from Bowling Green, we got back on the ice for practice Wednesday afternoon and got back to work," Vaughan said. "The videotape doesn't lie. We're getting caught standing still."
Don't expect anyone at Starr Rink to look for a panic button, because even if they found one it wouldn't be pushed. The recent struggles are a blow to the team's confidence, but it also serves as a reminder of just how good the Raiders have been over the last two and a half years.
"The first impulse is to really shuffle things up, but we know what we have here," Vaughan said. "We saw that from some performances earlier in the season. We're going through a bit of a slump cycle right now but we know that we're going to turn it around.
"I am a firm believer that things can get a little stale and we change lines, but I don't believe in making wholesale changes. If you go back and look at some changes we've made, it's usually just one guy changing lines and we'll try to keep two players together. Just by adding one player it makes people communicate."
The first steps toward getting back into the win column will be taken this weekend when Colgate hosts St. Cloud State of the WCHA. Playing on home ice in a non-league game gives Colgate a chance to focus on details, especially considering that school isn't in session this week.
"We have to get back to finding our game again and it's dangerous to try to do that on the road in league play," Vaughan said. "We can't worry about looking at national rankings and at-large bids. We have to focus on us, and these games are important against a very good non-conference team in St. Cloud."
SEEN AND HEARD IN THE ECACHL
Hard work rewarded – In a year and a half at the helm of the Princeton Tigers, head coach Guy Gadowsky has transformed the attitude around the hockey program. Princeton went from being a defense-minded, safe, responsible team into an attacking, aggressive bunch that chooses to go to the net instead of dumping it in.
Despite the style and attitude changes, Princeton's record over the last year and a half hasn't improved tremendously. A few notable wins over Dartmouth were the only thing that the Tigers had to show for their effort. That changed on Dec. 30 when Princeton went to Denver and scored a 4-1 win over the Pioneers in the first round of the Denver Cup.
That win capped a run of three very solid efforts for the Tigers, which began with a split of a series against Alabama-Huntsville.
"When you look at those three games, with the Denver game being the third one, the most complete and best game that we played was the one we lost to Alabama-Huntsville," Gadowsky said.
Princeton came back to win the second game of that series, took a break for three weeks, and then knocked off the national champs.
"The guys have remained very positive and it was nice to see them rewarded because they've put in a lot of hard work," Gadowsky said.
Princeton then lost the Denver Cup championship to Boston College, but the team came back from the Denver trip with a belief that they can turn positive experiences into on-ice victories. The Tigers are tied for last in the ECACHL with a 2-8-0 record, but begin the month of January with a load of confidence and four straight home games. They host Yale and Brown this weekend, and Colgate and Cornell on Jan. 13-14.
"We feel good about it, especially because we start by being home for four games in a row," Gadowsky said. "The guys have worked hard and played well, but we have to try to continue improving. They're positive because they've seen that the hard work will be rewarded."
Great Weekend Getaway

RIT at Clarkson (Fri.)
Clarkson vs. St. Lawrence (Sat. in Ottawa)
Head to Northern New York for a chance to see Division I's newest team try for its second win of the year against a North Country foe when the RIT Tigers visit Cheel Arena and the Clarkson Golden Knights. RIT coach Wayne Wilson and Clarkson coach George Roll are former teammates at Bowling Green and competed against each other as Division III head coaches for several years. They went head-to-head for recruits during that time.

While You're There: Make a short drive and cross the border into Ontario on Saturday to take in Clarkson and St. Lawrence going head-to-head at the Corel Centre in Ottawa, home of the NHL's Senators. The NHL and CBC are also celebrating Hockey Day in Canada on Saturday when three pro games will pair the six Canadian-based NHL teams. Those three games will be nationally televised and CBC will feature additional programming that highlights the game of hockey in Canadian culture.

Stick Salute

We raise our sticks this week to Princeton and Harvard, ECACHL and Ivy League member schools that showed a pair of teams from the WCHA that teams from the East Coast can compete on the national stage. Harvard earned a 1-0 win at North Dakota and Princeton knocked off the Denver Pioneers in the first round of DU's holiday tournament. Those are good wins for the Crimson and Tigers over a pair of Frozen Four representatives from last year.

Bench Minor

Only three of eight ECACHL teams that participated in holiday tournaments advanced to the championship game. Princeton's upset win over Denver in the opening round and Cornell's title in Florida were the lone bright spots of an otherwise unimpressive holiday slate against non-conference foes.
FRIES AT THE BOTTOM OF THE BAG
• During our hiatus from publishing these notes, ECACHL teams scored big wins against top-notch teams. St. Lawrence went to Gutterson Fieldhouse and scored a 2-1 win over Vermont. Mike Zbriger scored the game-winner on a redirection with 5:00 left in regulation. Harvard earned 1-0 wins at New Hampshire and North Dakota. John Daigneau posted both shutouts, making 32 saves against UNH and 29 against North Dakota.
• And speaking of late heroics at The Gut, Clarkson and Dartmouth both beat Bemidji State in overtime at the Sheraton/TD Banknorth Catamount Cup. In the semifinal, Clarkson's Nick Dodge scored two third-period goals to send the game to overtime. Clarkson eventually won in a shootout as David Leggio stopped all five Bemidji State shooters. Dartmouth blew a third-period lead in the consolation game, but Garret Overlock's goal with 1:49 left in the third tied it, and Nick Johnson scored in overtime to give the Big Green a win.
• Saturday's matinee game between Clarkson and St. Lawrence at Ottawa's Corel Centre is a follow-up to a well received game that Clarkson and Colgate played in Ottawa during the 2002-03 season. Each school will be sending fans by the busload. The game was contracted with the Ottawa facility prior to the resolution of the NHL lockout, and it was hoped that the NHL schedule would accommodate a double-header with the Senators, but the NHL club will be playing in Montreal on Saturday afternoon.
• Three ECACHL men's players are among the 18 players nominated for the Hockey Humanitarian Award. Jon Smyth of Colgate, Eric Leroux of Princeton, and Dave McKee of Cornell were named to the preliminary list. The Hockey Humanitarian Award Foundation presents the award to the college hockey player who exemplifies personal character, a commitment to studies, and whose contributions to his or her larger community are worthy of recognition. The field of nominees will be reduced to 10 finalists later this month and the award is presented during Frozen Four weekend.
• Rensselaer gave No. 2 Miami all it could handle in the opening round of the Ohio Hockey Classic. The Engineers scored two goals in the third period to tie the game, but eventually lost in overtime. RPI lost the consolation game to Holy Cross, 4-2.
• The loss and tie in the Providence Holiday Tournament extended Brown's winless streak to nine games. The Bears play at Quinnipiac and Princeton this weekend.
• Yale went west for a pair of games and picked up a 2-2 tie against Minnesota State Mankato and a 3-2 overtime loss at Nebraska-Omaha. Alec Richards made 76 saves during the trip and Brad Mills scored three of the four Yale goals.
• Cornell won the Florida College Classic with a 3-0 win over Northeastern in the semifinals and a shootout win over Minnesota Duluth in the championship after the teams tied 1-1 in regulation. Cornell goaltender Dave McKee was named tournament MVP. Cam Abbott, Matt Moulson, and Ryan O'Byrne were on the all-tournament team.
• Union's Josh Coyle was declared academically ineligible and will miss the second semester of this season. Coyle led the Dutchmen in scoring with 18 points in 17 games.
• Quinnipiac had a 26-day layoff between games but returned to action with an exhibition game against Queen's University. The Bobcats won 6-3 and Ben Nelson had two goals and an assist. Quinnipiac returns to ECACHL action this weekend against Brown and Yale.
Sunday's Quinnipiac-Yale game will be played at noon in Yale's Ingalls Rink, but it is a home game for Quinnipiac. The game will be televised on NESN.
A variety of sources were utilized in the compilation of this report.