January 12, 2006
Unpredictability Reigns at Rensselaer
By Joe Gladziszewski
ECAC Hockey League Notebook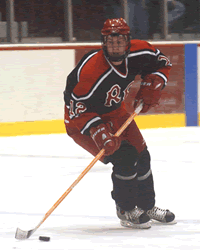 Senior captain Kevin Croxton leads Rensselaer with 30 points in 21 games.

Pardon the generalization, but engineers like for things to make sense. Dealing with absolutes and removing uncertainty, that's what they do.
The Engineers on skates in the venerable Houston Field House are not following the example provided by the very trade their team is named for. The body of work put forth this season has only demonstrated uncertainty.
With wins over Providence, Boston University, and Harvard and losses to Merrimack, Sacred Heart and Holy Cross (twice), it's impossible to know what to expect when Rensselaer takes the ice.
There's no shame in losing to teams from Atlantic Hockey. But following an overtime loss to second-ranked Miami with a 4-2 defeat to Holy Cross just illustrates the inconsistency that has plagued the Engineers.
"It's tough. I wish there was a way to explain it but there really isn't. I think a lot of it is how you match up against people," Engineers senior captain Kevin Croxton said. "We have two losses to Holy Cross but they are a very good team. That conference is really closing the gap and they obviously are a team that we don't match up well with."
Croxton can't explain the problem but he thinks he knows how to solve it – which is definitely more engineer-like.
"You have to address it if you want to be successful. We're working on it and I think we're getting better at it," he said. "We play well when we're doing all of the little things throughout the game. We have been in a lot of close games that we lose by one goal or lose in overtime and when you let up for just a little bit, teams are good enough to take advantage. We have to concentrate on a 60-minute effort every night."
No time is better than right now to start making that run toward the playoffs. The Engineers snapped a three-game losing streak by beating first-place Harvard on Saturday. RPI enters a weekend on home ice against two teams it is chasing in the standings. St. Lawrence is in Troy on Friday night and rival Clarkson visits Saturday. All 14 of RPI's remaining games are ECAC Hockey League contests, but after this weekend's home set the Engineers will be on the road for five straight.
"The guys are just excited. With St. Lawrence and Clarkson coming in this weekend, it's huge," Croxton said. "Both of them are really good teams and are in the polls and for some reason we play well against ranked teams. You don't have to say much in the room when these two teams are coming into town."
RPI tied Clarkson and lost by one goal to St. Lawrence earlier this year. Boosted by the recent win over Harvard, the Engineers must carry some of that momentum into these important games. It would only make sense.
SEEN AND HEARD IN THE ECACHL
Devine getting it done – Last Friday's opponent for Rensselaer has also battled inconsistency this year. The Dartmouth Big Green have posted some huge wins (Cornell, Clarkson, Harvard) but still have a sub-.500 record at 7-8-1.
Dartmouth's search for consistency starts in the goal crease and sophomore Mike Devine is providing it. Devine has claimed the starting job and has been outstanding over the last five-plus games. On Dec. 11 at UMass Lowell, Sean Samuel allowed three goals on six shots and was pulled after 12:38. Devine stopped all 16 shots he faced in relief and has started all five games since then. Dartmouth is 3-1-1 in those five games and Devine has a .947 save percentage during the streak. The loss was a 1-0 defeat at Vermont.
If given the nod on Saturday, Devine will face his toughest challenge yet. Dartmouth takes on New Hampshire in the fifth annual RiverStone Cup game between the state rivals. Last year's contest was one for the ages as Dartmouth rallied from an early four-goal deficit, and scored four goals in the last 10 minutes of the game to win 9-8.
"Last year's game was an interesting game, a 9-8 game being down and having to find a way. UNH is such a strong team in their transition and their offensive side of the game, and they're a difficult team defensively. You don't expect a high-scoring game like that. It was fun to watch, but it wasn't a whole lot of fun behind the bench," Dartmouth coach Bob Gaudet said in his Coach's Corner segment on the Big Green hockey web site.
"It's a great environment to play in. It's fun for our guys and it's good for hockey in the state. To have the two Division I teams in the state play in a venue like this is really good for hockey, and it's a fun game."
Great Weekend Getaway

Clarkson at Union (Fri.)
Clarkson at Rensselaer (Sat.)
Recent history and established history highlight Clarkson's trip to the Capital Region this weekend. The Golden Knights have knocked Union out of the playoffs in each of the last two seasons, both times at Messa Rink. Saturday's game sees Clarkson visit Rensselaer where the Golden Knights are a most unwelcome opponent.

While You're There: If you're a North Country fan headed down for the weekend, downtown Albany is a reasonable place to set up headquarters after the Friday night game. Besides, it will give you a chance to exercise your optimism and scout out reliable bar stools should your team make it to the ECACHL championship weekend or NCAA East Regional at the Pepsi Arena in March.

Stick Salute

A school fight song is rarely heard in Division III hockey, but you need something to play in the rink after the home team scores. Kudos to Hamilton College and the venerable Sage Rink where Brass Bonanza blared after each Continentals' goal. Even better news was that the home team scored seven times in Tuesday's win.

Bench Minor

Since the start of December Cornell has played five games and scored just five even-strength goals. One of those was an empty-netter. But it's not all bad news, because Cornell is 4-0-1 in those five games.
FRIES AT THE BOTTOM OF THE BAG
• Princeton has scored just four goals in its last three games and three of those have come on the power play. The Tigers are 0-2-1 in those games after beating Denver on the road.
• St. Lawrence welcomed star defenseman Drew Bagnall back to the lineup for Saturday's game against Clarkson in Ottawa. Partnered with senior captain Mike Madill, the duo is the most formidable defense pairing in the league.
• Quinnipiac squandered a two-goal third period lead against Brown, but won the game when David Marshall scored in overtime. Marshall has 15 goals on the season and trails only Reid Cashman for the team's points lead.
• Brown broke an 11-game winless streak with a 4-1 win over Connecticut on Tuesday. The Bears fell behind less than two minutes into the game but rallied to win. The good news is that Brian Ihnacak scored. The bad news is that it was just his third goal of the season.
• Clarkson's 6-2 win over St. Lawrence on Saturday was one of the last major hockey events in the Corel Centre in Ottawa. The facility was renamed Scotiabank Place on Wednesday.
• Yale's Brad Mills continues to put up impressive stats. He has recorded at least one point in all seven games he's played this season and has two multi-point games. He is fifth on the team in scoring despite playing fewer than half of Yale's 16 games.
• Former Harvard defenseman Noah Welch is a starter for the American Hockey League All-Star Classic. Welch is a member of the PlanetUSA Team along with ex-ECACHLers Ryan Vesce (Cornell) and Tim Thomas (Vermont).
• Following last weekend's ties against Harvard and Dartmouth, Union is 6-0-4 on home ice. The Dutchmen host Clarkson and St. Lawrence this weekend, but play seven of their next 10 games on the road.
A variety of sources were utilized in the compilation of this report.