January 19, 2006
Union Soldiers On Through Adversity
By Joe Gladziszewski
ECAC Hockey League Notebook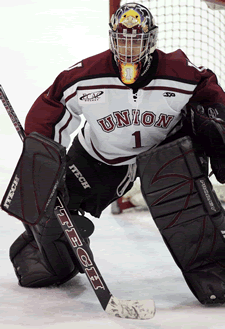 Kris Mayotte has the ECACHL's third-best save percentage at .913 and first in league games at .928.
(Photo by Bob Ewell)

An aggregate 15-3 loss to Colorado College and Air Force started the season, and Air Force did most of the damage. News of losing the team's leading scorer for the second half of the season was quickly followed by an 8-0 drubbing by Minnesota.
Reasons to worry? Hardly. In fact, the Union Dutchmen are using obstacles such as those mentioned above as the basis for their season. Setbacks have revealed Union's character. Third-year coach Nate Leaman has seen his team crumble in the face of adversity in the past. It's a different story this year.
"We haven't gotten too high or too low this year. In recent years we have struggled in January because we've gotten too low," Leaman said. "For the first time in three years this team knows its identity and what we have to do to be successful."
The Dutchmen have shown grit and a tough skin so far this season. Any negative thoughts from the Colorado trip to start the season were erased by a four-game unbeaten streak that included a win at UMass Lowell.
Sophomore Josh Coyle led the team in scoring with 18 points through 17 games, but was ruled academically ineligible by the school. The blowout loss at Minnesota followed but once again Union responded with a four-game unbeaten streak. This one included ties against Harvard and Dartmouth and an impressive 5-0 win over Clarkson last week.
The win over Clarkson was shown on local television and Messa Rink was packed. It didn't erase the back-to-back playoff defeats that Union suffered at home to Clarkson in the last two years, but it did prove that the Dutchmen can line up and beat one of the best teams in the ECACHL and the nation.
"Our Clarkson games have been very emotional," Leaman said. "A lot of that is due to the playoff series, but also having the game on TV, and the rink was sold out, it was emotional."
Senior goaltender Kris Mayotte has been backstopping Union's fine season. He was the starting goalie for his first two seasons but shared time with Justin Mrazek last year. Mrazek struggled early this season and Mayotte re-assumed his position as the clear-cut number one between the pipes.
Friday's shutout of Clarkson was Mayotte's fifth this season and set a Union single-season record. After the game, Leaman told the television audience that Mayotte was the best goalie in the league and possibly the best in the nation. He didn't back down from that, even when reminded of Cornell's Dave McKee also toiling in the nets in the ECAC Hockey League.
"He's the best goaltender in the league," Leaman said of Mayotte. "He leads the league in save percentage and is in the top four in goals-against average (in league games) and when he's on he's the best goaltender in the league. I don't want to put down McKee because he's a Hobey Baker finalist, but Mayo keeps us in every game and gives us a chance to win every night."
While goaltending and a tough attitude have been the positives for the Dutchmen, they have struggled to score goals at times. The power play has been particularly woeful, converting at just 13.8 percent on the year, and cashing in just two PPGs in their last 37 opportunities. Inexperience and Coyle's absence are partly to blame, but an improved work ethic can go a long way toward improving the scoring output.
"We need a better work ethic on the power play and that is something you can coach," Leaman said. "Some of it is probably due to us having three freshmen out of four players running the power play between the two units. We have to keep giving them experience."
The good times for the Dutchmen came to a brief halt last Saturday when St. Lawrence went into Messa Rink and won 3-0, snapping Union's unbeaten home record that stood at 7-0-4 through 11 games. But ECACHL opponents, including Yale and Brown this weekend, should be aware. Union has played its best hockey when times were tough.
SEEN AND HEARD IN THE ECACHL
9,996 Men Needed – They were just four, not 10,000 as the Harvard fight song's title implies – but this week's American Hockey League home-and-home series between the Wilkes-Barre/Scranton Penguins and Syracuse Crunch was strongly shaded in Crimson.
The Penguins are the best team in the AHL and two rookie defensemen have helped them to a 31-5-3-1 record through the first 40 games. Ryan Lannon and Noah Welch are part of a young but capable defense corps that is the backbone of the AHL's best penalty-killing unit. Individually, Lannon ranks in the top five in the league in plus/minus at plus-19. Welch has 12 points, rates as a plus-14 and was recently named a starter for the PlanetUSA team at the AHL All-Star Classic which will be held Feb. 1 in Winnipeg, Manitoba.
Great Weekend Getaway

St. Lawrence at Cornell (Fri.)
Clarkson at Cornell (Sat.)
After the North Country schools visited the Capital Region last weekend, they're back on the bus to head to the Finger Lakes this weekend. Friday's matchup between first-place St. Lawrence and defending champs Cornell highlights the slate of games. Clarkson stumbled last weekend against Union and RPI but always plays Cornell tough, and two recent playoff series in Ithaca have been hotly-contested.

While You're There: INCH will always recommend The Nines for some pre-game pizza when we're on the way to Lynah. Just be sure to get there early enough to leave some wiggle room on the wrist watch if the service is, shall we say, lethargic. You don't want to risk the wrath of the Lynah Faithful for showing up late for the game.

Stick Salute

How does Clarkson find itself in the stick salute when they were swept in two ECACHL games last week? Aggressive coaching! The Golden Knights were on the power play with just over six minutes remaining in the third period last Friday, and trailed 3-0 at Union. George Roll pulled goaltender David Leggio to give his team a 6-on-4 advantage. The Dutchmen were able to score the empty-net goal with 5:03 remaining. It is a rare sight, and I would argue one that we don't see enough.

Bench Minor

You teased us, Quinnipiac. Wins over Harvard and Dartmouth in your ECACHL debut weekend were impressive and capped an eight-game winning streak. Two wins and 11 losses in 13 games since the impressive start have positioned the Bobcats in 11th place in the league standings.
Syracuse's roster features ex-Harvard men Tyler Kolarik and Brett Nowak. Kolarik continues to be an aggressive forechecker and tenacious penalty killer at the pro level. His fiery attitude has resulted in a pair of suspensions so far this season. The most recent was a one-game timeout that was served on Wednesday. In 32 AHL games, Kolarik has two goals and three assists. Nowak didn't play in the two games this week and has been out of the lineup due to injury since Dec. 27. Nowak has 10 points in 22 AHL games this year.
Even mired in the professional schedule, players always make time to check in on what's happening back at campus.
"I talk to guys all the time and talk to coach probably once a week," said Welch, the Crimson captain last season. "Things are going well. They lost a pretty big class back there but guys are stepping up and they're having a pretty good season right now."
The I-81 rivals meet three more times this season and possibly again in the Calder Cup playoffs. The Crunch stand third in their division with 23-15-2-1 record and have high hopes for the playoffs, but a postseason meeting is only possible if the men of Harvard hold sway.
FRIES AT THE BOTTOM OF THE BAG
• In this very spot last week, we mentioned Princeton's scoring woes with just four goals in three games. The Tigers broke through last week and scored eight times and recorded an impressive sweep of Colgate and Cornell at Baker Rink. It was Princeton's first league weekend sweep since the final weekend of the 2001-02 season. Grant Goeckner-Zoeller scored three of the eight Princeton goals on the weekend.
• Colgate's win over Quinnipiac snapped a six-game winless streak (0-4-2). Both Raiders home games this weekend can be seen throughout central and Northern New York on Time-Warner Sports channel 26. Clarkson visits Friday and St. Lawrence visits Saturday. The games begin at 7 p.m.
• Brown turned its winless streak (11 games) into an unbeaten streak with a win and two ties in its last three outings.
• Dartmouth and New Hampshire staged another classic on Saturday and it seems that the Riverstone Cup game in Manchester should be a hotter ticket than the Beanpot games in Boston. After last year's 9-8 Dartmouth win, this season's tussle between the Big Green and in-state rival UNH featured two goals and a missed penalty shot in the final minute. UNH won 5-4.
• Cornell's shutout of Quinnipiac was Dave McKee's 17th career shutout.
• RPI earned a big win over rival Clarkson and scored all four of its goals in the second period. Some unfamiliar names did the damage as Keith McWilliams, Dan Peace, Kurt Colling and Reed Kipp lit the lamp. Captains Kevin Croxton and Brad Farynuk didn't play due to injury.
• Yale's 3-3 tie versus Brown ended the 11-game point streak of Yale sophomore forward Jean-Francois Boucher. Boucher shares the team's point lead with senior Jeff Hristovski (17 points).
A variety of sources were utilized in the compilation of this report.