January 26, 2006
Cornell's Standard Approach
By Joe Gladziszewski
ECAC Hockey League Notebook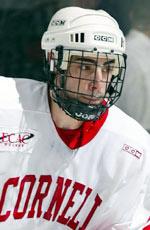 Senior forward Matt Moulson is Cornell's leading scorer through 19 games with 13 goals and 13 assists.

You rarely know what to expect in the ECAC Hockey League. There are very few flagship programs such as Boston College, North Dakota, Michigan or Minnesota to hold ground among the nation's elite on an annual basis.
Harvard has been in the NCAAs for four straight years, but that's not the program that has been the standard bearer for the ECACHL. Cornell was the last ECACHL team to make a Frozen Four (2003), have a Hobey Baker Hat Trick Finalist (Dave McKee, 2005) and hold a No. 1 ranking (2005). Four of the last six ECACHL regular season and playoff trophies awarded reside in Big Red trophy cases.
A quick glance at Cornell shows that not much has changed. The Big Red is ranked in the top 10 with a 13-4-2 record, are in the hunt for another ECACHL regular season title (two points behind Colgate) and are eighth in the nation in scoring defense by allowing just 2.11 goals per game.
Cornell is winning games the way they've done it for the last five years. Timely goals, detail-oriented defense and sound goaltending has carried the Big Red all year. Momentum from one hard hit or one solid shift builds when Cornell is playing well. So what better time than the present to start building momentum for the playoffs?
The Big Red started a five-game home stand with big wins over St. Lawrence and Clarkson. Yale and Brown visit this weekend and that could set up a first place showdown with Colgate on Feb. 3-4.
The weekend sweep of St. Lawrence and Clarkson started with a board-banging display as Cornell players punished the Saints (in first place at the time) during the opening shifts. Hulking winger Ray Sawada did his part with two big hits to set the tone.
"I think our team is playing really well in the first five minutes of every game. Everybody is coming out, everybody's hitting and we just try to gain momentum right from the start which carries on," Sawada said.
The one thing that might plague this edition of Cornell is perception. They're not as good as last year's top-ranked squad, nor the Frozen Four team of 2002-03.
When head coach Mike Schafer and a group of hockey players give the devoted Lynah Faithful so much to appreciate, even the smallest errors stand out. Occasional defensive miscues, an average power play and some soft goals allowed by McKee have all caused some concern. But the end result is that Cornell is in excellent shape to make some noise in the postseason.
Looking at potential and possibility isn't how things are done around the Cornell hockey program. Even a hint that a mid-January victory could give his team a boost was rejected by Schafer.
"It's momentum only if we win the next five," he said.
Taking one game at a time is a reasonable approach, but with momentum on its side, Cornell takes things one after another, and they have the look that they're ready to do it again.
Great Weekend Getaway

St. Lawrence at Clarkson (Fri.)
Clarkson at St. Lawrence (Sat.)
Clarkson's last win was an impressive 6-2 win over the Saints in Ottawa on Jan. 7. That's the good news. Their last ECACHL win was on Thanksgiving Weekend against Harvard, and the Golden Knights have lost four straight. That's the bad news.

St. Lawrence can tell a similar story. The good news comes from wins over Wisconsin, Vermont, and New Hampshire and a hold on first place in the league. The bad news is that it's a former grip on first place after being swept by Cornell and Colgate last weekend.

While You're There: Sellouts are guaranteed at Cheel and Appleton this weekend as the North Country rivalry brings out the best in the fans and the teams. Wear some elbow pads on Saturday. It will help you fight for space in the cozy bleachers at Appleton Arena.

Stick Salute

How's it going Yale? Quite well, I'm sure. With zero losses in their last seven league games, the Bulldogs are tied for fifth place with a 6-6-1 league mark. Yale is 6-2-2 since Dec. 1 with the only losses coming to New Hampshire and Nebraska-Omaha..

Bench Minor

Dartmouth keeps finding ways to lose in the last minute. A recent loss to UNH featured a penalty shot opportunity for the Wildcats. On Saturday, Dartmouth went on the power play with 1:55 remaining in a tie game. Wouldn't you know it? A Big Green giveaway in front of its own net was cashed in by Holy Cross's James Sixsmith for the game-winning short-handed goal with just 28 seconds left.
FRIES AT THE BOTTOM OF THE BAG
• Colgate sophomore Tyler Burton joined INCH for a chat on ESPN.com Thursday and offered his thoughts on some favorite rinks, game preparation, and toughest opponents..
• Building progress continues on the new athletic complex at Quinnipiac. The university chose to celebrate the placing of the last steel beam of the facility with a ceremony on Wednesday. The first hockey game in the new facility is scheduled for Jan. 13, 2007 against Yale. More details are provided by the New Haven Register.
• Yale's 5-0 victory over Rensselaer ended two streaks for the Engineers. RPI scored at least one power-play goal in 10 straight games before the blanking by Yale, and had killed off 20 consecutive penalties before the Bulldogs' Jeff Hristovski scored a power-play goal in the second period.
• T.J. Fox is Union's leading scorer and has increased his production since the Dutchmen lost Josh Coyle. Fox has 11 points in the last eight games and has recorded multiple points in five of those eight games.
• Brown has played seven overtime games already this season. Five of Brown's last seven games have been stretched past 60 minutes. The Bears have yet to win an overtime game, with five ties and two losses ...
• ... Like Brown, Colgate has also played seven OT games, but has a 2-0-5 record.
• Harvard returns to the ice and faces Rensselaer on Friday – 20 days after the Crimson's last game – against Rensselaer on Jan. 7.
• Quinnipiac's Mark Agnew found his scoring touch against RIT. The sophomore scored three goals during the two-game set at RIT's Ritter Arena. Agnew managed just one goal in his first 36 games for the Bobcats.
• The Daily Princetonian features background stories on the unique paths that Grant Goeckner-Zoeller, Kyle Hagel, and Will Harvey took to campus.
A variety of sources were utilized in the compilation of this report.