February 2, 2006
A Matter of Perspective for St. Lawrence
By Joe Gladziszewski
ECAC Hockey League Notebook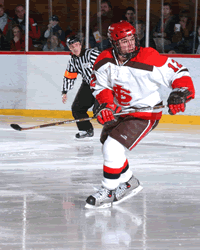 John Zeiler scored a goal in St. Lawrence's crucial win against rival Clarkson last weekend.

You can look at St. Lawrence's season and heap praise on the Saints for wins over Wisconsin, Vermont and Providence. Or you can look at the Saints as a team with just five wins in its last 13 games.
Your perspective will show you a glass that is half-full or half-empty, but don't expect some college hockey followers to listen to the reasons why you see the glass a certain way. They will only tell you that liquid occupies 50 percent of the glass.
After picking up a big win over rival Clarkson last weekend, the Saints were definitely in the half-full group. There was a lot to take from the victory. St. Lawrence rallied from a two-goal deficit, seniors led the way, and it ended a three-game losing streak.
T.J. Trevelyan scored twice, captain Adam Hogg scored the go-ahead goal on a spectacular second effort to poke home his own rebound while sliding on the ice and John Zeiler added a vital fifth goal in the comeback win.
With those players leading the way, and classmates such as standout defenseman Mike Madill and first-line center Mike Zbriger backing them up St. Lawrence is poised for a February charge.
Coach Joe Marsh didn't underscore the importance of senior leadership.
"It means a ton. I think that it's very important to them. The clock is winding down and there are only a handful of games left," he said. "You know that they're going to want to put their stamp on something and they've been unbelieveable. They've all done so much for this team in the four years that they've played. If you look at our record, we've gradually done better."
Hogg said the group of seniors knows that the time is now for building momentum toward the postseason. This group of seniors arrived on campus after the progam's last title in 2001 and has never been to the ECACHL championship weekend. That's the intended destination this time around.
"We have eight more games left and they're going to fly by," Hogg said. "We need to keep building on what we've accomplished and we've got to keep playing well towards the playoffs."
Building toward the month of March started at the end of January with intense battles against Clarkson, providing great preparation for what lies ahead.
"These are as close to a playoff-type game that you're going to get. It's one of the most intense rivalries in college hockey. It benefits both teams to be playing in it," Marsh said. "We have a lot of work to do and the biggest thing is that we have to tighten things up defensively and understand how the games are going to be in February and March."
If the Saints continue to show the character and intensity they displayed on a memorable Saturday night at Appleton last week, there will be no debate to be had about the glass. Their cups will overflow.
SEEN AND HEARD IN THE ECACHL
Pretty good for being so bad: Like a child banging its fists on the table demanding more dessert, some Cornell fans seem spoiled by their club's consistently excellent performance. Some of the questions and statements submitted to senior assistant captain Chris Abbott during his participation in a chat at ESPN.com included queries about a poor strength of schedule, Mike Schafer's line combinations, and the Big Red playing down to the level of its competition.
Other causes for concern voiced by the Lynah Faithful this season have included poor offensive production at even strength, Dave McKee's merely average start to the season, occasional defensive blunders, and an unimaginative power play.
With so many alleged problems, it's a minor miracle that this team is 10 games over .500, ranked fifth in the nation, and chasing another ECACHL regular season title and NCAA Tournament berth.
Abbott offered an explanation. "In seasons past we've always had close games and that's where this team thrives. The score hasn't been big either way. When we lost to Dartmouth (6-1) people notice it more," he said. "Being in close games and coming back to tie or win in overtime just shows the character of this team."
Any negativity that has been expressed by outsiders hasn't crept into the Big Red dressing room. The players and coaches know that they could stand to bury a few more scoring opportunities and tighten up defensively through the stretch run, but they're pretty happy with how things have gone for the better part of the year.
"We feel really good. We're going to focus on ourselves and be ready to go. February is going to be a huge month with the schedule we have and these last eight games," Abbott said.
That schedule includes two games this weekend against the only team ahead of Cornell in the ECACHL standings, a difficult road trip to Clarkson and St. Lawrence, a home weekend against Dartmouth and Harvard, and a season-ending road trip to Rensselaer and Big Red nemesis Union.
Expectations were high for the Big Red, who were unanimously picked by coaches and media to win the ECACHL title. Cornell is in position to meet those expectations, just not those of some demanding dissenters.
Great Weekend Getaway

Rensselaer at Union (Fri.)
Union at Rensselaer (Sat.)
This pairing of travel partners is overshadowed by the games between Cornell and Colgate, but like their colleagues to the west, Union and Rensselaer have a battle on their hands for coveted territory in the ECACHL standings. The Dutchmen and Engineers enter the weekend with identical 5-6-3 records in the conference and are tied for eighth place. Finishing eighth earns a home-ice series in the first round of the playoffs.

While You're There: Something for the kids ... Dora the Explorer brings a Pirate Adventure to the Palace Theatre stage in downtown Albany for two shows Saturday afternoon and three on Sunday.


Stick Salute

A tip of the catching glove to several of the league's goalies for an outstanding week. Dartmouth's Mike Devine made 49 stops in two wins. Yale's Alec Richards had 65 saves against the top two teams in the conference. Union's Kris Mayotte rebounded from a difficult Friday and allowed just one goal in a win at Harvard.

Bench Minor

I stopped into the regionally-renowned Sergi's in Canton following last Saturday's game at Appleton Arena. Several people have raved about Sergi's signature food item, the pizza roll. I found it to be OK, but not what I expected after years of anticipation. It wasn't much more than an under-stuffed calzone to me. The slices enjoyed by other patrons appeared to be much better.
FRIES AT THE BOTTOM OF THE BAG
• ECACHL goalies may be seeing more teeth and tongues if shooters follow the pre-shot routine that led to Clarkson defenseman Michael Grenzy's ninth career goal on Friday. "You just sort of smile, lick your lips, and do what you can put it on net," Grenzy told the Watertown Daily Times.
• Sunday's game between Yale and Connecticut will decide the champion of the second Commissioner's Cup trophy. A Bulldog win will keep the trophy in Steve Hagwell's office for the second year in a row.
• Quinnipiac wore gold-colored third jerseys in Saturday's game against Niagara. It yielded the first-ever win by Quinnipiac over the Purple Eagles in six all-time meetings. So why not trot them out again? Quinnipiac will be donning the golden sweaters again on Saturday against St. Lawrence.
• Another trophy will be on the line beginning Monday in Boston when the Harvard Crimson face Boston University in the semifinals of the Beanpot. Harvard has 10 titles in the tournament's 53-year history and last won the trophy in 1993.
• Harvard and Princeton returned to the ice after a long layoff and had mixed results. The Crimson started with a win over Rensselaer but dropped a game to Union the following night. Princeton hit the road and was beaten by Robert Morris 5-2 on Tuesday. The Colonials scored two empty-net goals against the Tigers in that contest.
• Ex-Brown goaltender Yann Danis was named co-MVP of the AHL All-Star Game on Wednesday night after helping the Canadian AHL All-Stars rout the PlanetUSA stars 9-4. The Montreal Canadiens prospect represented the Hamilton Bulldogs of the AHL. He played the second period for Canada and made 12 saves on 13 shots.
Four former ECACHL players were on the losing side of the game, played in Winnipeg, Manitoba. Eric Healey (Rensselaer), Tim Thomas (Vermont), Ryan Vesce (Cornell) and Noah Welch (Harvard) were members of the PlanetUSA squad.
• Dartmouth celebrated its 100th anniversary of college hockey and had more than 100 former players back in Hanover for a special weekend. The current members of the Big Green honored their predecessors impressively by picking up two wins over Union and RPI by a combined score of 11-4.
• Colgate's Marc Fulton is enjoying a breakthrough season. He recorded his 30th point over the weekend and is second on the team in scoring to Tyler Burton. Fulton, a junior, had just 14 points in his first two seasons combined.
• Clarkson's loss at St. Lawrence wasn't totally unexpected as the Golden Knights are just 3-9-0 in 12 games at opponents' home rinks. Clarkson does have a win and a tie in neutral site games.
• Brown tied a school record by playing its eighth overtime game at Cornell last week. The next step is winning one. The Bears have three losses and five ties in games needing extra time.
A variety of sources were utilized in the compilation of this report.