February 9, 2006
Rensselaer's Anti-Freak

By Joe Gladziszewski
ECAC Hockey League Notebook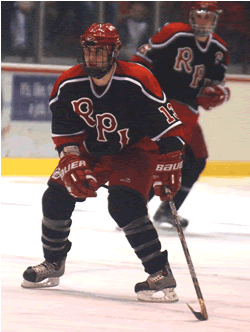 Rensselaer's Kirk MacDonald, who has gained 25 pounds since Jan. 1 as he recovers from his fight with cancer, expects to be back on the ice next season.

The annual Big Red Freakout! is upon us once again and it couldn't be more inappropriately titled when you consider the circumstances affecting the Rensselaer hockey team this season and the events surrounding Saturday's game against Brown.
A slang dictionary tells us that the verb "freak out" means to become agitated with strong emotion. A scary movie, a loud noise, something missing in your home – those are some simple things that could cause you to freak out.
So it would be perfectly normal to get especially freaked out when faced with news that you or someone close to you has been stricken with cancer. As you know, that's the news that RPI's Kirk MacDonald received in April. What we've learned about MacDonald and the Engineers in the 10 months since his diagnosis is that they're not afraid to take on a challenge and show poise in the face of adversity.
"There's no sense in dwelling on it or being negative. Everybody just kept trying to be upbeat and we realized that you have to move on," MacDonald said.
MacDonald is back to full strength and is working toward his return to the ice next season. He has gained 25 pounds since the start of the calendar year and is building toward putting on another 20 pounds to regain his playing weight of 203 pounds for his senior season. It has been a challenge to watch the Engineers struggle at times since he has returned to Troy, but MacDonald has seen the team grow during a five-game winless streak.
The challenge that the team faced in dealing with MacDonald's cancer treatments set the stage for a challenging season on the ice. Already having lost the services of MacDonald for the season, other injuries to important players like Kevin Croxton, Brad Farynuk, and Kevin Broad put a strain on RPI's young forwards and defensemen. The Engineers have been able to dress only five defensemen for some games this year. In dealing with those injuries, the young players gained experience and grew to improve in Division I hockey. Now, the team is returning to health in time for the stretch run.
Throughout the season, one of the fundraising activities that the team has participated in is accepting donations as players shave have their heads shaven following home contests. This weekend's shavings will shear senior Keith MCWilliams on Friday night after the Yale game and Kevin Croxton and MacDonald himself following Saturday's Freakout! game against Brown.
Saturday's events may cause two strong memories to come rushing back from the last year. In the 2005 Freakout! game, also against Brown, MacDonald scored the game-winning goal with 8.3 seconds remaining to give RPI the victory. After this week's game, MacDonald's baldness will closely resemble his appearance after undergoing successful chemotherapy treatment on his cancerous cells.
The shaving of the heads of MacDonald and Croxton will take place on a night when more than 5,000 fans are expected to be in attendance and if everyone in attendance donated one dollar, it would nearly double the funds raised thus far. MacDonald reports that the team has raised almost $7,000, all of which will be donated to the Lance Armstrong Foundation. Matt Pettinger of the Washington Capitals, a close friend of MacDonald, has donated a Capitals jersey autographed by everyone on the current roster including Alexander Ovechkin. Raffle tickets will be sold before and after the game on Saturday at the Ice House event, and the winner will be drawn there.
MacDonald has no doubt that the fans and alumni will continue to be generous and supportive this weekend as they have been all year long, as the team increases its fundraising effort during the most cherished weekend on the RPI hockey calendar.
"The support has been great," he said. "They gave me the option on how I wanted to address this and it was easier to get it out there from the beginning."
In dealing with a personal ailment as a public figure, MacDonald has courageously led the way by being forthcoming and taking on cancer and the recovery process. He set an example for everyone touched by the situation that no matter what you face in life, it's nothing to get freaked out about.
SEEN AND HEARD IN THE ECACHL
Good old Uncle Mo: It's February and that means that it's time to build momentum toward the playoffs or turn things around. Several ECACHL teams are experiencing streaks and slumps.
Dartmouth and Cornell have done good work. The Big Green are 6-0-2 in their last eight ECACHL games. The Big Red are 11-1-3 over their last 15 games. They are the two hottest teams in the league and it's not wrong to look forward to their meeting at Lynah Rink on Feb. 17.
Joining those teams with positive momentum are Quinnipiac and Princeton. Those travel partners combined to win all four games against St. Lawrence and Clarkson on the weekend. The Bobcats prepped for the North Country foes by winning three of four non-league games against RIT and Niagara. Princeton dropped its first game back from an exam break rattled off those impressive wins and carried a four-game ECACHL winning streak into this weekend's games at Harvard and Dartmouth.
On the other side, Brown is winless in seven games, Clarkson has one win in its last eight, and RPI is 0-4-1 in its last five.

Great Weekend Getaway

Quinnipiac at Dartmouth (Fri.)
Princeton at Dartmouth (Sat.)
It's never a bad time to head to New Hampshire, and these games give fans a chance to see where teams stand in mid-February. When Dartmouth made the trip down to Connecticut and New Jersey on the first weekend of November, the Bobcats and Tigers won both games. Those two teams are playing well again, and Dartmouth is playing its best hockey of the season and has revenge in mind.

While You're There: Extend the stay and check out the Beanpot on Monday in Boston. Harvard plays at 5 p.m. against Northeastern, but you already knew that.

Stick Salute

The ECACHL won its second straight Commissioners' Cup when Yale defeated Connecticut on Sunday afternoon. The league accumulated 14 points with a 7-4-0 record in 11 games. Joining Yale as victors in this year's games were Union, Clarkson, Rensselaer, Colgate, Quinnipiac, and Princeton.

Bench Minor

Earlier this year, the Quinnipiac Bobcats appeared in this space for teasing us with early success (Are they teasing us again?) before losing eight of nine games. It's only fair to send Clarkson and St. Lawrence to the sin bin this week for doing much of the same. The Golden Knights and Saints were knocking on the top 10 in the national polls, but have fallen out of the rankings altogether.
FRIES AT THE BOTTOM OF THE BAG
• After allowing four goals and getting yanked in a loss at Dartmouth on Jan. 28, Union goalie Kris Mayotte is back in form. He has allowed just four goals on 82 shots in the last three games for a save percentage of .951. Union has two wins and a tie in that stretch.
• Syracuse-based writer Lindsay Kramer writes the AHL Notebook for NHL.com. Kramer took a break from his AHL coverage and attended last week's Colgate-Cornell tilt at Lynah, and still had time to detail ex-Dartmouth player Hugh Jessiman's season of growth in minor-pro hockey.
• Another article penned by Kramer has a different story to tell, that former Harvard player Brett Nowak is retiring from professional hockey after he was recently diagnosed with testicular cancer, the same ailment that hampered Kirk McDonald. Best wishes to Nowak in his recovery.
• Harvard has lost eight consecutive first-round games in the Beanpot after this week's 5-3 loss to Boston University.
• INCH colleague Mike Eidelbes did another excellent job in assembling notes for Saturday's ESPNU broadcast of Dartmouth and Princeton. Take note that the game is a 4:30 p.m. start.
• Quinnipiac is now 2-0 when wearing its gold-colored alternate sweaters after Saturday's win over St. Lawrence.
• In Dartmouth's Friday night win over Yale, the Big Green trailed 3-0. It marked the first time that Dartmouth had won a game in which they didn't score the first goal.
• Brown's designation as the opponent for the Big Red Freakout! in Troy this weekend marks the eighth time in 29 years that Brown will be the visiting team during the game. Fans always receive a promotional item at the Freakout! and in the early days, noise-making devices such as bells, rattles, and horns were given out. The game against Brown in 1987 changed that as the noise generated had such an impact on the game that the NCAA prohibited noise making devices from being distributed in future years.
A variety of sources were utilized in the compilation of this report.