February 16, 2006
Colgate Makes Its Point

By Joe Gladziszewski
ECAC Hockey League Notebook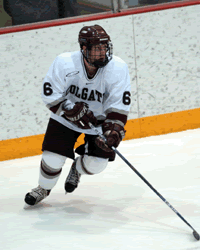 Despite earning just one league point in four February games, Mike Campaner and Colgate remain in the thick of the ECACHL race.

Earning just one point over the course of four league games in the month of February isn't in a team's best interests when chasing a regular-season championship. But those are the results that Colgate has posted through two weekends in a pivotal three-weekend stretch.
The Raiders fell out of first place after being swept in a home-and-home series against Cornell. A trip to the North Country followed, where Colgate could only manage a 1-1 tie against Clarkson after losing 3-2 to St. Lawrence.
Stumbling recently hasn't proven to be a catastrophe for Colgate because they're still right in the mix for an ECACHL regular season title. Banking points early in the season has paid off down the stretch. The Raiders are tied for second place with Dartmouth (Saturday's opponent) one point behind Cornell. Fourth-place Harvard is Friday's guest at Starr Rink.
A win this weekend virtually assures the Raiders of a bye in the playoffs, but Colgate coach Don Vaughan prefers not to look at the standings or seeding, he just wants to get his team back on track after going four straight games without a win.
"Most coaches evaluate how their team is playing. We are pleased to be in the mix but we need to play better for the next four games," Vaughan said.
Colgate's losses have resulted from not scoring enough goals and specifically not converting on the power play. A stray PPG here and there has kept their percentage respectable at around 20 percent, but in the beginning of the season the power play was a difference-maker in Raider wins.
"Our power play has let us down. We've converted on some opportunities and it was so effective early that our power play percentage looks OK, but it's certainly not as crisp or effective as it was and we have not capitalized on our chances," Vaughan said. "It hurts even more because the teams we're playing against don't give up a whole lot of scoring chances."
If Colgate manages to get things turned around and pick up some points in the standings against its two closest challengers it will come with tangible rewards once the playoffs begin. The Raiders can look back with even greater appreciation at their hot start and a five-game ECACHL winning streak in January.
"I like to say that two points in November count the same as two points in February," Vaughan said. "We're fortunate to be in a position to accomplish some of the things we set out to do at the beginning of the season."
SEEN AND HEARD IN THE ECACHL
The long road: Two wrongs don't make a right, but three lefts do. So pardon the Dartmouth Big Green if they've taken an unconventional route so far, but after making more left turns than a NASCAR driver, they now find themselves on the right road at the right time of the year.
With things headed in the right direction, Dartmouth can step on the accelerator and go full speed ahead into games against Cornell and Colgate this weekend. Dartmouth is tied with Colgate for second place in the league standings, just one point behind Cornell.
The Big Green entered the year positioned as the strongest challengers to Cornell's reign atop the ECAC Hockey League standings but stumbled out of the gates with four straight losses, all in league play. A modest three-game winning streak got Dartmouth on track for a short while but the Big Green lacked consistency. They found some of that when sophomore goaltender Mike Devine got the nod in net. Devine is a Buffalo-area native (the same place that produced two-time All-American Lee Stempniak) and has started 14 straight games for Dartmouth. The Big Green are 9-3-2 in those games and 7-0-2 in ECACHL games during the stretch.
Great Weekend Getaway

Dartmouth at Cornell (Fri.)
Harvard at Cornell (Sat.)
Most Cornell fans will tell you that the games against Harvard every season are the most important. In terms of what it means in the ECACHL standings, Friday's game against Dartmouth is much more meaningful as a Big Green victory would vault them past Cornell into first place. If any of the Faithful are saving their strongest shouts for Saturday, they only need to be reminded of Dartmouth's 6-1 over the Big Red in November.

While You're There: Sit in front of the television for some Olympic coverage and cheer for the home team, as Cornell is well-represented at the Games.


Stick Salute

As expected, RPI fans responded to the Big Red Freakout! and several fund-raising activites planned around the weekend. The crowd of 5,317 was the largest Freakout! crowd in the last 20 years.

Bench Minor

Pop culture and reality television thrust previously unknown names into the spotlight, so be prepared. If you do a double-take when you overhear someone say "Ayla Brown" at the office water cooler, they're referring to an American Idol finalist, not the New Haven and Providence ECACHL travel partners. And besides ... she goes to a Hockey East school.
FRIES AT THE BOTTOM OF THE BAG
• Union has lost a number of key players to injury or eligibility issues this season but they haven't lost their magic on home ice. Wins over Brown and Yale at home moved Union into sixth place in the standings and six points clear of ninth. The Dutchmen are in good position to earn a home-ice series in the first round of the ECACHL playoffs and Union is 10-1-4 at home this season and 6-1-2 against conference foes in Schenectady.
• St. Lawrence and Clarkson are two other teams that have been exceptional on home ice this season and each team proved it this past weekend by getting a win and a tie against Cornell and Colgate. The Saints have taken 15 of a possible 18 ECACHL points at Appleton Arena this year. Clarkson is 6-1-2 at Cheel in league games and 10-2-2 overall. The North Country teams play their last two regular-season games at Appleton and Cheel this weekend when they host Yale and Brown.
• Rensselaer extended its unbeaten streak in the Big Red Freakout! to 16 seasons during which time they are 12-0-4. The 4-2 win over Brown last Saturday made the Bears the most victimized opponent, as RPI has won all eight Freakout! meetings between the teams. Three of those wins have come in the last four years.
• Kevin Croxton's goal in Saturday's win was his first since scoring a hat trick against RIT on Dec. 10. The goal moved him into 31st place on the RPI career scoring charts with 136 points.
• Seven of Yale's 19 players in the lineup last weekend were freshmen.
• Dave McKee played only the first period in Cornell's loss to Clarkson last Friday. McKee was replaced by Louis Chabot after 20 minutes due to an upset stomach. Chabot made 14 saves on 15 shots, after McKee allowed two goals on five shots in the first period.
• The Dartmouth-Colgate game highlights the Friday schedule but seeing Harvard and Colgate paired gives us a reason to remember last year's double-OT playoff classic between the two teams in Albany, which Harvard's Kevin Du ended with a breakaway goal after more than four hours of intense competition.
• Freshman goalie Mark Sibbald started both games for Brown last weekend as the last-place Bears look to change things up during a nine-game winless streak. It appears that Sibbald has unseated last year's rookie star Adam D'Alba as the number-one goalie.
• Princeton and Brown should exchange ideas about what it takes to win in overtime. The Tigers have 10 losses and 10 ties in their last 20 OT affairs. The Bears are 0-4-6 in OT games this year. At least they made their last overtime victory count. It came in last season's playoffs and allowed the Bears to advance when Chris Poli scored 5:33 into overtime to defeat Rensselaer.
A variety of sources were utilized in the compilation of this report.