February 23, 2006
Dartmouth's Identity Crisis

By Joe Gladziszewski
ECAC Hockey League Notebook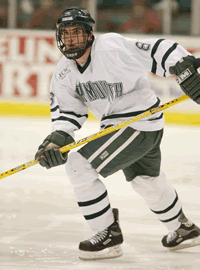 Dartmouth senior Garret Overlock says the Big Green is just starting to find its identity. No coincidence, then, that the team is playing its best hockey.

Some might say it was the relative simplicity of the bus ride from Ithaca to Hamilton that eased Dartmouth coach Bob Gaudet's mind on Saturday. After all, the team was at the rink with plenty of time to prepare for the game – a stark contrast to 2005 when a snowstorm forced the Dartmouth bus to the side of the road on two instances and the players had to evacuate the bus due to engine fumes wafting into the cabin.
Dartmouth experienced a routine arrival at Starr Rink this time around, but that's not what had Gaudet in a positive state of mind one night after losing 3-1 at Cornell. He knew his team would turn in a solid effort.
"It's a really solid group of guys that's fun to be around. We don't win 'em all, you know, but I knew we'd come back and play well tonight," Gaudet said.
"I think there's another gear in this team. We have a really resilient group of guys. They face adversity and know how to come back and get focused and play a simple game."
The problem with showing that you can respond to adversity is that you have to face adversity first. The Big Green struggled at the start of the season dropping its first four ECACHL. A few clunkers through the middle part of the schedule came against non-league opponents, but Dartmouth has been steadily climbing up the ECACHL standings since December and is playing some of its best hockey at this time of the year.
Senior assistant captain Garret Overlock said this team is different from past Dartmouth teams because of better depth and experience.
"Every team has a different identity and we're starting to find ours," Overlock said. "The great thing about this team is that all four lines can play with any team in the league, with any of the line. We have a solid, experienced defensive corps and in net Mike [Devine] has really emerged into a great player for us. Hopefully we'll finish the story later on this year but going into the stretch run we feel really good about ourselves."
They have good reason to feel good, because they showed that they can excel in the types of areas that are important to get wins in playoff-type games. Dartmouth outperformed Colgate at both critical areas of the ice, in front of each net. The Big Green forwards generated chances and used their size and skill to work along the end boards and force pucks around the crease for scoring chances. Devine made saves on perimeter shots and Colgate had few rebound opportunities because of solid defense in front of the net. That has been a point of emphasis and an area of improvement for Dartmouth.
"Definitely to start the season we were a little sloppy in our own end and weren't taking care of business defensively. We knew we had to have our best effort, play our best, start in our own end and we knew the offense would come," Overlock said.
Now, with both ends of the ice in capable hands Dartmouth's challenge is to take the next step and win an ECAC Hockey League championship. The Big Green have a shot at the regular-season crown this weekend and are looking to the challenge of the playoffs and winning in Albany.
"Our goal is to win it and that's what we're after," Gaudet said. "We just want to continue to get better and we're so much better than we were just three weeks ago. When you compare our team to the start of the season it's night and day."
Seeing that improvement from month-to-month and week to week is what has Dartmouth rolling into the end of the season, and easing the mind of a head coach.
SEEN AND HEARD IN THE ECACHL
Home-ice pride: The Clarkson Golden Knights will be playing a home playoff series for the first time in George Roll's tenure as head coach. And for the first time in those three years they won't be starting the playoff quest against Union in Schenectady. (But they may end up at Cornell in the second round.)
Although Clarkson and Union won't be sharing the same sheet of playoff ice, they do share a common trait, as both have played their way into the top eight in the standings on the strength of home dominance. Clarkson can prepare for the playoff series with a couple of difficult tests this weekend at Dartmouth and Harvard, but will welcome the chance to play some more games at Cheel once March begins.
"It's huge for us. We're 12-2 at home this year. We've played well on the road. We played well at Princeton, Miami, and Cornell and didn't win. But we definitely prefer to be home," Roll said.
It takes two: Colgate went into last weekend with a four-game winless streak and ended the streak with a thorough and complete Colgate-like effort against Harvard on Friday. The Raiders capitalized on opportunities with two power-play goals. They forced long breakout passes and then stepped up to intercept the puck or force the Crimson players to chip the puck deep. Mark Dekanich was solid with 29 saves on 30 shots and it all ended in a 4-1 win.
Don Vaughan's reaction afterward: "We played one of our better games in a long time tonight. We have a lot of respect for their transition game and their speed and we worked to take away the long passes and stay on the defensive side of the puck."
After Saturday's game against Dartmouth where Colgate was out-Colgated by the visitors who got that strong goaltending and hard-working goals Vaughan held an extended post-game coaching session in the Raider dressing room. His concern was his team's playoff preparedness and ability to perform consistently in back-to-back games.
"I told them we have to find a way to play two games on a weekend. If we're going to win in Albany, and that's what we want to do, and if we want to win a playoff series we have to win two games," Vaughan said.
Great Weekend Getaway

St. Lawrence at Harvard (Fri.)
It's the most meaningful game of the weekend in the playoff race as the Crimson trail the Saints by just two points for fourth place and a bye in the first round of the playoffs.

While You're There: The Sunset Grill and Tap is located less than three miles from the Bright Hockey Center. In other words, it's about a 20-minute drive in Boston. The Sunset features an extensive menu of beers on tap that satisfies any taste.


Stick Salute

Dartmouth goaltender Mike Devine has a lot to be proud of but judging from the back of his mask he's particularly proud of his hometown sports teams. When complemented on the Sabres logo on the back plate he proudly noted that it was the old blue-and-yellow circle Sabres logo that stood beside the charging Buffalo Bills mark.

Bench Minor

It may be a matter of perception, but fewer penalties were called in games I attended at Colgate last weekend than in most college and professional games I've seen this year. Seemingly, every change in possession was followed by a hack, whack or hook with a stick by the player that turned it over. Those calls were made earlier this season.
FRIES AT THE BOTTOM OF THE BAG
• The ECACHL prides itself on its close playoff races, which makes this year a bit unusual due to the stratification of the standings with a full set of 12 games left to be played. The bottom four teams have been determined – Quinnipiac, Princeton, Yale, and Brown – and can prepare for a road trip next weekend. Corrnell has clinched a bye and Colgate and Dartmouth are also well-positioned for byes.
• St. Lawrence sophomore goaltender Justin Pesony made 45 saves on 46 shots and won two games last weekend. He was the ECACHL Goaltender of the Week for the third time this season.
• A subtle change in Colgate's power play saw Kyle Wilson swap units with Jon Smyth and the change yielded results as the quintet of Wilson, Tyler Burton, Nick St. Pierre, Jesse Winchester, and Mike Campaner scored two PPGs in five opportunities on Friday.
• Dartmouth defenseman Grant Lewis should return to the lineup this weekend after missing four games in a row with a shoulder injury. Clarkson's trip to Harvard and Dartmouth might be a little more difficult if they don't have the services of freshman forward Shea Guthrie, who is fighting an injury.
• It's time-and-a-half rate for Princeton as the Tigers last four games have gone to overtime. Three of those four games have ended in Princeton losses.
• A real barn-burner at Lynah Rink on Saturday saw the Harvard Crimson win at Cornell for the first time since Feb. 20, 1999. It's too bad that CSTV didn't re-air the game at all during the week. It would've been nice for those that were attending other games at the time.
• RPI couldn't have picked a better time for an unbeaten streak. By gaining seven points in their last five games (2-0-3) the Engineers played their way into a top-eight spot and a home-ice playoff series.
• Clarkson senior forward Jeff Genovy regained his scoring touch with four goals over the weekend and was named ECACHL Player of the Week. Genovy's point and goal production cooled significantly since the start of the season.
• A disappointing farewell – but one filled with wishes for continued success – to Cornell SID Eric Lawrence. He has handled accommodating us media types for the last two years. He's leaving the Big Red program for another opportunity and those of us in the business will be very fortunate to be treated as well as Eric treated us by his successor.
A variety of sources were utilized in the compilation of this report.