March 2, 2006
Union Tries to Stay the Course

By Joe Gladziszewski
ECAC Hockey League Notebook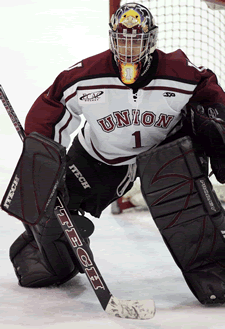 Kris Mayotte's 16 wins have set the Union single-season record. (Photo by Bob Ewell)

A sign of familiarity often falsely reassures the traveler that has lost his way. The glimmer of hope that a landmark provides in a journey is dashed when the driver realizes that it really wasn't the landmark he thought it was. But in order to reach the final destination, the traveler must continue following the road.
So it is with Union. Its road to the ECACHL playoffs has been filled with wrong turns. Academic issues sidelined leading scorer Josh Coyle and a non-hockey related matter benched star freshmen Lane Caffaro and T.J. Fox. Injuries on the defense corps and inconsistency from forwards made this a particularly challenging campaign in Schenectady.
But unlike a misguided voyager, a hockey team and coaching staff can't check the GPS navigation system or ask for directions. What Union had was a group of travelers that didn't complain about being lost. They helped guide the team down the correct path and have reached the playoffs as the sixth seed.
"With the adversity that we've faced, I'm proud of the character it's brought to our locker room," coach Nate Leaman said. "There were instances when they could have put their heads down and felt sorry for themselves but they came out to battle and play hard. I'm amazed more and more every day by the character this team has shown."
Senior goaltender Kris Mayotte has been responsible for leading the way for most of the season. He set single-season school records in several categories but the most important is wins. His 16 victories are the best in Union history and Mayotte has a 7-3 record in one-goal games this year.
"Kris has definitely been our rock, but he hasn't been the only guy responsible for carrying us," Leaman said. "It's been different guys on different nights. That's why I've been a little disheartened on some nights when he might have had an off night and the other guys didn't pick him up."
Those nights might be chalked up to dealing with the pressures of trying to find the way. But the Dutchmen arrive at March showing remarkably few signs of the exhausting trip they've been on.
ECACHL First Round Matchups
No. 12 Brown at No. 5 St. Lawrence
B: 3-14-5 ECACHL, 4-18-7 overall
SLU: 12-9-1 ECACHL, 18-14-2 overall
Season Series: Split 1-1
Bear Fact: Double-reverse. The Bears were third in the regular season in 2004, sixth in 2005, and now 12th in 2006.
Saint Fact: The Saints have not swept a season series from Brown since the 1991-92 season.
How Brown Wins: These teams enter the weekend heading in different directions. The Bears need to capitalize on their momentum after tying Princeton and beating Quinnipiac.
How St. Lawrence Wins: SLU must use its superior depth and talent to take care of business on home ice after being swept on the road last weekend when they could've clinched a bye.

No. 11 Yale at No. 6 Union
Y: 6-14-2 ECACHL, 8-18-3 overall
U: 9-9-4 ECACHL, 16-14-6 overall
Season Series: Split 1-1
Bulldog Fact: Yale carries a six-game losing streak into the playoffs, the longest skid of any ECACHL team heading into the postseason.
Dutchmen Fact: Union is one of only five teams to host at least one playoff series each year since the league went to the current format in 2003, joining Cornell, Colgate, Harvard, and Dartmouth.
How Yale Wins: Yale ranked fifth in the ECACHL in scoring and will have to out-gun the Dutchmen, who finished 10th in the league.
How Union Wins: The best part of being the 10th-ranked offense in this case is that they're facing the league's worst defensive team.
No. 10 Quinnipiac at No. 7 Rensselaer
QU: 8-13-1 ECACHL, 17-16-1 overall
RPI: 8-8-6 ECACHL, 14-15-6 overall
Season Series: RPI won 1-0-1
Bobcat Fact: The 'Cats are just one of five teams nationally to have a losing record in conference play but a winning record overall. Clarkson, Lake Superior State, Ferris State, and Alaska Fairbanks are the others.
Engineer Fact: RPI coach Dan Fridgen has led his team to a 4-0-1 all-time record against Quinnipiac and is a perfect 3-0-0 at Houston Field House.
How Quinnipiac Wins: Out-freshmen the freshman. QU forwards Brian Leitch (40 points) and David Marshall (32 points) will have to produce some goals against RPI rookie goalie Mathias Lange.
How Rensselaer Wins: With several players back from injury, the Engineers are one of the hottest teams in the league with a 3-1-2 record in their last six games. They'll need to carry the momentum that started during Freakout! weekend.
No. 9 Princeton at No. 8 Clarkson
P: 7-12-3 ECACHL, 10-16-3 overall
CU: 9-11-2 ECACHL, 16-15-3 overall
Season Series: Split 1-1
Tiger Fact: Princeton garnered at least one point from nine of the other 11 teams in the ECACHL this year. They were only swept by Harvard and Union.
Golden Knight Fact: Seniors Jeff Genovy and Chris Brekelmans are the only Knights that have played a playoff series at Cheel. That was an upset loss to Vermont when the Clarkson duo were freshmen.
How Princeton Wins: Their strength is carrying the puck on the rush and they'll have to generate chances against a relatively young defense and unproven goaltending.
How Clarkson Wins: Maintain a dominating presence on home ice. The Golden Knights were 12-2-2 in the regular season at Cheel and haven't lost on home ice since Nov. 26.
SEEN AND HEARD IN THE ECACHL
Crimson coup: The big movers in the ECACHL standings last week were the Harvard Crimson, who moved one spot. But it is an important distinction between fifth and fourth place because it means the Crimson can rest this weekend and await a quarterfinal playoff series on home ice, needing just two wins to get to Albany.
Harvard clinched fourth place with a three-game winning streak to close the season. All of the victories were by one goal. There was a win at raucous Lynah Rink to start the streak, a 3-2 win over St. Lawrence that put Harvard level with SLU in the standings, and a 2-1 win over Clarkson to seal the fourth spot. The first line of Dan Murphy, Ryan Maki, and Kevin Du accounted for four of the five goals last weekend.
Coach Ted Donato told The Crimson, "I think our guys, at least for a couple nights, can sit back and be proud of the way they finished the season."
FRIES AT THE BOTTOM OF THE BAG
• Everyone's mind is on the ECACHL Tournament but forgive us for looking forward to Christmas-time when Dartmouth hosts its holiday tournament. The Big Green will welcome North Dakota, Boston University and St. Lawrence next winter.
• ESPN hired an ombudsman last year and George Solomon reports on the ideas and issues regarding sports journalism. Near the end of his most recent column, Solomon acknowledges the fact that college hockey fans' requests for increased coverage by ESPN have at least been heard, if not acted upon.
• The eighth and ninth seeds usually produce the most compelling playoff series and Clarkson and Princeton played a great game in the regular season. Shawn Weller scored an overtime winner, his second of the game, to give Clarkson a win at Cheel on Nov. 18.
• RPI was outshot 34-17 but beat Cornell 2-0. The next night the Engineers outshot Colgate 36-18 but lost the game 2-1.
• Princeton played five consecutive overtime games before snapping the streak with a 4-2 win at Yale on Saturday.
• Check out what happens when you score some goals. The five goals that Brown scored in Saturday's win were the most goals scored by the Bears in any game this season, and they followed three goals in a tie on Friday night against Princeton. An eight-goal weekend led to a three-point weekend. It marked the Bears' first three-point weekend since their November sweep of Clarkson and St. Lawrence.
• Colgate's Mark Dekanich had a big part in that Raider win over RPI with 35 saves. One night earlier he made 29 saves and shut out Union, his second blanking of the Dutchmen this season.
• Quinnipiac enters the playoffs with a 6-2-1 record in its last nine games. Brian Leitch and David Marshall are the top-two rookie scorers in the ECACHL both in league play and overall.
• Dartmouth sophomore forward David Jones, the ECACHL Player of the Week, finished the year third in the league in points and second in goals. Senior Mike Ouellette might get more attention, but Jones is highly regarded by opponents and coaches around the league.
A variety of sources were utilized in the compilation of this report.