March 9, 2006
Fresh Thinking in 2005-06
By Joe Gladziszewski
ECAC Hockey League
REGULAR-SEASON RECAP
TOURNAMENT PREVIEW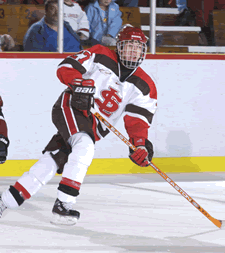 St. Lawerence's T.J. Trevelyan led the Saints to a fifth-place finish in the ECACHL.

Metaphorically speaking, spring is a time for new things to emerge. Even though that season is right around the corner, the ECAC Hockey League has been foreshadowing its arrival for the last several months.
A new team and a new champion highlighted the 2005-06 campaign and new players emerged to capture the interest of fans and followers of the league. The Dartmouth Big Green won their first ever regular-season title (sharing it with Colgate) and Quinnipiac joined the ECACHL after competing in Atlantic Hockey for several seasons.
For those still in the playoffs, there's new hope for NCAA Tournament hopes and for those teams whose seasons have ended, here's looking forward to a new campaign in the fall – the spring of the hockey calendar.
THE FAVORITE
Harvard, then Colgate, then Cornell, and finally Dartmouth held the top spot in the ECACHL standings during the regular season. Each team has strengths and weaknesses; a careful comparison reveals Dartmouth as the favorite. The Big Green have got an experienced defense, depth at forward, and are playing their best hockey of the season right now. Dartmouth is 8-1-1 in its last 10 games and has a great shot to win the automatic bid to the NCAAs, which would mark the Big Green's first appearance in the tournament since 1980.
THE GATE CRASHERS
Clarkson is the team that none of the top four teams wanted to face in this round of the playoffs, and it's the third year in a row that Clarkson will visit Lynah Rink for an ECACHL quarterfinal series. Combining that experience with the annual regular-season games at Lynah means that the younger Golden Knight players won't be surprised by anything they might face in league's toughest barn. David Leggio has given Clarkson reliable goaltending in recent weeks and he'll have to continue his adequate play for the Knights to have a shot at the upset. Anything can happen in a one-game situation in Albany and Clarkson could repeat its surprising playoff run of 2004.
Quarterfinal Matchups
No. 11 Yale at No. 1 Dartmouth
Y: 6-14-2 ECACHL, 10-18-3 overall
D: 14-6-2 ECACHL, 16-11-2 overall
Season Series: Dartmouth won 2-0
Bulldog Fact: Six of Yale's last 10 playoff games have gone to overtime, including both of last weekend's wins over Union.
Big Green Fact: Dartmouth is 10-1-0 against Yale in the last 11 meetings between the teams, dating back to the start of the 2002-03 season.
How Yale Wins: Freshman goaltender Alec Richards is the key component for the Bulldogs, who also received excellent goaltending in last year's playoff series in Hanover.
How Dartmouth Wins: The Big Green turned their season around when they started to take care of the defensive end of the ice. That must be their focus again this weekend.

No. 10 Quinnipiac at No. 2 Colgate
QU: 8-13-1 ECACHL, 19-16-1 overall
CU: 14-6-2 ECACHL, 18-10-6 overall
Season Series: Colgate won 2-0
Bobcat Fact: Quinnipiac has shown an ability to finish seasons well, as the Bobcats are 23-6-1 in games played after Jan. 14 in the last two years.
Raider Fact: Two wins this weekend will give Colgate 20 on the season, marking the third year in a row the Raiders have accomplished that feat.
How Quinnipiac Wins: The Bobcats scored half of their six goals last weekend on the power play and were 3-for-9 on the weekend. That unit needs to stay hot, as Quinnipiac converted just 16 percent of its chances in the regular season.
How Colgate Wins: The Raiders allowed the fewest goals of any team in the conference this year and they do that by being smart with the puck in dangerous areas of the ice. They will need to continue to make smart decisions against a Bobcat team that can score goals.

No. 8 Clarkson at No. 3 Cornell
CLK: 9-11-2 ECACHL, 18-15-3 overall
COR: 13-6-3 ECACHL, 18-7-4 overall
Season Series: Split, 1-1
Golden Knight Fact: Clarkson has played Cornell 24 times in the ECACHL playoffs, most of any team in the league. Five of those 24 games have come in the last two seasons.
Big Red Fact: Cornell has won the conference tournament 11 times, more than any other team in the conference. Harvard is second with seven championships.
How Clarkson Wins: Collectively, the Golden Knight forwards are among the best in the country. They'll need to use their depth and skill to keep constant pressure on a Cornell defense that has battled injuries and is prone to making untimely mistakes.
How Cornell Wins: The Big Red are successful when they have stellar special teams, excellent goaltending, and a strong work ethic. That's the recipe that the Big Red cook up every spring and that's why they've had so much postseason success.

No. 5 St. Lawrence at No. 4 Harvard
SLU: 12-9-1 ECACHL, 20-15-2 overall
H: 13-8-1 ECACHL, 17-10-2 overall
Season Series: Harvard won 2-0
Saint Fact: Senior-laden St. Lawrence has a 1-7-2 record against Harvard in the last four seasons.
Crimson Fact: This marks just the fifth time in 25 years that Harvard will face the Saints in the playoffs. The Crimson won the championship game in 1987, a playoff series in 1996, a play-in game in 1997 and a playoff series last year.
How St. Lawrence Wins: The Saints must get better goaltending in order to have a chance against Harvard. Brown, the lowest-scoring team in the league, was able to get pucks past Justin Pesony last weekend. Sunday's performance by Pesony was especially poor.
How Harvard Wins: Harvard's top line of Dan Murphy, Kevin Du, and Ryan Maki started to get hot at the end of the regular season and will need to lead the way again for the Crimson in this series.

INCH'S ALL-CONFERENCE TEAM
F – T.J. Trevelyan, St. Lawrence
The Saints were a sub-.500 team for the last four seasons and they've recorded 20 wins this year, led by the conference and overall scoring leader.
F – David Jones, Dartmouth
Jones, a sophomore, was a dangerous offensive threat for the regular-season champs. He's one of the premier power forwards in the ECACHL but can also play a skill game in open ice.
F – Kyle Wilson, Colgate
Wilson has a knack for scoring an important goal or coming up with a big play at the right time. He had 13 points in eight games against Dartmouth, Cornell, Harvard and St. Lawrence.
D – Mike Madill, St. Lawrence
The steady senior blueliner took on an extra burden when Drew Bagnall went down to an injury. He plays all situations and logs a ton of ice time for the Saints.
D – Reid Cashman, Quinnipiac
Cashman backed up his 2004-05 campaign during which he was a Hobey Baker finalist by scoring 38 points and averaging more than a point-per-game from the blue line.
G – Kris Mayotte, Union
The senior re-dedicated himself in off-ice conditioning in the summer and it paid off as he backstopped the Dutchmen to sixth place in the league. In both goals-against average and save percentage, Mayotte ranked in the top three in conference games and top four in all games. No other goalie ranked that highly in all four categories.
COACH OF THE YEAR
The people that were supposed to know something about the ECACHL didn't, as Quinnipiac was widely chosen to finish dead last in the league. Coach Rand Pecknold knew something that other people didn't, and led the Bobcats to a 10th-place finish and a first-round series win. Pecknold is also proving to be a bit of a know-it-all in recruiting, as he's lured some talented players to campus. Freshmen forwards Brian Leitch, David Marshall and Chris Myers are among the top-scoring rookies in the league and freshman goaltender Bud Fisher beat out former North Dakota backstop Josh Siembida for the starting job.
PLAYER OF THE YEAR
When you watch St. Lawrence play, winger T.J. Trevelyan is almost always the player you notice in the offensive zone but that doesn't mean that he is a one-dimensional player. Saints coach Joe Marsh often raves about the defensive improvement by Trevelyan. Trevelyan's importance to the Saints was magnified when linemate John Zeiler left the team and outstanding junior defenseman Drew Bagnall missed time with an injury.
Trevelyan led the conference in scoring, becoming just the second Saint to do that (Mike Gellard, 2001). Whenever the Saints are making noise around the opposition net, he's always involved. Up to this point he's been known as a finisher rather than a set-up man, but his 27 assists proved that he is as capable setting up goals as he is in scoring them.
Note: For life-related criteria instead of hockey-related criteria, there's no question that Rensselaer forward Kirk MacDonald is an obvious selection for Player of the Year.
FRESHMAN OF THE YEAR
Yale's Alec Richards emerged as the team's goaltender and helped solidify a position that has seen more turnover than a McDonald's restaurant in September. Richards made more saves per game than any other goalie in the conference, meaning he had a lot of work every night. His performance last week in the ECACHL playoffs helped the 11th-place Bulldogs upset sixth-seeded Union.
BREAKTHROUGH PLAYER
Most fans probably won't notice Clarkson's Nick Dodge, but opposing players and coaches certainly do. Dodge led the Golden Knights in scoring but lacks a signature skill like Matt Moulson's shooting accuracy or Kevin Du's speed. Dodge is the best faceoff man in the league and plays both on penalty-killing and power play units. He served as assistant captain this year as a sophomore.