March 15, 2006
Two of the ECACHL's Mighty Wingmen
By Joe Gladziszewski
ECAC Hockey League
CHAMPIONSHIP WEEKEND PREVIEW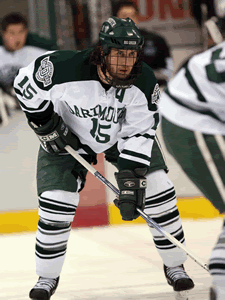 Tanner Glass has earned the respect of his teammates and coaching staff and is an assistant captain as a junior.

Colgate and Dartmouth feature the two most potent offensive lines in the league, with some of the most complete and talented players. You probably know about Dartmouth's Mike Ouellette and David Jones – both were First Team All-Ivy selections and will be members of the All-ECACHL teams when they are announced on Friday. Colgate's Jon Smyth, a preseason ECACHL first-teamer, and Tyler Burton, a member of last year's All-Rookie team, are the big guns for the Raiders.
You also know that a line needs three players to be complete and successful, and we take some time this week to talk about the lesser-known wingmen on the league's best two lines – Dartmouth's Tanner Glass and Colgate's Jesse Winchester.
Tanner Glass
Jr. – LW – Craven, Saskatchewan
6-1, 207 pounds
Inside College Hockey: Congratulations on the regular-season title and the number-one seed. This weekend you guys have another chance to set a school milestone at the championship weekend. How are you guys feeling right now?
Tanner Glass: We're excited to be where we are, heading to Albany and playing against Harvard. They're ranked high nationally and we've had a lot of great battles against them. We can't be in a better position.
ECACHL Semifinal Capsules
No. 1 Dartmouth
Record: 18-11-2 (14-6-2 ECACHL)
Big Green Fact: Dartmouth was the highest scoring team in the ECACHL and is averaging over half a goal-per-game more than Colgate, Cornell, and Harvard who ranked fifth, sixth, and seventh.
How Dartmouth Wins: Sophomore goaltender Mike Devine has played well and has actually been a calming force for a veteran defense. He'll have to continue to play well in his most pressure-packed weekend to date. The Big Green boast a group of talented forwards that can beat you with strength and skill. That versatility must help them generate offense in what is always a tight-checking weekend.
No. 2 Colgate
Record: 20-11-6 (14-6-2 ECACHL)
Raider Fact: Colgate's only tournament title came in 1990. They've made it to the championship weekend four times since then – 1995, 2000, 2004, 2005 – and have failed to advance to the championship each time.
How Colgate Wins: The Raiders' best players must rise to the occasion. Tyler Burton, Kyle Wilson, Jon Smyth and others were invisible in a loss to Quinnipiac last Friday. Colgate turned the series around when they started to play well. Colgate enters the weekend with the best power-play percentage of these four teams.

No. 3 Cornell
Record: 20-7-4 (13-6-3 ECACHL)
Big Red Fact: Cornell has been the class of the ECACHL over the four seasons, including the current campaign. They've backed it up with an 8-2-0 against Harvard in that time, but the Big Red are just 8-7-1 in the same span against Colgate and Dartmouth.
How Cornell Wins: The Big Red have the strongest recent winning tradition of these four teams. The veteran players know how to get the job done and were given a great example to follow by former teammates like Mike Knoepfli, Charlie Cook, and Mike Iggulden. They'll have to capture the playoff spirit those guys brought to the ice last year.

No. 4 Harvard
Record: 19-11-2 (13-8-1 ECACHL)
Crimson Fact: In the overall season stats for ECACHL, Harvard ranked fourth among all ECACHL teams in scoring defense. The three teams ahead of the Crimson are the other three teams joining Harvard in Albany.
How Harvard Wins: Senior Dan Murphy started the season strong and has regained his scoring touch down the stretch. He has teamed up with center Kevin Du and winger Ryan Maki to give the Crimson a legitimate number-one line. That trio will need some support. Look for that to be provided by defenseman Dylan Reese and the second line of Dave Watters, Paul Dufault, and Jon Pelle.

INCH: Dartmouth got off to a slow start this season. Was there one thing that helped turn your season around?
TG: I'd have to say it's Mike Devine. He really provided our team with a calming influence in the defensive zone. We go into every game knowing we have a guy that can make every save he should and even some that he probably shouldn't make. He's been the biggest difference for us.
INCH: You're a drafted player (9th round, 2003, Florida Panthers) and that comes with some status. But you had just 11 points in your freshman year and 15 points as a sophomore. This year you've more than doubled (11-16–27) your career totals. Have you changed anything, or has it just happened?
TG: Not much has changed with my game. I try to play a hard-nosed style and take care of my defensive zone. This year the points have come. I've been on a great line with Mike Ouellette and David Jones and it helps to be able to step in and play with top two line players. They're also very responsible in the defensive end and have so much creative talent.
Jesse Winchester
So. – RW – Long Sault, Ontario
6-1, 205 pounds
Jesse Winchester, like Glass, has had a breakout season. He scored four points in 28 games as a freshman but has 36 points heading into this weekend, ranking behind only Burton and Kyle Wilson in team scoring.
Inside College Hockey: Last year you had four points and this year is kind of a breakout year for you, playing with Jon Smyth and Tyler Burton most of the time. Jon Smyth went through the same thing, with kind of a slow start his first year and now he's probably one of the best players in Colgate history. What can you say about him?
Jesse Winchester: Jon is a big leader in the room and on the ice he does everything for us. He blocks shots, scores big goals, I can't say enough about the guy. He does it every day and it's a pleasure playing on his line.
INCH: What have you learned from him in particular?
JW: A lot of leadership skills. He is a quiet leader but he and I get along really well and with Tyler we've bonded together.
INCH: What types of things did you learn as a freshman to bring to this year?
JW: You learn a lot as a freshman. In junior we weren't coached like we are here so it's a big transition. I had a lot of confidence this year. In the summer I worked out really hard and was given a chance to play with the top two guns on our team and made the most of it. I just want to keep on building.
INCH: Last year you guys made it to this point in the season and Colgate ended up playing in the third-place game. Colgate hasn't played in the championship game since 1990. I guess for this team in this tournament the next step is getting there. How do you feel this team's chances stack up?
JW: When we're playing on emotion and playing all together we have a pretty good chance against anyone I think. As long as we do that we'll be ready next weekend and we're looking forward to the battle.
INCH: What do you think of Cornell?
JW: Cornell's a great team up and down the lineup. They're big, strong, tough, and they've got a great goalie. It's going to be a great game. We match up well against them and the two games we played against them this year were close, so it's going to come down to the wire.