October 4, 2005
2005-06 Hockey East Preview
By Jeff Howe

THE SKINNY
It may have felt something like a stick-check to the gut, or maybe getting hit from behind and diving head-first into the boards.
Either way, it wasn't fun to swallow.
All four NCAA Tournament teams from Hockey East last year walked off the ice for the last time with a similar fate. Their season was over, and another squad from the Western Collegiate Hockey Association was moving on to the next round.
Hockey East was dethroned, overtaken during a 16-day attack staged by the WCHA, which stretched from the end of March into the beginning of April.
North Dakota disposed of both Boston schools just a few miles west in Worcester, dropping Boston University 4-0 in the first round before eliminating conference champion Boston College 6-3 in the quarterfinals. Minnesota outlasted another gutsy postseason performance by Jimmy Howard and topped Maine in the first round, 1-0, in overtime at the friendly Gopher confines of Mariucci Arena. And back in New England, the New Hampshire Wildcats couldn't keep up with the depth of eventual national champion Denver, getting sent home with a 4-2 second-round loss in their Easter basket.
Hockey East's record streak of sending a team to the championship game in eight consecutive seasons was snapped, and to make matters worse, Denver repeated as champs to give the WCHA its fourth consecutive national title following Minnesota's back-to-back performance.
There is a new gang in town, and it has taken a firm grasp on the college hockey world.
If Hockey East Commissioner Joe Bertagna were a United States president, he would call for Warren G. Harding's "return to normalcy," trying to get a fresh start after going through a tough time.
Well, he is getting just that, and the conference is launching a new era.
Along with three new coaches comes a new team. The arrival of Vermont has immediately added depth to the now 10-team league. Greg Cronin will be looking to toughen up Northeastern by taking his Huskies on regular trips to a local gym's boxing ring. Tim Army is going back to the future by taking over the Providence job, where he played for Lou Lamoriello in the 1980s. And long-time Hockey East veteran Mark Dennehy is taking over at Merrimack, trying to transform the Warriors into a winning team after doing the same as an assistant under Don Cahoon at UMass over the last five seasons.
Hockey East is indeed a new conference this year with a wide open race for the top, especially after seeing the National Hockey League pluck away some of its brightest stars in BC's Patrick Eaves, Maine's Jimmy Howard and Lowell's Ben Walter.
Even despite the loss of Howard, though, this conference still has the deepest amount of talent between the pipes, which is always the single most important position for a team trying to make a playoff push.
And four teams – Maine, BU, UMass and BC – have a shot to dent the WCHA armor before the new year, as each of them has Denver circled on their schedules.
Still, it won't be until April 8 in Milwaukee that the fate of Hockey East's quest to take back some of its dominance will actually be determined.
BREAKTHROUGH TEAM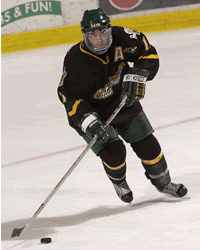 Players like Brady Leisenring could have Vermont ready to contend in its first season in the league.
If Vermont was entering its 10th season in the league this year, the Catamounts would certainly have gotten a couple first place votes in the conference's preseason polls.
They lost their leading scorer in Scott Mifsud, but they still return 14 forwards including fifth-year senior Brady Leisenring, who scored three goals and had six assists in the team's first six games before suffering a season-ending injury. UVM reaped the benefits of his presence in the lineup, as it knocked off No. 1 Minnesota-Duluth 3-2 on the road in Leisenring's final hurrah.
Vermont has lost only one defenseman from last year's team, which was the most improved in the country in terms of wins, and it returns ECACHL Rookie of the Year Joe Fallon. The freshman goalie set a school record with five shutouts last year, a 1.96 goals-against average and currently sits atop the program's save percentage list with a mark of .921. It was no coincidence that the Catamounts killed 86.9 percent of their penalties last year, either, the sixth-highest ratio in the country.
PRIMED FOR A FALL
Northeastern was playing tremendous hockey during the final month of the regular season, finishing at a 6-3-1 clip before hiccupping at UNH in the first round of the playoffs.
They rode goalie Keni Gibson through a tremendous year, and Jason Guerriero carried the offense with 17 goals and 31 assists. Both players were candidates for Player of the Year, and both have since graduated.
Mike Morris will see a brunt of the defensive pressure as the only pure goal scorer on the team now, and he will really need his teammates to step up on the offensive side since Northeastern has lost five of its top eight defensemen, too.
The young group will have to be ready as soon as the puck drops on Oct. 14 and carry its intensity for a treacherous six-week span to start the season. NU opens with two against North Dakota, then takes on Boston College, Rensselaer, Vermont, UNH twice, UMass and Providence, before re-visiting with BC and the Wildcats.
If this team can't adjust early, it may blink and find itself winless at the beginning of December.
PRESSURE TO PERFORM
Boston College was an uncharacteristically defensive minded team last year, but that doesn't mean the Eagles didn't have players who could find the back of the net. However, four of its top-five scorers – Patrick Eaves, Ryan Shannon, Dave Spina and Ned Havern – have left The Heights along with their 56 goals, 87 assists and 143 points.
That leaves Brian Boyle, the 6-foot-7, 240-pound junior forward as the leading returning goal- and point-scorer. He really got it going during the Hockey East Tournament, when he was given MVP honors for his four goals and two assists, and he also grabbed the game-winner in the championship game against UNH.
When Boyle does have everything moving in the right direction, he is a monster on the ice, particularly in the faceoff circle and in the crease. Jerry York is going to need him to play like that all season if the Eagles have a chance at winning their second consecutive league title.
TOUGHEST ACT TO FOLLOW
When Maine goalie Jimmy Howard was on the ice, he was in the zone. And when he was on the ice in the postseason, he was virtually unstoppable.
Watching him lead the Black Bears in playoff hockey was about as fun as anything to do over the past three years, unless of course, you were an opposing skater. The things he could do to keep Maine in the game – a sprawling kick save while lying on his stomach, a stick save after diving across the crease or a glove save behind his head – were jaw-dropping, yet routine.
He made 73 saves during his last two collegiate performances, a 2-1 double-overtime loss to Boston College in the Hockey East semifinals and a 1-0 overtime loss against Minnesota in the first round of the NCAA tournament.
Seventy-three saves, and he walked away from the campus life with a two-game losing streak.
Well, Matt Lundin, you have your work cut out for you. The sophomore netminder wasn't even going to attend school this year for the chance to play junior hockey for the Tri-City Storm in Nebraska, but he had to pack his things to return to Orono once finding out Howard had signed with the Detroit Red Wings.
Excited? Sure. It took him a mere three days to get everything together so he could get an early start on the new era in Maine hockey.
But he only played in nine games last season, making just two starts. He and freshman Ben Bishop, a third-round selection of the St. Louis Blues, will tag team the goaltending duties until one of them is able to take the fulltime job.
The youngsters have a lot to overcome – an offense that saw zero players score more than 14 goals last year, a complex defense that lost four players and an Alfond Arena crowd that hasn't seen a Black Bear goalie struggle in quite some time.
BEST PLAYER
It could have gone to any one of the four guys – Jimmy Howard, Patrick Eaves, Ben Walter or Chris Bourque – who signed pro contracts over the summer but, then again, there is a reason why they are getting cash, rather than credits, to play hockey.
Like everything else in the conference this year, this is another wide open category. The preliminary favorite would be Brett Hemingway, the second edition of the Hemingway scoring forward model released in Durham.
He'll score because that is what UNH forwards do. He'll win games because that is what the Wildcats will do plenty of in 2005-06. And because his last name pulsates off the blue and white jerseys with the same resonance as "Black Betty" from the Whittemore Center PA system, he'll probably get some Hobey Baker consideration, too.
BEST NEWCOMER
With all of the hype surrounding the Eagles' newest recruiting class, comes just as much with freshman forward Brock Bradford. BC has lost a ton of veteran scoring, so Jerry York will once again find ways to get his freshman talents into the offensive equation. Bradford, who tries to model his game after Joe Sakic, scored 24 goals and picked up 33 assists in 60 games last year for the Omaha Lancers of the USHL.
He's also a winner. The seventh round draft pick of the Boston Bruins was on the Canadian team that took home the gold medal at the 2004 Under-18 Junior World Cup in Slovakia. He contributed a goal and four assists during the five-game tourney.
UNSUNG PLAYER
Vermont's success in the new league will come from a number of different areas, but the Catamounts will rely heavily on the backbone of their defense, three-time captain Jaime Sifers. The reigning ECACHL Defensive Defenseman of the Year was a big factor in rookie goalie Joe Fallon's success. He won't open any eyes with his scoring ability, as he only racked up four goals and 14 assists last year. If he were taken out of UVM's lineup, though, the team would lose its heart and soul. It will be the grit that Sifers brings to the Catamounts that they will need to earn the respect of their new peers.
THREE BURNING QUESTIONS
1. Following one of the most exciting regular season finishes in the league's history, what kind of an encore does Hockey East have in store this year? The top of the conference will sing a familiar song in 2005-06, with UNH, BU and BC taking home the top-three spots, but the middle of the pack will make things a lot closer in what is such a rebuilding year for nearly every team. Don't be surprised if the top-seven teams finish the season separated by 10-12 points in the standings.
2. The addition of Vermont means that two teams will now miss the conference playoffs. What will that do to the bottom portion of the standings? It will keep teams from backing into the postseason for two reasons. First, if a team in the 8-10 spots in the standings gets hot in February, the mad dash by its closest contenders will definitely provide a more intense final few weeks than normal. Second, if a rare occasion occurs and a top-tiered team has a locked-in seed during the final two weeks, it also won't want to risk backing in and squaring up with a hot No. 7 or 8 seed in the first round.
3. With so much talent between the pipes, what is the chance a goalie is named Player of the Year? Slim. There isn't necessarily one goalie who can break away from the pack like Howard did over the past two seasons. Netminders such as BC's Cory Schneider, BU's John Curry, UMass Lowell's Peter Vetri, UNH's Kevin Regan, Vermont's Joe Fallon and UMass' Jon Quick are all underclassmen and will face the same battle for top dog next year. Also, in Hockey East's first 21 years of existence, only four goaltenders – UNH's Mike Ayers in 2002-03 and Ty Conklin in 1999-2000, UML's Dwayne Roloson in 1993-94 and Providence's Chris Terreri in 1984-85 – have won the award. Roloson and Terreri were the only ones to win Player of the Year outright.
MARK IT DOWN
Five things you can take to the bank in Hockey East this season

1. UNH will finish the season with the top-two scorers in the league for the second year in a row. Last year's top-five scorers in the conference are gone, including Sean Collins and Preston Callander, who finished one-two with a combined 110 points for the Wildcats. That leaves Jacob Micflikier, Brett Hemingway and Daniel Winnik as the top-three scorers returning to the conference this year. Oh, and UNH senior Brian Yandle was the top-scoring defenseman last year, too. It looks like the Whittemore Center's electric bill will continue to be the highest one in the league.
2. Burlington will be one of the tougher places to play. The glass boards at Gutterson Fieldhouse were raised from five feet to eight feet, making the rink closer resemble a gladiator arena than anything else. UVM sold out its last 17 games at the 4,035-seat venue, and the streak is expected to continue with its new slate of conference games. With tougher competition, the Catamounts may not improve on its 13-6-2 home record of last season, but the resurgence of the athletic department over the past few years has created more excitement and will certainly create a scary environment for teams thinking they can breeze through Burlington with a victory.
3. Chris Bourque will be as missed by Boston University as any player in the league. His second-half heroics put a spark in the Agganis Arena crowd the way his father lit up the Boston Garden in years past. Peter MacArthur will miss the other half of the tenacious freshman tandem and will need to adjust to new linemates. And the league's fifth-best power play, which ran through Bourque at the point, will definitely suffer as well.
4. Gabe Winer's starting job is on the line in Amherst. Winer has started 92 of a possible 112 games in three years under Don Cahoon with a record of 41-41-9, but his wins have declined each year. Jon Quick comes into the Mullins Center as one of the best young goalies in the nation, and he will see plenty of ice time this year to go along with the Mass Attack's youth movement. If Winer struggles in the first half, this could be Quick's team by January.
5. Three teams will qualify for the NCAA Tournament. That's right, just three. Though parity will be good for the league this year, it will mean one less team gets the invitation to dance after St. Patrick's Day. Look for the usual suspects – UNH, BU and BC – to earn these three spots.
Predicted Finish

No.

School
Of Note

1.

New Hampshire
The schedule is fairly easy from the middle of November until the two-game road trip to Maine in the first week of February. That will give UNH plenty of time to learn how to play without Collins and Callander before things get serious in March.

2.

Boston University
Jack Parker didn't bring in any new defensemen or goalies this season. His confidence in that area plus the return of two very good lines result in a very scary combination.

3.

Boston College
Cory Schneider lost once in 18 games last year. He will have to make the transition from being a pleasant surprise to being a full-time anchor in net while the offense figures itself out.

4.

UMass Lowell
This team knows how to distribute the puck. With 5.47 assists per game last year, the River Hawks ranked second in the conference, but will any of their forwards step up to take over the goal scoring responsibility left behind by Ben Walter?

5.

Vermont
With a healthy return, Brady Leisenring could be this year's version of Jason Guerriero.

6.

Massachusetts
Speaking of healthy returns, Matt Anderson does a better job at making his teammates better than anyone else in the league, and if UMass makes a jump into the top-three at season's end, Anderson could get considerable Player of the Year attention.

7.

Maine
Matt Lundin and Ben Bishop could wind up being a great goaltending tandem, but the Black Bears still have issues on defense and their forwards aren't pure goal scorers.

8.

Providence
Sophomore goalie Tyler Sims can definitely hold his own between the pipes, but it doesn't matter because his team just doesn't score for him and the penalty killing unit never gave him any help.

9.

Northeastern
Greg Cronin's blue collar, hard-nosed system will make the Huskies an entertaining bunch to watch, but the loss of their top forward (Jason Guerriero), defenseman (Tim Judy) and goalie (Keni Gibson) will cause a ton of uncertainty on the ice this season.

10.

Merrimack
They do have a couple pieces in place with goal scorers such as Matt Johnson and Brent Gough, and blueliner Bryan Schmidt held down the third-best penalty killing unit in the league last year. It just takes a lot more than that to win in Hockey East.